Outdoor heating: 5 best ways to warm your garden all year round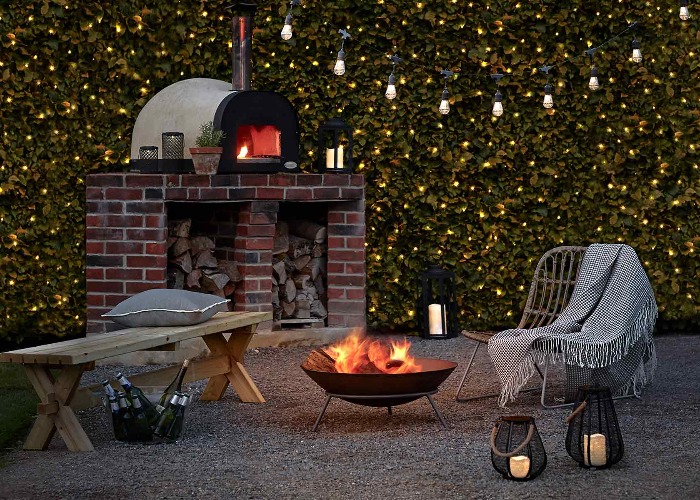 We've brought together the best garden heating options so you can make the most of your outside space no matter the season
When the nights draw in and the temperature starts to tumble, there's no reason to take the party inside. With the right heating setup, you can enjoy outdoor living in autumn and winter too.
READ MORE: Alfresco style ideas for outdoor entertaining
From traditional solid fuel options to modern gas and electric appliances, we've rounded up the best ways to warm your patio and keep your alfresco living space in action all year round.
Firepit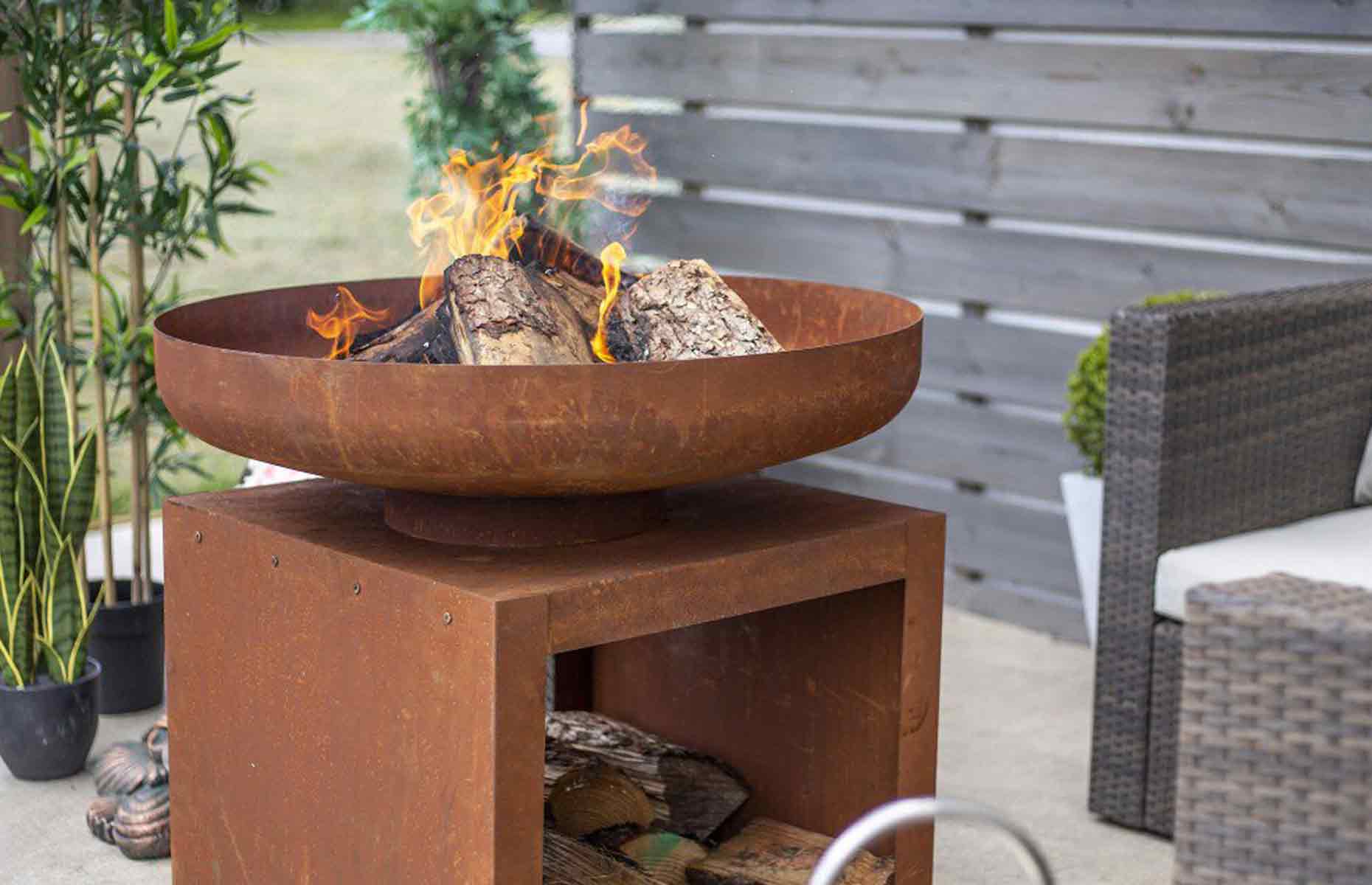 Image: Stratford Garden Centre
Typically made from steel, clay or cast iron, a firepit will instantly bring a cosy campfire feel to your back garden. Fuelled by charcoal or wood, there's an array of designs out there, from models with grills for a good old-fashioned cook-out to covered styles that can double up as incinerators.
What's more, they work just as well in a little outdoor area as they do in a large garden, with compact designs available to accommodate smaller spaces too.
In terms of price, you can expect to pay £50 upwards for a good-quality model. At £99.99, this stylish option from Stratford Garden Centre includes handy storage space for logs in the base. Marshmallows at the ready...
Chiminea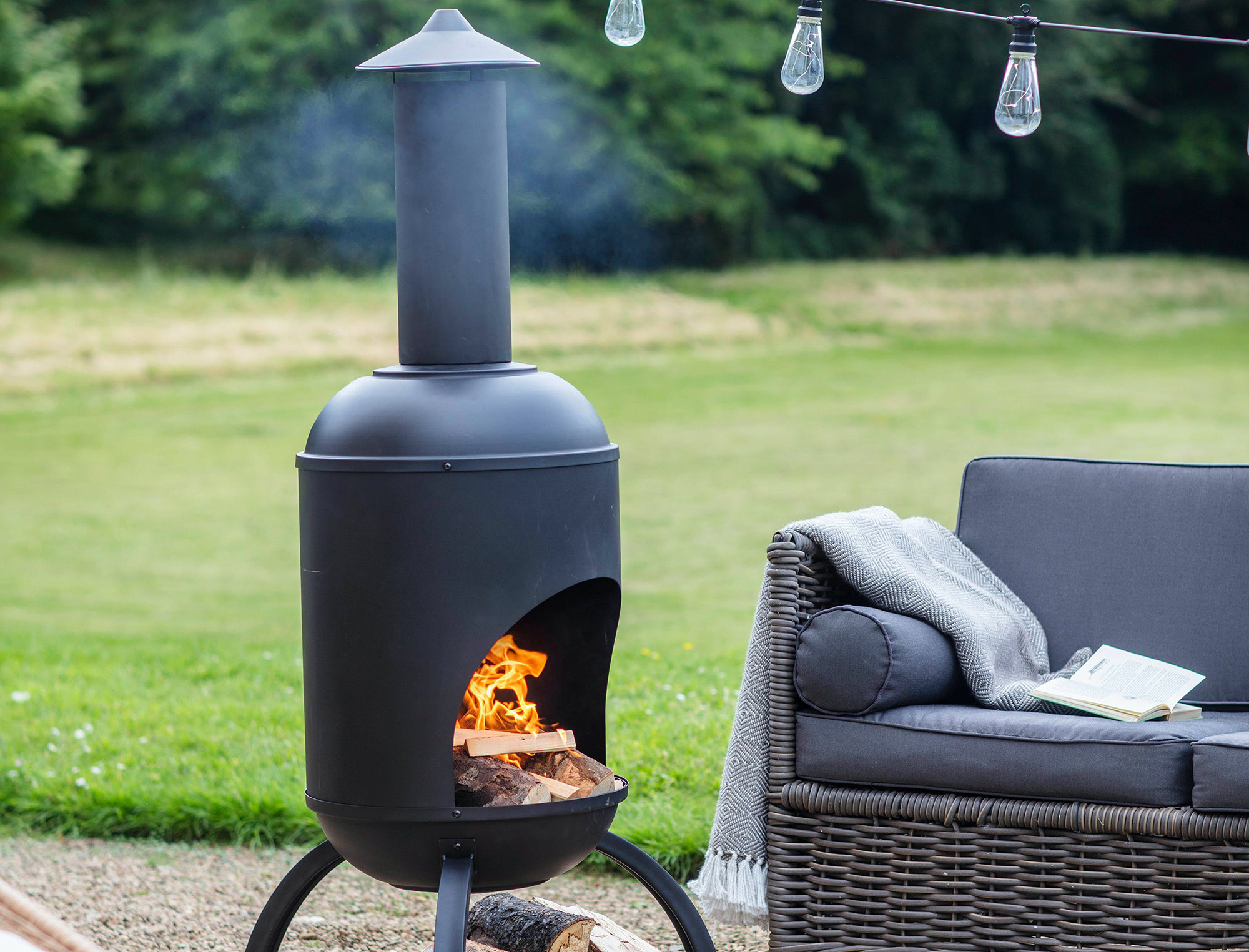 Image: Garden Trading
This traditional outdoor heater functions in much the same way as a potbelly stove, with a wide bottom attached to a narrow vertical chimney that blows the smoke out.
Best of all, the covered design will help keep a fire alight even when it's raining so it's a great all-weather option – just make sure it has plenty of ventilation.
Usually made from clay or terracotta, chimineas are available in copper, cast iron, steel or cast aluminium. Aromatic woods like cedar and hickory are traditional fuel options, but modern chimineas work with wood chips or charcoal, too.
A small chiminea will warm around a metre of space around it, making it ideal for small gardens or patios, while larger models like this streamlined option from Garden Trading (£280) can heat about two metres of surrounding space. Expect to pay £200 and above, depending on the design and size you go for.
Outdoor fireplace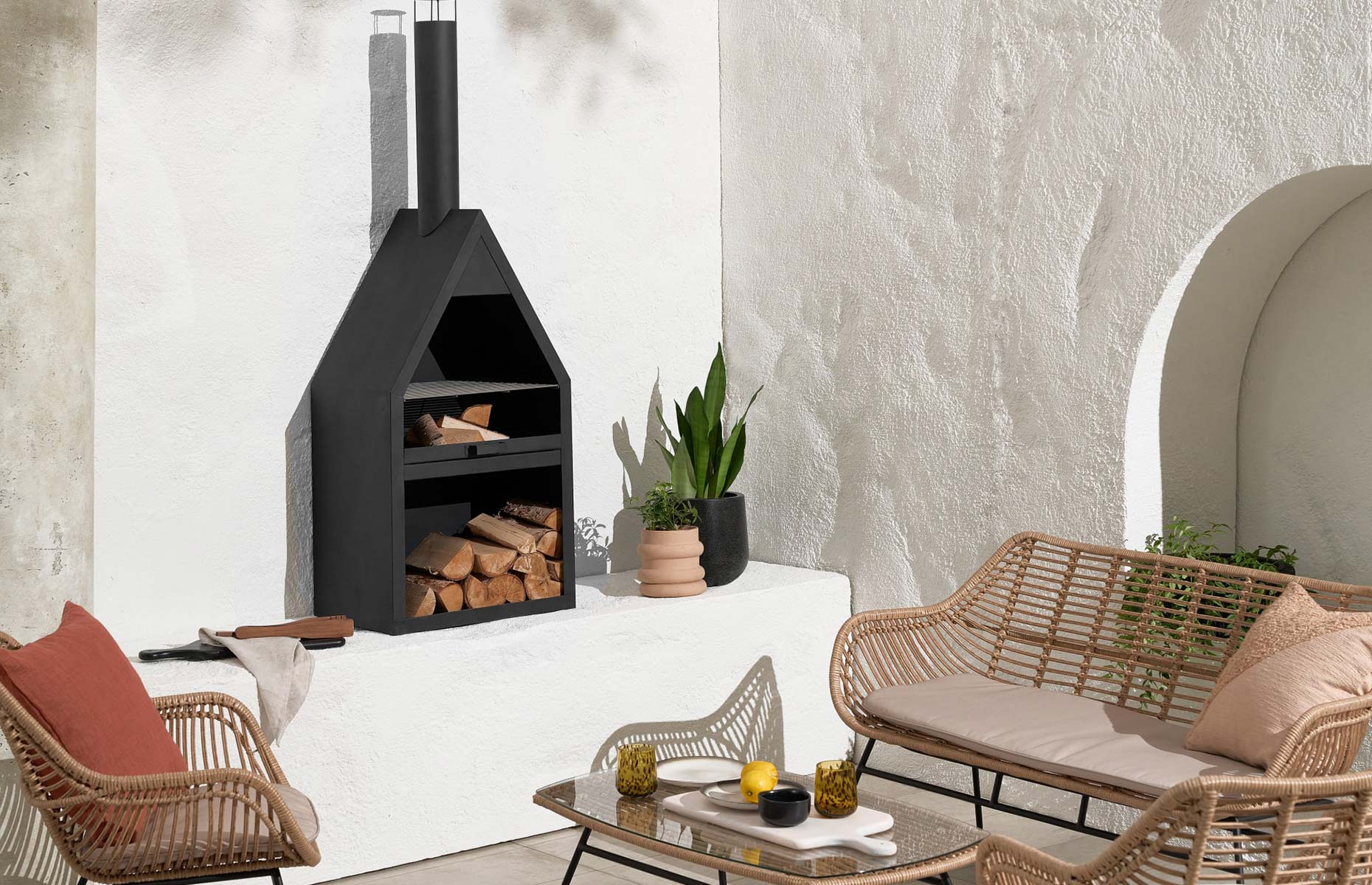 Image: MADE
A cosy fireplace isn't just for the living room – if you're looking to establish more of a focal point in your garden, an outdoor fireplace can provide a striking feature.
Available as freestanding steel models or constructed units built with brick or stone, there's plenty of scope to get creative, just be sure to select a well-ventilated spot.
There's a range of options to consider, including solid fuel designs that burn wood or charcoal, or those powered by natural gas. As a minimum, expect to budget £150 for this type of outdoor heater, and up to £500 for a larger or premium model.
Dimensions for outdoor fireplaces can range significantly too – this black iron model from MADE (£449), which comes complete with a grill, is the perfect pick for a snug courtyard.
Gas patio heater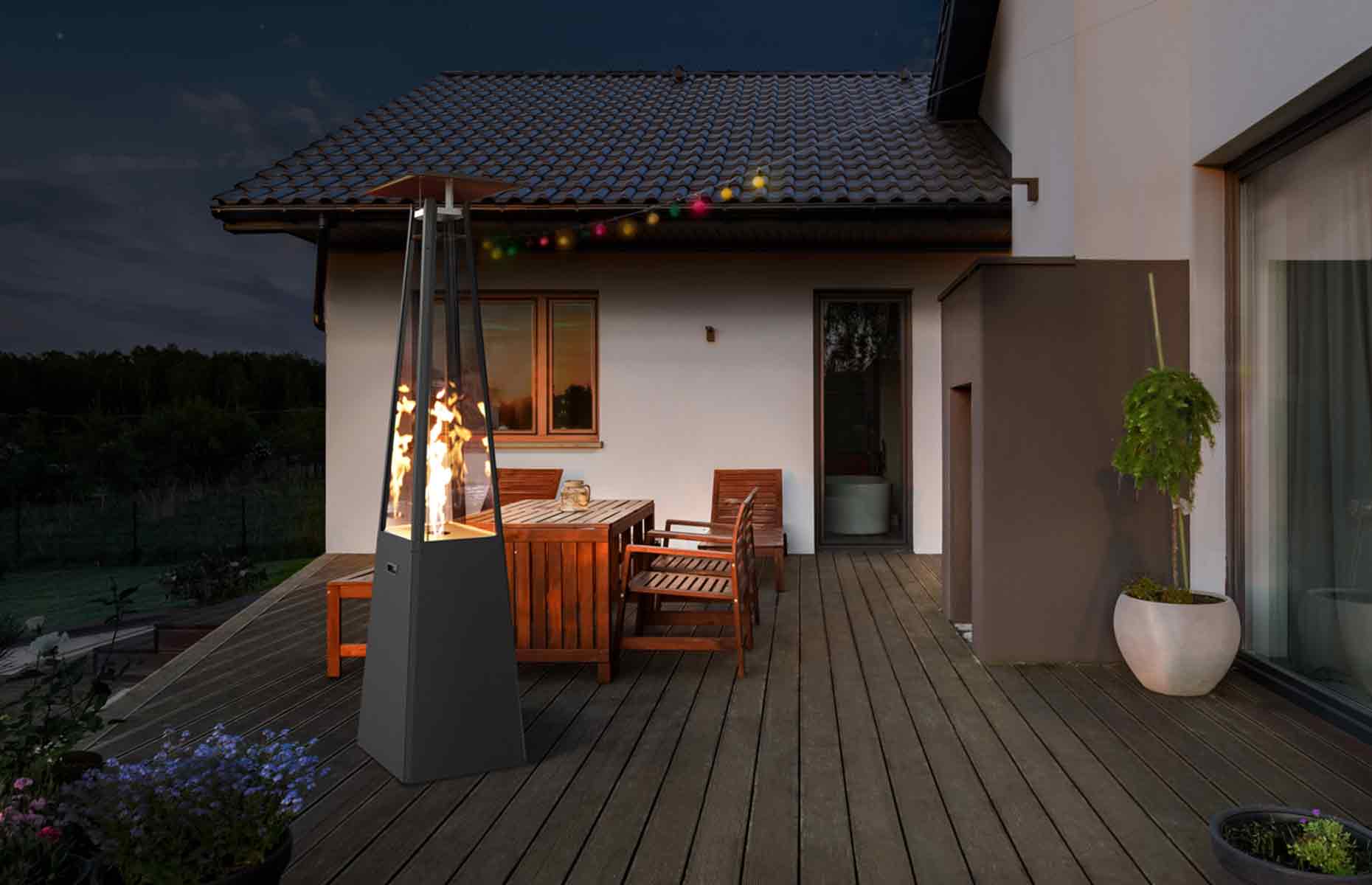 Image: Kratki
Gas-powered appliances kick out plenty of heat across a wide-ranging area, making them well-suited for entertaining alfresco in bigger gardens.
The perfect way to make your summer terrace or patio a year-round spot, they come in a plethora of designs, from firepit or stove-style appliances to tower-shaped models that can multitask as outdoor lamps too.
Burners powered by LPG (liquefied petroleum gas), like this contemporary pyramid-shaped design by Kratki (£665), are the most common in terms of fuel. Depending on the size and design of your heater, expect to pay between £120 and £900.
Infrared heater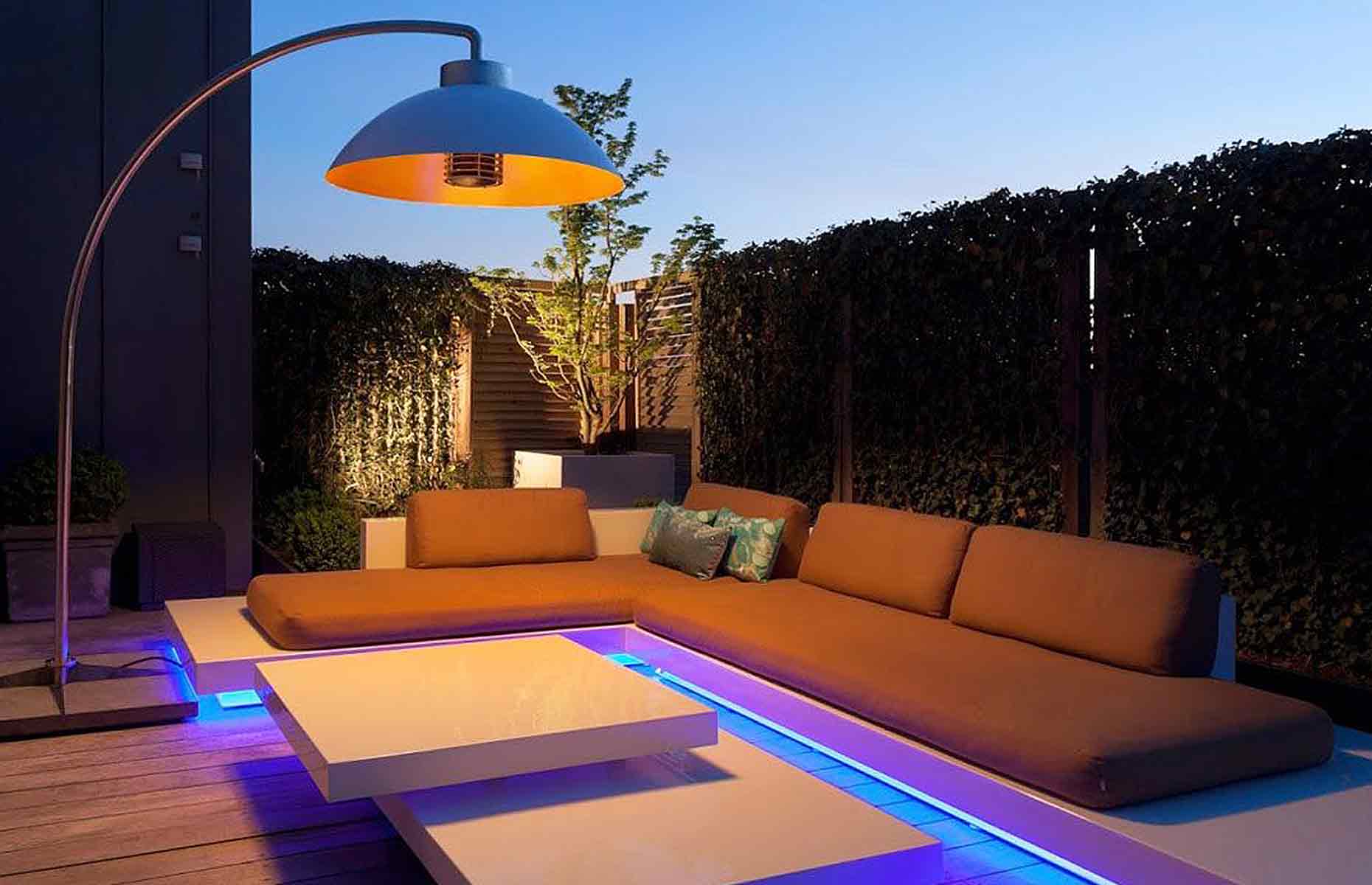 Image: Cuckooland
The best thing about investing in an infrared appliance is that you can turn it on and off as and when heat is required, minimising your energy usage.
Many models feature trigger sensors too, meaning they'll switch off automatically when you're not outside basking in their warmth.
There are plenty of options in terms of design, from freestanding lamp-style heaters to wall-mounted bars and ceiling-hung pendants for covered patios.
Simple infrared heaters can cost as little as £200. However, if you're planning to make more of a style statement, luxury models like this elegant domed floor lamp design from Cuckooland (£3,495) can cost considerably more.
READ MORE: 50 gorgeous garden lighting ideas
Featured image: Lights4fun
Be the first to comment
Do you want to comment on this article? You need to be signed in for this feature