How much does a loft conversion cost?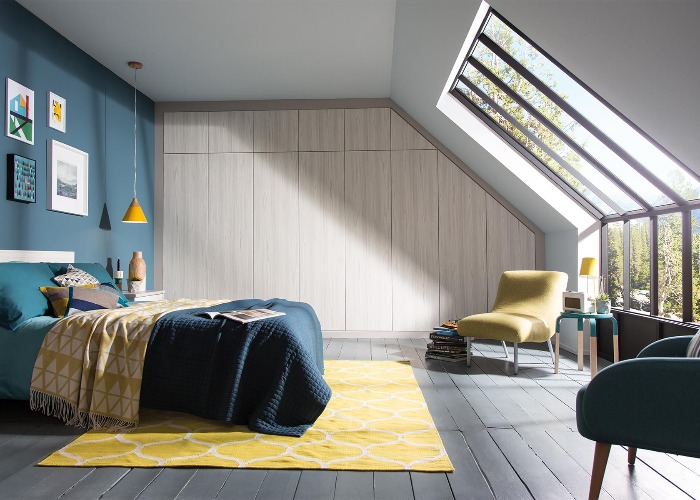 Looking to turn your unused roof space into a master suite or home office? Here's what you can expect to pay
When considering a major home renovation project, one key factor for most people is whether or not the work will add more value than it costs.
READ MORE: Inspired ideas for attic bedrooms
Even if you don't have plans to sell up in the near future, it may seem pointless to spend a lot of money if you aren't going to see a return on that investment.
But depending on where you live and your property type, a loft conversion is likely to make sense from a financial point of view, especially if it adds another bedroom.
How much value do loft conversions add?
In August 2021, estate agent comparison site GetAgent.co.uk analysed the data on 11 common renovation projects and concluded that a loft conversion was the best way to add value to your home.
Crunching the numbers on property prices from insurer Hiscox and lender Nationwide, and also taking into account renovation costs from Household Quotes, Bella Bathrooms, Checkatrade, My Builder and My Job Quotes, they found that converting a loft typically adds 20% to a property's value.
They put the average cost of the job at £33,444 and the average increase in value at £50,925, leaving homeowners with an average profit of £17,481.
Of course, an increase of 20% works out to be a much higher figure in some parts of the country than others, so you'll need to assess values and costs in your local area.
Loft conversion costs
The good news is that there are a number of different types of loft conversion so there is likely to be one that suits every budget.
But before you even start to look at what type of conversion is most cost-effective for your home, you'll need to assess the size and structure of your existing loft as this will dramatically impact the cost of a conversion.
If your loft is at least 2.4m high and is a traditional purlin and rafter roof, then it should be relatively easy to convert and therefore cost less.
If your loft is lower, you might need to lower the ceiling in the floor below or use thinner insulation to meet building requirements, and this will add to the cost.
Also, if your loft has one of the trussed roofs often found in houses built after the 1960s, extra structural work will be required which will make the project more costly.
Types of loft conversion
The cheapest type of loft conversion is a rooflight (or Velux) conversion. This is where the outside of the roof stays the same and windows are added on the slopes.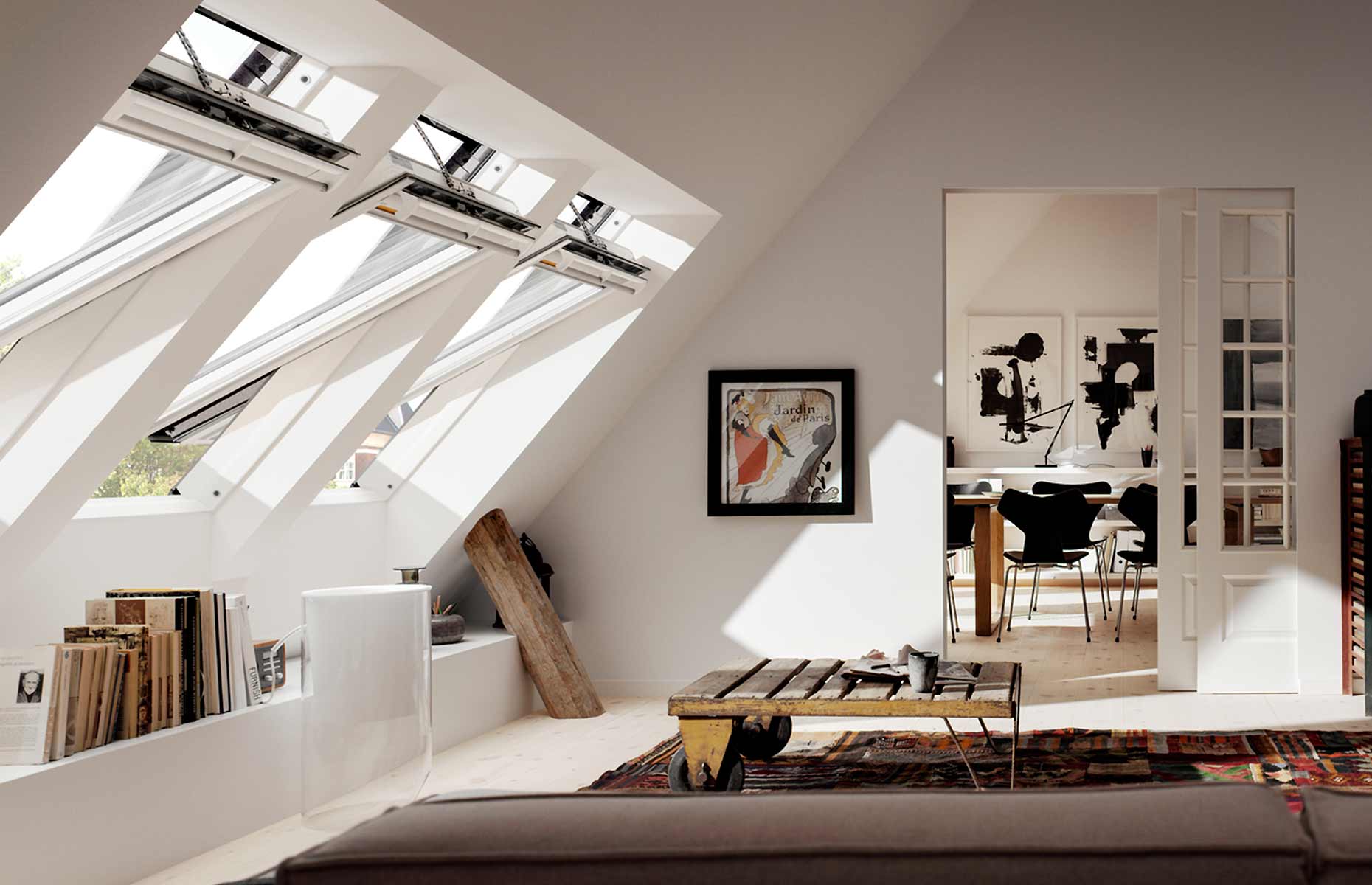 A rooflight conversion has transformed these empty eaves into a light-filled living space.
Image: Velux
Tradesperson listing site Checkatrade estimates the average cost of a 30m2 Velux conversion to be between £22,500 and £30,000.
The next step up in terms of expense, and the most common type of loft conversion, is a dormer, which Checkatrade estimates will cost between £37,500 and £60,000.
A property just outside Sheffield featuring a dormer loft conversion. Image: Zoopla
This is where a flat roof extension is added to the rear of a house, allowing more usable space than a simple rooflight conversion.
If you live in a semi-detached or detached property, you could opt for a hip-to-gable extension, which extends to the side as well as the back of the house and costs £55,000, on average.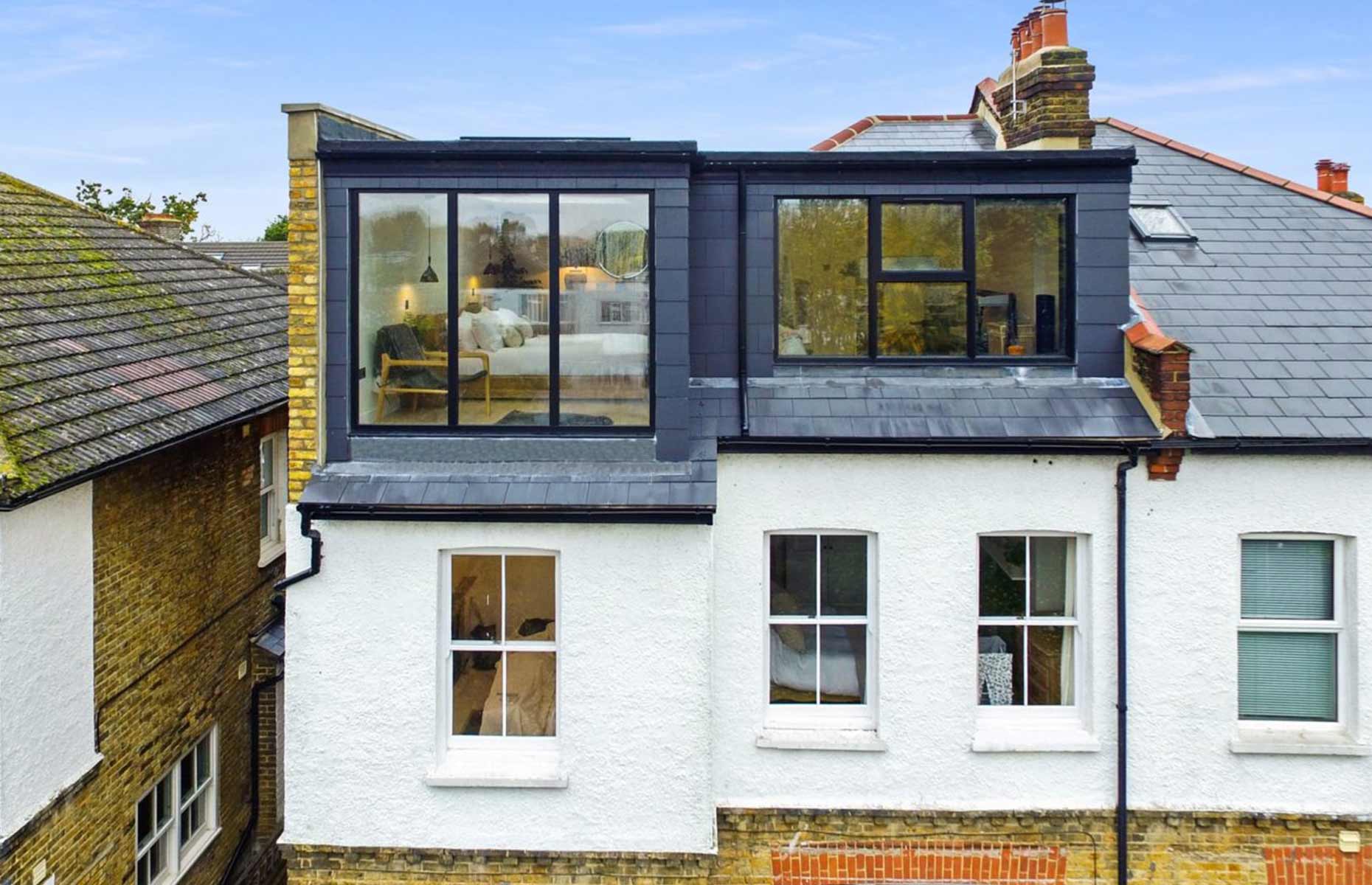 This south-east London home was enlarged with a hip-to-gable loft extension.
Image: Absolute Lofts
The table below, compiled by Checkatrade, has a guide to the likely costs and timescales of the different types of loft extensions.
Type of loft
conversion

Average cost
Timescale
(weeks)
Velux
£27,500
4-6
Dormer
£45,000
10-12
Hip-to-gable
£55,000
10-12
Bungalow
£75,000
10-12
Modular
£50,000
2-3
Mansard
£57,500
8-10
Shell
£30,000
8-10
A loft conversion on a budget
If you're handy at DIY you could opt for a shell loft conversion. This is where all the structural work is done by a builder and the interiors and finishes are left for the homeowner to complete.
If money is tight you could also go without a bathroom or have one fitted later—Checkatrade puts the overall cost of adding a bathroom to your loft at between £4,500 and £6,000.
Need inspiration for your conversion project?
Featured image: Sharps
Be the first to comment
Do you want to comment on this article? You need to be signed in for this feature