11 UK towns that could be underwater by 2050
As new studies show the real threat of rising sea levels, we reveal which towns could be consumed by the waves in less than 30 years
Climate change is wreaking havoc on our shorelines and according to the latest data, a number of towns could be wiped off the map in the not-so-distant future.
READ MORE: Buildings battling for survival against the sea
Rising sea levels across the country are threatening to submerge over 200,000 properties in England and Wales by 2050.
Research reveals that approximately a third of the coastline is at risk, with some homes having already been abandoned. The study, which was published in the journal Ocean and Coastal Management, looked at where sea water will cause the most damage in the coming decades.
Which towns are at risk?
According to the report, which also assesses whether sea defences are technically and financially practical, there are 11 areas that are most under threat across England and Wales.
These include Camber in East Sussex, Fairbourne in Gwynedd and Sunderland in Tyne and Wear. Residential homes, businesses, local railways, farmland and holiday resorts could all be affected by the rising sea levels.
11 areas at risk of being submerged by 2050
| | |
| --- | --- |
| Town | County |
| Happisburgh | Norfolk |
| Kessingland | Suffolk |
| Hornsea | Yorkshire |
| Withernsea | Yorkshire |
| Filey | Yorkshire |
| Sunderland | Tyne and Wear |
| Fairbourne | Gwynedd |
| Camber | East Sussex |
| Pevensey Bay | East Sussex |
| Shoreham-By-Sea | West Sussex |
| Bognor Regis | West Sussex |
Why is this happening to UK coastlines?
Sea level measurements have increased by 20cm since records began in the mid-19th century, according to the Parliamentary Office of Science and Technology.
However, global sea levels reached a record high in 2020 alone, rising 3.6 inches above 1993 figures. One of the key reasons for this acceleration is climate change – as temperatures across the planet increase due to greenhouse gases, our planet's bodies of water heat up and expand, causing sea levels to rise.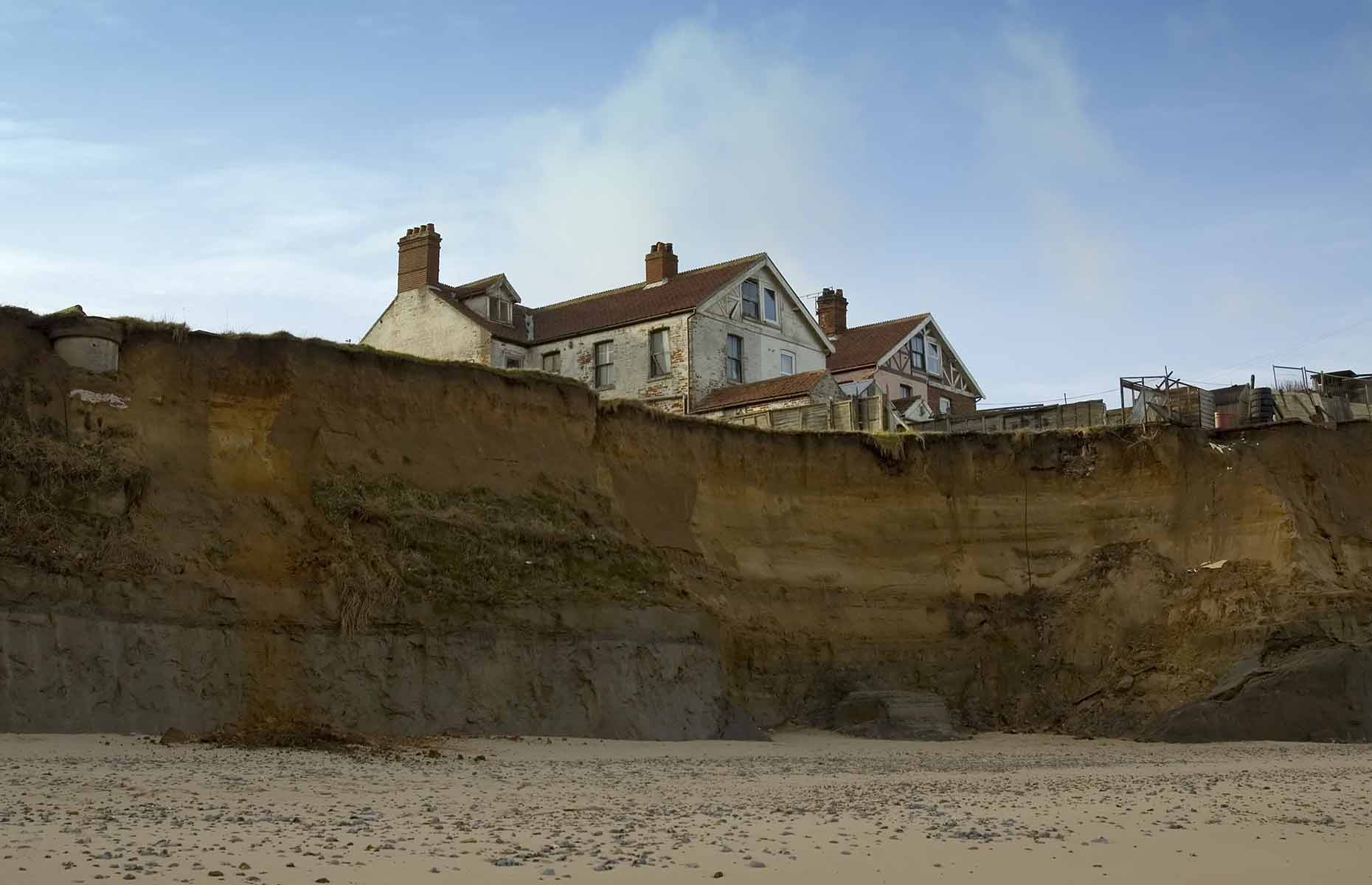 The town of Happisburgh in Norfolk suffers from severe coastal erosion linked to rising sea levels. Image: Chris I White / Shutterstock
As well as increased flooding across the coastline, elevated sea levels also speed up coastal erosion due to larger, more powerful waves wearing down the shore.
Homes in England at risk of flooding
| | |
| --- | --- |
| Number of properties affected* | Area |
| 1,000 - 2,000 | North Norfolk |
| 2,000 - 5,000 | East Lindsey |
| 5,000 - 10,000 | Dover |
| 5,000 - 10,000 | Swale |
| 10,000 - 20,000 | Wyre |
| 10,000 - 20,000 | Sedgemoor |
| 20,000 - 40,000 | North Somerset |
*Source: Sayers et al / UEA
What can be done about rising sea levels?
Scientists agree that rising sea levels across the UK are unavoidable. Instead, the report's author, Paul Sayers, explained to the BBC that we need to engage in honest debate about which areas can be saved and "how we're going to do that and support communities where they are affected." A realistic approach is being taken to decide what locations are possible – and financially feasible – to protect.
An interactive map by Climate Central shows land projected to be below annual flood levels by 2050. Under details and limitations, they state that "current coastal defenses may or may not protect areas marked as at risk, and may or may not be sufficient to defend against future higher sea levels".
While the future for some of our coastal towns looks somewhat bleak, we can all do our part by helping to reduce carbon emissions in our day-to-day lives and minimising the impact of climate change on our shorelines. While we can't stop the rising sea levels, we can slow the incline together.
READ MORE: Homes that lost the fight against Mother Nature
Lead image: stocker1970 / Shutterstock
Be the first to comment
Do you want to comment on this article? You need to be signed in for this feature