15 ethical bedding companies that won't cost the Earth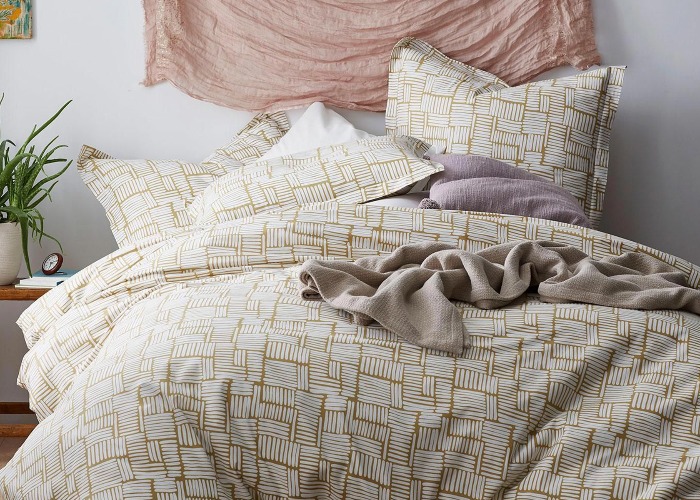 From sustainable cotton to recycled materials, ethically produced bed linen has come a long way to become as comfortable as luxury brands.
Why bother with eco bedding, you might well ask? Aside from the fact that the textile industry uses some of the most polluting practices on the planet, there are wider benefits to using more eco-friendly materials, from recycled plastics to organic cotton.
READ MORE: Inspired ideas for attic bedrooms
Traditional cotton production uses far more water, pesticides, herbicides and insecticides: chemicals that are generally harmful to the people producing the crop and damaging to wildlife and habitat. Organic cotton uses much fewer toxins and tends to be produced with fair trade principles intact.
Eco-bedding and recycled materials
We're comfortable with recycling in our kitchens, energy efficient windows are becoming ever more popular and shoppers are increasingly conscious of buying local organic produce – which uses less energy and produces fewer toxins.
When it comes to disposing of household goods like washing machines and fridge freezers, we know who to call to get our old appliances taken away and – where possible – recycled. But what happens to the huge amounts of old bedding that are thrown away every year?
Generally, we're advised to replace our pillows every three years and our duvets every five years – that's an enormous amount of material going into landfill. More companies are using non-recyclable materials to make super-soft bedding that has the weight and feel of luxury bedding. If you prefer something that will eventually decompose when it's outlived its usefulness, opt for natural fibres such as wool and cotton.
If you're ready to take your ethics into the bedroom, check out these eco-friendly bedding options for a soft, sustainable slumber.
Plover
With sustainability at the core of this company, Plover offers bedding which is made from 100% organic cotton and is certified by the Global Organic Textile Standard (GOTS). The cotton is free from pesticides and other toxins thanks to the non-genetically engineered seeds grown in soil. This means the poisons are nowhere near you or the eco-system.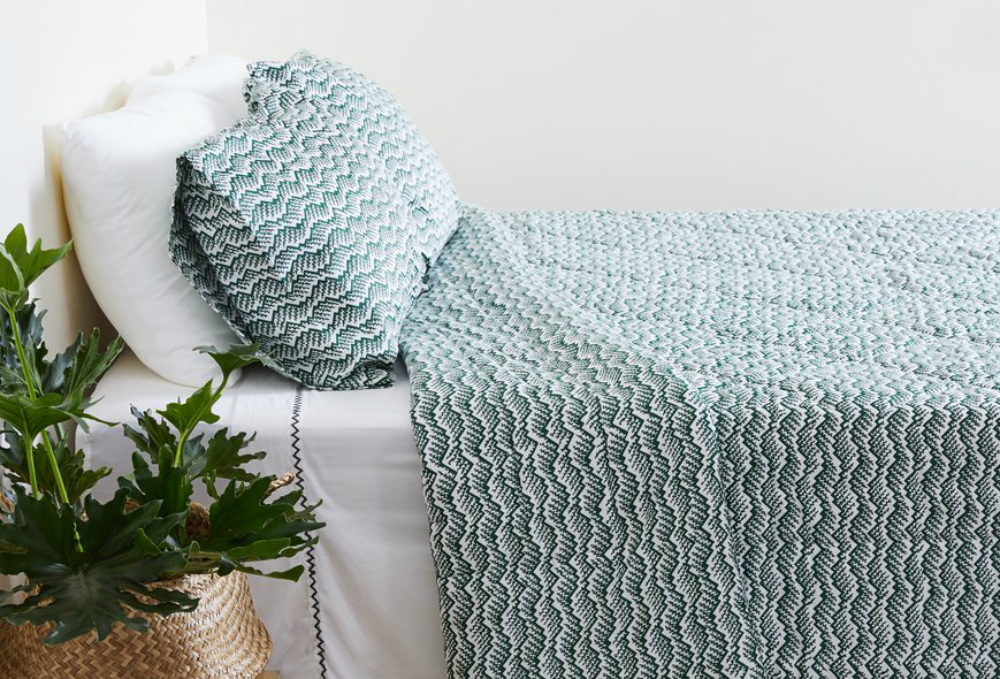 Green Peaks duvet set, from £99 ($128), Plover
The colour dying process that Plover uses to create the bedding uses less water than usual dyeing and contains no heavy metal. What's more, this hydrogen peroxide bleaching process means all dye liquids are released into the water to further protect the environment. The company offers US and international shipping.
Under the canopy
This US-based company helped create the GOTS certification meaning eco-friendly bedding has been at the heart of Under the Canopy since it began.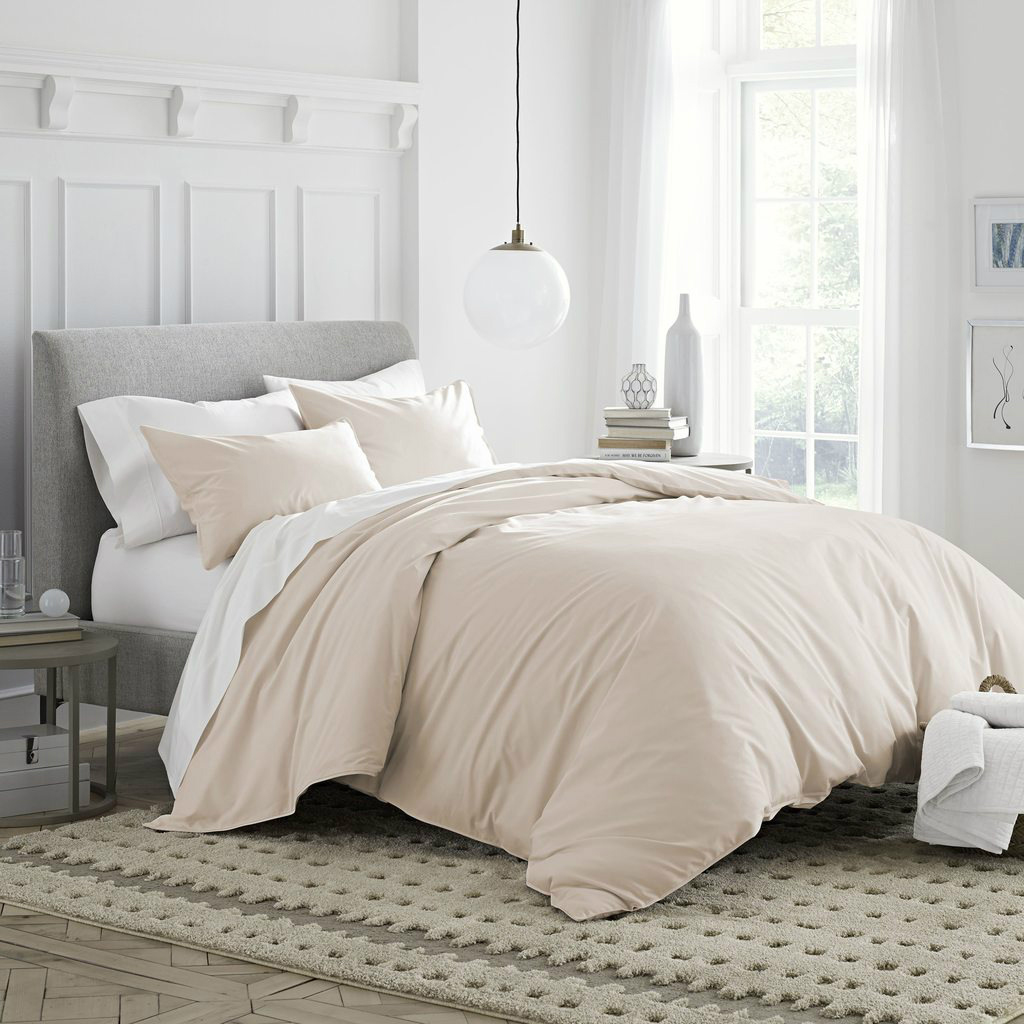 300 thread count organic cotton percale duvet cover in blush pink, from £77 ($99), Under the Canopy.
Pillows and comforters are filled with polyester which is made from recycled plastic bottles. Recycled materials are used when sustainable ones can't be and Under the Canopy has six different eco-relevant qualifications altogether.
Yala
With bed sheets made from bamboo and having raw materials that are free from harmful chemicals, Yala is one of the leading eco-friendly bedding suppliers.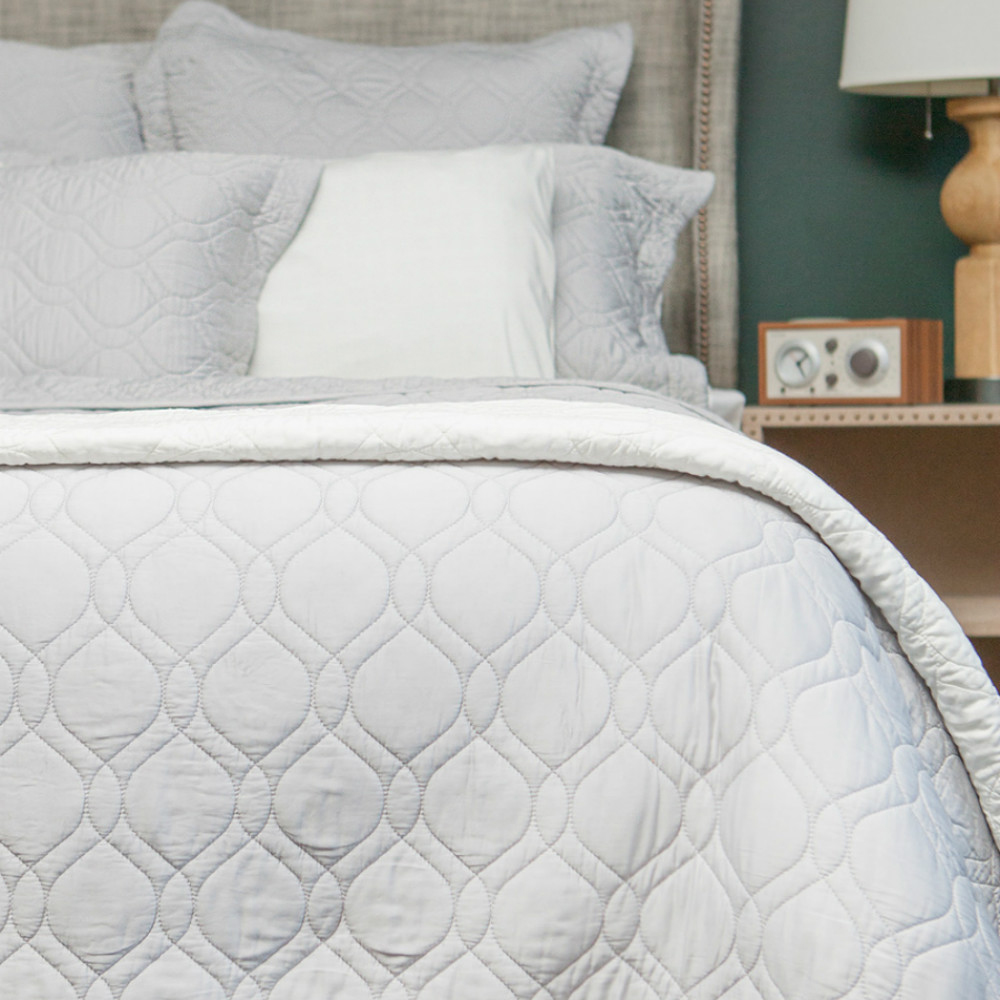 Bamboo Dreams luxe sateen coverlet, from £58 ($75), Yala
Low impact dyes are used for the creations and, like Plover, the water is recycled in this process, helping to protect the environment whilst making comfortable bedding for you to enjoy. The company offers US and international shipping.
Undercover living
Style meets sustainability with London-based linen company Undercover Living. Their super-soft sheets are made from Tencel – a patented yarn comprised of sustainably grown botanicals like eucalyptus. An impressive 99% of the water involved in the growing process is recycled, and because they're made from plants, these sheets are completely biodegradable too.

Ponto double duvet cover, £120, set of two double-sided Ponto pillowcases, £40, from Undercover Living
And there's no need to compromise on a wow-factor bedroom either. Inspired by terrazzo and David Hockney's calming blue pool landscapes, their bed linens are bold, beautiful and effortlessly chic. We particularly love the mix of peach and patterned grey in their classic Ponto set. Added bonus – they're reversible too, so you get two designs for the price of one, bargain! They also ship to the UK and US.
The Fine Bedding Company
An innovative new duvet made from recycled plastic bottles is here to bump up your environmental credentials. The new Nimbus Pearl Smartdown range of duvets and pillows claims that their soft fibre filling – all made from waste products – is as luxurious as a traditional feather and down.

Medium tog Nimbus Pearl Smartdown double duvet, £169, from The Fine Bedding Company.
These vegan-friendly products are also created in a factory where up to 66% of energy is renewable and 54% fewer CO2 emissions are produced during the process: for every ton of plastic that is recycled, over six metres of landfill space is saved. Delivery is available to the UK and US.
SOL Organics
This US bedding company believes in a business model where everyone wins: the farmer, the customer and the earth. SOL Organics produce a range of luxurious bed sheets, duvets and down duvets, all made from sustainably grown cotton.

Sol Organics bedding. Image: @rootforfood / Instagram
As part of their production process, the company are committed to developing farming practices that reduce their carbon footprint and protect drinking water from toxins, so you can rest assured that the environment isn't losing out while you sleep soundly. Delivery can be arranged to the UK for a fee, contact them for more details.
Naturalmat
Harnessing the best mother nature has to offer, Naturalmat uses organic materials to create healthy, sustainable mattresses, toppers and bed sheets.

The Sommiel bed base, from £1,920 ($2,457) for a single, Naturalmats
Coconut husk is pressed into sheets of springy, breathable fabric to form the base of their mattresses, with lambswool, natural latex, cashmere and cotton added to create a soft, cosy texture. All of the materials they use are grown without pesticides and chemical fertilisers too, so you can be sure of no nasties. Free UK delivery and delivery to Europe for a fee.
The Natural Bed Company
Based in Sheffield, this small team makes a range of solid wooden beds, bedroom furniture and organic bedding to original designs and using high-quality materials and finishes.

Malabar sustainable oak bed, from £1,150 ($1,471) for a double, The Natural Bed Company
Their wooden beds are made from solid timbers, no veneers here, and their organic cotton sheets mean less chemicals and pesticides for the environment. Win win! UK and US delivery is available for bed frames but mattresses cannot be delivered internationally.
Coyuchi
US-based textile company, Coyuchi uses only the finest organic materials in its bedding and has an impressive commitment to responsible manufacturing. It keeps fibres as minimally processed as possible, using organic materials that are sustainably grown and free of toxic dyes or bleaches, and also uses a zero waste water recycling method.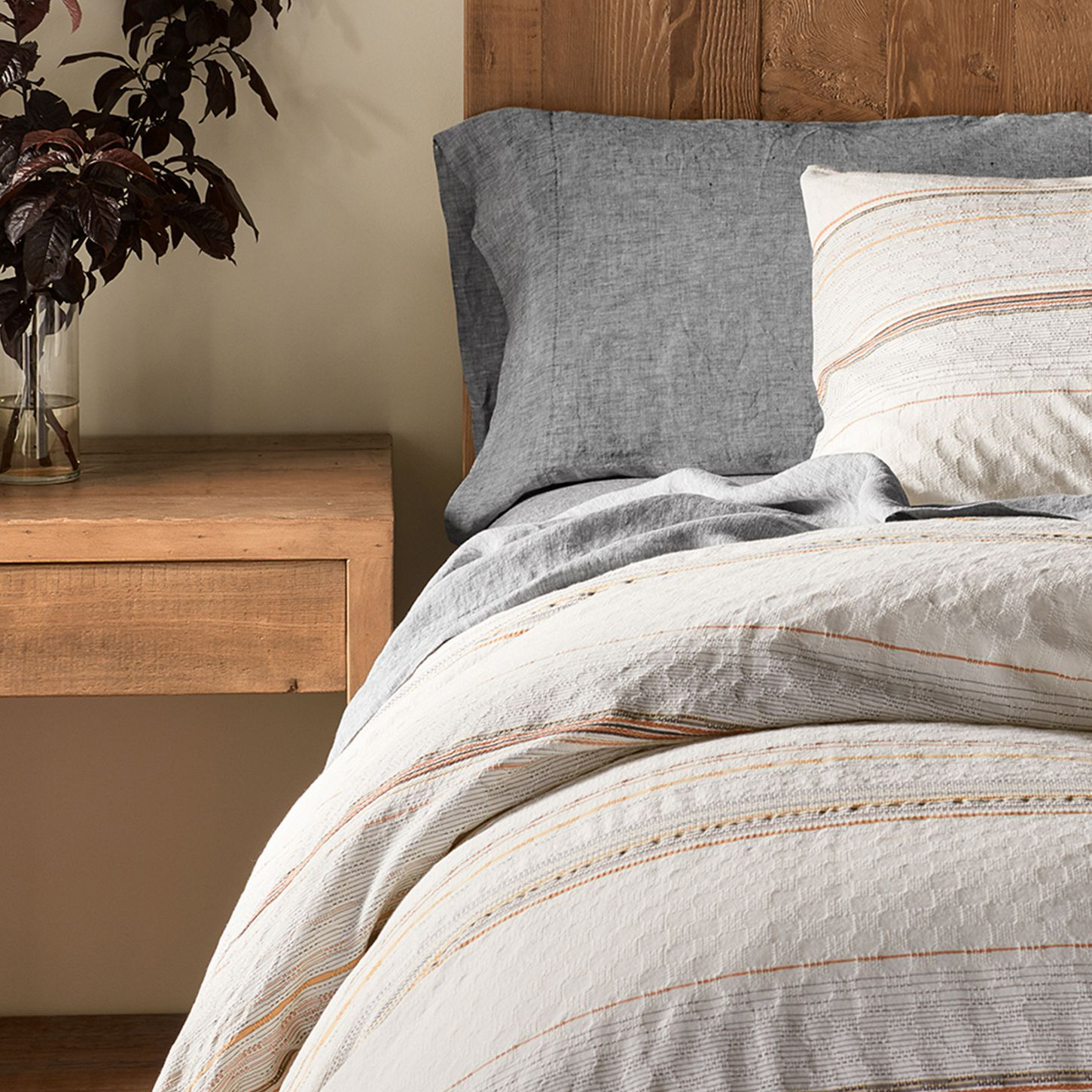 Pacific Grove organic duvet cover, $298, Coyuchi (US only)
Consider signing up to "Coyuchi for Life", a subscription programme in which customers can get new linens every six, 12 or 24 months while sending back their old linens to be recycled, upcycled or renewed.
Avocado
Luxurious and good for the earth, Avocado's healthy mattresses are made from 100% natural latex. Created from the pure rubber sap of Hevea Brasiliensis trees in Asia, it's sustainably harvested without damage to the tree.

Green mattress, $1,399 for a queen, Avocado
Their green mattresses are completely breathable and help to regulate your body temperature, instead of trapping body heat and radiating it back like synthetic foam products. Newly launched, they even offer a vegan mattress that replaces the wool in their original model with cotton. Based in the USA with free shipping within the country.
Greenfibres
Founded by William and Gabriela Lana in the early 90s, Greenfibres offers beautiful and useful textile products that are kind to the environment and pay a fair wage to their suppliers and employees.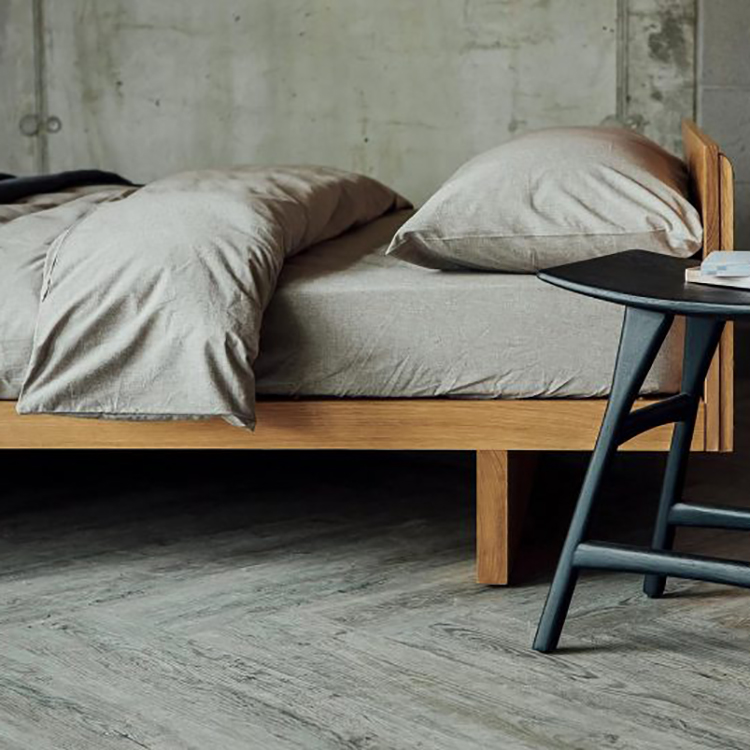 Everyday GOTS organic cotton double duvet cover in tawny, £75.90 ($97) for a double, Greenfibres
The raw, untreated cotton linens are complemented by a range of pillows and duvets stuffed with eco-friendly alternatives such as organic wool, camel hair and even buckwheat. Free shipping in UK for orders over £80. USA shipping also available
ARA
This London-based company is great for crisp, hotel-style white sheets that won't cost the earth, or weigh on your conscience.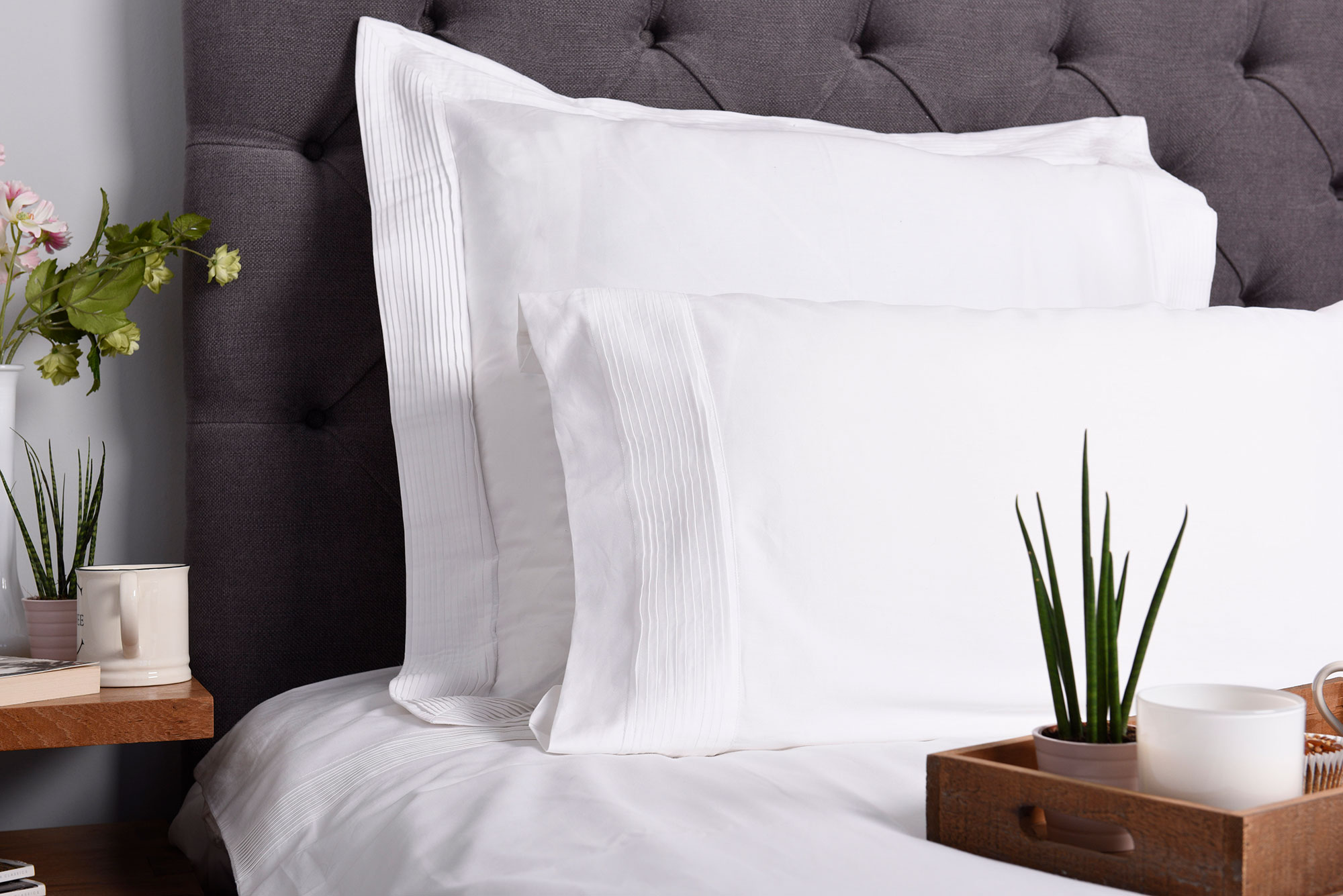 Malabar double duvet in white, £100, ARA
They are Fairtrade certified and strive at every stage of production to cut water usage, environmental damage and support ethical working practices. Delivery to the UK and USA.
Boll & Branch
Luxury bedding company Boll & Branch sells 100% organic products with a conscience.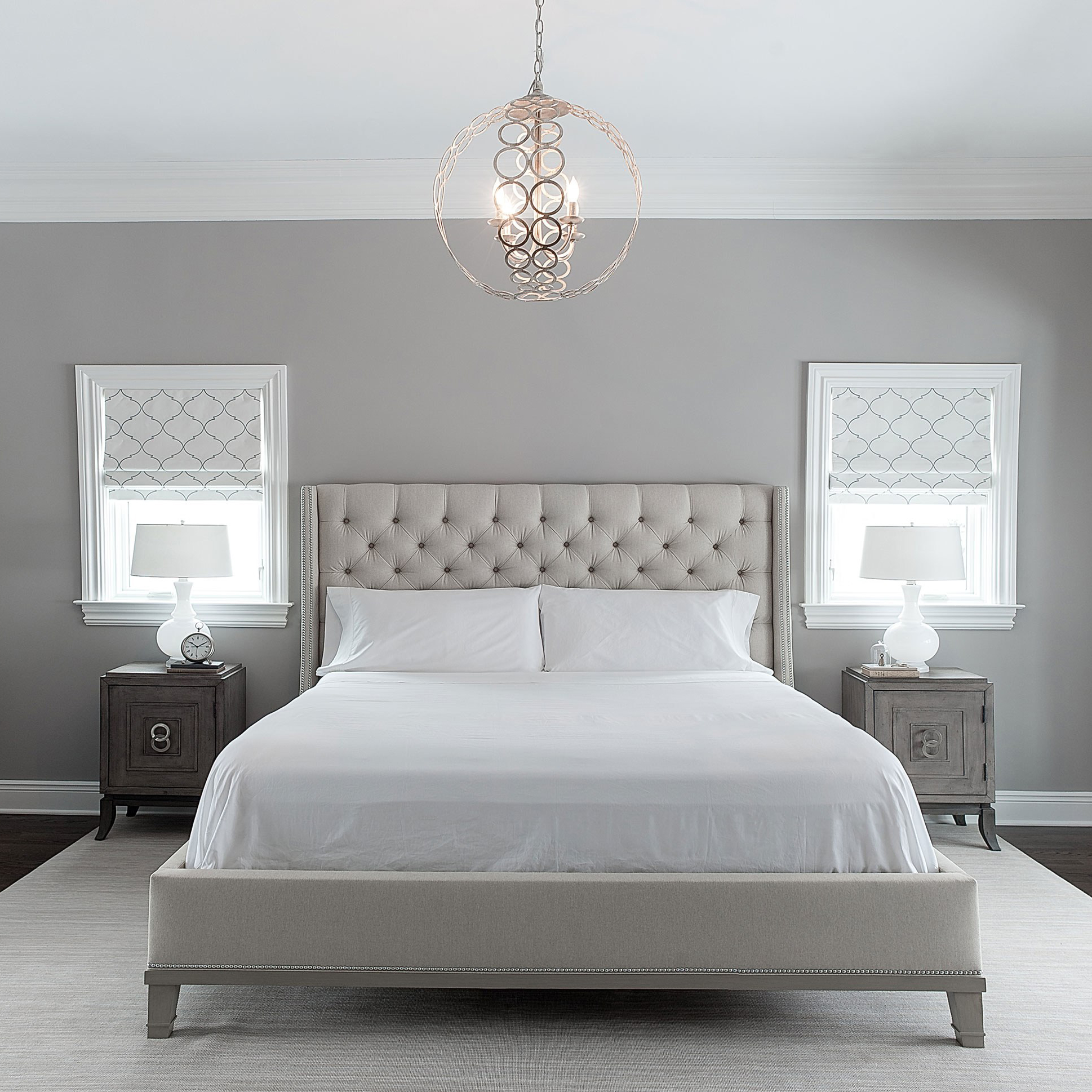 Solid hemmed sheet set, $240 for a queen size, Boll & Branch (US only)
The US company has a traceable supply chain free of child and forced labour, and when you buy, a portion of every purchase is donated to the fight against human trafficking. Their materials are also fair trade-certified. Free delivery in the USA.
LOOP
Believing that "all things on Earth are operating in a closed-loop system", bedding company LOOP creates environmentally-friendly organic cotton products.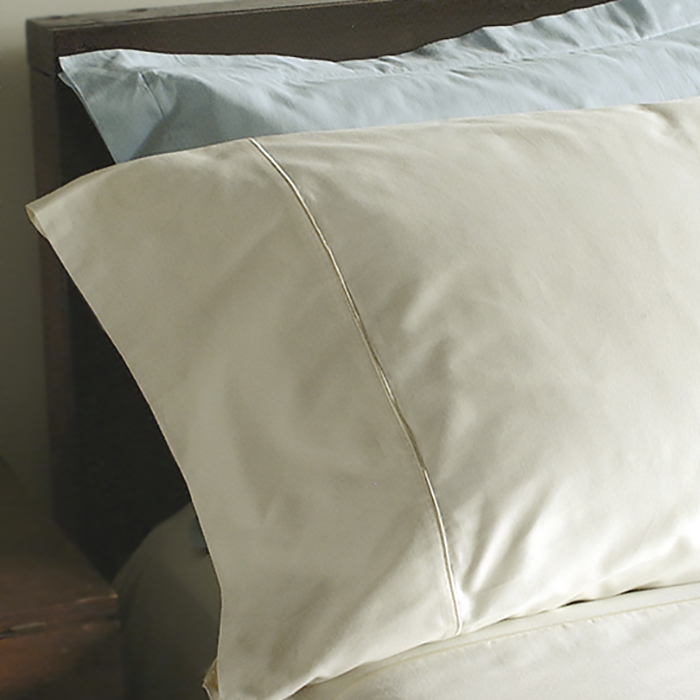 Embroidery sheet set in sandstone, $255 for a queen size, LOOP (US only)
Most of its products are made in the USA from locally-grown cotton as part of the company's initiative to support jobs and reduce the impact on the environment of importing from overseas. It also stays away from harsh chemicals, using chemical-free alternatives and low-impact, organic dyes. Made in and ships to the USA. No UK shipping.
Lily & Mortimer
Star Gazer double duvet cover, £145, Lily & Mortimer
Perfect for the luxury shopper, the beautiful linens at this luxury homewares brand are ethically sourced, 100% organic and Fairtrade, set up to support local communities and suppliers from field to bedroom. This super brand also specialises in nursery bedding and babywear, with fitted sheets in crib to cot bed size covered with cute elephant and butterfly prints. UK and international shipping is available.
READ MORE: Amazing eco homes built from natural materials
Pictured at the top: Cstudio Home Ticking Marks organic Percale duvet cover set in Ochre, $159, The Company Store (US only)
Be the first to comment
Do you want to comment on this article? You need to be signed in for this feature