You'll never guess where the UK's fastest moving property market is right now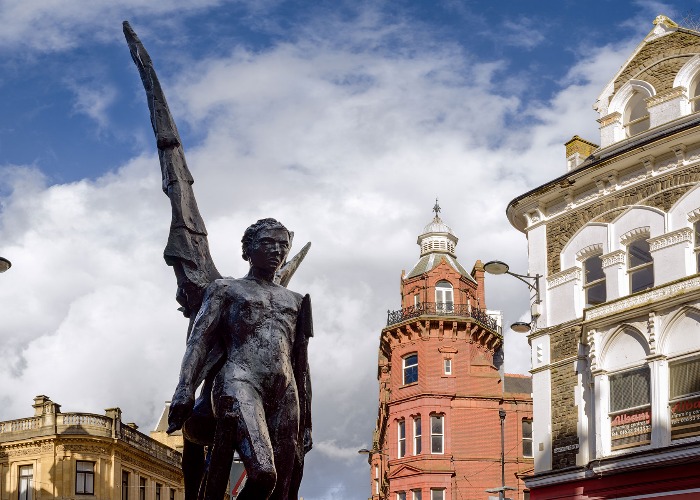 There is one UK city where demand is so high properties are selling quicker than anywhere else – can you guess where the UK'S fastest moving property market is?
It can be an anxious waiting game when you're looking to sell your home and the longer your property is on the market, the harder it is to attract genuine buyers.
READ MORE: The UK's cheapest and most expensive places to buy a home
We all know the drill: if you know a house or apartment has been for sale for a long time then you automatically assume it must have something wrong with it.
However, in the British towns and cities below, demand is way outstripping supply meaning more people want to move in than move out, which is always a good sign.
It comes as little surprise that research from Rightmove shows that the 10 fastest moving property markets in Britain are located outside the priciest parts of the UK – indeed all bar one are located in the north of England and they all have below average asking prices.
If you want to buy in an up-and-coming area then read on for the five most in-demand areas for 2018, where you can get more for your money. But move quickly as prices are on the rise.

Picture: Rightmove
5. Leigh, Greater Manchester
Average asking price£128,809
Less than 10 miles west of Manchester, this once thriving industrial town is on the cusp of regeneration as many of its derelict redbrick mills, such as the historic Leigh Spinners, are brought back to life.
Neat no-thrills three-bed homes start at £115,000, while we spotted a 4-bed thatched cottage for just shy of £400,000.

Picture: Rightmove
4. Rochdale, Greater Manchester
Average asking price £157,648
Located at the foothills of the Pennines, Rochdale is one of those places that is a lot prettier than you might think. The Rochdale Canal passes through town on its way to Manchester in one direction and West Yorkshire in the other, and Rochdale's Town Hall is a glorious Victorian showpiece.
Modern two-bed apartments in renovated canalside mills go for as little as £160,000, while at the upper end of the scale, £620,000 will get you a seven-bed Grade II listed period property with 3 acres of grounds.

Picture: Rightmove
3. Scunthorpe, Lincolnshire
Average asking price £129,426
Once the butt of many a joke, this Lincolnshire town with regular trains to Manchester is having the last laugh as it experiences something of a cultural renaissance. Residents can make the most of the town's new arts venues, plus the rolling farmland and forest trails in its backyard.
For £600,000 you could snap up a detached Georgian property on the outskirts of town, while £175,000 will nab you a decent three-bed in the centre.

Picture: MarkLG / Shutterstock
2. Oldham, Greater Manchester
Average asking price £136,977
Oldham was once the most successful cotton-spinning town in the world. Sadly the last mill closed in the late 1990s and it is now one of Britain's most deprived towns. However, there is hope: there are plans to regenerate the town centre and its proximity to beauty spots such as Dovestones (pictured) and the M62 make it a good choice for both work and play.

Picture: Chris Goddard / Shutterstock
1. Newport, Wales
Average asking price £175,944
Believe it or not, this once much-maligned Welsh town is the hottest place to buy in the UK right now.
Thanks to rising house prices in the nearby hip city of Bristol, potential buyers are being pushed over the Welsh border to Newport.
Mark Roberts, Director of Roberts Estate Agents in Newport, says: "We're seeing all sorts of buyers looking for properties in Newport, from first-time buyers and investors from Bristol to locals taking the chance to sell up and buy a bigger home.
"Buyers from Bristol are being able to sell a small terraced house and move to Newport to a four-bed detached house for the same price, so I can see this level of activity and the stock shortages continuing for at least another 12 months."
Be the first to comment
Do you want to comment on this article? You need to be signed in for this feature