Vegetable garden ideas: grow your own tips for small spaces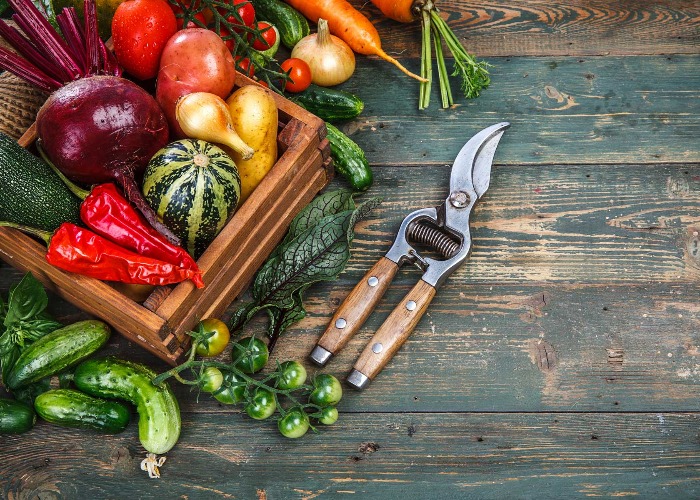 You don't need a huge allotment to produce your own veg. Garden designer Catherine Chenery offers ideas for getting started no matter how small your space is...
Having a small garden or even a balcony doesn't need to stop you from enjoying home-grown produce. Even in the smallest of spaces, you can grow veg in containers, hanging baskets, stacked planters and pots. Even a tiny balcony or a kitchen windowsill can be transformed into the perfect spot for growing cucumbers, salad, herbs and tomatoes.
Containers
Choose a container of a reasonable size and don't forget about drainage. I recently planted some produce in zinc buckets which look great but I needed to drill holes into the bottom, this is quick and easy to do. If you're growing on a balcony, you may want to place the container on a saucer to catch the water so that you don't have water trickling everywhere. If the containers are going onto a patio, it's a good idea to get some pot feet so that the water can drain away from the container.

Tumbling Tom Red tomatoes, £3.99 for a pack of seeds, Thompson & Morgan
Varieties
Look for varieties of fruit and vegetables which aren't going to grow too enormous for your space. This year, try growing a variety of tomato called Tumbling Tom Red, which trails out of the sides of the container or hanging basket and only grows to about 30cm, which makes it ideal for this kind of small space cultivation. It could also be grown in a plant pot, hanging planter or in a window box.
Supports
Some plants like peas and larger tomatoes will need a support to climb up to reach their full potential and deliver a generous glut of produce. Some people make their own with bamboo canes, wicker and wire, but there are lots of decorative designs that can add a lovely sculptural detail to any garden. Take care to buy a support which fits into your container and choose varieties which won't grow to be taller than your support.
Light Levels
Consider the light levels in your space. A lot of produce requires a good amount of sunshine but if you don't have a sunny spot available, don't despair! Beetroot, carrots and radishes will all grow in shade. You can grow carrots in any deep container, even a bin will do.

KRYDDA two-tier hydroponic cultivation unit, £26.99, IKEA
Hydroponics for indoor growing
If you want to grow indoors, you could consider a hydroponics kit. This way, you can grow even if you don't have a window as the LED bulb will provide all the light the plants need. The KRYDDA/VÄXER kit from Ikea is compact enough to fit onto a shelf, plus they have a cool range of single pot stands with an overhead light if you want to start off slowly. Once you're ready to get the full set-up, can get great results.
Use your vertical space
If you're short of surfaces for containers in your house, using your vertical space by growing herbs in hanging containers. Just make sure they have some sunlight. Boskke does a planting container which hangs upside down so you could simply reach up and snip some herbs while you're cooking.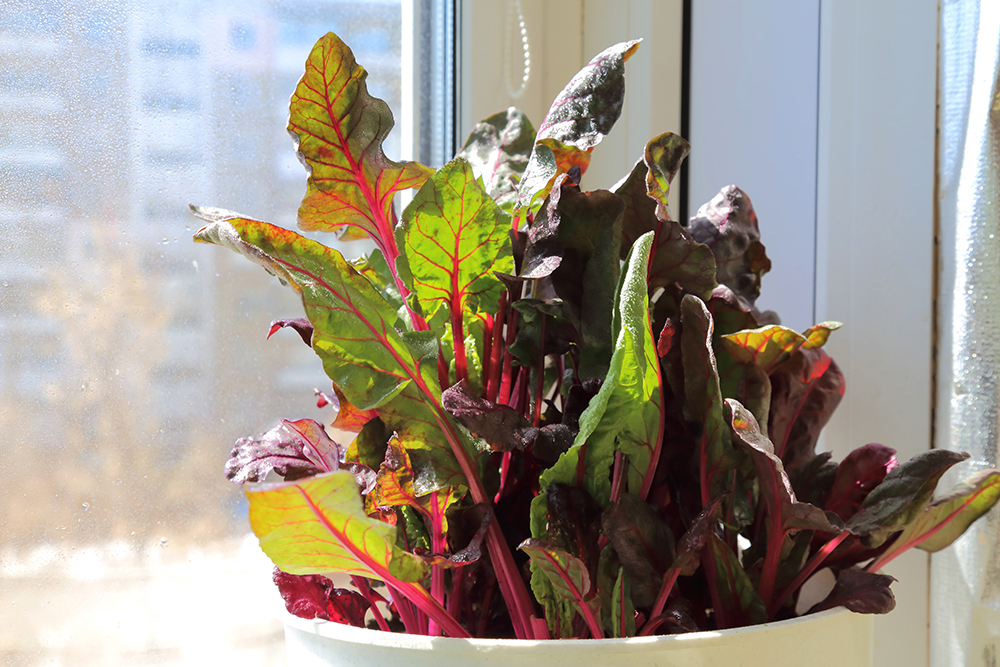 Most salad leaves will grow happily in a sunny spot on the windowsill. Here, mixed colours of chard have been planted in one large container for cut-and-come-again produce
Windowsill salads
If you're really short on space, why not consider a tray of cut and come again salad for your window sill. You can have the joy of cutting your own leaves for a healthy salad, with very little hassle! Read our easy gardening hacks for more simple ways to grow your own without the graft.
Catherine Chenery is an award-winning garden designer and botanical stylist. Catherine will be speaking at The House & Garden Festival taking place 20-24 June at Olympia London.
Be the first to comment
Do you want to comment on this article? You need to be signed in for this feature