Leasehold mis-selling scandal is the 'PPI of the property industry'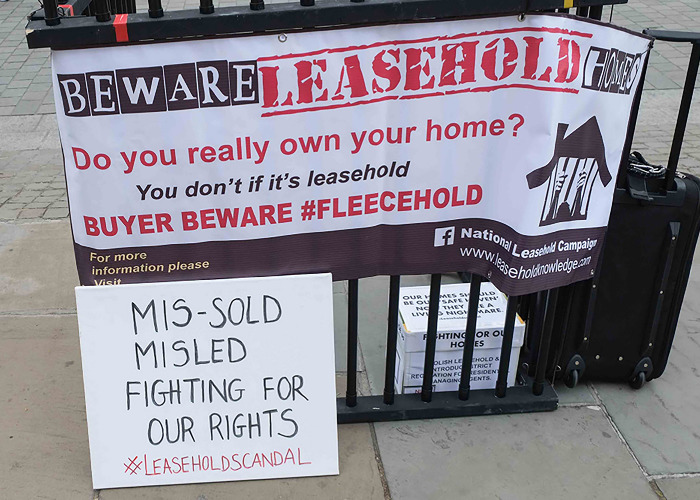 Thousands of homeowners have been mis-sold leaseholds when they thought they were buying the freehold. We explain how to avoid this property pitfall
Over half of homeowners who bought a leasehold property in the last decade feel they were duped, according to research from NAEA Propertymark, in what has been branded the 'PPI of the house building industry'.
A report from NAEA Propertymark entitled Leasehold: A Life Sentence? found that of the 1,100 leaseholders it surveyed, 94% regret buying leasehold, 62% feel that they were mis-sold a leasehold and 57% simply didn't understand what being a leaseholder meant until they had bought the property.
READ MORE: New build homes checklist - 6 essential things to do before you buy
What's wrong with leaseholds?
In theory nothing. Most people who buy a flat will buy the leasehold and over one million properties in England are sold in this way.
However, the leasehold mis-selling scandal relates to leaseholds for new-build houses, where the overall freeholder doesn't look after the maintenance of the building (as they would with a flat). In fact, instead of replacing light bulbs and repairing damage to the outside of the building, these freeholders place punitive charges on changes that should really be up to the homeowner to make. Effectively, they turn what should be somebody's home into a cash cow.
In worse case situations, some homeowners have been left with ground rents that double in a decade, leaving their properties very unattractive to prospective buyers.
How did the leasehold scandal unravel?
The issue first reared its head in March 2017 when thousands of homeowners complained that they had been lumbered with rising ground rent and charges for updates to their property, which was not only costing them money every year but also making it hard for them to sell on their properties.
Many homeowners say that they simply did not realise they had not bought the freehold – with misleading phrases such as 'virtual freehold' suggesting that they had indeed purchased their property without strings attached. In reality, this refers to a leasehold whose length far exceeds the norm.
Others say that they were told they would be able to purchase the freehold at a later date, but it was then sold on to a third party who began raising ground rents and asking for huge fees to sell the freehold on.
What have the government done?
Following mounting pressure, the government was forced to ban the sale of new-build leasehold houses. Though it has not been enshrined in law yet, it will soon be.
In addition, some major housebuilders were forced to admit they had left homeowners with onerous leaseholds. Taylor Wimpey, who had left some customers with ground rents that doubled each decade, have now set aside £130m to help make these ground rents "materially less expensive".
How can you avoid the leasehold trap?
Though the owners of new builds will soon be protected by law, Mark Hayward, NAEA Propertymark Chief Executive, says that potential buyers should check the following:
Leasehold or freehold?
Identify whether the property is being sold as a leasehold or freehold. A freehold property means that you would own both the property and the land it stands on, while leasehold means you would lease the property and land from the freeholder for a set amount of years. Hayward says: "Essentially this means, while the property is yours for the duration of the lease, the freeholder ultimately has control."
How long is the lease?
Most leases are granted for a set period – normally 99 years. If you are buying a leasehold property, check how long is left on your lease. If it falls below 70 years, mortgage companies are very reluctant to lend, which could affect the value of your property and you may want to consider extending the lease at some point, which can be a costly procedure.
Will you have to pay to update the property?
As the freeholder has ultimate control, you will normally have to get permission from them to make changes – even relatively small ones like changing the front door. Hayward says: "You should establish what you'll be charged for the process you'll need to go through to make any changes, before signing the contract."
Can you buy the freehold later?
A very important detail to check as you will probably want the right to gain overall control at some point. Hayward says: "You should find out who owns the freehold of the property, whether you'll be able to buy it, and for what cost."
Get advice
Still not sure whether leasehold is right for you? Speak to an impartial estate agent who should be able to advise on the pros and cons.
READ MORE: 10 warning signs that you're looking at a money pit
Be the first to comment
Do you want to comment on this article? You need to be signed in for this feature