11 of the coolest contemporary chandeliers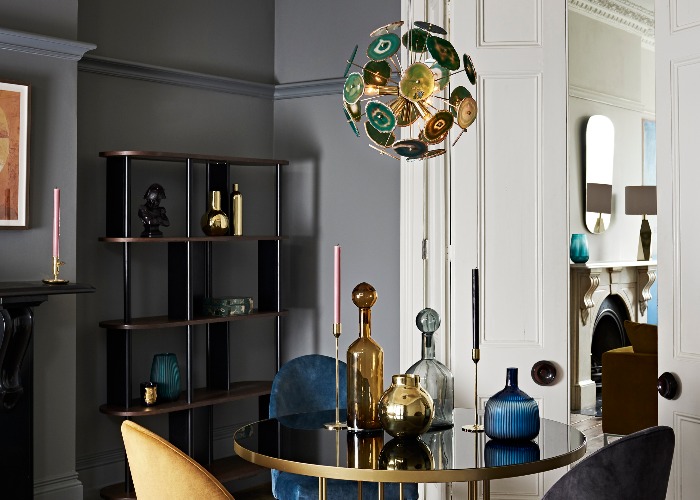 Make room for a modern chandelier and watch as your space comes to life
Long favoured by stylish homeowners as the statement light of choice, chandeliers have undergone something of a makeover in recent years.
While the traditional brass candelabras and delicate cascades of crystal still have their place in a period living room or a shabby chic bedroom, today's interpretations mix materials and styles to become everyday art objects that demand to be the centre of attention.
READ MORE: 46 stylish lighting ideas to brighten your home
So whether it's gracing the empty space at the top of a staircase or adorning a long dining table that needs something suitably impressive to set it off, these seriously cool chandeliers will give you something worth swinging from...
The feathered chandelier

Feather chandelier, £1,440, A Modern Grand Tour
Nothing expresses this new approach to an old favourite more succinctly than the runaway success of the feather chandelier, which has become decorating shorthand for bohemian glamour and is a future design classic. This stunning ostrich feather and brass creation is the chandelier version of the 'it' lamp you'll see in the most stylish homes and hotels, including designer Matthew Williamson's London home and this bedroom at the exclusive bolt hole, Ayn Hoe Park.
The classic chandelier

Essence chandelier, £680, The French Bedroom Company
When you think of a traditional chandler, this is probably the sort of thing that comes to mind, but the rustic framework saves this from looking ordinary. Look closely and you'll see that the glistening crystal droplets hang suspended from a sturdy antique-style iron structure that tempers the sparkle. Sleek and oh-so glamorous it will add intrigue and interest to any room but works best in a luxurious bedroom with lots of textures.
The floral chandelier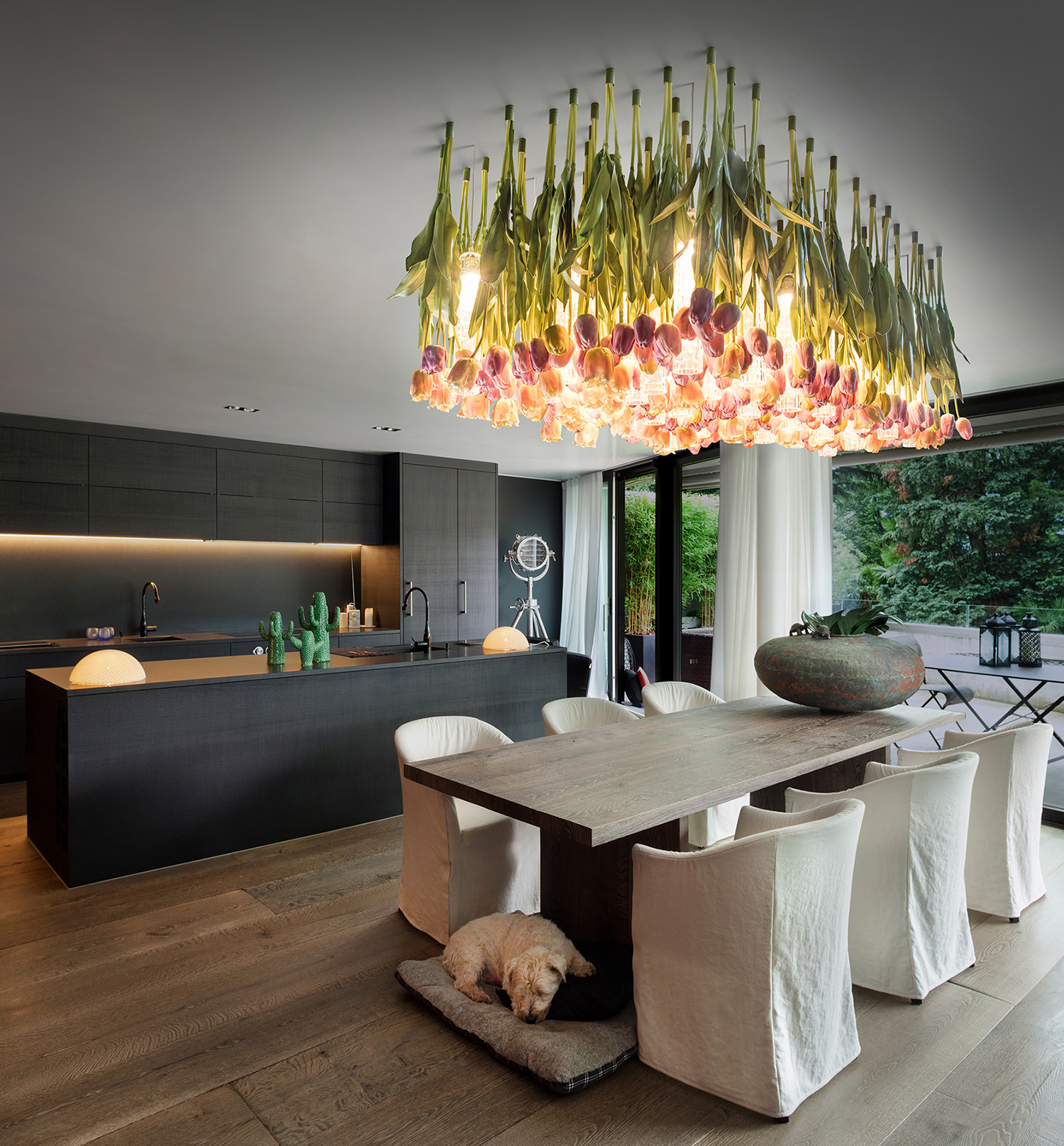 Flower Power Tulip chandelier, POA, VG New Trend
These pink and peach-coloured tulips have been placed between Murano glass lamps that illuminate them beautifully. This jazzy floral design is ideal for making a statement in a minimalist room and adding a slick of bright colour, while still looking terribly cool.
The arty chandelier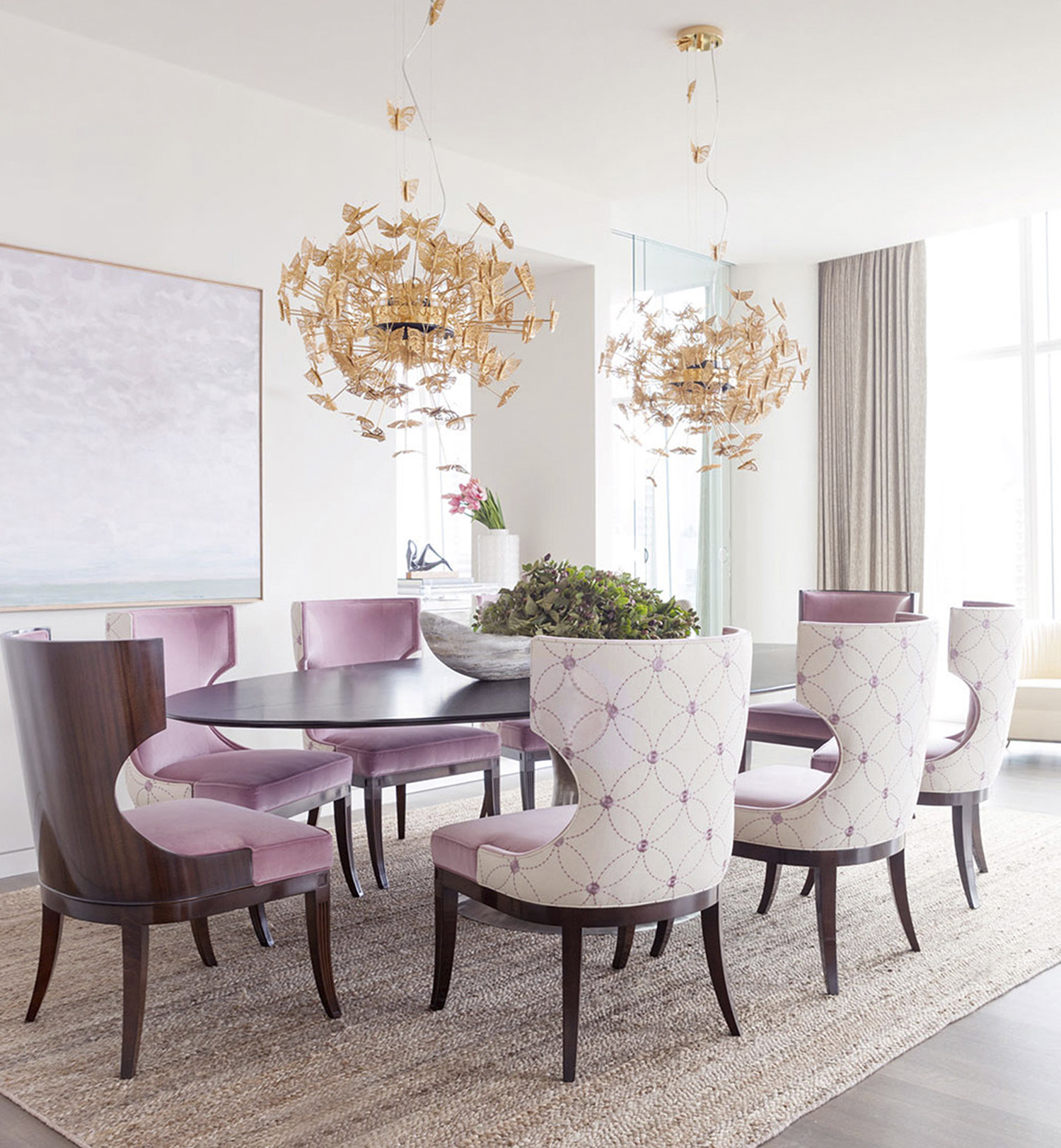 Nymph Chandelier, POA, KOKET
This dazzling fixture will fool your friends into thinking you're secretly an interior designer with your finger firmly on the fashion pulse. Its cutting-edge looks will attract admiring glances from every angle – we love the effect when it's hung in a pair over a dining table. Available in gold, chrome and copper, it's a blow-the-budget statement light that will become a family heirloom.
The 'out there' chandelier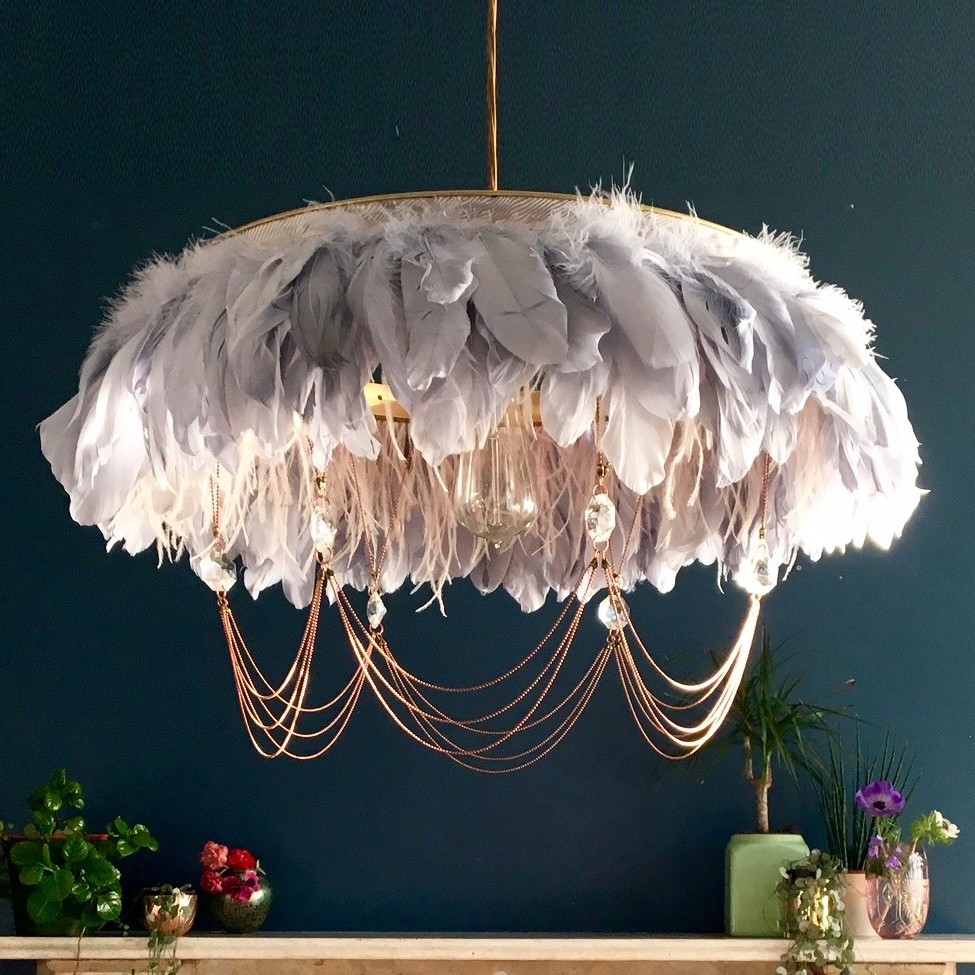 Edith Goose Feather Chandelier, £440 from Out There Interiors
If you want guests to look up and notice when they walk into your home, this feathery little lovely could be just the thing for your front room. The handmade shade uses fluffy ostrich and goose feathers to fabulous effect, then drapes them with gold chains, crystal droplets and an Edison-style light bulb for a mix and match approach that's very now.
The industrial chandelier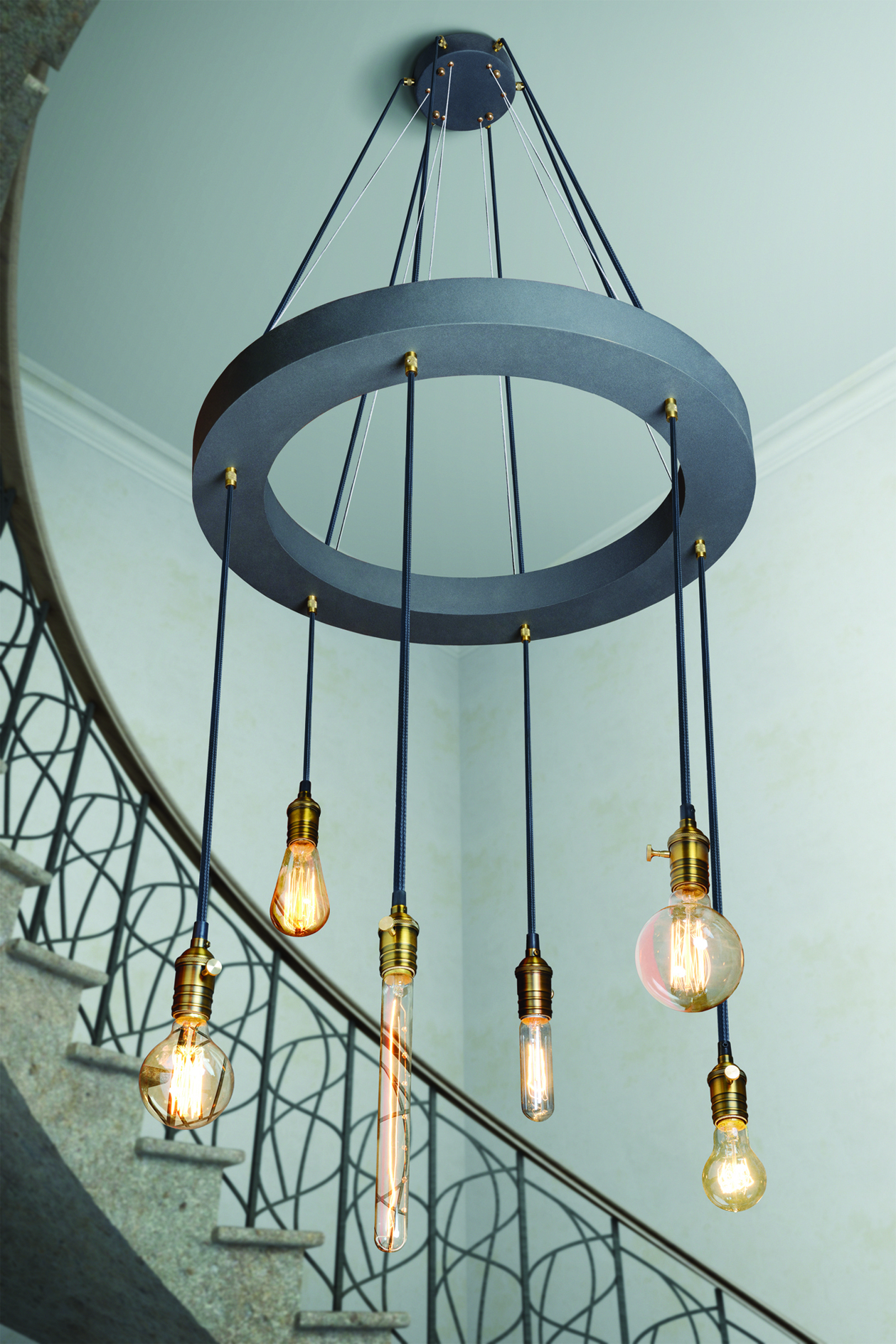 Barrington Industrial Chandelier, £149.99, MY Furniture
The sheer size of this magnificent fixture really lends itself to staircases, pulling the eye upwards and creating an elaborate focal point. All six individual cables can be adjusted, so that the bulbs hang at whatever length you so desire. Setting off the piece is a textured black ring and quality brass details that give off an eclectic, vintage look.
The ultimate crystal chandelier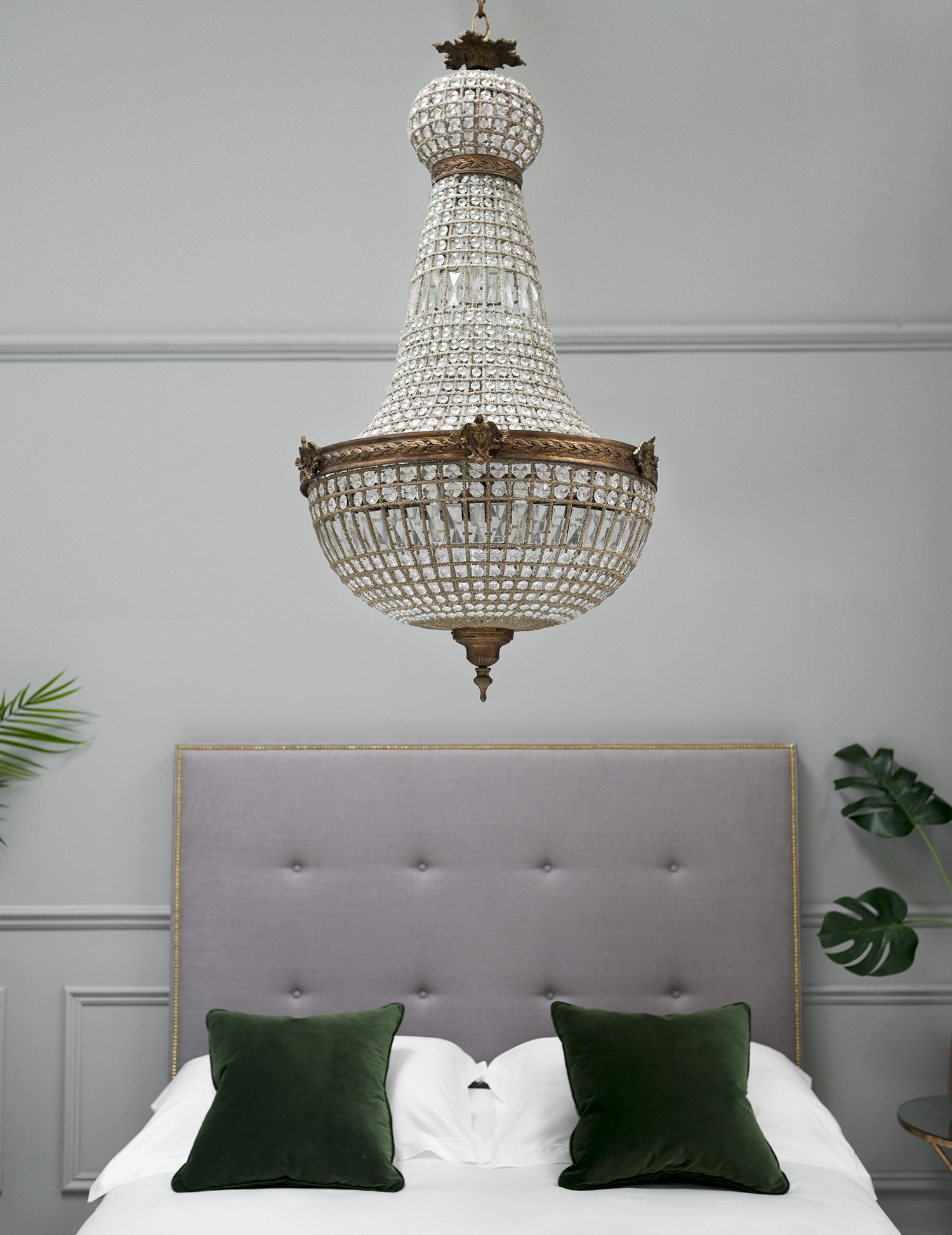 Stately Empire Chandelier, from £495, Sweetpea and Willow
Now this might be a stunning piece, but the good news is it's not hard to pull off. It works in most homes thanks to its soft empire shape, cut glass and delicate intertwined beading. It's also available in four different sizes, so you can find the perfect size to compliment your room.
The clever chandelier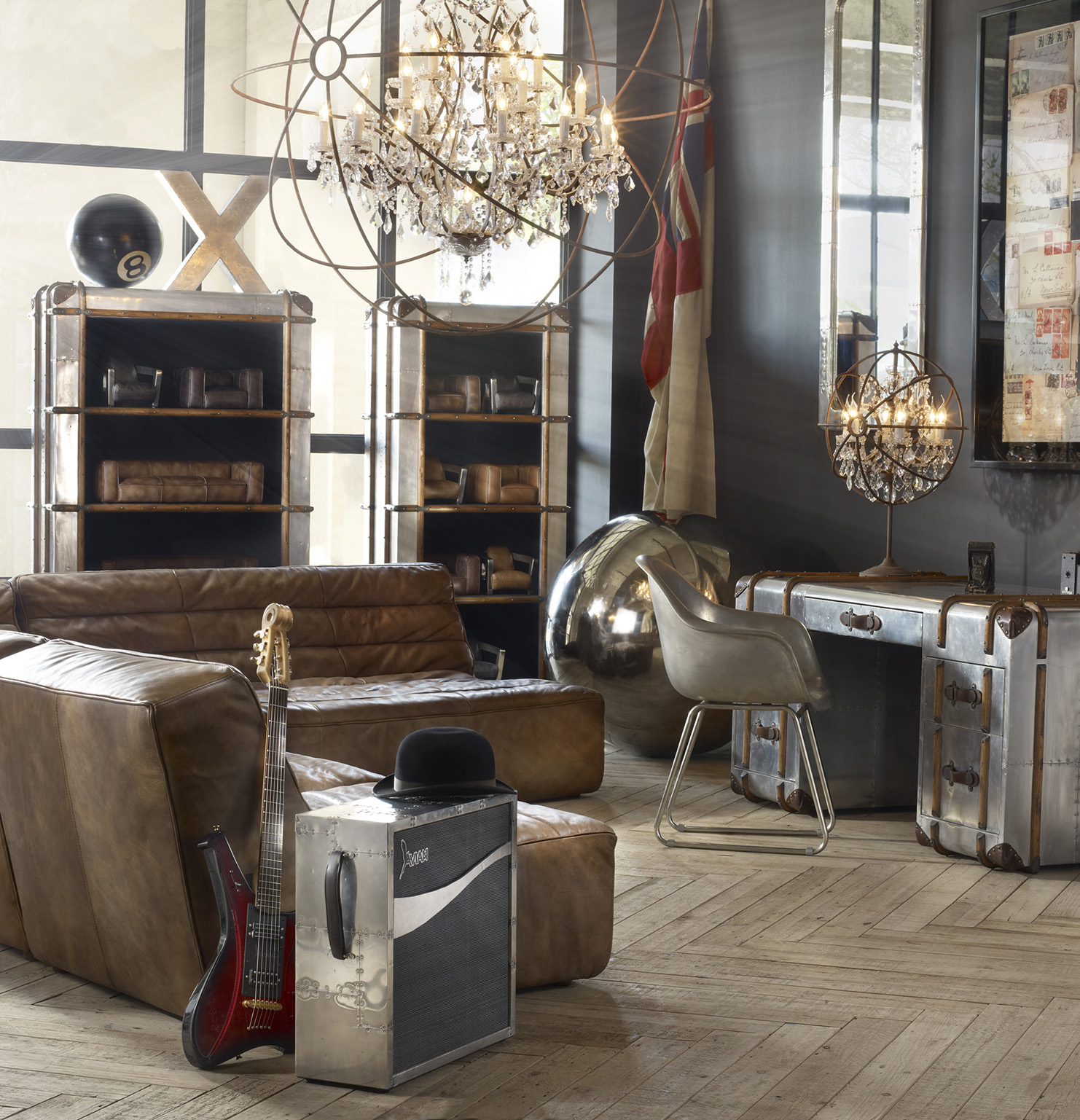 Timothy Oulton Gyro Large Crystal Chandelier, £4,075, Barker and Stonehouse
Inspired by 19th-century experimental physicist Leon Foucault's Gyroscope (a device used for measuring orientation) this fabulous framework of aged metal spheres boldly contrasts with the crystal chandelier nucleus. The antique rust finish allows this piece to work just as well in an industrial-style interior as it would with a softer, more feminine décor. We reckon it's the perfect talking point!
The starry chandelier

Supernova chandelier, POA, Boca do Lobo
With design inspiration drawn from the cataclysmic explosion of a massive star, this brass design lights up the whole room and looks marvellous when hung with another. Supernovas can briefly outshine entire galaxies and radiate more energy than our sun will in its entire lifetime, and we think this cracking addition might outshine your whole home!
The oversized chandelier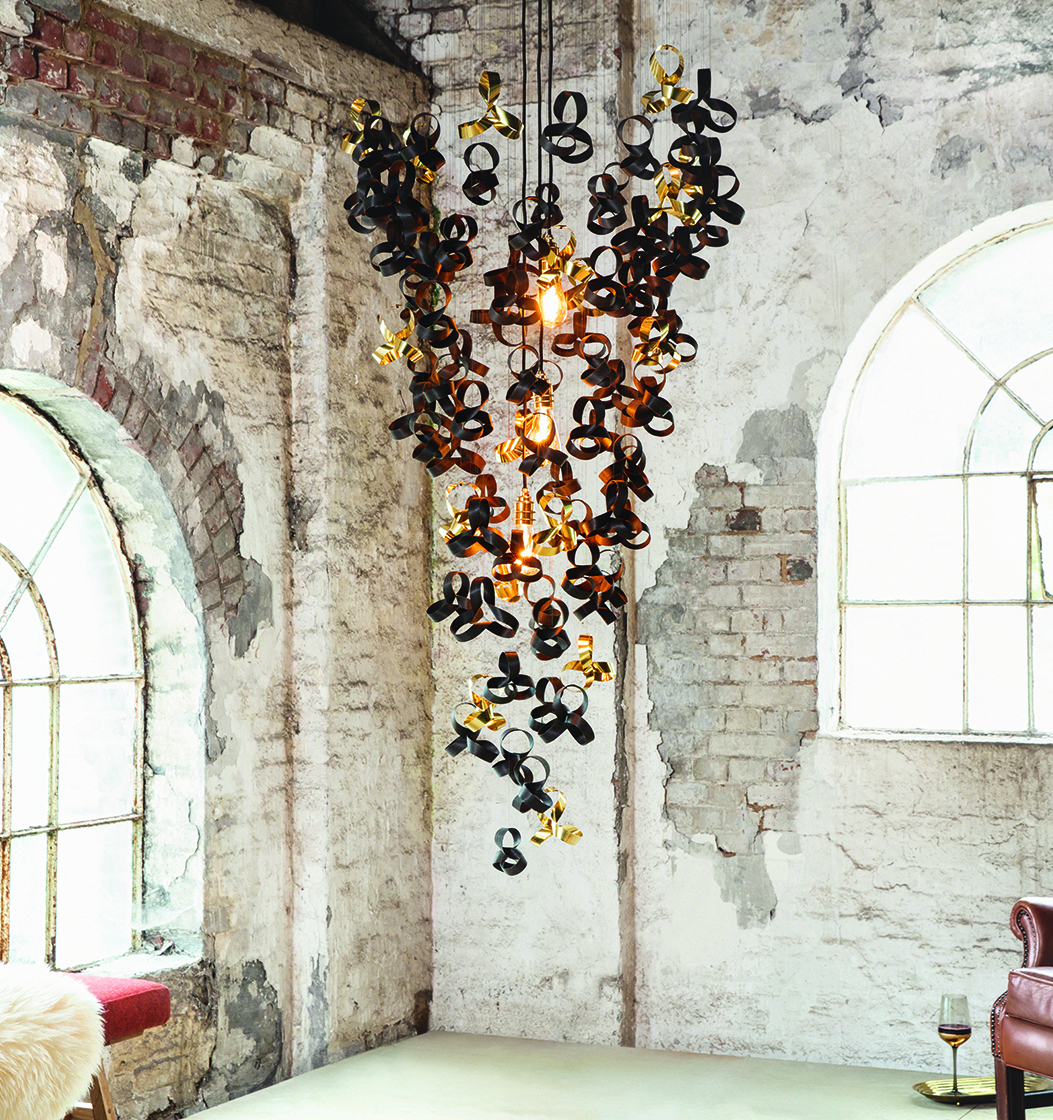 Noctis Flock Chandelier, £3,450 by Tom Raffield
We're head over heels for this eye-catching flock chandelier. It's an interplay of dissipating shadow and radiant light made from steam bent curlicues of ebonised tulipwood and twists of opulent, golden brass. Illuminated by three warm-toned filament bulbs, each intricate piece is in constant motion to create a weightless rotation, an exhibition of eye-catching, elegant beauty.
The most sought-after chandelier

Delilah light, from £360, John Lewis
For a more restrained take on retro, John Lewis' sputnik-style Delilah ceiling light strikes a fine balance. It uses on-trend green agate and gleaming brass in a centrepiece that that's mid-century minus the naff nostalgia and will definitely earn admiring glances from your guests.
Be the first to comment
Do you want to comment on this article? You need to be signed in for this feature