The best scented candles for winter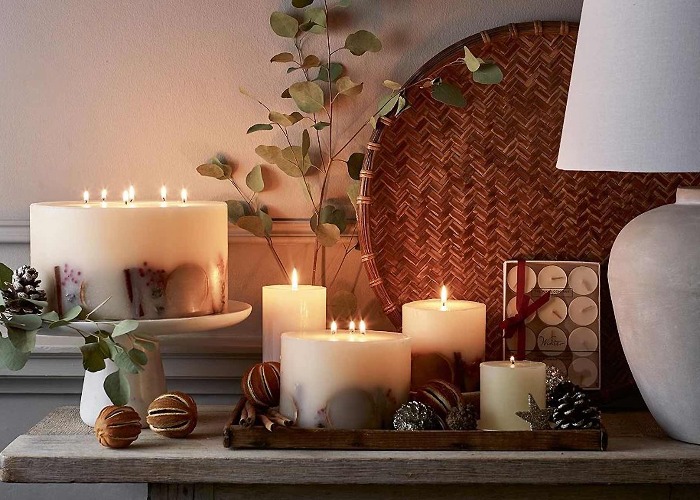 Cinnamon, cloves and citrus: not only do they smell divine but they will instantly ramp up the festive atmosphere in your home
Few things feel more luxurious on these bitter winter evenings than curling up in the warmth and lighting a beautiful scented candle. Whether you're settling in for a night of Netflix or relaxing in the tub with a good book, some things are just better by candlelight.
READ MORE: Showstopping ways to get festive at home without a tree
Whatever your feelings about fresh summer scents, these colder months call for something a little cosier. Look out for notes of myrrh, ginger, pine or something woody for a really enveloping fragrance.
We've tested some quality candles with potent scents that really last – here are our favourite fragrances to lighten up the mood this Christmas period…
Figuier by Diptyque
Fill your home with the sweet smell of warm bark, fig leaves and milky sap. This gorgeous candle is a classic for a reason and looks as sophisticated as it smells.

Figuier by Diptyque Scented Candle 190g, £47
Several Figuier by Diptyque candles were spotted in Meghan Markle's stylish Californian home before her Instagram account was deleted and if it's good enough for the Duchess of Sussex, it's good enough for us!
Diptyque Vanille candles are even a staple in Beyoncé's houses and she reportedly has someone burn them when she's not home, so her pillows always carry the fragrance. Once you've finished the candle, clean it out and use the jar as a stylish pen holder for stationery.
Neom Real Luxury
The destress range from Neom is perfect for the lead up to Christmas when things can get a little crazy. The Real Luxury candle expertly blends lavender, jasmine and Brazilian rosewood to ensure calm and banish stress, which couldn't be more apt for 2020.

Neom Real Luxury Scented Candle 185g, £32
Hand-poured using 100% natural wax, these candles make a truly sumptuous treat – for friends or for yourself.
Taylor Benfield Spiced Noir
We love this gorgeous Spice Noir fragrance. Inspired by invigorating scent profiles from Malaysia and Indonesia, it combines wood and spice to really stimulate the senses.

Taylor Benfield Spiced Noir Home Candle in Grey 220g, £30
Light this one for a romantic evening in and enjoy some alone time with someone special. Beautifully packaged in a grey matte glass, it's a stylish addition to any home.
Jo Malone Myrrh and Tonka
The perfect scent to accompany your Boxing Day movie marathon, this oh-so-luxurious deluxe candle from Jo Malone is unique and relaxing in equal measure. We love the uplifting blend of almond and vanilla notes, alongside the fresh piney scent of hand-harvested myrrh.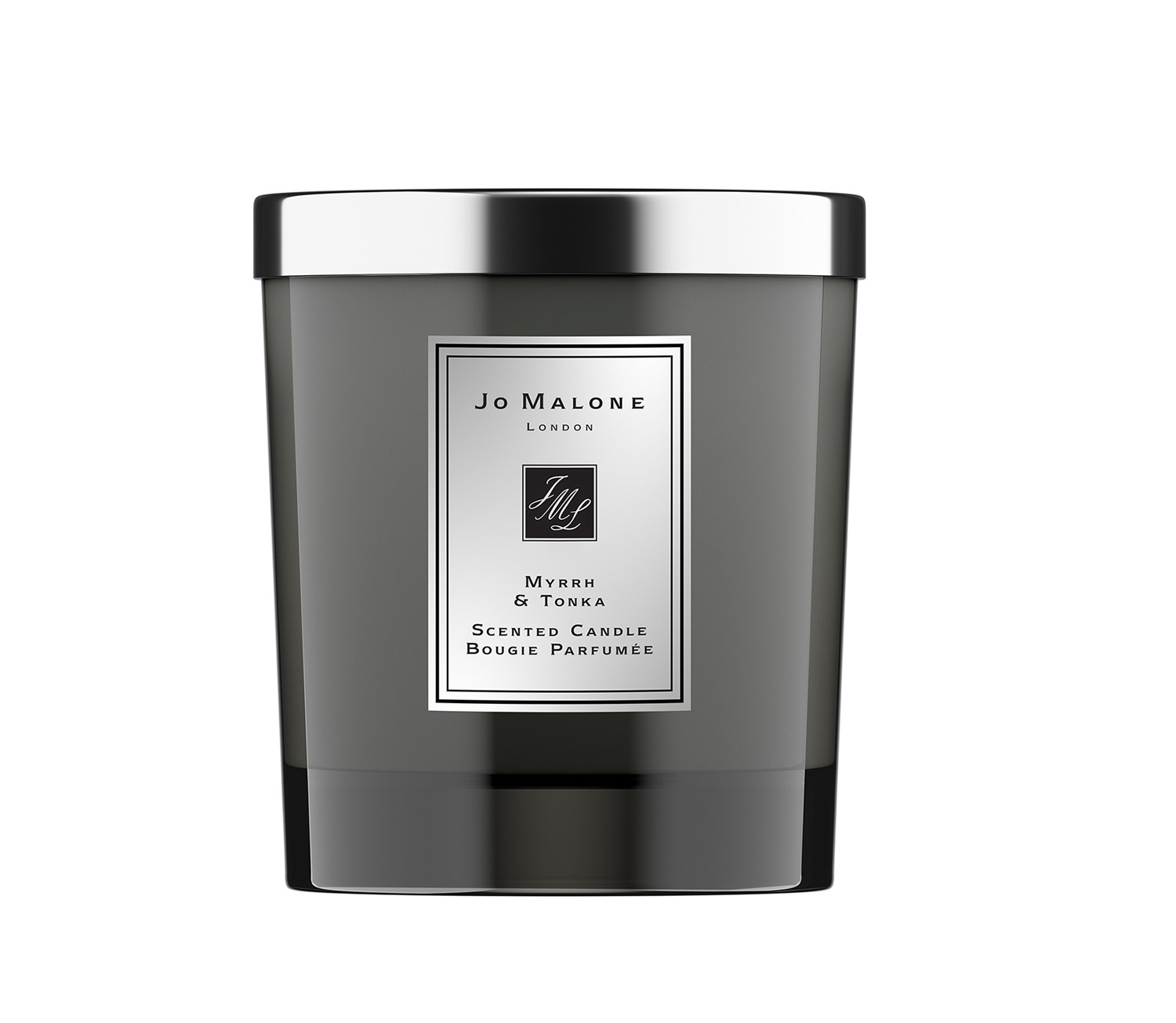 Jo Malone Myrrh & Tonka Home Candle 200g, £60
Iridescent and sparkling, this is truly the signature scent of winter.
The White Company Winter Indulgence
This Christmas candle has to be among The White Company's greatest achievements. Created over two decades ago, this bad boy makes an appearance every festive period and each time it's just as perfect.

The White Company Winter Indulgence Botanical Candle 450g, £85
From the handsome red ribbon to the warm, spicy scent and the infused cinnamon sticks, orange slices and red berries, this candle is every bit as inviting as Christmas itself.
Le Labo Santal 26
For wintery smells that aren't too traditional, check out the smoky, leathery scent of Le Labo's Santal 26. The candles are soy wax based and use pure cotton wicks, plus they're hand-poured, GMO-free, vegan and cruelty-free.

Le Labo Santal 26 Candle 245g, £52
Still need convincing? They make thoughtful gifts as you can personalise the labels!
Cire Trudon Abd El Kader
These luxurious candles aren't cheap, but we're pretty sure you'll be reaching for your purse as soon as you smell them. A favourite of celebrities, each Cire Trudon is hand-poured in France and named after a notable historical figure.

Cire Trudon Abd El Kader scented candle 270g, £75
The Abd El Kader has a vanilla base, a heart of jasmine and fresh head notes of apple, ginger, cloves, spearmint and lemon. The sophisticated design will add massive glamour points to your home as well.
The Prosody Whisky Wisteria
The fact that it was inspired by The Great Gatsby makes us love this heady, sultry scent even more. A citrus floral aroma of ylang ylang, jasmine and lemongrass takes a darker turn with hints of liquor. It's utterly irresistible.

The Prosody Whisky Wisteria 270g, £55
All in all, it's a very grown-up fragrance with an equally refined design. Save this one for a special gathering with your bubble, or a cosy moment on Christmas Eve.
Katie Loxton Merry Christmas Candle
Add some twinkle to your home this winter with a comforting scent from Katie Loxton. This festive fragrance has been blended with heart-warming essential oils, notes of sweet and spicy cinnamon and nutmeg chai.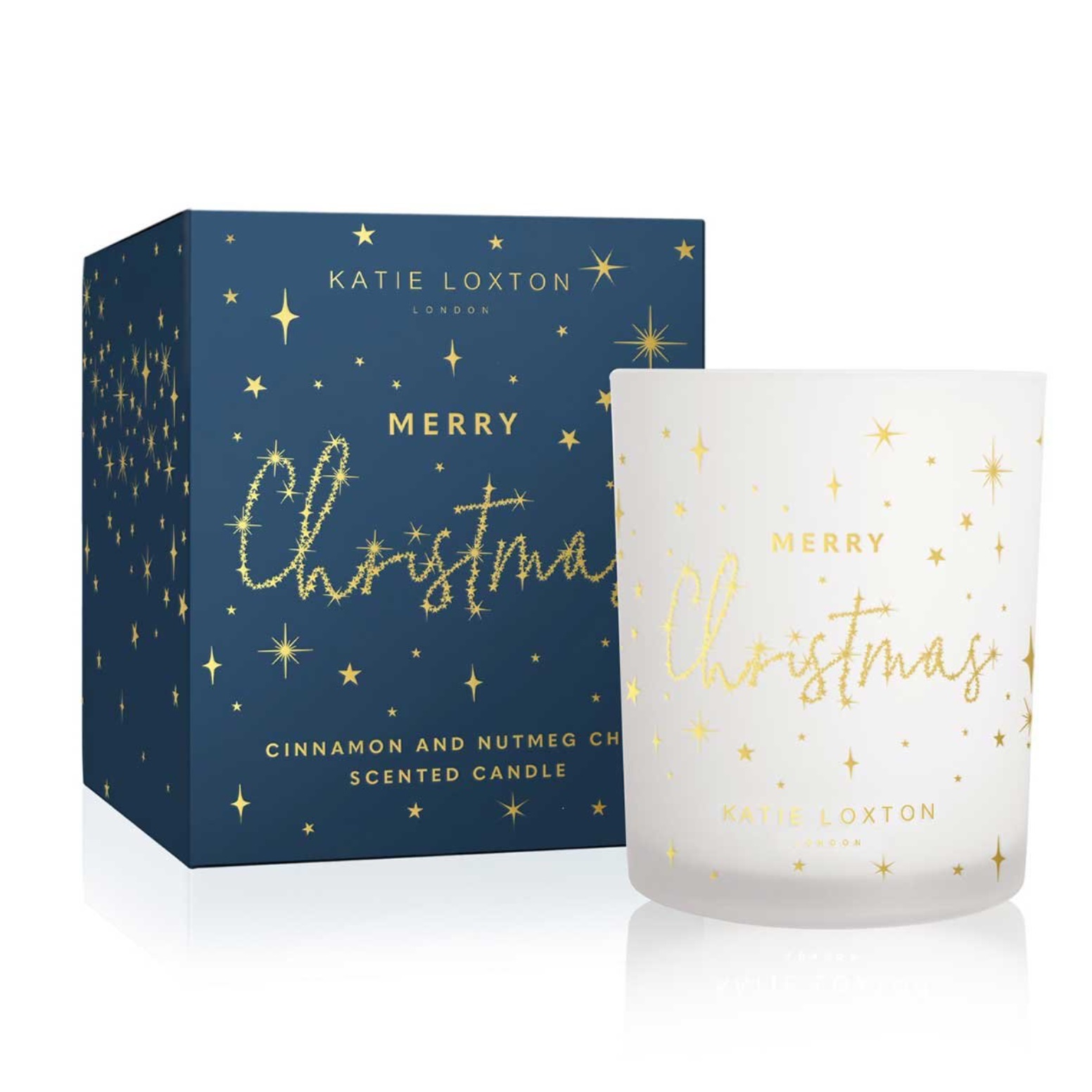 Katie Loxton Merry Christmas Candle 160g, £16.99
The high-quality wax burns slowly and evenly and the scent has been carefully selected to conjure up the ultimate festive atmosphere. We love the cute white glass jars too.
Voluspa Glass Votive in Mokara
With notes of Mokara orchid, white lily and spring moss, this is a highly fragrant candle. Despite its floral scent, it really lends itself to winter. This collection is available in a wide range of tins and jars, so you can find a style that suits your interior without compromising on scent.

Voluspa Glass Votive in Mokara 510g, £23
All Voluspa votive candles are made with no phthalates, parabens or sulfates and aren't tested on animals. Selena Gomez loves this scent and is said to enjoy burning Voluspa Mokara candles in her piano room during jam sessions.
D.S. & Durga Portable Fireplace
D.S & Durga believes aroma holds the key to conjuring unseen worlds of music and memory, and their Portable Fireplace candle aims to transport you on a sensual journey through time and space.

D.S. & Durga Portable Fireplace Candle 200g, £60
Well, we can't promise you'll be transported anywhere, but we can tell you that if you love the comforting smell of a roaring fire, you'll adore this aromatic candle with familiar wafts of smoky pine, cedar, birch tar and ash.
Laboratory Perfumes Amber
Ideal for a minimalist home, these simple candles from Laboratory Perfumes are cased in understated glass beakers and create a homely yet clean winter scent.

Laboratory Perfumes Amber Candle 200g, £45
Amber is inspired by the wilderness of the British countryside and promises a spicy twist with earthy wood and balmy ambergris.
Sophie James The Christmas Stocking
Here's a candle that both looks and smells like Christmas! With festive red and gold packaging, we're in the mood for a mulled wine before we've even lit the wick.

Sophie James The Christmas Stocking 220g, £55
The aromatic fragrance opens with citrus orange and lemon and is followed by rich, warm cinnamon and clove. There are also hints of floral jasmine, which rests on a base of wood and musk.
Wild Fig by Rituals
Stylish and sophisticated, this luxurious candle from Rituals has the most heavenly scent. Designed to help you take a quiet moment out to reflect, this indulgent option is fragranced with Italian fig, Chinese orris, and fresh spicy clove.
Rituals XL Wild Fig Scented Candle 1kg, £49.50
Perfectly rounded off with creamy cocoa and Indian sandalwood nuances, this festive favourite is sure to get you in the mood for the most magical time of the year.
Woodland Walks by Sophie Allport
Evocative of winter walks through the countryside, mugs of sweet sloe gin, and cosy nights by the fire, this festive candle was inspired by our favourite quintessentially Christmas pastimes.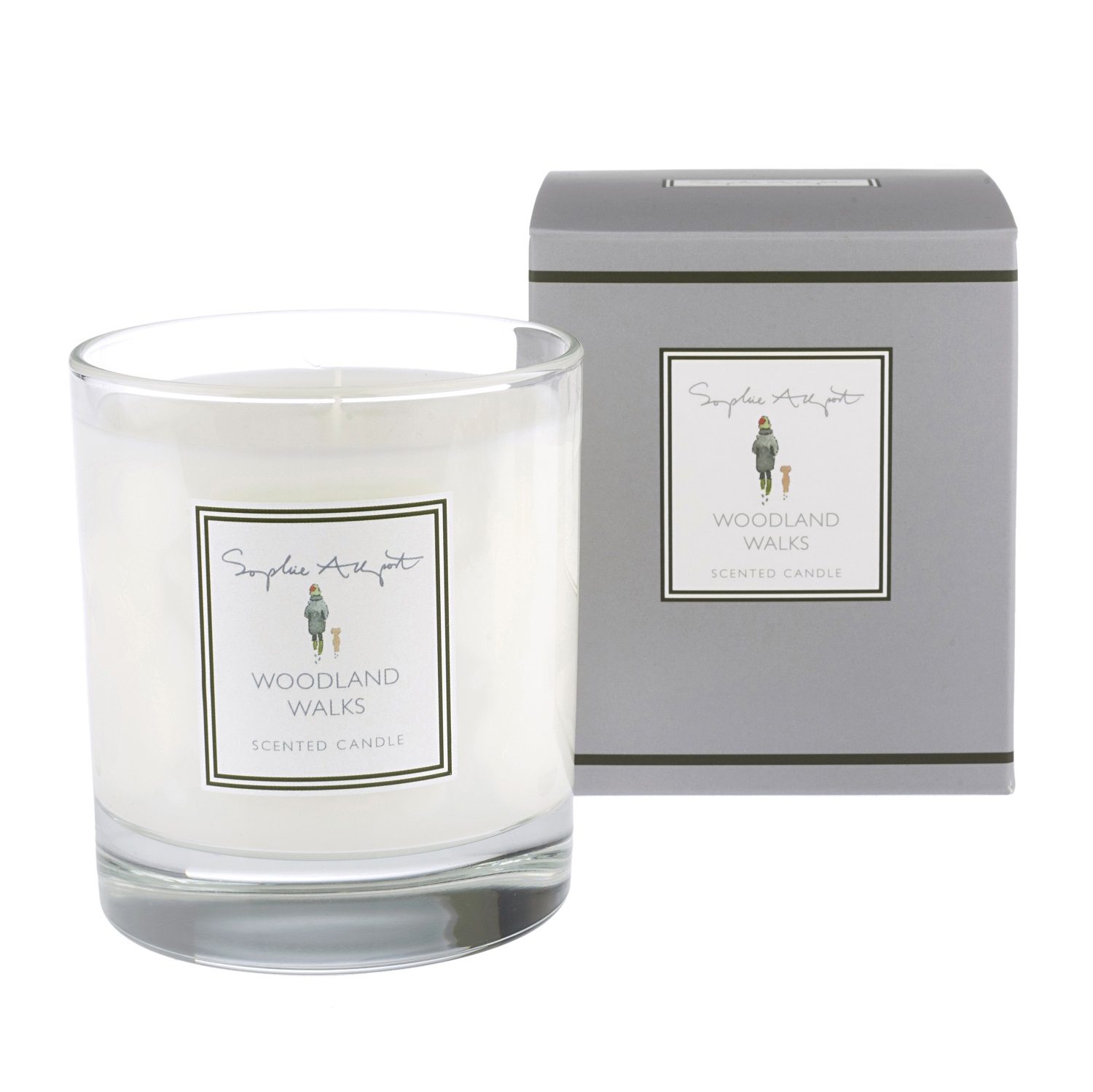 Sophie Allport Woodland Walks Candle 220g, £20
With a natural cotton wick and a blend of high-quality fragrances, this handmade botanical candle is infused with autumnal leaves and pine cones to set the right mood for your cosy festive celebrations.
Candle care: We recommend following the candle instructions to get the most from them. Usually, you should burn for between two and four hours to allow the wax to melt evenly.
Keep the wick trimmed to about 1cm to avoid any unsightly smoke marks on the glass. Most importantly, don't leave candles unattended or within reach of children. We recommend pairing your favourite scent with cosy PJs and a plate of mince pies!
READ MORE: Easy DIY Christmas gifts for the home
Image: The White Company
Be the first to comment
Do you want to comment on this article? You need to be signed in for this feature