Chrissy Teigen's Beverly Hills house takes luxury to the next level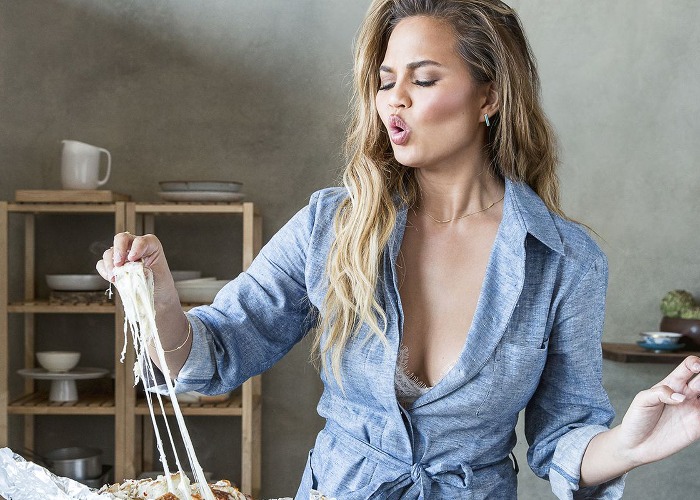 Model and author Chrissy Teigen has always been open to sharing her life with her millions of social followers – and showing off her incredible home in the process.
Looking through the keyhole of her uber luxe Beverly Hills mansion, we've spotted so many amazing features that demonstrate her flawless taste in décor and a preference for the finer things in life.
Here are a few of our favourite things in Chrissy Teigen's home…
The pool table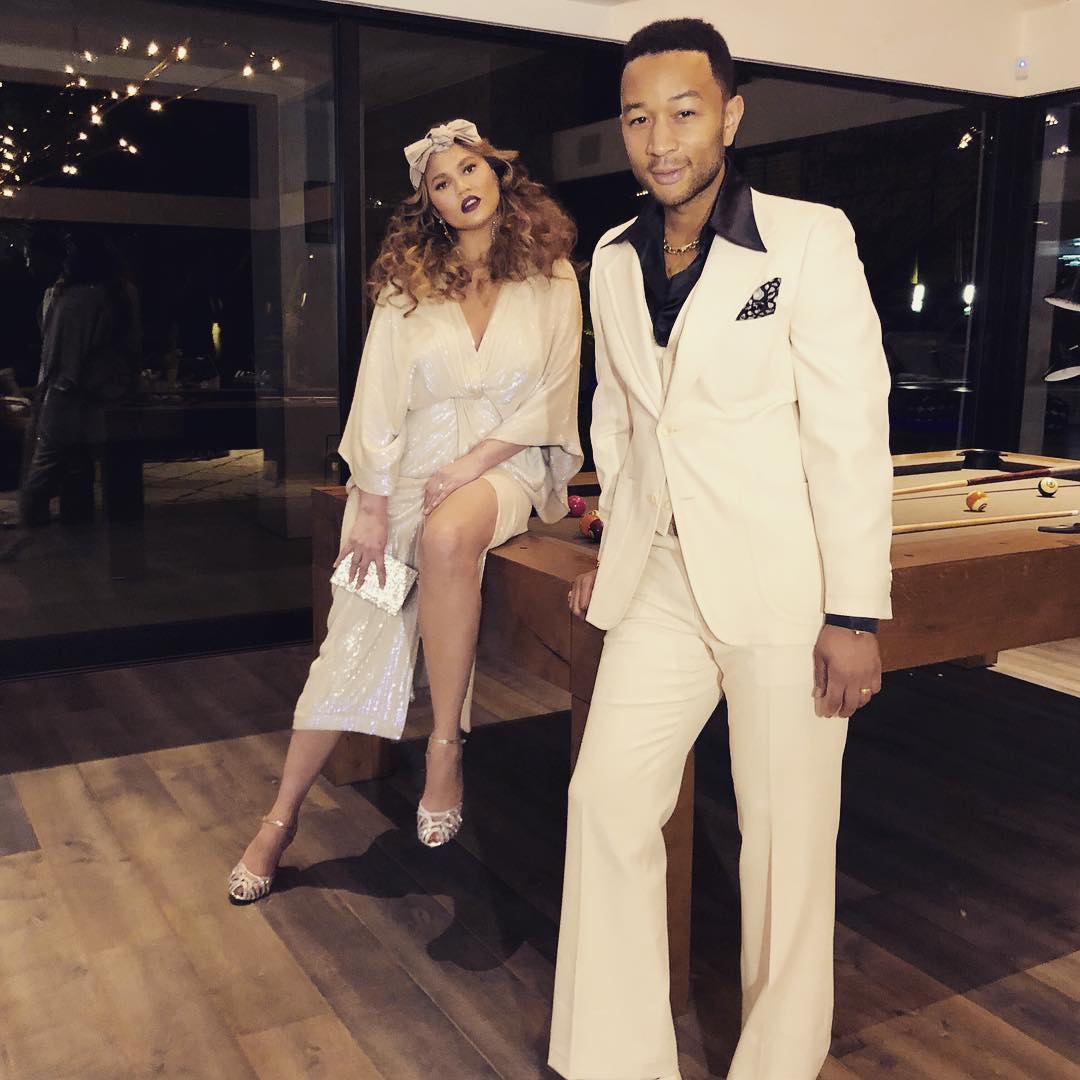 Image: @chrissyteigen / Instagram
This a home that not only earns its place in one of LA's most prestigious neighbourhoods but also lends itself to family living, while incorporating the personalities of the two big characters that call it home.
Chrissie and her husband, singer John Legend, previously lived in a one-bedroom loft apartment in New York but relocated to the West Coast in 2016.
READ MORE: James Franco, Bethenny Frankel and more star homes for sale in May
These days they live in their luxury pad with their two small children Luna, three, and 11-month-old Miles. The sprawling 8,500-square-foot residence is flooded with light thanks to its many glass walls and boasts five bedrooms, eight bathrooms and several slick balconies that overlook a trendy pool area.
Previously the property belonged to Rihanna before she sold up in 2009, so it seems it was always destined to be an A-list home.
A gorgeous grand piano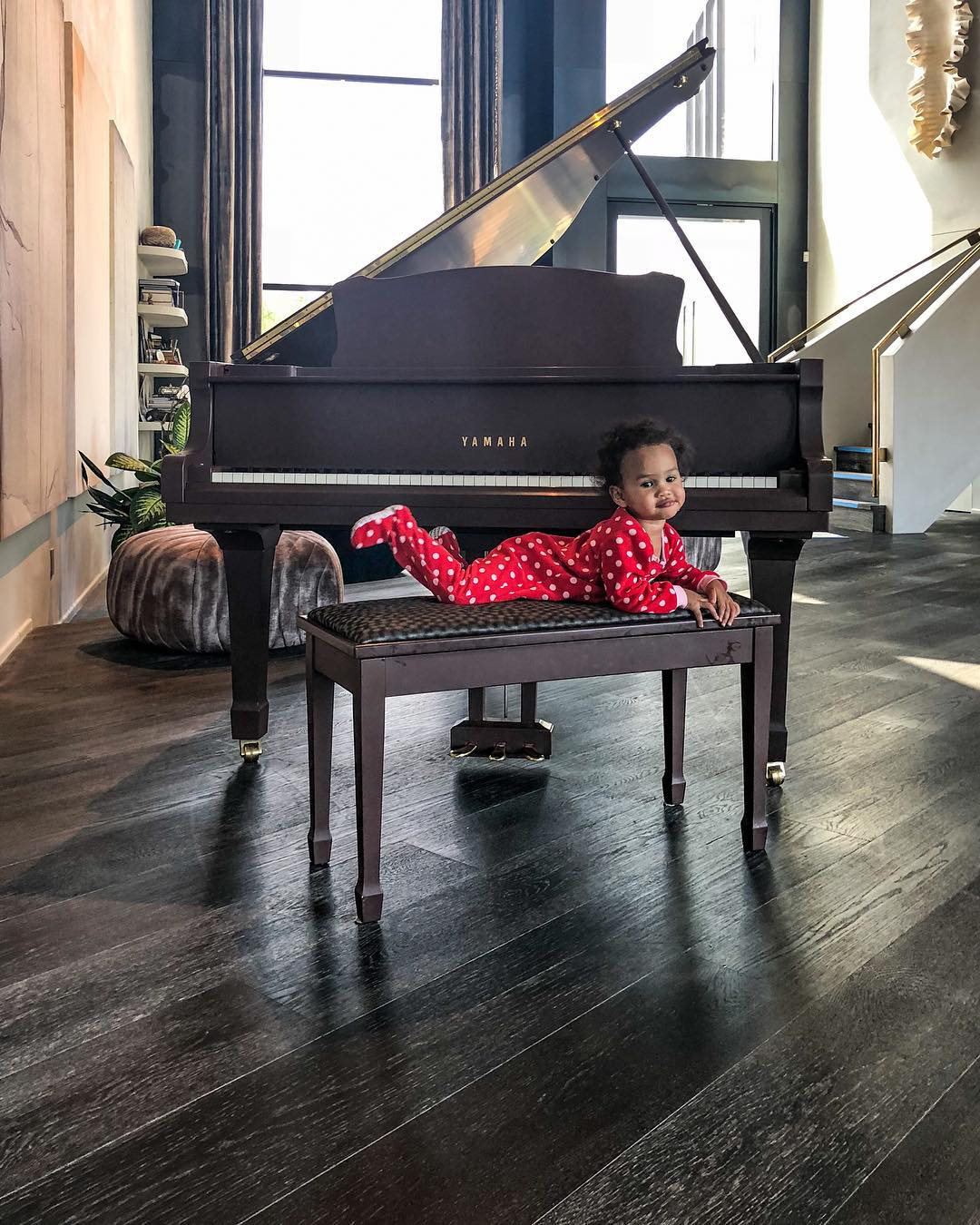 Image: @chrissyteigen / Instagram
If you can tear your eyes from Chrissy's adorable daughter Luna posing on the chair in her red onesie you will notice this fabulous Yamaha grand piano takes precedence at the entrance of the home. Do you have to be able to play to get away with having a grand piano in your house? Asking for a friend…
We've also clocked the cool artwork that adds interest to the white walls, as well as the copious amounts of lush green planting that add a sophisticated colour injection to the otherwise neutral colour palette.
Plenty of plush furnishings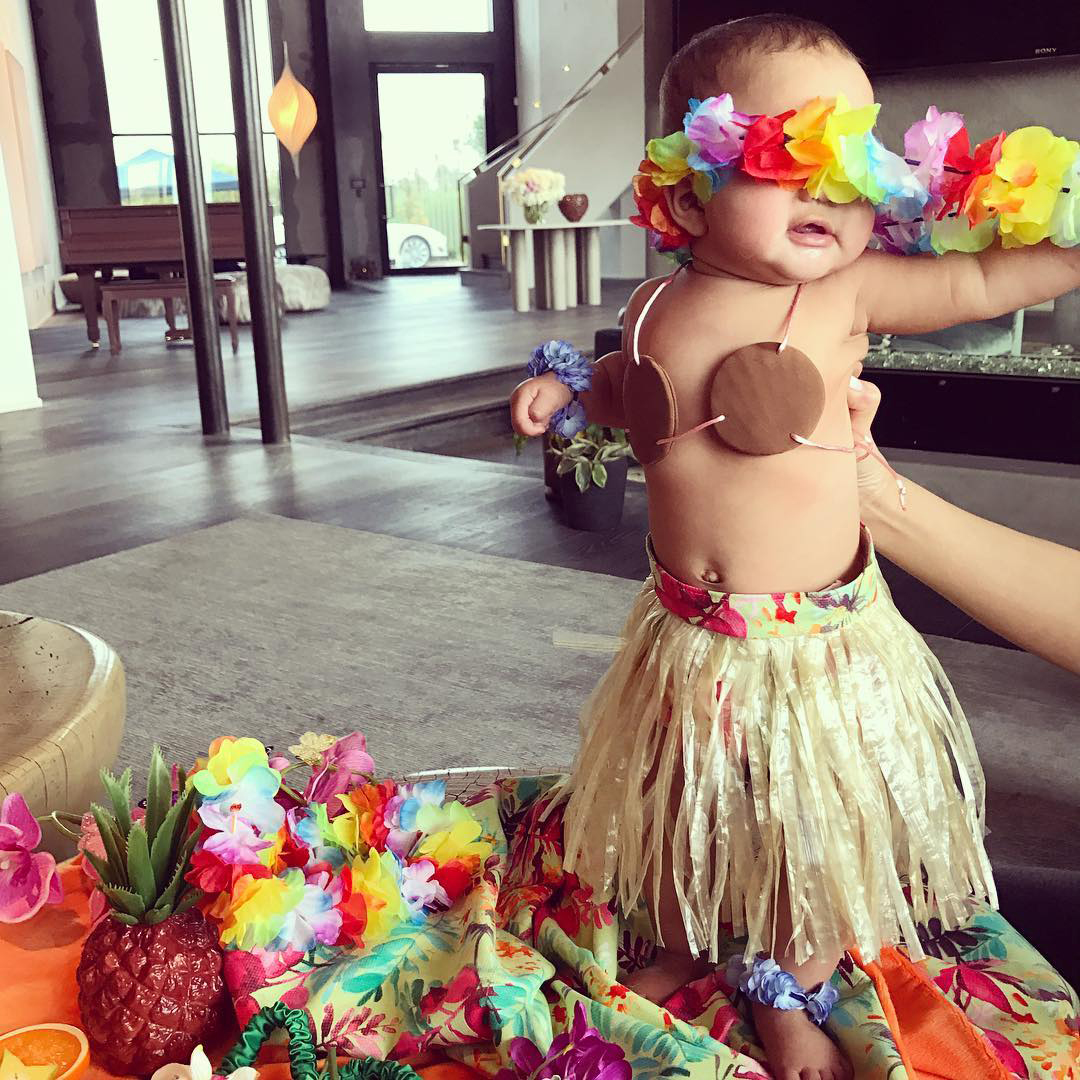 Image: @chrissyteigen / Instagram
Again, you'll have to divert your attention away from the cute baby pic and focus on the house, but once you do, you'll notice the dark wooden floors that complement the inky wall and add a luxurious feel to this oh-so-grand home.
The grey rugs bring a touch of warmth to the layout and we love how the cavernous open space is subtly divided into 'rooms' with clever architectural touches, such as this sunken floor area.
The relaxed living room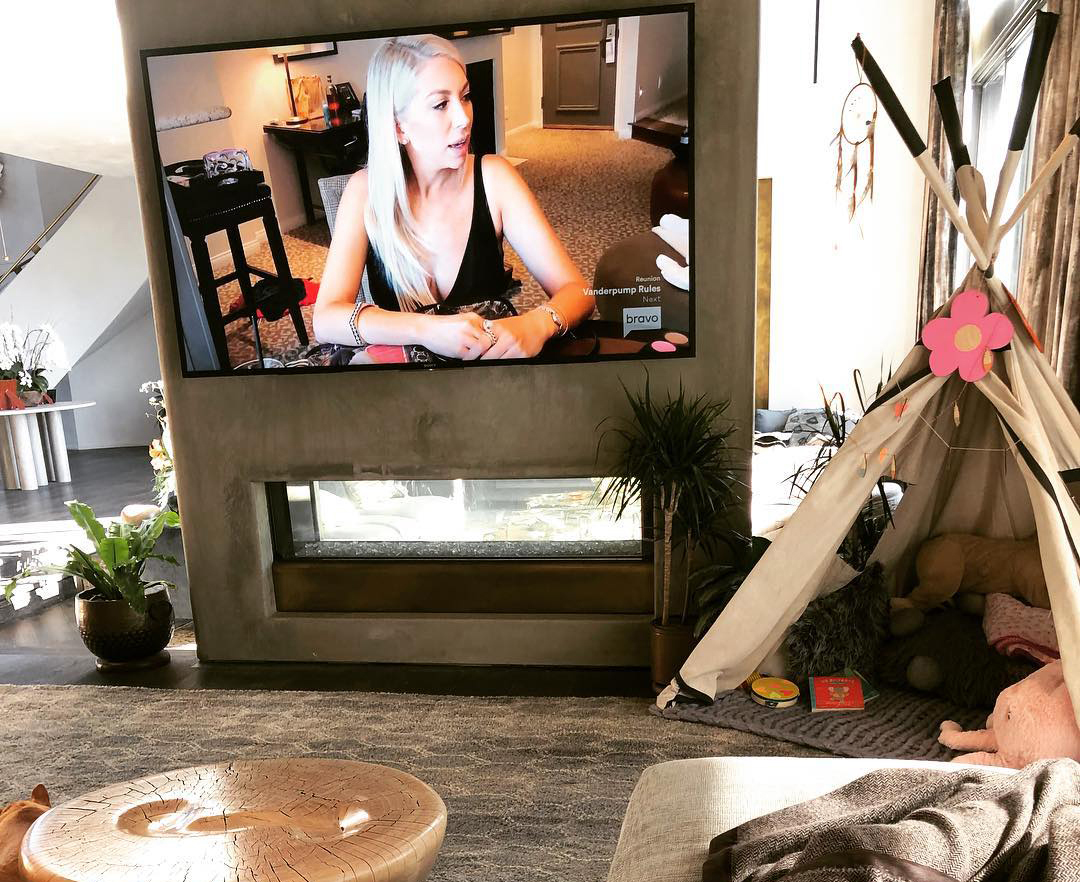 Image: @chrissyteigen / Instagram
If this isn't the dream set up, we don't know what is. Again, you can see how the open-plan ground floor has been cleverly segmented off, this time using a part wall with a mounted TV and two-way fireplace to create a cosy area to put your feet up.
The heavy coffee table and large plant pot are a great example of Chrissy's simple, unfussy style. She clearly appreciates a statement piece! We love Luna's little wigwam too – a super chic way to implement kids' toys in the home without spoiling your interior. There are some really cool ones on Etsy in a whole host of colours…
The statement occasional table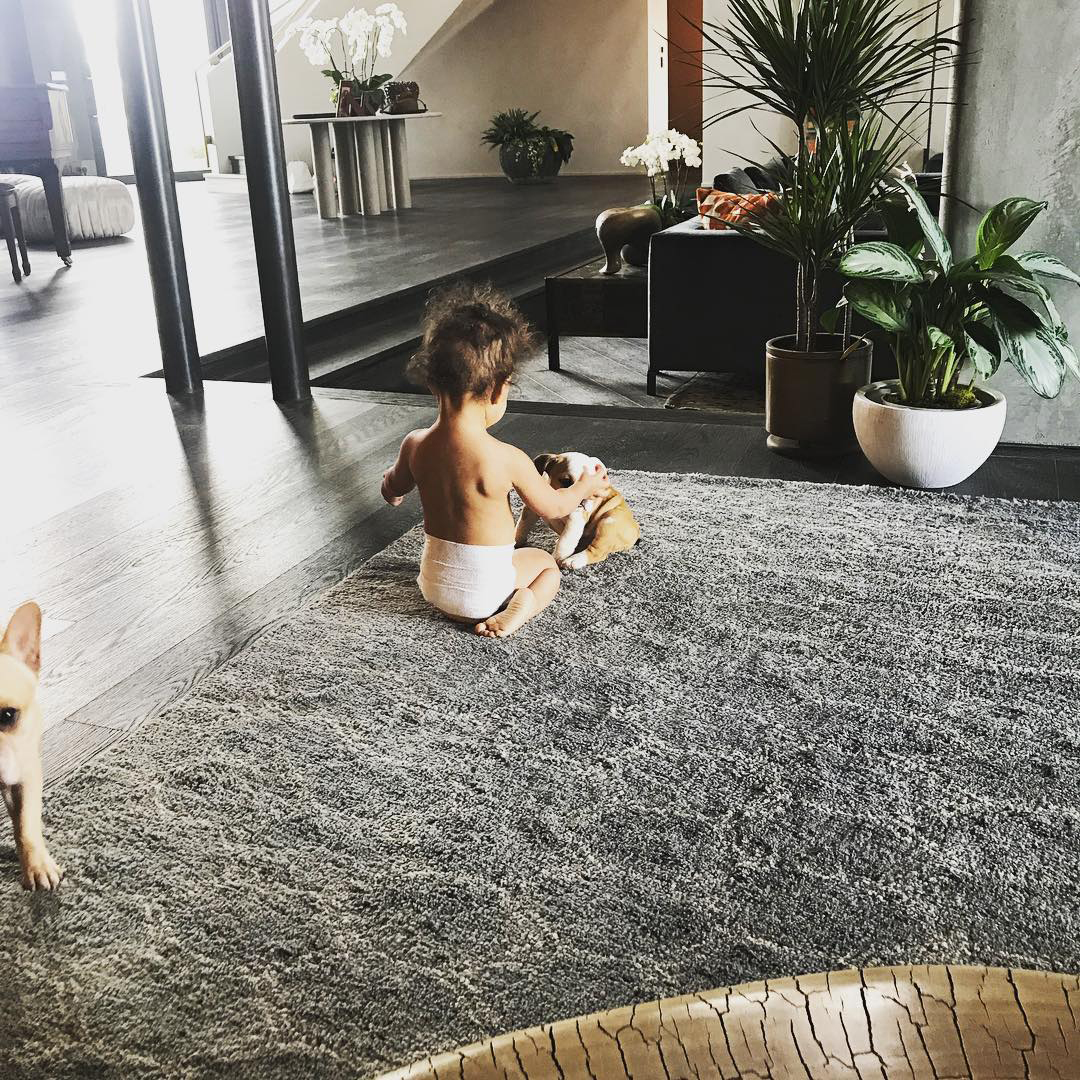 Image: @chrissyteigen / Instagram
Round tables are a great way of breaking up large spaces, and we love the oversized orchid to introduce a little glamour. If you're not blessed with quite the same amount of space, orchids look just as fabulous on a console table in the hall. For those not to be trusted with real plants, fake it with this low maintenance one from Hicks & Hicks.
The cool kitchen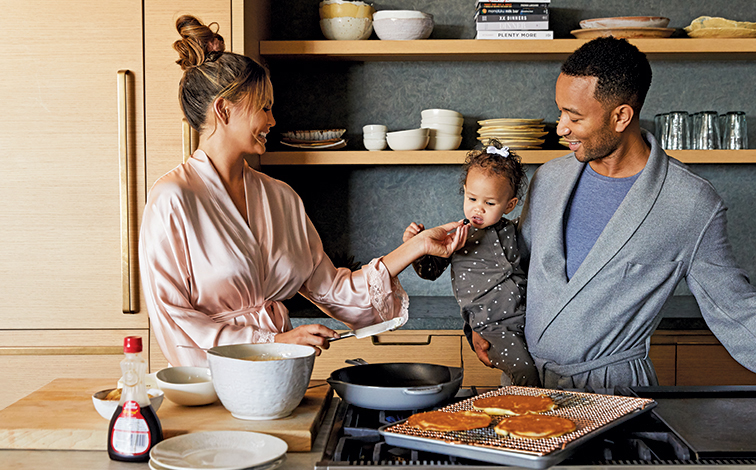 Image: Clarkson Potter / Penguin Random House
Keen chef Chrissy has released a number of cookbooks, so we always knew she'd have a beautiful kitchen to practise in. We're still drawn to the understated modern cupboards behind her with unusual vertical wooden handles, and the top-of-the-line appliances befitting a woman of her culinary talent.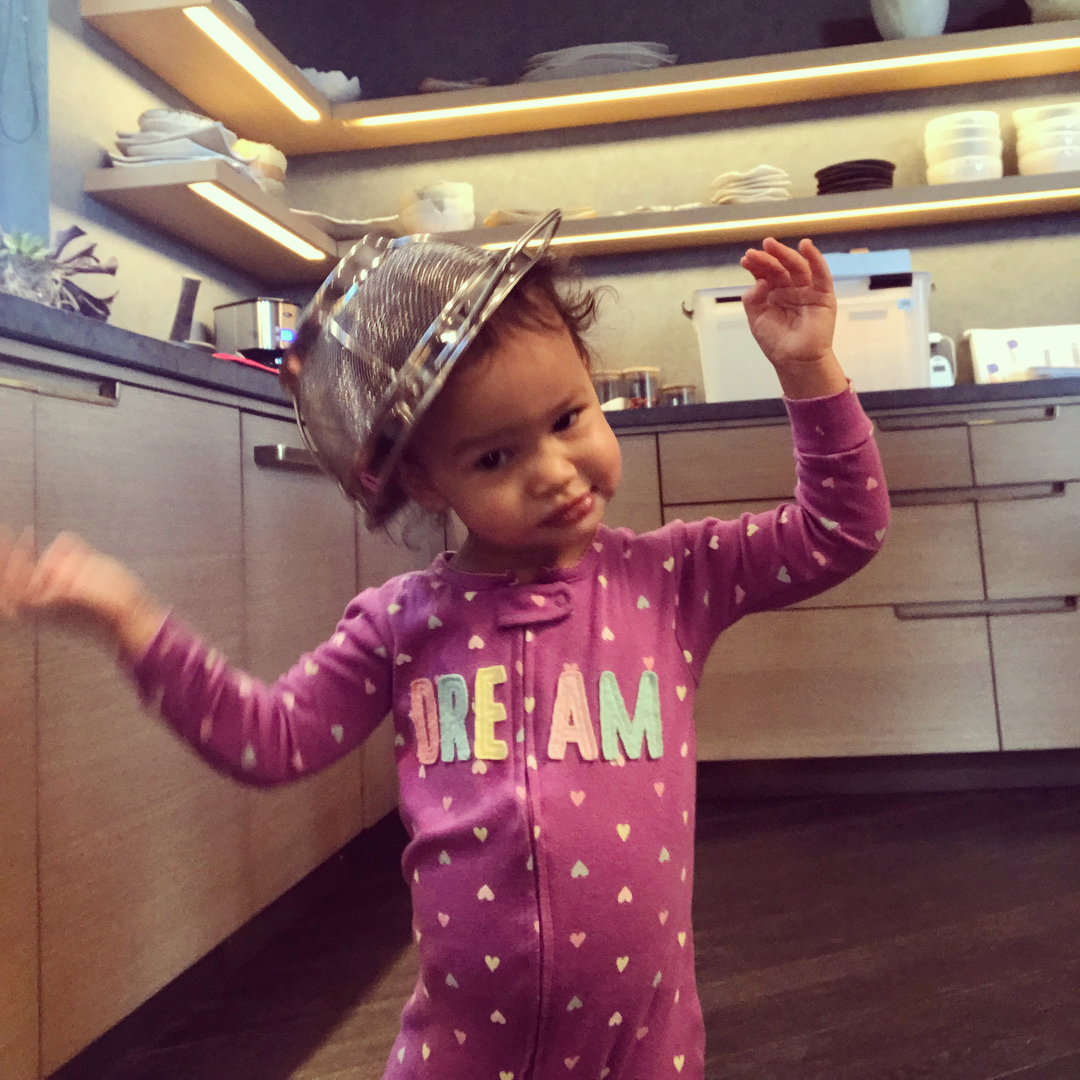 Image: @chrissyteigen / Instagram
The open shelving is also a masterclass in how to display your assorted kitchen items without it looking cluttered or messy. Or you can just wear your cookware as a hat, of course!
The luxe bathroom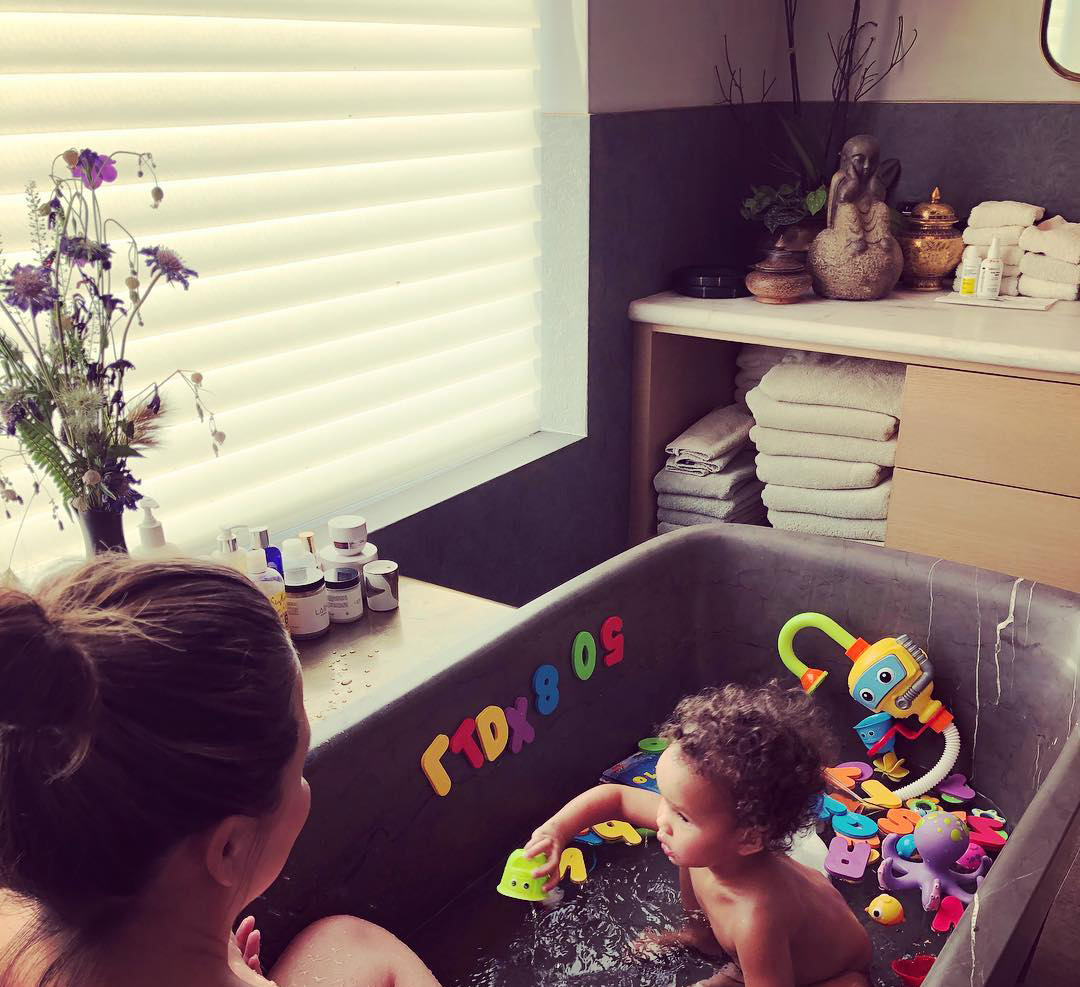 Image: @chrissyteigen / Instagram
Even with that colourful array of toys, bath time at Chrissy's still looks a far more glamorous affair than our own. That industrial black marble bath is giving us serious tub envy.
The pool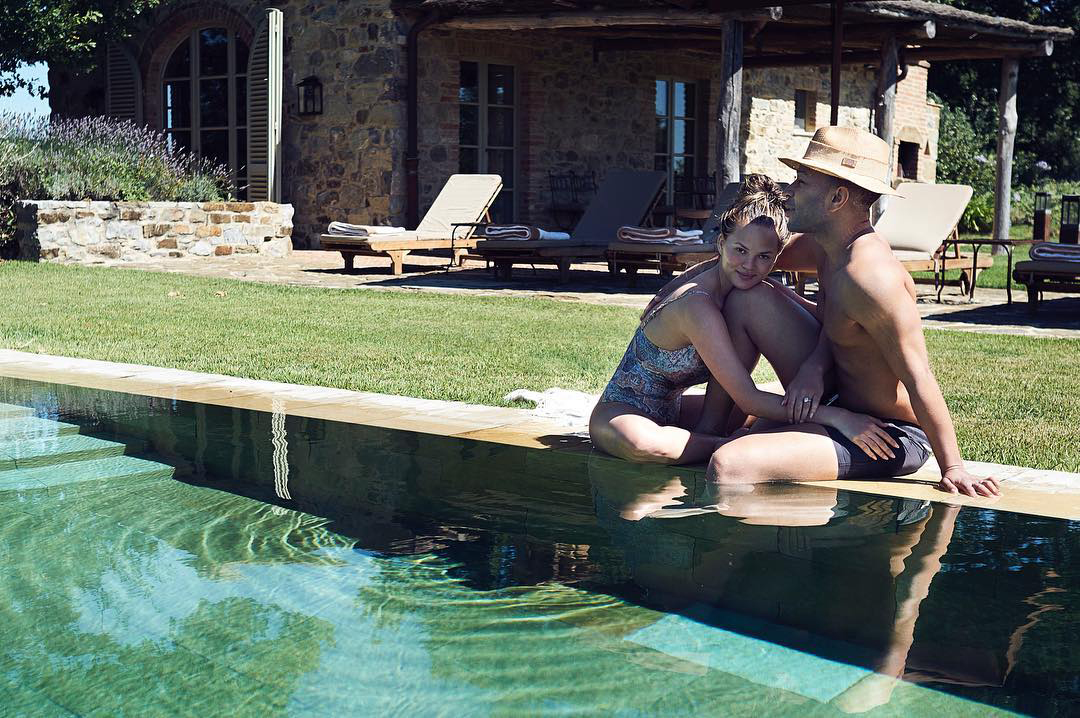 Image: @chrissyteigen / Instagram
One of our favourite aspects of the property must be this gorgeous infinity swimming pool, which is surrounded by several cosy sofas to recline on after a dip. It was actually added to the property by Rihanna, and in the hot LA summers, it's the place to be.
Please invite us to your next pool party, guys?
Love this? Find out why we think Kourtney Kardashian is the most stylish home decorator
Image at top: Clarkson Potter / Penguin Random House
Be the first to comment
Do you want to comment on this article? You need to be signed in for this feature