Affordable housing: Flat-pack IKEA villages coming to the UK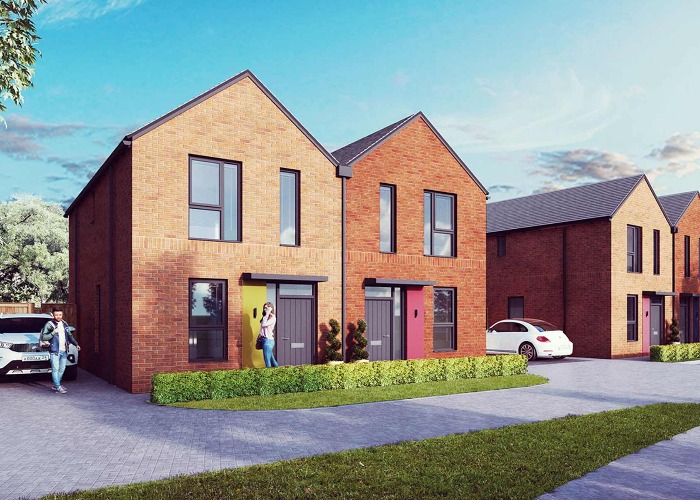 More flat-pack neighbourhoods could be popping up in the UK after plans were submitted for a new development near Bristol
Fancy snapping up a stylish flat-pack home courtesy of everyone's favourite Scandi homeware store? With plans being submitted for a new IKEA village on the edge of Bristol, this could soon become a reality for more home-buyers.
READ MORE: Tiny flat-pack homes you can build in a flash
BoKlok, the building firm behind the plans, is a partnership between IKEA and construction company Skanska. They've been building homes in Scandinavia since 1997 and have had projects in the pipeline in the UK since 2019.
The proposed site for the company's newest endeavour is located to the northeast of Bristol at Hoodlands Farm, part of the East of Harry Stoke New Neighbourhood development.
If their application is approved, there will be 50 units, encompassing 19 two-bedroom homes and 31 three-bedroom homes, with the modular wooden structures built off-site to lower their environmental impact, before being craned into position. Of the 50 new homes, 18 will be available for shared ownership or social housing.
These ready-made houses, located in a site surrounded by greenery, with a gardening and play area at its centre, follow on from the company's BoKlok on the Brook development in south Bristol, which is near completion and where all the homes have now been reserved.
BokLok's first flat-pack village in the UK
Having adapted its business model and product range to suit the UK market and regulations, BoKlok began building sustainable homes in the UK over two years ago with the aim of bringing the dream of homeownership within reach of more people.
In 2019, Worthing Council in West Sussex confirmed that it was in talks with BoKlok to bring its brand of affordable and sustainable homes to the seaside town.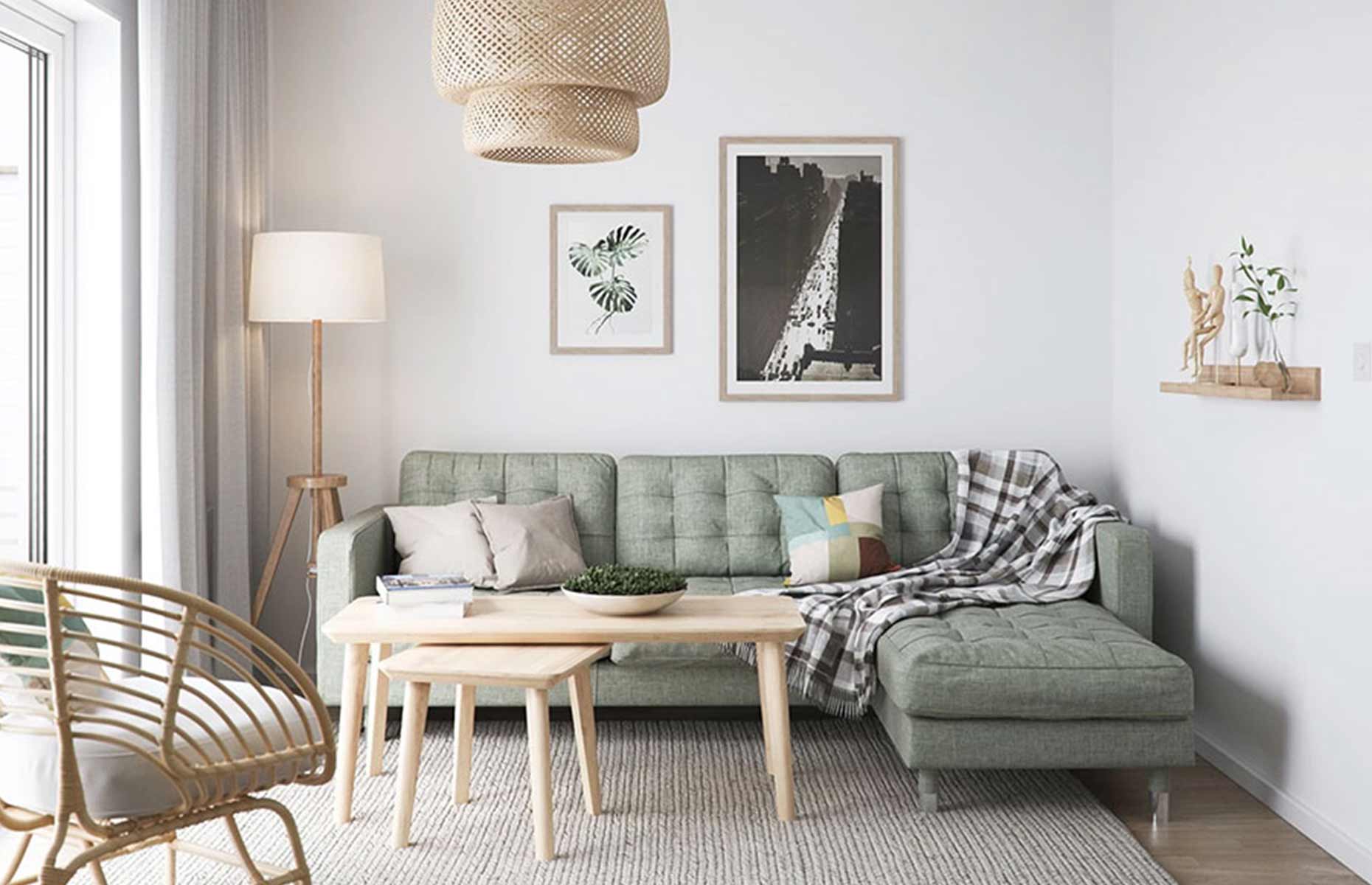 An example of the stylish, open-plan interiors in the flat-pack developments. Image: BoKlok
Fast-forward two years and there is still just about time to enter the ballot for Worthing's BokLok on the Lake site, where those who are picked out in a lottery-style draw will be given first dibs on reserving one of the one- or two-bed properties, with prices ranging from £190,000 to £257,000.
Entry to the ballot requires all entrants to have either proof of funds or a mortgage in principle in place, an idea of which size home they would like the chance to purchase, and an IKEA Family Membership Number, which you can sign up for quickly. The closing date for entries is 9am on 15 November 2021.
How do the low-cost homes work?
BoKlok says it can keep costs down by manufacturing the properties in a factory, producing modules that can then be assembled quickly on-site.
Sustainability is at the core of its ethos and the timber-framed homes produce less than 1% waste. BoKlok also says that their carbon footprint is less than half that of normal building projects.
The innovative properties are designed with open-plan living in mind, with plenty of natural light, airy living spaces and IKEA kitchens, of course.
Expanding the vision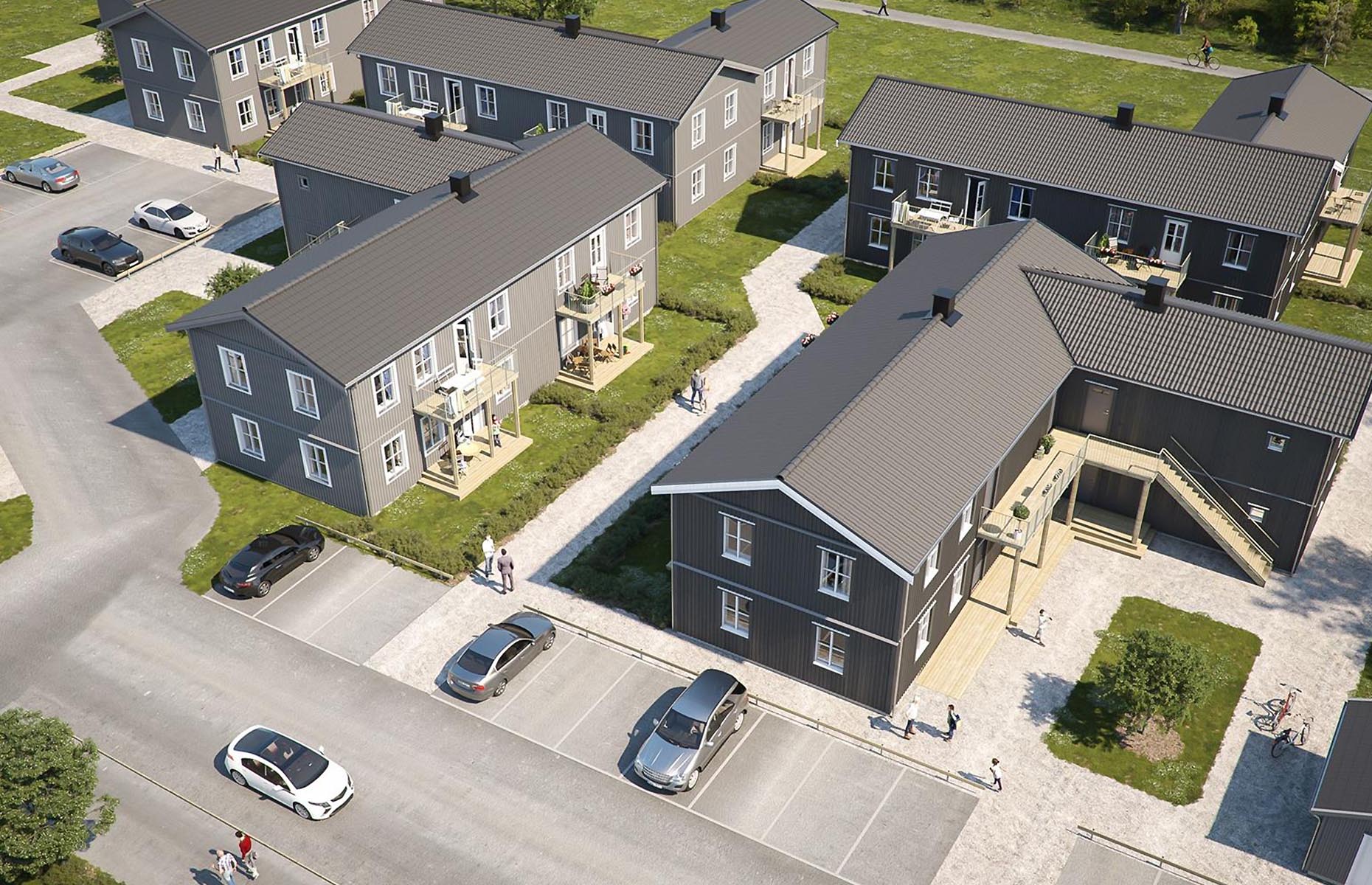 A similar flat-pack development built in Jordbro, Sweden. Image: BoKlok
For those a little hesitant about buying a home designed by the IKEA-backed firm, rest assured this is no flash-in-the-pan idea. Since building its first home in 1997, BoKlok has built around 12,000 similar homes in Sweden, Norway, Denmark and Finland.
And the company shows little sign of slowing down. On its website, BoKlok has put a call-out for UK landowners to come forward to discuss projects on other potential plots of land.
Specifically, BoKlok says it is interested in sites where they can build between 40 and 500 homes, creating vibrant and sustainable communities.
READ MORE: IKEA through the ages: How our favourite furniture store shaped our homes
Photos: BoKlok UK
Be the first to comment
Do you want to comment on this article? You need to be signed in for this feature