Aston Martin will build a Bond-style lair for your car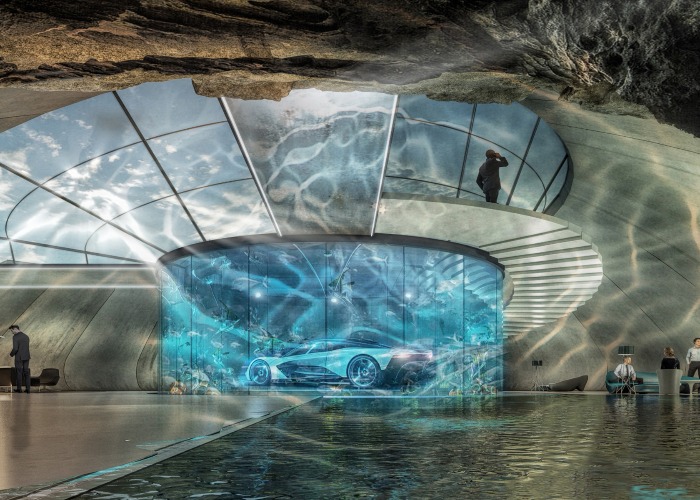 007 superfans better start saving – these bespoke designs are straight off the big screen...
Aston Martin have just launched an exciting new design service that will allow luxury car lovers to create the perfect space to show off their pride and joy.
An extension of their Q by Aston Martin service, which allows customers to personalise their cars, the company will now offer buyers the chance to create their own bespoke garage or showroom, or even design an entire luxury residence around their prized vehicles.
READ MORE: The most jaw-dropping home features money can buy
Automotive architecture
"Imagine a home or luxury retreat built around your car," explains Marek Reichman, Aston Martin's Chief Creative Officer.
"Picture creating the ultimate space to showcase your own automotive works of art. This is now achievable with this new offering.
"For the car enthusiast, the garage is as important as the rest of the house and a bespoke auto gallery designed by Aston Martin that either focuses on showing off the car or is part of a larger, integrated entertainment space with simulators and such like, takes Aston Martin ownership to the next level."
Worthy of a James Bond's villain lair, architecture firm Obermoser arch-omo has already drawn up renders to show the lavish spaces that may be on offer clients.
Daring designs
One image depicts a car behind a giant cylindrical fish tank – the perfect backdrop for a homeowner with a martini-sipping, tuxedo-wearing lifestyle.
A further design shows a swanky subterranean garage fitted out with a wine cellar wall, whilst another showcases a car collection beneath a glass-bottomed pool.
Although Aston Martin has yet to reveal the cost of these design services, those interested can make a request through the Aston Martin Partnership Team at ampartnerships@astonmartin.com.
Spy superfan? Check out these Bond-style houses
Images: Aston Martin
Be the first to comment
Do you want to comment on this article? You need to be signed in for this feature