Inside Jada and Will Smith's houses: from the Calabasas mansion to Hawaii retreats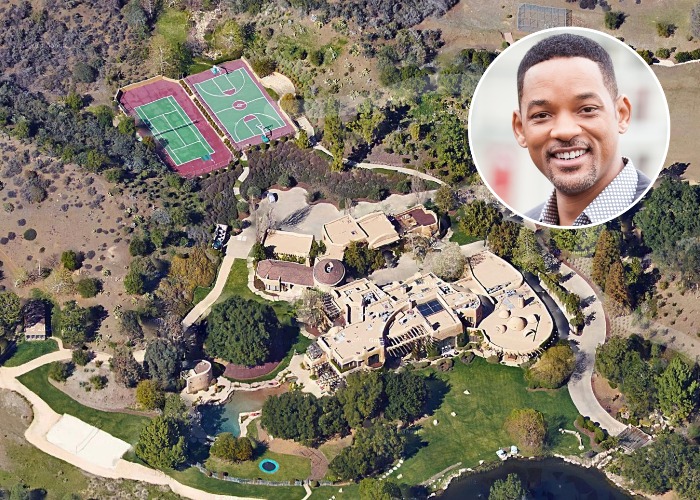 Take the tour of Jada and Will Smith's houses: from Hawaii boltholes to their $42m Calabasas home, The Smith's impressive property portfolio needs to be seen...
Will Smith has undoubtedly had the Midas touch in his career, rolling from one Hollywood blockbuster to the next with hits like Aladdin making him one of the highest-paid actors in the world. But he also really has it sussed when it comes to real estate.
With a combined net worth of $320 million (£267m), we'd hardly expect Will and wife and fellow actor Jada Pinkett Smith to have a modest home, but their bulging property portfolio is impressive even for Tinseltown royalty.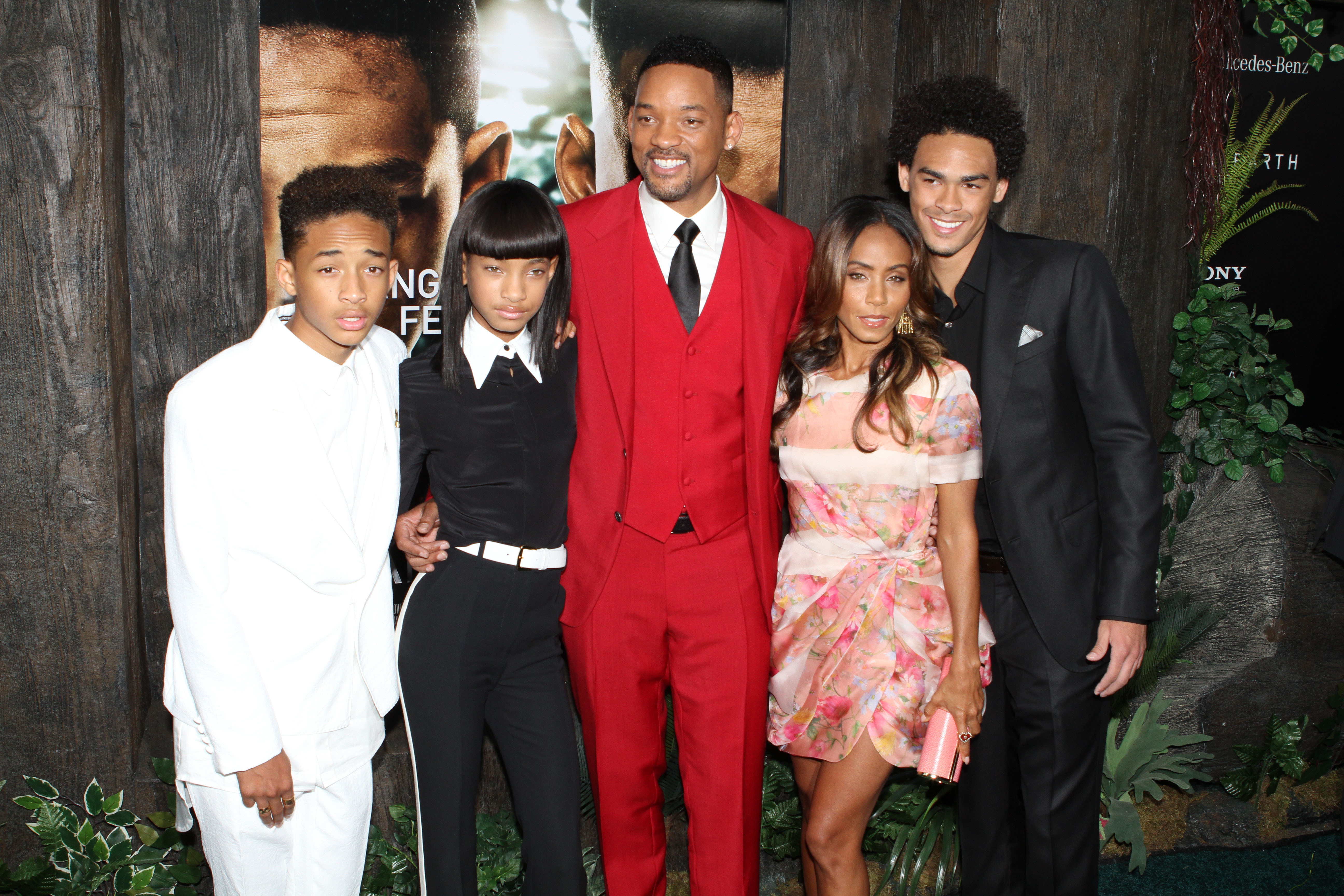 L to R: Jaden, Willow, Will, Jada and Trey. Image: Stephen Lovekin/Getty Images
Over the years, the pair have bought and sold an array of gorgeous homes, earning themselves quite a reputation in the industry.
Will and Jada's property empire
Their luxury property journey began all the way back in 1998 when the pair snapped up a palatial 8,000-square-foot property in Bryn Mawr, Pennsylvania, for $937,500 (£780k).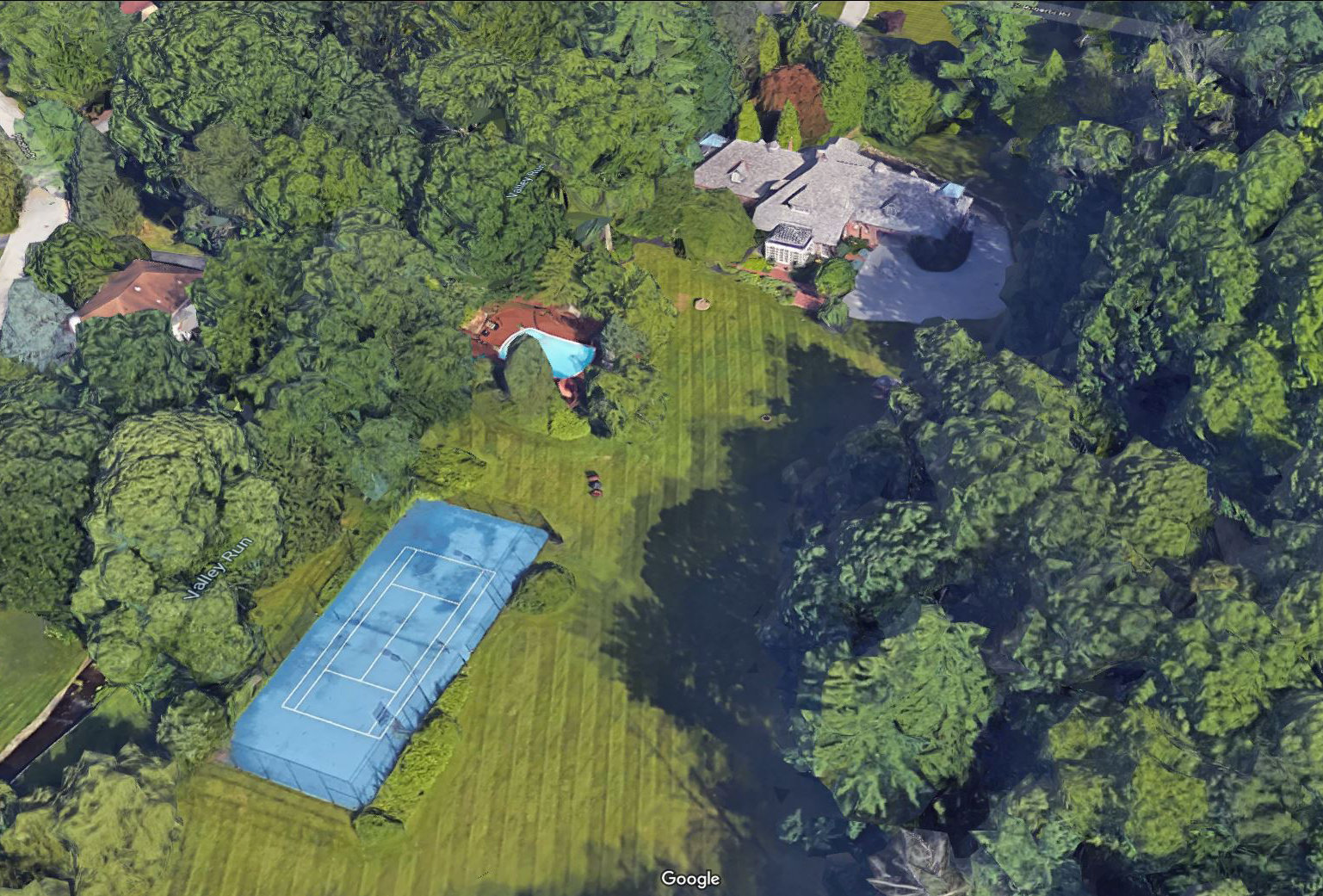 Will Smith's house in Bryn Mawr, Pennsylvania. Image: Google Earth
Will and Jada's collection grew in 2003 when a family trust overseen by the Smiths purchased a five-bedroom, six-bathroom estate in the exclusive Hidden Hills neighbourhood of Los Angeles for $3.4 million (£2.8m). Since 2017, the plush property has been home to the couple's son Jaden.
A further dwelling in LA's Woodland Hills was acquired by the trust back in 2011 for a relatively modest $910,000 (£757m), sparking rumours that the house was bought for family or staff.
Aloha! The couple buy in Hawaii
On sunnier shores, the couple's real estate investment has included a couple of spectacular spots in Hawaii over the years too.
Their first property on the idyllic isle in 2009 was a lavish oceanfront home spread across seven acres. The deal made them a tidy profit, fetching $20 million (£16.7m) when it went up for sale in 2011; $6.5 million (£4.5m) more than they paid for it.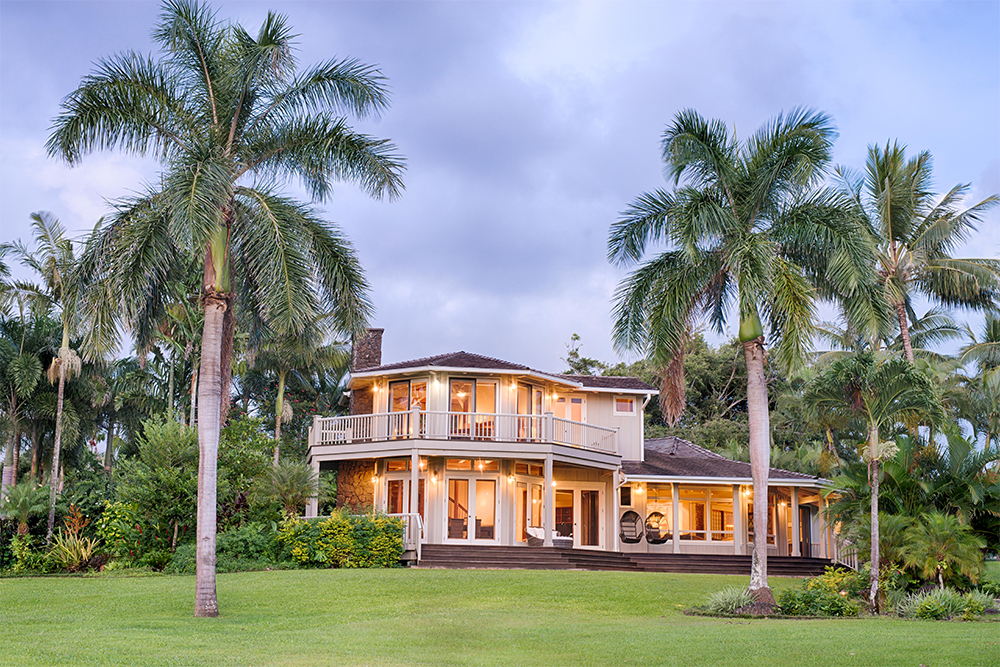 The second house the Smiths bought on the paradise island of Hawaii.
Image: HI Information Service
Meanwhile, their second tropical retreat, purchased in 2015, included four residences, a tennis court, a 50-foot swimming pool and a private access trail to the beach. The couple later sold the compound in 2017 for $12 million (£10m).
But mansions aren't the full extent of the actor's property empire...
Will's custom RV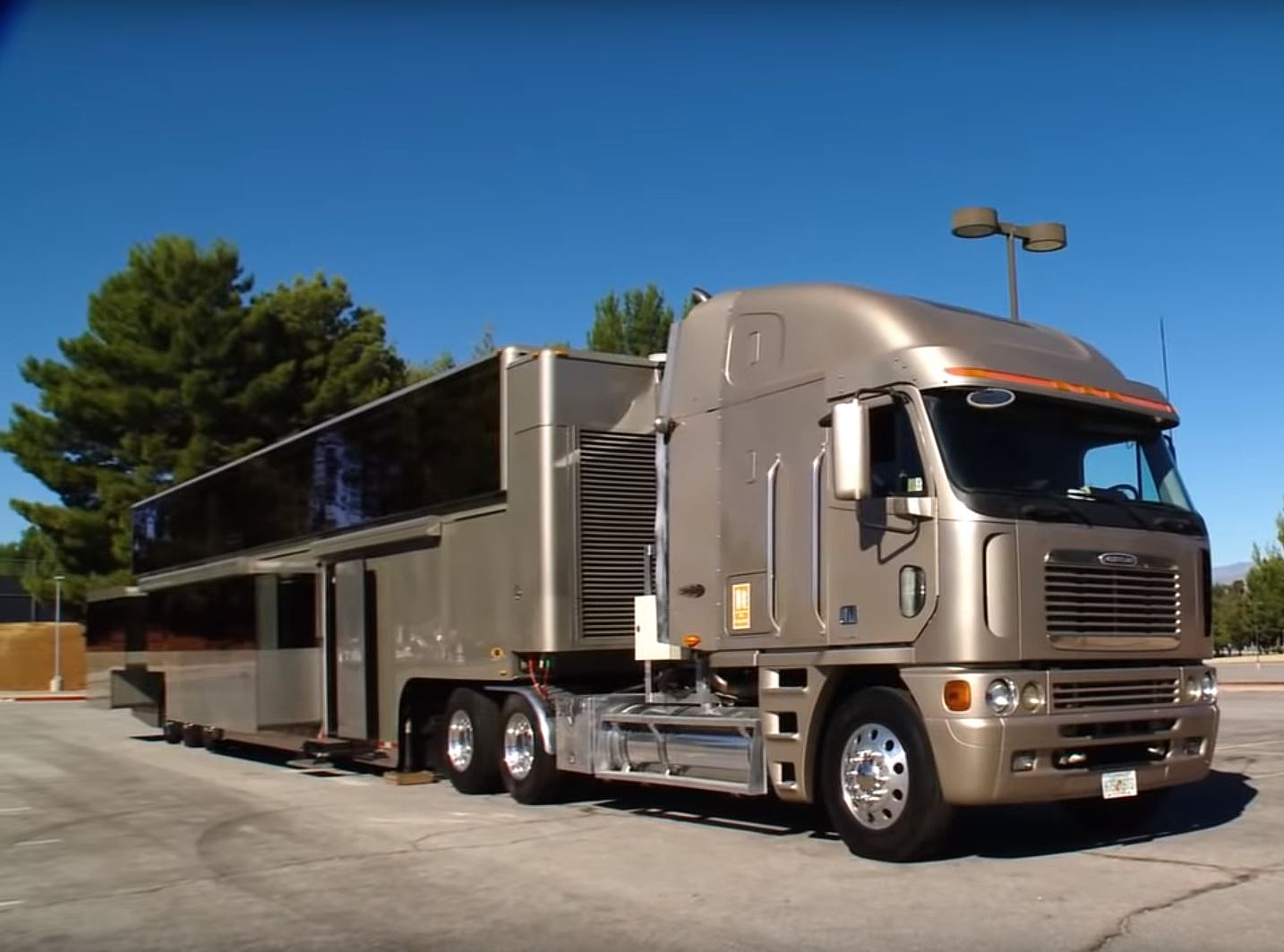 Will Smith's custom RV, known as 'The Heat', has a $25,000 bathroom. Image: HGTV
Will Smith reportedly commissioned a lavish motorhome worth $2.5 million (£2m) – a wise choice for a man who spends so much time on location. Nicknamed 'The Heat', he used the two-storey land yacht while filming Men in Black III, Ali and The Pursuit of Happiness.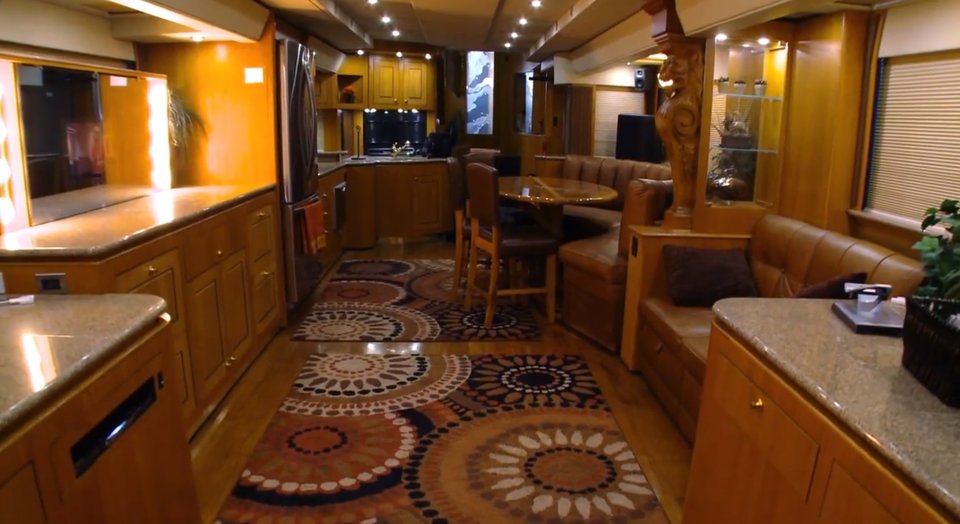 Inside Will's luxury motorhome, complete with bespoke wood cabinetry and $30,000 worth of leather. Image: HGTV
The seriously slick RV sits on 22 wheels, 1,200 square feet of accommodation, 14 TV screens, a 30-person cinema, 360-degree video surveillance, a dressing room and $30,000 (£25k) worth of leather!
The Calabasas estate
However, the place that Will, Jada and the family call 'home sweet home' is in the glitzy LA county neighbourhood of Calabasas.
Their most extravagant investment to date, the sprawling $42-million (£35m) property offers a vast 25,000 square feet of living space, including nine bedrooms, a home theatre, an eight-car garage and an outdoor pool.
The sprawling Calabasas property is a sight to behold... Image: Google Earth
The Smiths snapped up the ranch and began construction on their luxury compound in 2003, but it took seven years to complete the project, which both Will and Jada were heavily involved in.
The custom-built home isn't short on luxury leisure facilities, with on-site basketball, tennis and volleyball courts, plus a sunken trampoline. Despite the opulent amenities, Will told Architectural Digest that his favourite spot is the peaceful gazebo at the heart of the estate's secluded lake.
Let's take a look and see why the Fresh Prince really is the king of his own castle...
Will Smith's house has its own ZIP code
That's right – if you own this amount of land then it's only natural that you should have your own ZIP code. Well, how else will people know you're rich?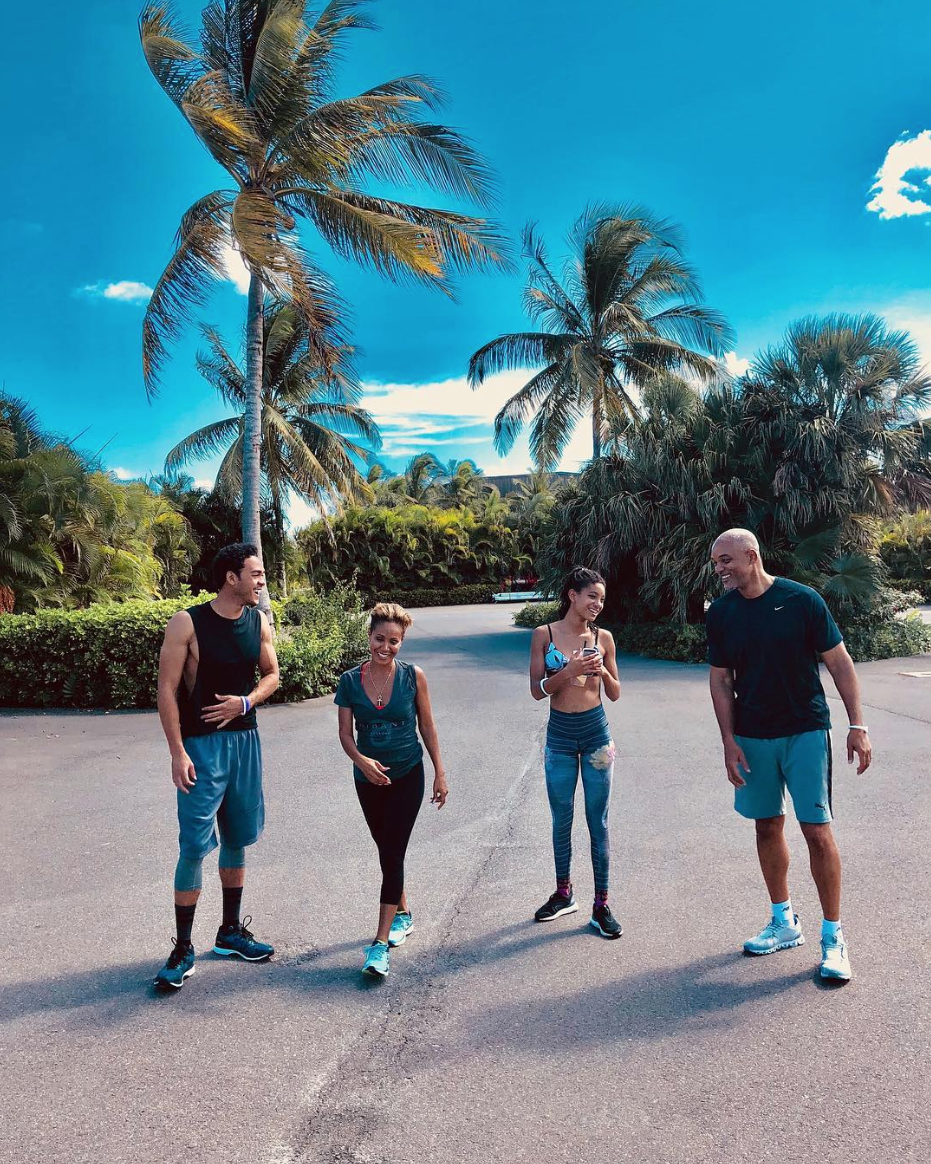 L to R: Trey, Jada, Willow and Will working out in the huge grounds of their Calabasas estate. Image: Instagram/@WillSmith
In total, the estate spans an enormous 150 acres, offering the ultimate private retreat from the limelight.
A real family home
Despite the fact that the couple's kids Trey, 26, Jaden, 21 and Willow, 18, have all grown up and flown the nest, the property is still a welcoming home where the clan hang out together regularly.
The family often post cute snaps of their life at the house, like this festive photo.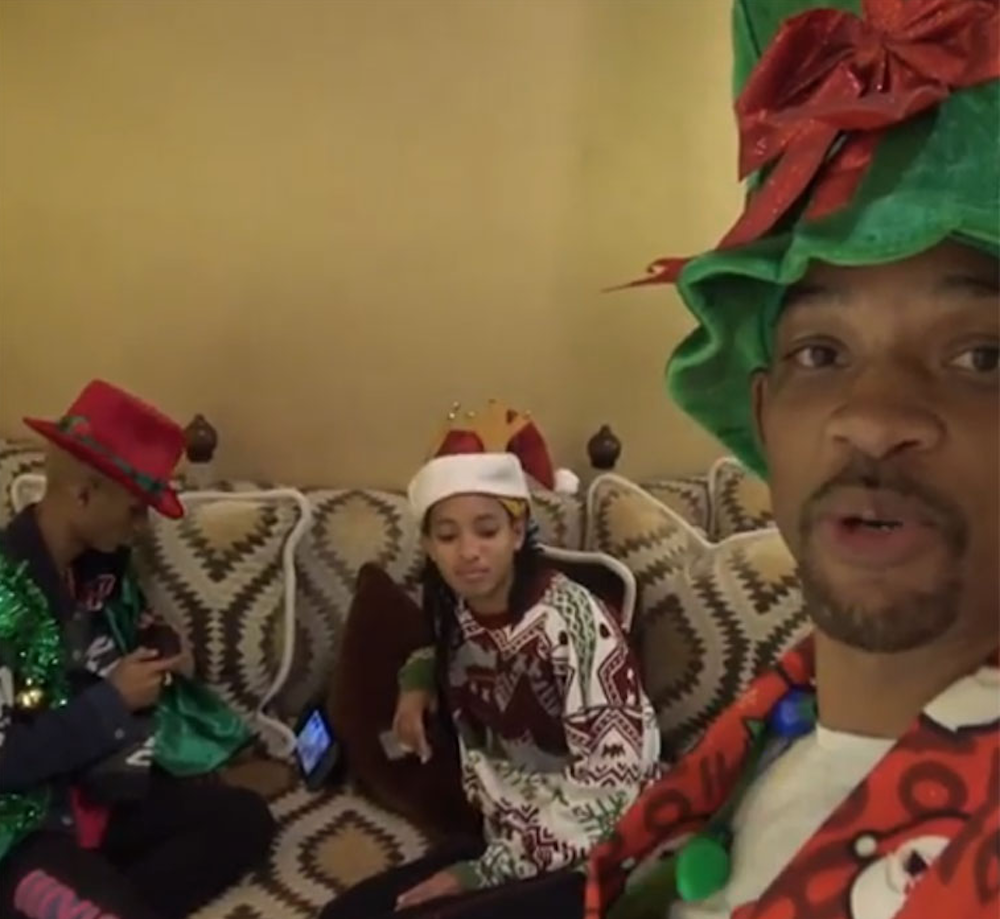 Even stars like a novelty hat at Christmas. Image: Instagram/@WillSmith
Jada has her own meditation room
Being famous can take its toll (we assume), so having this gorgeous meditation room to unwind and reset in is surely a necessity. Just look at that plush thick-pile carpet!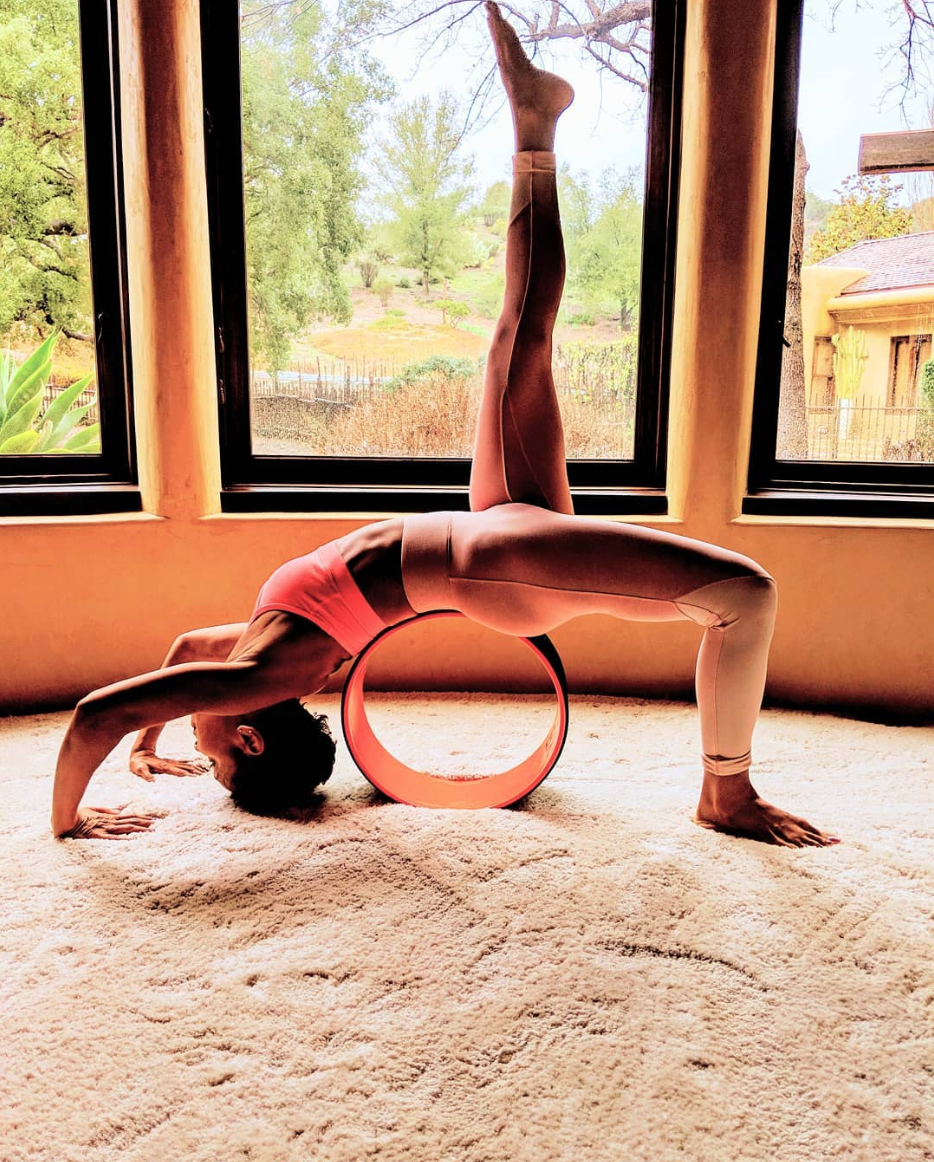 The huge house has plenty of space devoted to the family's interests. Image: Instagram/@jadapinkettsmith
The Smiths are a family of book lovers
Rather than a few sparse coffee table books, the Smith home is packed with actual bookcases – remember those?
This alcove has been beautifully fitted out with dark wooden shelves and an intricate cabinet to store just some of the family's impressive collection.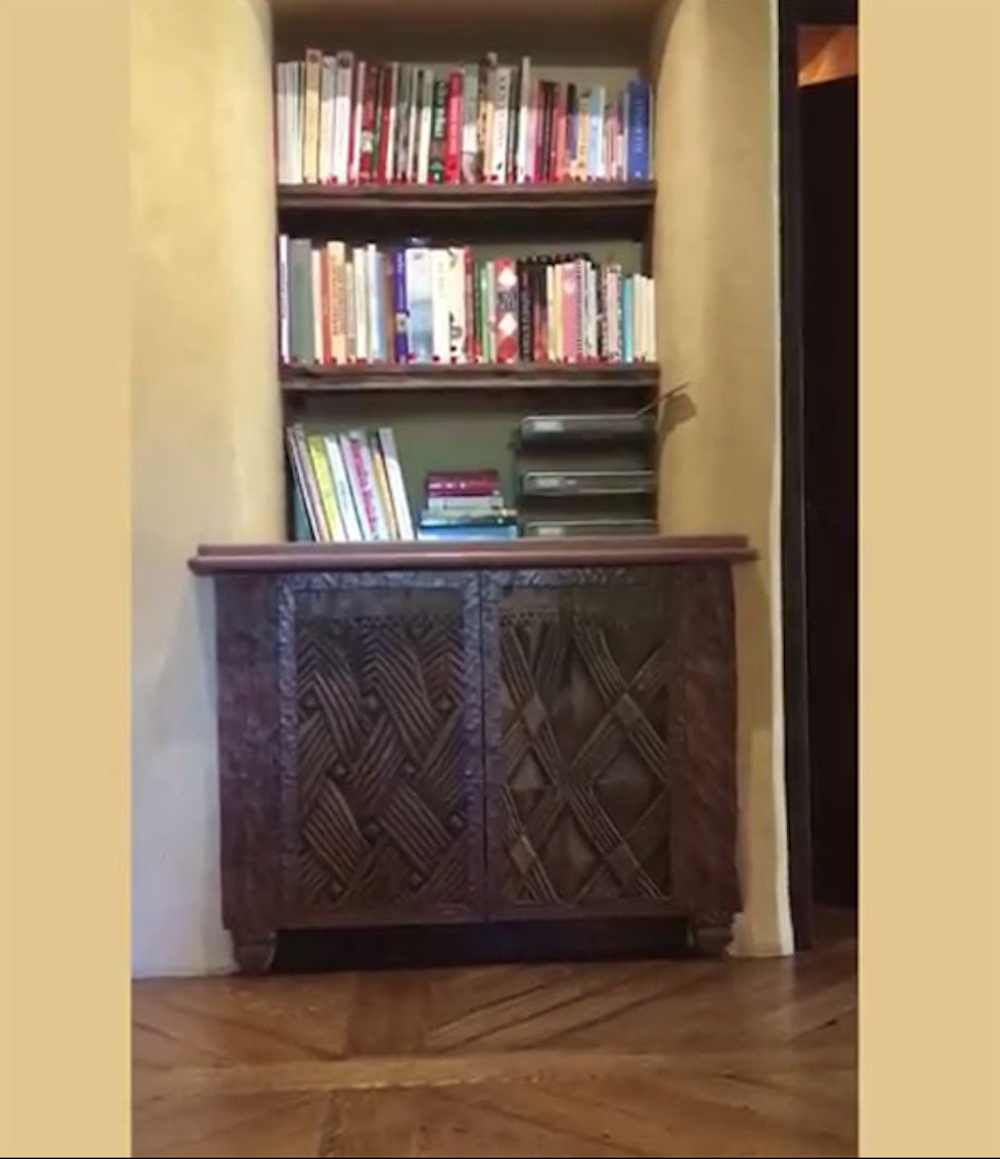 There is plenty of reading material in these gorgeous wooden shelves. Image: Instagram/@WillSmith
Gorgeous decor
These guys know what they like and are happy to go all in. Unlike so many of the cookie-cutter mansions in the area who all use the same interior designers, this is a home that stands out thanks to its unusual, characterful aesthetic.
Inspired by natural adobe architecture, the unique home is awash with rustic features and intricate craftsmanship. We love the exposed beams, canopy beds, huge wooden doors and carved animal sculptures. Check out that gorgeous chandelier...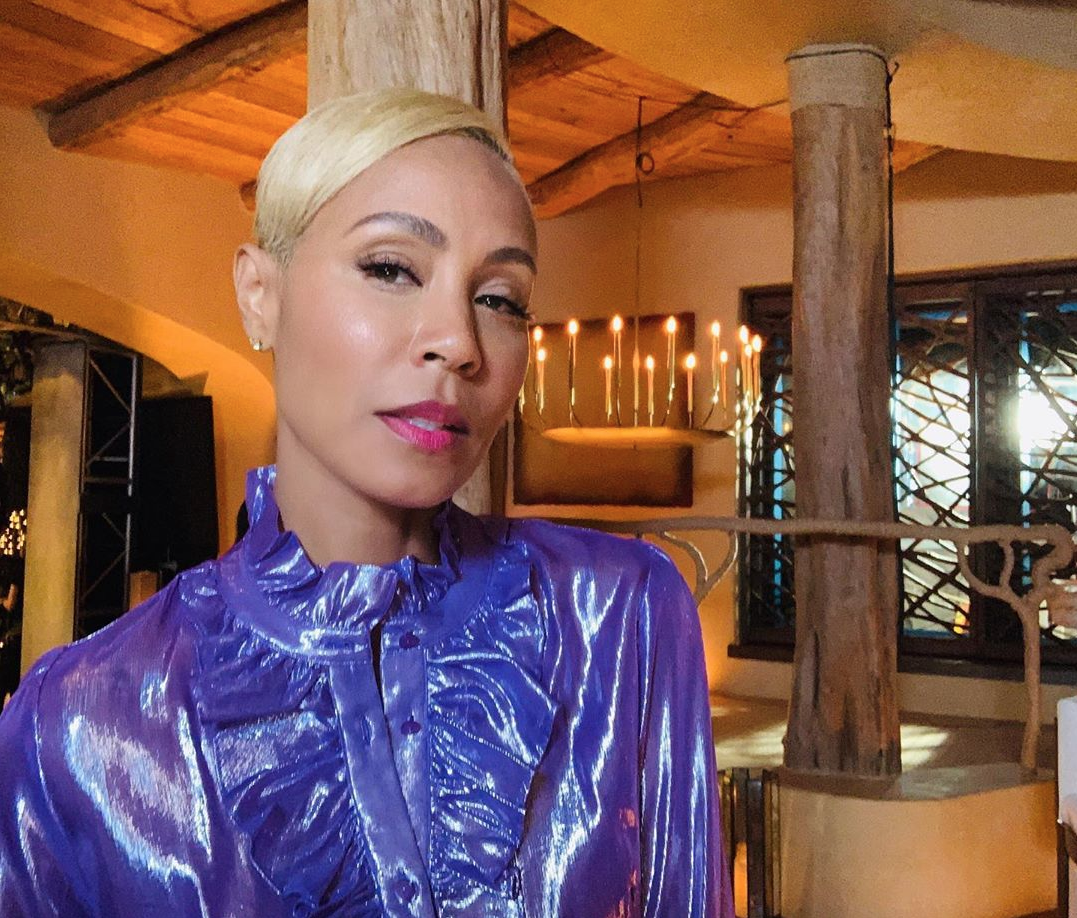 Jada's selfie reveals a glimpse of the earthy decor in their LA mansion. Image: Instagram/@jadapinkettsmith
Given that it was seven years in the making, the considerable estate required blood, sweat and tears to bring it to life. With the help of designer Stephen Samuelson and architect Harry Perez-Daple, Will and Jada were finally happy with their finished family home in 2010.
In an interview with Architectural Digest, Will explained the attention to detail that went into the property: "Everything needed to be done by hand. We wanted to feel the love and labour that went into every piece of this place."
To create a completely original home, the Smiths have brought in artefacts from around the world – the front door was once the entrance to a fort in northern India.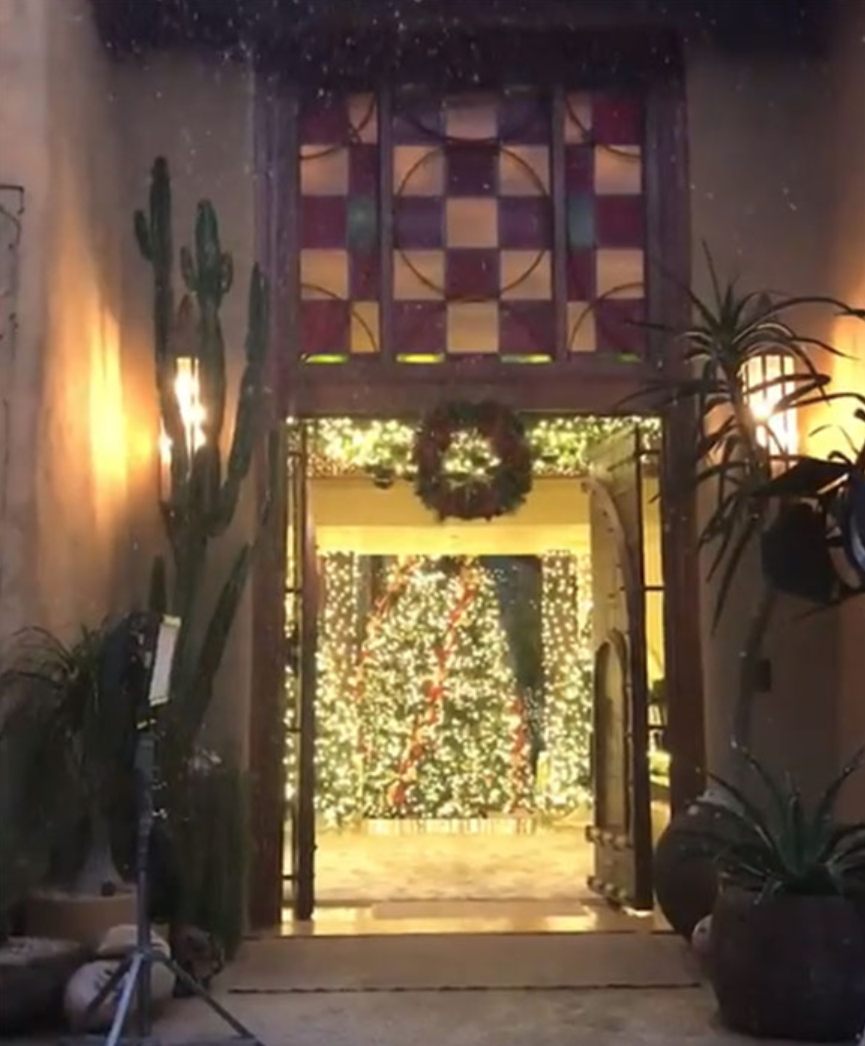 This amazing front door is an artefact from India. Image: Instagram/@jadapinkettsmith
Elsewhere, there's antique carved panelling, plus custom-made bronze fixtures.
Private music studio
Remember when Willow Smith released that catchy hit in 2010, 'Whip My Hair'? Well that was actually recorded in her own home. A state-of-the-art music studio in a residential property is a bit of a novelty, even in these star-studded parts.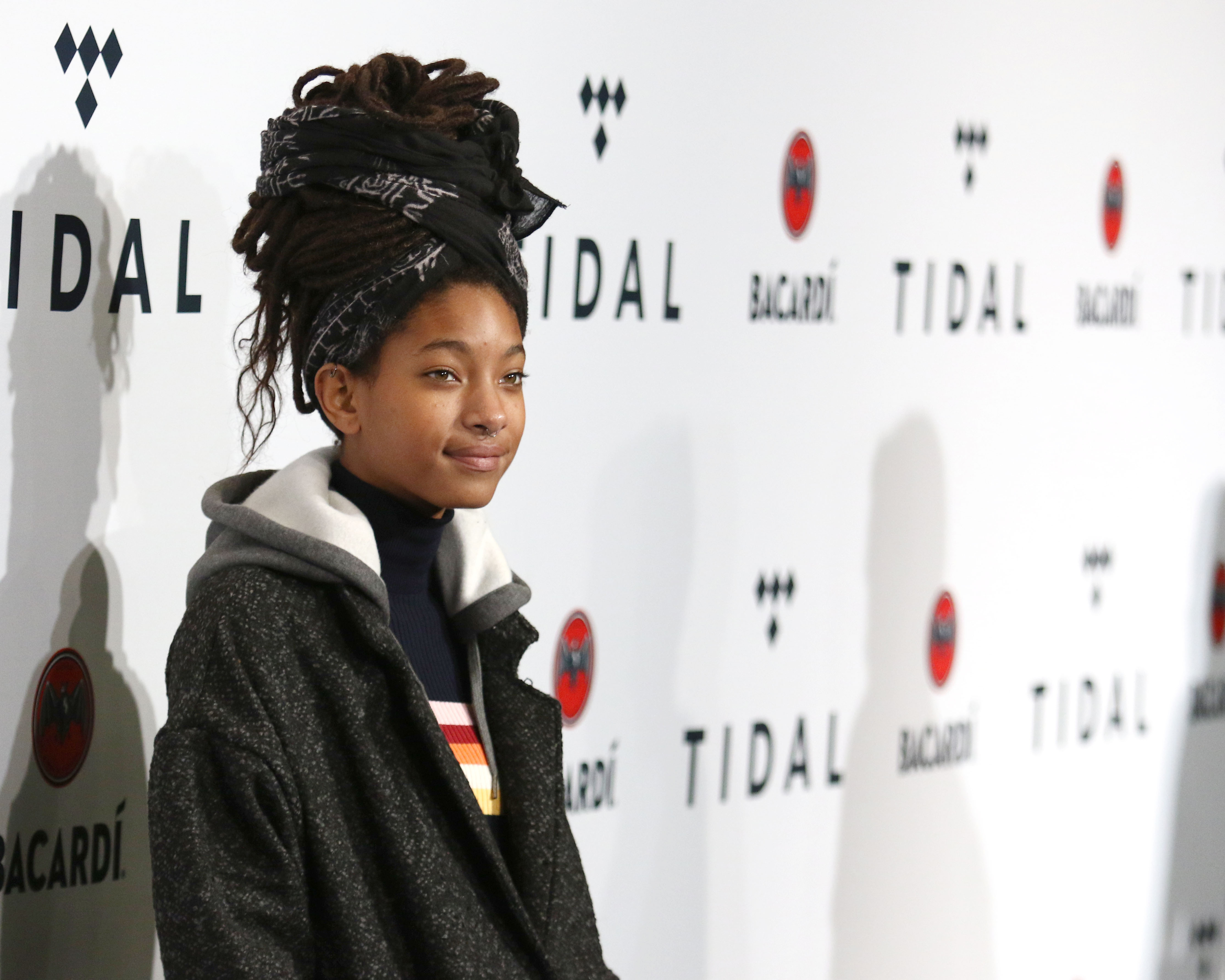 Willow Smith got her music career off to an early start by recording at home. Image: JStone/Shutterstock
A proper family home
Far from being a spotless all-white showhome, the gorgeous kitchen has real heart, with a sociable open-plan layout and family-friendly features such as a pizza oven. Sweet home videos have been filmed here, such as Jada teaching her daughter Willow to ice a cake.
The characterful room has a large island unit, wooden flooring and plenty of built-in oak cabinets, paired with a warming yellow colour scheme that complements the rest of the house.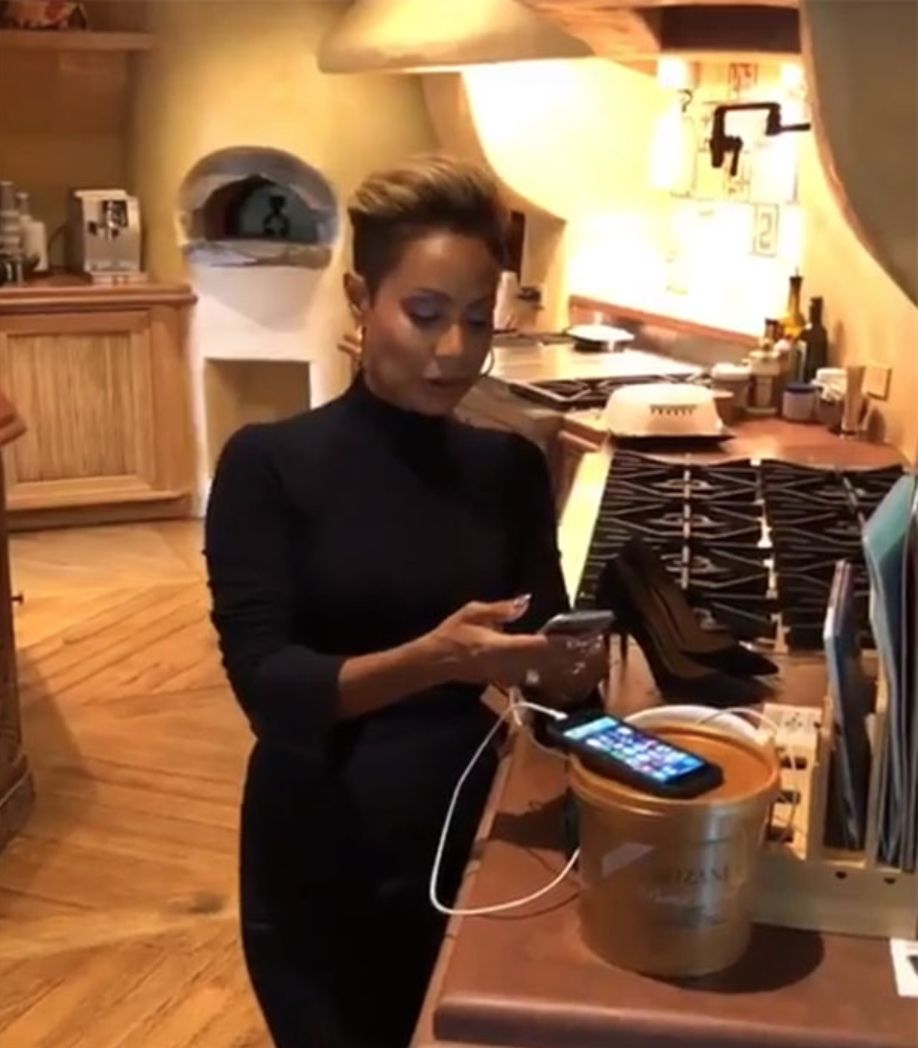 Just like the rest of the house, the kitchen is warm and uses earthy tones. Image: Instagram/@jadapinkettsmith
All out at Christmas
With a fake snow machine outside the entrance, a huge tree in the hall, plus garlands and fairy lights adorning the main staircase, it's clear the Smiths take the holidays pretty seriously!
The Smith's hired a snow machine at Christmas. Image: Instagram/@jadapinkettsmith
Homeworking
The house is also the set for the family's very own series called 'Red Table Talk', streamed on Facebook Watch.
Members of the Smith family, together with Jada's mother, Adrienne Banfield-Norris, candidly discuss issues from family life to mental health and current affairs around a (red) table in the Calabasas home. Various guest stars and friends of the family also make appearances on the popular show.
Their vodcast Red Table Talk is hosted in their house. Image: Instagram/@jadapinkettsmith
So there you have it: The Smiths have created the ultimate family home with all members catered for. If we ever doubted Will Smith was indeed The Fresh Prince of LA, we certainly don't now.
Love this? Discover the 8 reasons why Kourtney Kardashian is the most stylish home decorator
Featured image: Andrey Bayda/Shutterstock/Google Earth
Be the first to comment
Do you want to comment on this article? You need to be signed in for this feature