Man turns £5,000 castle ruins into £895,000 home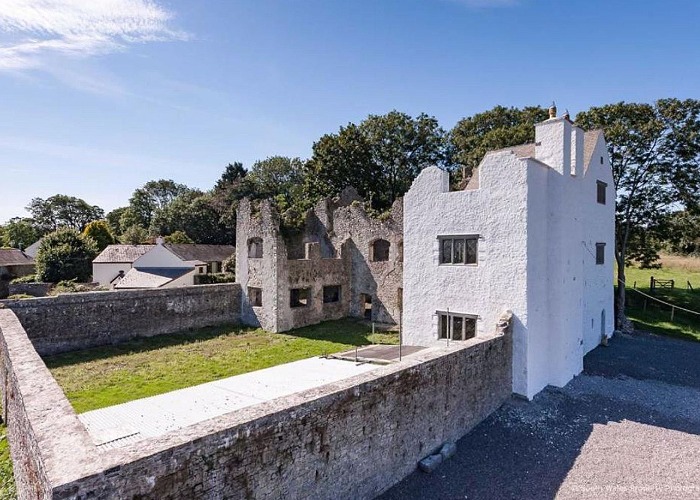 Following 15 years of negotiations and a painstaking renovation, these crumbling ruins have been transformed into a luxurious country house
When Anton Jones began restoring a wing of 500-year-old Llantwit Castle in the Vale of Glamorgan in Wales five years ago, it had already been a long time coming.
READ MORE: Dream castle homes that normal people have rescued
Where once there were crumbling walls exposed to the elements for 300 years, today there is a unique three-bedroom heritage property with accommodation spread across three floors.
Llantwit Castle is a scheduled monument, which meant Anton had his work cut out convincing the Vale of Glamorgan to sell him it – it took him a staggering 15 years in total to arrange the purchase.
But eventually, the council relented and Anton paid £5,000 for the ruin, which following a stunning home transformation, is now on the market for a cool £895,000.
The ultimate fixer-upper
For Anton, this was more than just a profitable development project though – he'd been fascinated by the castle ever since he visited as a young boy.
Jones told Wales Online: "It all started when I was a kid. I used to play here and was absolutely scared to death of it! It was very, very creepy in those days because the ruin was totally covered in ivy.
"It was always very gloomy even on a summer's day and there was always an eerie presence here and I actually got chased by horses here once."
Far from a novice, Anton calls himself a 'conservation builder', yet he admits he thought he may have bitten off more than he could chew when he surveyed the state of the huge abandoned castle, which was last occupied around 1670.
He says: "It was completely ruined, in fact it shouldn't really have been saved because it was too far gone!
"At least five metres off the top of the walls had to be taken down simply because it has been open to the elements for over 300 years. Yes, it hasn't had a roof for over 300 years."
A labour of love
Incredibly, the entire restoration was carried out completely by hand, using traditional techniques that would have been employed when the castle was originally built 500 years ago.
Perhaps the ultimate fixer-upper project, huge solid oak beams for the ceiling and roof were all cut on-site and fitted together using handmade wooden pegs, while large hinges and studs for the front door were forged on the property too, using age-old blacksmith techniques.
Due to its historic nature, the extensive works were all overseen by Cadw, the Welsh government's historic environment service.
Setting out to build a characterful home fit for modern living that still pays homage to the castle's heritage, Anton chose to leave half of the structure in ruins. "I think to restore the remaining ruin would actually ruin it! It's what makes the house so romantic", he explains.
Bursting with character
Today, the fairytale castle is a cleverly restored country house with three bedrooms and an array of unique heritage features, from working limestone fireplaces to flagstone floors and high ceilings.
Carved mullioned windows give a nod to the home's past, while outside, a large private walled garden is nestled in the remaining ruins.
Anton said the overall cost of the project is likely in the hundreds of thousands, though the renovation would've run up a far larger bill if he hadn't carried out most of the work himself.
With the castle now listed for £895,000, the initial outlay of £5,000 seems like a pretty savvy investment and could bag him a sizeable profit if it sells for the asking price.
Hunting for a home with a past? This remarkable historic renovation is on the market with Herbert R Thomas.
READ MORE: How to renovate an old house
Photos: South Wales Property Photography / Brinsons & Birt
Be the first to comment
Do you want to comment on this article? You need to be signed in for this feature