13 genius Alexa hacks to make Christmas a breeze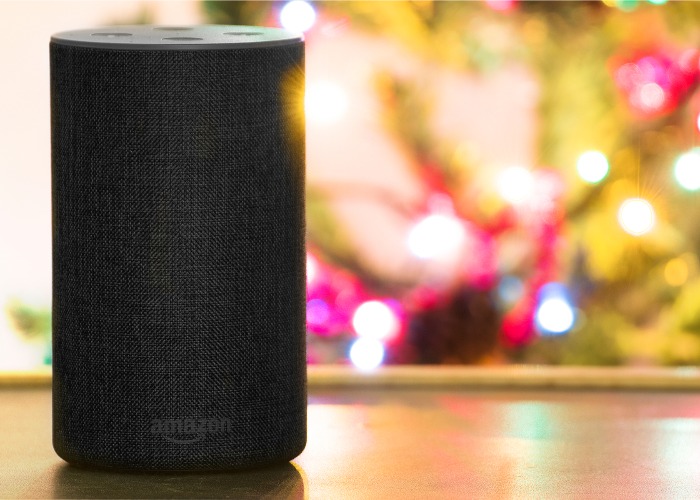 From cooking the perfect Christmas dinner to connecting with loved ones, here's how Amazon's Alexa can help out with the festivities this year
Between online shopping, wrapping presents and cooking up a storm, things can get more than a little hectic during the festive period.
READ MORE: Festive traditions to make the holidays unforgettable
Whatever your Christmas will look like this year, take some of the chaos out of the big day by enlisting the help of Amazon's Alexa.
Your virtual helper can assist with everything from last-minute gift shopping to sending virtual greetings to family and friends – she can even play sous-chef in the kitchen, freeing up valuable time for you to spend with loved ones, and you know, a platter of mince pies.
So sit back, grab a mulled wine and discover the best festive Alexa hacks for a stress-free holiday...
1. Write a letter to Santa
Add a little holiday magic to your children's wishlists this Christmas and use Alexa to write an interactive letter to Santa. Each child can write their own letter within the skill and parents can even customise daily updates as their letters travel to the North Pole.
Simply enable the Santa's Letter skill – a parent or guardian will need to give permission before little ones can get started – and say: "Alexa, start Santa's letter".
2. Create a Christmas playlist
Nothing gets us in the mood better than belting out some iconic Christmas tunes and Alexa is here to help you play them all.
Spotify has a whole host of pre-prepared playlists you can choose from, while Heart Radio has launched Heart Xmas, a radio channel dedicated to all things festive. Simply say: "Alexa, play Heart Xmas", and you can enjoy the best Christmas tunes 24/7.
3. Automate your festive lighting
Image: Cara-Foto / Shutterstock
Rather than scrambling around the back of the sofa every night to light up those countless strings of sparkly fairy lights, why not get Alexa to do the hard work?
You can set them on a timer so that they only come on when it's dark, or even pick a programme to create your own flashing lights show.
Plus, Alexa can automate the tree lights too, so you'll be able to control everything with your voice. Remember, you'll need Alexa-compatible smart lights or a smart plug in order to set your own stylish lighting system up.
4. Add a little ambience
Music is all well and good, but these days you can up the festive feel in your home with an array of seasonal sound effects too.
From a crackling fireplace to the tinkle of sleigh bells on Christmas Eve, there are some great options to choose from – just say: "Alexa, enable the Christmas Sounds skill".
5. Cook the perfect Christmas dinner
Image: KarepaStock / Shutterstock
Sadly, Alexa isn't intelligent enough to whip up your Christmas Day meal just yet, but she can certainly make life easier in the kitchen.
Rather than rifling through dog-eared cookbooks or unlocking your tablet every few minutes to read the next instruction, ask Alexa to read out one of the hundreds of recipes that she has available, step by step.
For example, if you enable the BBC Good Food skill, you could say: "Alexa, ask BBC Good Food to find me a recipe with turkey".
6. Get the timings right
With all the commotion of preparing for the big day, it's easy to neglect those nibbles in the oven or forget to put the sprouts on to boil.
Trust Alexa to run your Christmas kitchen with military precision by setting multiple timers for every dish. You can even assign names to the timers to avoid any confusion. Don't worry about not hearing them over all the hubbub, either – the alarms are loud!
Just say: "Alexa, start an oven timer for 25 minutes" and she'll do the rest.
7. Shop for last-minute presents
Whether you need help with gift suggestions, or you're hit with a sudden brainwave for what to buy Auntie Mildred and you need to make a note of it, Alexa can assist.
Image: Halfpoint / Shutterstock
Plus, if you've enabled the voice purchasing feature, you can ask her to add the gift to your Amazon Prime shopping cart remotely, for example: "Alexa, order one Jo Malone pomegranate candle".
Just go to the Alexa app, open More and select Settings and then Voice Purchasing to turn it on or off.
You don't even have to move a muscle – Christmas shopping has never been easier!
8. Send season's greetings
Dreading writing out all those Christmas cards this year? Save time and digitalize your seasonal greetings. With Alexa, you can use the voice assistant to wish other Alexa devices a merry Christmas.
Simply head to the Alexa Skill Blueprints page and select Hallmark Holiday Greeting, then follow the instructions to record your personal message and customise with your own photos, before selecting 'share with others'. Your recipient will need to say: "Alexa, open Holiday Greeting" in order to hear it.
9. Track your gifts
With the big day fast approaching, it's natural to start worrying that your online orders aren't going to arrive in time, but Alexa can take the stress out of your gift deliveries, too.
Simply ask her to track your packages and she'll let you know when they're expected. Your Echo or Echo Show light ring will flash (or turn yellow) whenever a package has arrived or is on its way. Pretty clever, huh?
Likewise, if you'd rather keep your Christmas purchases a surprise, then thankfully you can also turn notifications off via the Amazon Alexa phone app.
Image: Jeramey Lende / Shutterstock
Simply head to the main menu, select Settings, then Notifications, then Amazon Shopping. From here, you'll be able to either turn off delivery notifications or ensure Alexa doesn't read out the names of the items ordered. Phew, your secrets are safe for another year!
10. Spread goodwill
This is perhaps our favourite hack of all! Channel the season of giving each morning by saying: "Alexa, open Christmas Kindness". Each day you'll receive a suggestion for one random act of kindness to carry out.
Whether it's writing a thank you note to someone special or leaving a basket of baked goodies on a neighbour's doorstep, think of this as your daily reminder to stay grounded at this hectic time of year.
11. Solve a virtual escape room
Board games are a Christmas classic, but what about upping the stakes this year with a virtual escape room? Alexa has a fantastic Escape the Room skill that's free to enable via the app to keep your household entertained this festive season. Then just say: "Alexa, open Escape the Room" to get started.
Complete with a game master to help with hints and tips, there are five escape rooms to tackle this Christmas. Bring loved ones together to search the room, pick up items and solve puzzles to make your great escape.
12. Drop in on friends near and far
Image: Amazon
While it's unclear what this Christmas will look like yet, this Alexa hack is the perfect way to stay in touch with your loved ones over the festive period.
Alexa's Drop In feature allows you to call friends and family in an instant, using your Echo, Echo Show or Echo Dot device.
First, you'll need to enable the feature on your profile in the Alexa app. Go into Devices, then select Echo and Alexa and click on your device. Go to Communications and then Drop In and select which permissions to enable.
Then go to the Conversations tab and select Contacts, where you can choose who to enable the Drop in function with. The friend or family member you want to reach must also have enabled the Drop In feature.
Then, all you need to do is say: "Alexa, drop in on Grandma" and it'll be like you're in the same room.
13. Listen to your favourite festive stories
Is there anything more magical than curling up under a blanket with a good book? Well, this year Alexa can help you make your Christmas read even more special thanks to the Audible Stories skill.
It's free to enable from the Alexa app and offers a range of timeless short stories from authors such as Agatha Christie, Roald Dahl and the master of festive tales, Charles Dickens. Each story is performed by a famous voice, including the likes of Stephen Fry, Sir David Jason and Andrew Scott.
Just say: "Alexa, read Sherlock Holmes" or "Alexa, next chapter".
Now, doesn't the festive holiday feel less stressful already?
READ MORE: Smart home secrets that everyone should know
Be the first to comment
Do you want to comment on this article? You need to be signed in for this feature