This garden feature could knock thousands off your home's value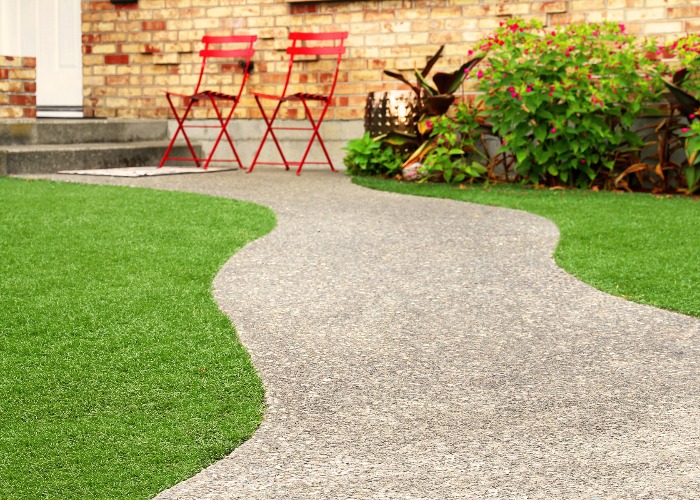 Can you spot the outdoor mistakes putting off potential buyers?
If you're looking to sell your home, it's important to ensure your property is as attractive as possible to house-hunters, and that includes your outside spaces.
However, there's more than just an unkept lawn that can put off prospective buyers. According to a study commissioned by Faraway Furniture, artificial grass is one of the ultimate outdoor turn-offs when it comes to selling your home.
READ MORE: 29 estate agent tactics to sell your home faster
While for many it's a low-maintenance alternative to laying turf, faux grass could see buyers demanding a 5% reduction in the purchase price. This matches earlier research carried out by Sellhousefast.uk that found that artificial grass was the garden feature least likely to add value to a property.
Invasive plants
Unsurprisingly, another undesirable outdoor feature that made the list was Japanese knotweed. Even if the insidious plant has been removed, buyers can sometimes demand up to 10% off the asking price.
That's if they are willing to buy it at all – a study last year by Japanese knotweed removal firm Environet found that 50% of buyers would not go ahead with a purchase if it was found to have Japanese knotweed.
If you do identify the nuisance plant in your garden and it hasn't yet been treated yet, it's unlikely you'll be able to sell as most mortgage lenders will not agree to lend without a treatment plan in place.
Decorative don'ts
Water features were also found to discourage house-hunters, with many viewing them as pain to maintain. Depending on their size and plumbing, it's estimated that they could see buyers try to knock between £2,000 and £8,000 off the asking price.
Outdated decor and unkept gardens make the list too, resulting in a potential value reduction of 1-2%. Broken fence panels and cracked walls were deemed similarly unattractive and could see potential buyers haggling for a discount of around £1,000.
Luxury loses out
While private swimming pools may be the ultimate luxury for Brits when renting holiday homes abroad, research shows they're less keen on having one in their own back garden.
Given the limited number of days when they're actually usable in the British climate, it's perhaps unsurprising that few buyers are willing to commit to the £2,737.50 that Homebuilding & Renovating estimates it costs to maintain one on an annual basis.
That's not to mention the fact that pools take up valuable garden space and can also be a safety risk for families with young children and pets.
However, the good news is that if you make sure your garden is in a reasonable condition, you stand to do well when selling. Research carried out last year by Zoopla and the Society of Garden Designers found that on average, buyers were prepared to pay a premium of £14,448 for a home with a garden.
It also found that half of the population felt that a well-designed garden was more valuable than a designer kitchen or bathroom. So there you have it!
READ MORE: 21 home improvements that are a waste of money
Featured image: Mirko Rosenau/Shutterstock
Be the first to comment
Do you want to comment on this article? You need to be signed in for this feature