6 ways to turn an old house into a new home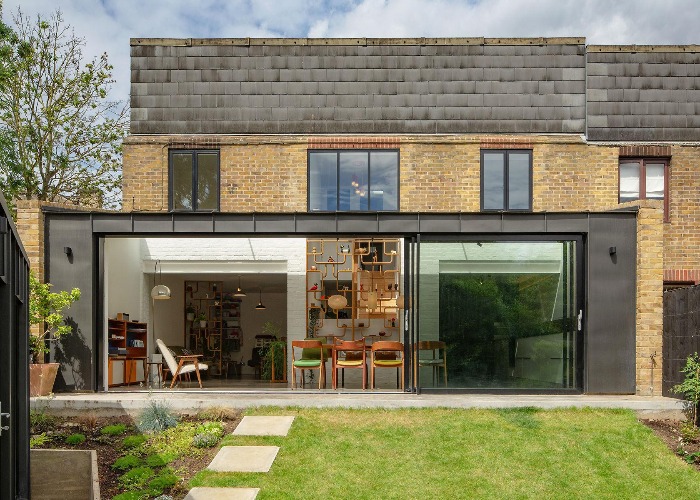 Tackling a renovation, conversion or extension is the perfect way to breathe new life into a tired house
Whether you've fallen for a promising fixer-upper, can't face the hassle of moving on from your long-time property, or simply want to add value to your residence, there are plenty of reasons to revamp an old home.
Depending on your budget, there are a range of potential projects you can choose from to transform and reconfigure a tired, dated house.
READ MORE: 8 projects you can do without planning permission
But before you start making major changes, remember to think about the fabric of your property – a considerate scheme will honour the original architecture, particularly if it's a heritage home.
If your house is lucky enough to have any period features, it's important to treat them as one of the property's assets and work around them sensitively to avoid any damage.
Removing internal walls

Catriona Burns Architects reconfigured the ground floor layout of this North London home. Image: Adelina Iliev
Re-jigging the floorplan to make better use of a property's space is one way to give an old house a new lease of life. Consider what doesn't work in your existing floorplan and how you'd like to use the space on a daily basis. For example, is a sociable open-plan kitchen-diner a priority or is a separate utility room at the top of your list?
"When removing walls, the key considerations revolve around whether or not the wall has a structural role, if you'll need approval from Building Control and if the partition contains any services such as water, gas or electric," says Mick Hayley, from The Gentleman Architect.
"Structurally, even hollow-sounding stud walls can have a structural role, so unless you or your builder is absolutely sure, you'll need to run the idea past a structural engineer or architect," says Mick.
Depending on the scale of your project and the scope of the changes you'd like to make to your floorplan, the project could take anywhere from a few weeks to a few months. "Removing a wall to open up two spaces to each other could cost just a few hundred pounds, to several thousand if you need to put steel beams in place and install fire attenuation systems," says Mick.
Loft conversions
This innovative loft conversion was shortlisted for NLA's Don't Move, Improve! awards. Image: Edmund Sumner / Rise Design Studio
A light-filled attic bedroom or sun-soaked hobby room at the top of the house is an enticing prospect for many homeowners. To transform your loft into a habitable zone, the first step is to assess how straightforward the project will be – this depends on the size of the space and how it has been constructed.
For this project, you'll need at least 2.2 metres from the top of the ceiling joists to the underside of the ridge beam. If the headroom isn't there, it's not impossible to tackle a loft conversion, as you can still lower the height of the ceiling below – but this will be more expensive.
Typically, the floor of your loft will only have been designed to take the load of a storage space, so the floor joists may need to be reinforced to take the extra weight. If you're keen to increase floor area on the top level of your home, a dormer extension is another option.
There's plenty that can be achieved without the need to apply for formal planning consent. For example, you can add up to 50m³ of space to your loft under permitted development allowances in a detached or semi-detached house.
Construction work for this project typically takes around 20 weeks – but more complex schemes could take longer. According to Which?, your loft conversion could cost as little as £20,000. However, higher spec projects could cost £60,000 or more.
Garage conversions
The garage of this 85-year-old home was transformed from a sad storage space into a sleek studio. Image: Handcrafted Homes, Inc.
A converted garage is ripe for transformation into an extra living space or handy home office – add in a sofa bed and the room could be used as an additional bedroom when guests come to stay, too.
If the garage is attached to your home, it should be straightforward to knock down the dividing wall and connect it to your home's existing living area. Generally, a single garage offers around 14-17m² of space – more than enough for a kids' playroom or snug. A double garage, on the other hand, serves up around 30m², giving you more flexibility.
First, you'll need to check the walls are structurally sound and watertight. The floor will need to be levelled off and damp-proofed with a suitable waterproof membrane, too. It may also need to be reinsulated to adhere to the standards laid out by Building Regulations.
If you're converting a garage that's already attached to the house, most of the work will be internal – which means planning permission isn't typically required. However, if you're making any changes to the exterior you might need to obtain formal consent.
Depending on the scale of the scheme, the works could be completed in as little as a week. However, more involved builds that incorporate significant structural changes and multiple trades could take several weeks. According to Household Quotes, a standard garage conversion should cost between £5,000 and £7,500.
Basement conversion
The basement level of this period property in South London was converted and extended to add extra space. Image: Proctor & Shaw / Claylands
If you live in a city where square footage is a valuable commodity, digging down to create extra living space could be the perfect solution.
From a design perspective, it's important to create a zone that connects seamlessly to the existing house. Bringing in an architect could be the best way to maximise your budget and create a beautiful basement that ticks all the boxes.
Your architect or structural engineer will start out with a soil survey to determine groundwater levels and assess the risk of flooding. The next stage (typically) is for the ground floor of the house to be removed so the construction team can dig down and excavate the earth. The walls of the existing house are then underpinned with concrete supports.
Waterproofing is one of the key issues that will be addressed during construction, as you'll need to ensure moisture can't penetrate through the building fabric. A cavity drainage system is the usual solution. In total, you should allow six to eight months for construction.
It used to be possible to build a basement under permitted development, but a growing number of councils have clamped down on this to prevent the development of mega 'iceberg' basements. Any changes made to the exterior of the property, such as light wells, will certainly require planning permission.
"In London, the construction costs are about £2,000 per m² for the shell, plus £1,000 for fit-out – depending on the quality of finishes," says Mick Haley, The Gentleman Architect. "Costs outside London may be a lot less."
Single-storey extension

This side and rear extension with black charred cladding was completed by SAM Architects and Lunar Architects. Image: Da Feng
A single-storey extension is a great way to add space, rather than upping sticks to a new house. Whether you want to add a kitchen-diner addition or a spacious new living room, a rear or side return extension are the most straightforward options. However, L-shaped or wraparound extensions may also be a possibility if you have the space and the budget.
Before finalising the design, spend some time thinking about what you want the additional space to provide – it doesn't make financial sense to add 30m² of extra space if another zone on the ground floor becomes redundant as a result of the project.
If your design is in keeping with that of the original property, there's plenty that can be achieved without applying for planning permission. For example, you can add a six metre-deep extension to an attached house and an eight-metre-deep extension to a detached property under permitted development, providing your design complies with guidelines.
Depending on the scale of the scheme and any other refurbishment works that may be involved, allow six to eight months for construction. According to Household Quotes, a single-storey extension costs anywhere between £1,000 and £4,000 per m2 to build depending on the finish.
Double-storey extension
Nestled in a Conservation Area, this Hammersmith home has had a two-storey, full-width extension added to the rear. Image: Studio 30 Architects
If additional floor space is what you're after, a two-level extension could be the best route to transforming a space-starved home. For example, a spacious kitchen-diner downstairs with an extra bedroom or bathroom on the first floor could provide that all-important square footage your family needs.
For a stunning addition that complements your site and the architecture of your existing home consult an architect, as a two-storey extension usually presents more considerations than a single-storey design. There is likely to be an added layer of complexity surrounding the roof geometry of the property, for instance, plus you'll have to consider how to channel light into the space.
Two-storey extensions can be built under permitted development guidelines without the need for planning permission. However, if you want to make an eye-catching design statement, you might find the parameters laid out by PD a little limiting, as you'll be forced to create an extension that matches the style of the existing house.
Set aside a minimum of six months for the construction of your two-storey extension. A generally accepted rule is to add 50% extra to the build cost of a typical single-storey extension, providing each of the levels is the same size.
Planning permission
If your scheme can be completed under permitted development, so you won't necessarily have to apply for formal planning consent for your project – especially if the changes don't alter the exterior of the house. However, any work you do must always adhere to building regulations.
If you do plan to carry out your build under PD entitlements, it's often worth obtaining a Lawful Development Certificate (LDC) to prove your works are legal.
However, PD rules don't apply in specially designated zones such as Conservation Areas or Areas of Outstanding Natural Beauty (AONB). If your property is listed, you'll also need to apply for listed building consent before making any alterations. The support of a heritage buildings consultant can be particularly valuable if your home falls into this category.
If you do need to apply for planning permission, your submission should include all the required information about your build, detailed drawings and any additional surveys you were required to undertake. These are submitted online via the government's Planning Portal for a cost of £206.
READ MORE: How to renovate an old house – a beginner's guide to fixer-uppers
Featured image: O Manzi / Ulla Gala Architects
Be the first to comment
Do you want to comment on this article? You need to be signed in for this feature