9 DIY projects to add £50k to your home's value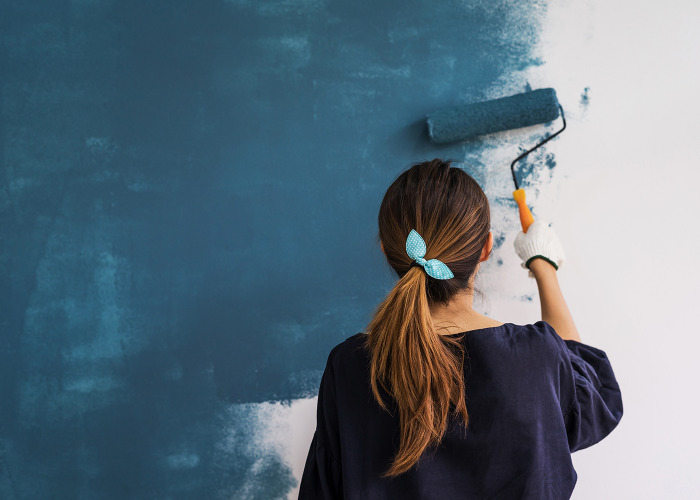 These key home improvements are the perfect way to stay busy and increase the value of your property
While restrictions may be starting to lift, many of us are still spending most of our time at home, staring at the same dated décor day in, day out.
READ MORE: 30 DIY projects you can do with basic supplies
As we get into the swing of spring, there's never been a better opportunity to tackle those niggling home hang-ups and invest in your property while you're at it.
Online retailer My Tool Shed has brought together nine DIY jobs that can collectively add as much as £50,000 to the value of your home – and best of all, you can tick off the whole list for less than £1,000.
1. Install smart technology
Pay £170, add £16,000 in value
Making energy-saving improvements to your home could add an average of 14% on to your property's value – even a maximum of 38% in some parts of England – according to research by the Department of Energy and Climate Change.
The report also says that if you can increase your property's EPC (Energy Performance Certificate) from band G to E, or from band D to B, then you can add over £16,000 to its value.
One of the quickest ways to make energy savings is installing smart home technology, with a decent smart thermostat, such as a Nest, costing around £170 or less.
2. Spruce up your garden
Pay nothing, add up to £5,000 in value
If you have a lawnmower, a spade, shovels and a rake, simply sprucing up your garden will make it instantly more appealing to buyers.
Now's the time to put your garden tools to good use. Image: Dobbies
According to research by gardening experts McGregor and estate agent Emoov.co.uk, overgrown grass and weeds are huge turn-offs, while neat hedges, colourful flowers, clean patios and pathways create instant kerb appeal, adding as much as £5,000 to your home's value.
3. Trim the trees
Pay nothing, add up to £1,620 in value
If you have trees in your front or back garden, it's worth putting the time in to ensure they are well-maintained and tidy.
A report from the National Association of Realtors shows that it always pays to invest in tree care, with as much as £1,514 added to your home's value.
Obviously, this depends on the scale of the job and whether you have the right tools and experience, otherwise you might want to leave this one to a later date when you can seek expert advice.
4. Install garden decking
Pay £1,000, add up to £6,400 in value
Installing decking may be one of the pricier jobs to add instant value to your home, but since those of us who do have gardens will be spending more time in them, it might be a cost worth swallowing.
It typically costs around £1,000-£2,200 to install timber decking across an area of 20 square metres, according to comparison site Price Your Job.
In an interview with The Telegraph, property expert and Location, Location, Location star Phil Spencer said garden decking can add 2% to your home's value.
With the average house price in the UK currently standing at £308,813 (according to Zoopla August 2020 figures), that means you could add £6,176 to your property's value and end up with a beautiful deck to enjoy this summer too.
5. Freshen up the front door
Pay £85, add up to £5,100 in value
First impressions count, so now's the time to dig out that old can of paint in the garage and give your front door a fabulous facelift.
A smart finish will go a long way in impressing prospective buyers – according to Zillow's Design Forecast, homes with black or charcoal grey front doors sold for around £4,750 more than expected.
To add the most value, go for dark and dramatic hues. Image: Garden Trading
Go a little further with a new doorknob (£35), brass letterbox (£25) or a stainless steel house number (£25) and you'll really be quids in.
6. Add new bathroom features
Pay from £90, add up to £9,200 in value
If your bathroom has seen better days, replacing key fixtures rather than forking out for a new suite could pay off when the time comes to sell.
For instance, a heated chrome towel rail (£50), a set of new taps (£20) and even a large new shower head (£20) can all be bought for less than £100 but could completely transform how your home is viewed by buyers.
According to NetHousePrices, giving your bathroom a revamp can add 2.88% (£8,648) to a house's value, so changes like this can make all the difference.
7. Update your kitchen cabinets
Pay from £240, add up to £1,250 in value
Online property marketplace Zillow says that kitchens with upper and lower cabinets painted in two different colours could sell for around £1,170 more – the tuxedo effect of black and white cupboards was particularly singled out.
A relatively easy fix, you could upcycle your existing kitchen cabinets by painting them or invest in some new doors (budget ones can be bought for £60-£70 – though you will want more than one) and hey presto, you have a cool, contemporary kitchen.
8. Paint the walls
Pay from £64, add up to £4,518 in value
If your walls are looking tired or the colour is just all wrong, it might be time to put your overalls on and get painting.
Entice buyers with soft, relaxing blues in your bathroom. Image: Annie Sloan
Research from Zillow suggests that buyers are led by certain colors, with light blue bathrooms attracting a selling price of £2,110 above average, while a living room in light taupe could see your asking price leap £2,115.
With a standard tub of paint costing around £16, even if you need four or so cans, you will likely see a good return on your investment.
9. Do some outdoor painting
Pay from £35 per tub, add up to £5,000 in value
And finally, while you have the paintbrush out, you might want to consider refreshing the outside of your home – if you can do so safely, that is.
From freshening up your exterior walls to adding a new lick of paint to your railings, it can make all the difference to your property's kerb appeal.
Speaking to The Telegraph, Phil Spencer said: "You need to have the outside as spick and span as possible (which could add £5,000). If nothing else, your house should at least look better than your neighbours."
READ MORE: These DIY shops are still delivering in lockdown
Main photo: kitzcorner/Shutterstock
Be the first to comment
Do you want to comment on this article? You need to be signed in for this feature