This decor style could add thousands to your home's value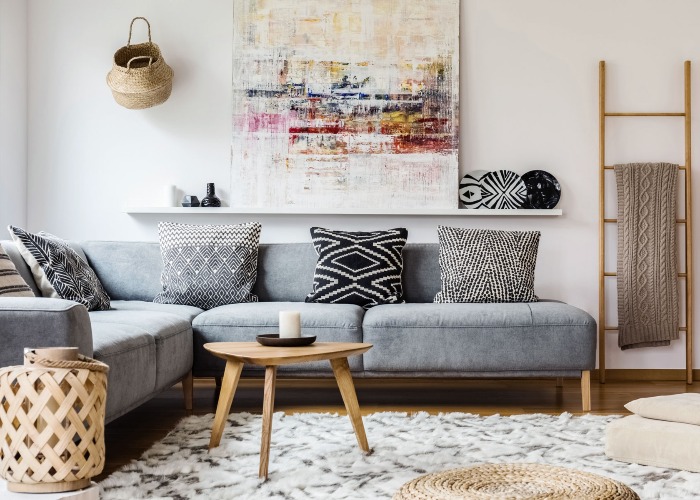 House in need of a spruce up? Choosing the right interior decor could bag you a serious profit when you come to sell up
Lockdown has meant more time scrutinising our living spaces, leading many homeowners to embark on serious revamp projects.
However, before you pick up the paintbrush, you might want to think carefully about your interior design choices.
READ MORE: 51 secret interior design tips from the experts
Whether you're looking to sell up now the housing market is springing back or simply want to breathe new life into a tired home interior, new research has shown that the decor style you choose can have a big impact on the value of your home.
The most lucrative decor choice
Analysts at financial website Bankrate combed through the homes listed for sale on Zoopla and separated them into groups based on those described as featuring a particular design aesthetic.
Calculating the average cost for homes with each style, they found that properties with Scandinavian decor, which pairs clean lines with cosy textures, commanded the highest asking prices.
The average price of a home with a Scandi interior was £572,079, a whopping £340,224 higher than the current average UK house price of £231,855.
Other winning looks
If this minimal look isn't for you, the good news is that plenty of other styles can also add to a home's value.
According to the researchers, the next most popular style was farmhouse, with properties with country-inspired decor £289,543 more expensive than the average home.

Image: @rusticwildarrow / Instagram
Given that experts are predicting one aftereffect of the coronavirus pandemic will be people relocating from cities to the countryside, this style could become even more attractive in the future.
Not far behind farmhouse was the rustic look, which could help your home fetch £285,097 more than the norm – not bad when you consider this homespun look can be achieved with a spot of DIY decorating and some smart upcycling projects.
The bohemian and vintage trends rounded out the top five, adding £283,819 and £273,973 respectively to average prices.
Design style
Value
Increase on average
house price*
Scandinavian
£572,079
£340,224
Farmhouse
£521,398
£289,543
Rustic
£516,952
£285,097
Bohemian
£515,674
£283,819
Vintage
£505,828
£273,973
Contemporary
£501,147
£269,292
Mid-century modern
£470,394
£238,539
Minimalist
£452,449
£220,594
Industrial
£396,934
£165,079
Traditional
£347,098
£115,243
* Based on Land Registry's House Price Index as of March 2020
Does quirky decor pay off?
Researchers also considered some of the more niche styles and found that while these more unusual aesthetics can also add value to properties, the increase was much lower.
The most popular of these styles was gothic, which the experts found added £114,141 to the average house price.
Design style
Value
Increase on average
house price
Gothic
£345,996
£114,141
Western
£331,254
£99,399
Japanese
£329,790
£97,935
Urban
£325,875
£94,020
Art Deco
£320,497
£88,642
Victorian
£315,548
£83,693
Tropical
£313,144
£81,289
Retro
£305,096
£73,241
Mediterranean
£290,996
£59,141
Shabby Chic
£275,794
£43,939
Interestingly, of these 10 styles, the once hugely popular shabby chic was the least valuable style, adding just £43,939.
It just goes to show that changing the look of your home every now and then is definitely a good idea if you want to maintain its value.
READ MORE: 30 DIY projects you can do with basic supplies
Image: Photographee.eu / Shutterstock
Be the first to comment
Do you want to comment on this article? You need to be signed in for this feature