Brave Ground is the Dulux Colour of the Year 2021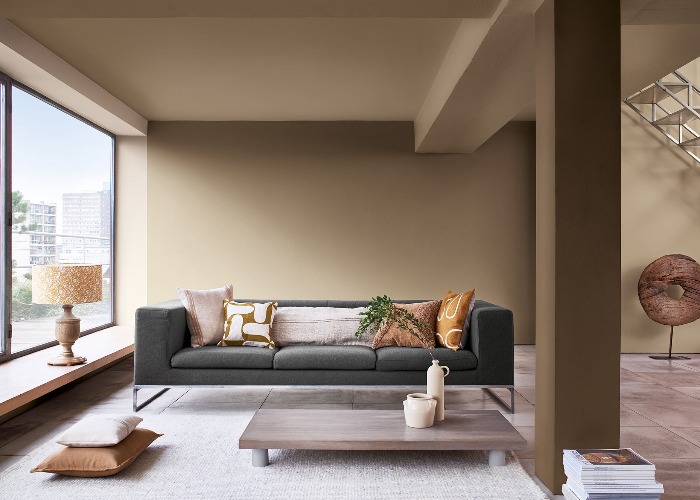 Inspiring courage, the new Dulux Colour of the Year for 2021 celebrates bravery in a changing world
In a time when our homes are more important than ever before, what we choose to decorate our homes with can make the difference between a good and a bad day. So what do the colour experts brought together by paint specialists Dulux think we need on our walls in 2021? Well, the answer is brown!
Warm, elemental, reminiscent of clay and mud – which people have used since time began to build their homes – this particular shade of brown is actually very hard to resist.

Brave Ground, the Colour of the Year 2021 from Dulux
The Dulux Colour of the Year 2021 is called Brave Ground, a forgiving and flexible neutral taupe that's designed to speak to our ancient – and recently rekindled – connection to nature. In contrast to last year's ethereal pale green, Tranquil Dawn, Brave Ground is gutsy and down-to-earth.

Brave Ground, an elemental neutral designed to work with every colour.
The colour was chosen by an expert panel of trend forecasters, architects, colour designers, editors and design specialists at the impressive-sounding Global Aesthetic Centre in Amsterdam. They analyse economic, cultural and social trends as well as emerging popular colours to predict what we want in our homes for 2021 and beyond.

Brave Ground works with fashionable dark blues in this cosy living room.
Now in its 18th year, the colour of the year manages to be both on-trend for right now and a sound way to future-proof your décor for the next 18 months.
"We continue to live through uncertain times. In 2021, the warm and grounding tones of Brave Ground will allow us to find certainty in the strength from the very ground beneath our feet, emboldening us to go forward and begin to live again and giving us the flex to adapt to the ever-changing circumstances we face." Creative Director, Dulux UK, Marianne Shillingford.

Paired with soft green, the COTY 2021 is perfect for creating focused work spaces.
Alongside the Colour of the Year, the experts identified four complementary colour palettes to make it easy to bring the colour into different spaces within the home or workspace. These palettes – Earth, Trust, Timeless and Expressive – will help homeowners create an environment where Brave Ground either stands strong or allows other colours to shine.
The Earth palette
Echoing the tones of the sea, the sky and the soil, these earth shades provide a connection to the natural world around us. Bringing the outside in, they are authentic and grounding colours that work naturally together.
The Trust palette
Earth tones from across the globe, these unifying shades reflect everyone. Warm neutral greys and browns, these colours complement each other and encourage connection, collaboration and a sense of harmony in the home.
The Timeless palette
Inspiring shades of yellows and ochres, alongside soft neutrals, these are tones that can help create a backdrop that embraces old and new. Energizing without being overpowering, they bring positivity and balance to a space.
The Expressive palette
Stand-out shades of reds and pinks, balanced with soft neutrals, these are colours that can add verve and vitality to our homes, allowing us to create an individual space that energizes, surprises and reflects who we really are.
WATCH: Discover more about Brave Ground
All images: Dulux
Read more: Pretty in pink decorating ideas
Be the first to comment
Do you want to comment on this article? You need to be signed in for this feature