How to build a garden room and add up to £12,000 to your property value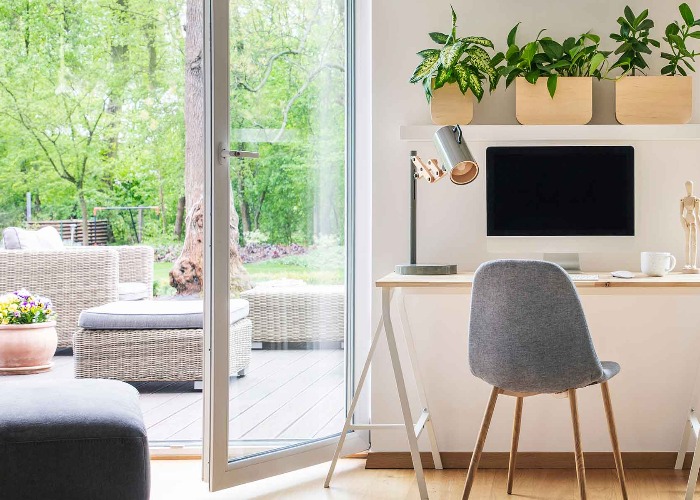 This in-demand addition is a great way to extend your living space without breaking the bank, plus it's a big hit with house-hunters
Before the pandemic struck, a bigger kitchen or an extra bathroom might have been top of many of our property wishlists.
But these days it's dedicated workspace that many of us crave, which is not surprising considering the number of Zoom meetings that have been held on dining tables and sofas over the past year.
READ MORE: Weekend DIY jobs that make a big difference
According to a study of 1,000 people by insurer Royal London in January, 27% of those looking to move house this year consider a home office a must-have feature.
But that workstation doesn't necessarily need to be in an existing room in your house. With space in many UK homes quite tight, many homeowners have been setting up shop in their backyards, with garden rooms and offices springing up all over the place.
The good news for those thinking about building an office in their garden is that as well as providing you with a much-needed place to work, it should also add value to your property.
According to tool seller MyToolShed, adding a summer house or garden building to your home could add 5% to its value. With the average UK house price standing at £252,000 in February, this means you could boost your home's price tag by around £12,600.
Not to mention that in most cases, you can build an outbuilding under permitted development without applying for planning permission or building regulations approval, as long as the floor area is less than 15 square metres and contains no sleeping accommodation.
The bad news is that such a build can be costly if you go for a pre-made option – MyToolShed puts the average cost at between £12,000 and £20,000.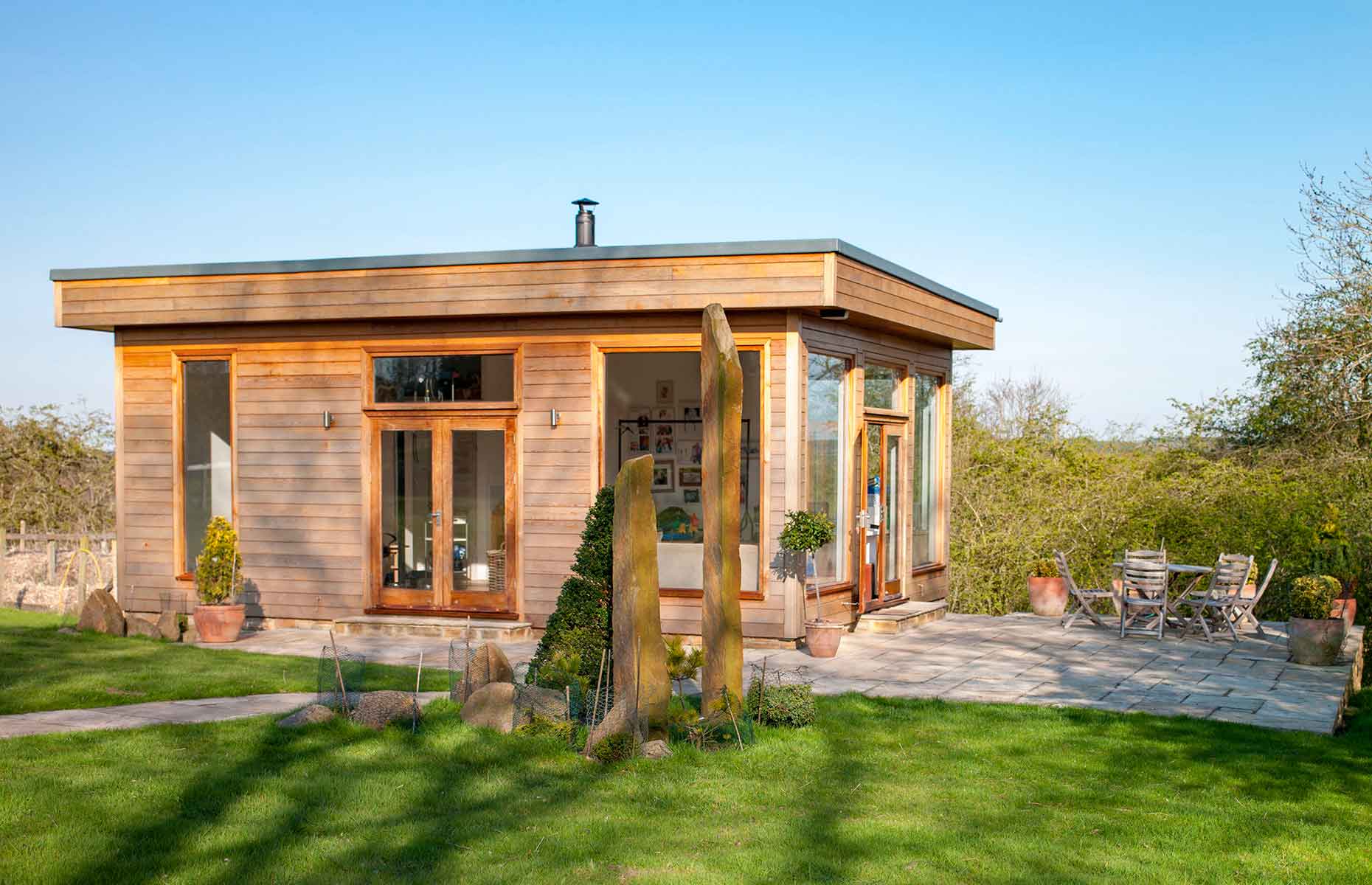 Go the DIY route
But if you're pretty handy with your tools, you could build your own, which is exactly what MyToolShed's garden office ambassador Luke Spear did, managing to get the whole thing built for just £3,000.
Ross Goodwin, managing director of MyToolShed, says: "As seen from the data there are cost-saving benefits to be made from creating your own garden building vs buying a pre-made design.
READ MORE: 9 DIY projects to add £50k to your home's value
"You get additional space, increased comfort, the knowledge and understanding of how to fix and repair, and even a house price increase that'll bring a larger real-terms profit vs simply buying an out of the box office outhouse."
10 steps to a DIY garden office
To help get you on your way, the team at MyToolShed has put together some handy tips. For a more detailed guide, see Luke's blog.
Step 1: Levelling
A solid, dry and level foundation will help make sure your office stays standing and can cope with all weather conditions.
Step 2: Base framing and decking
Make sure the timber you use is strong enough to support plenty of weight. Luke also advises: "Get the timber merchant to pre-cut as much as possible. Longer lengths have higher per-metre cost. It was anything over 5 or 6m in my case. I didn't factor this in and paid the price."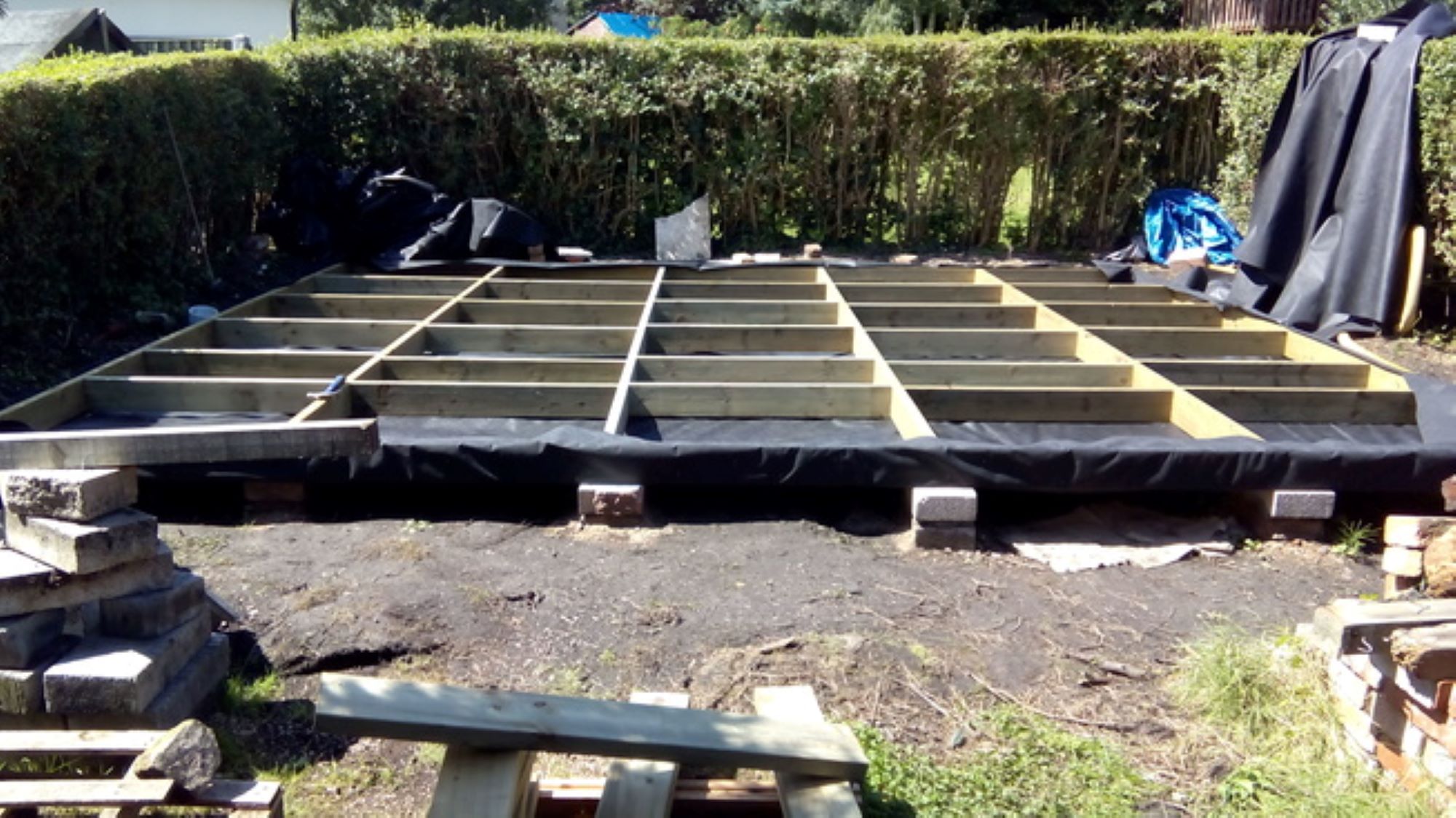 Step 3: Wall raising
You will probably need some help from a friend for this part. Make your poles with reverse angled screws to hold them in place while fixing them to an oriented strand board (OSB, similar to plywood) base and to each other.
Step 4: Roof laying
Consider using a membrane all around your roof before adding steel sheets. This will stop any water that gets through the steel from wetting the OSB sheathing below.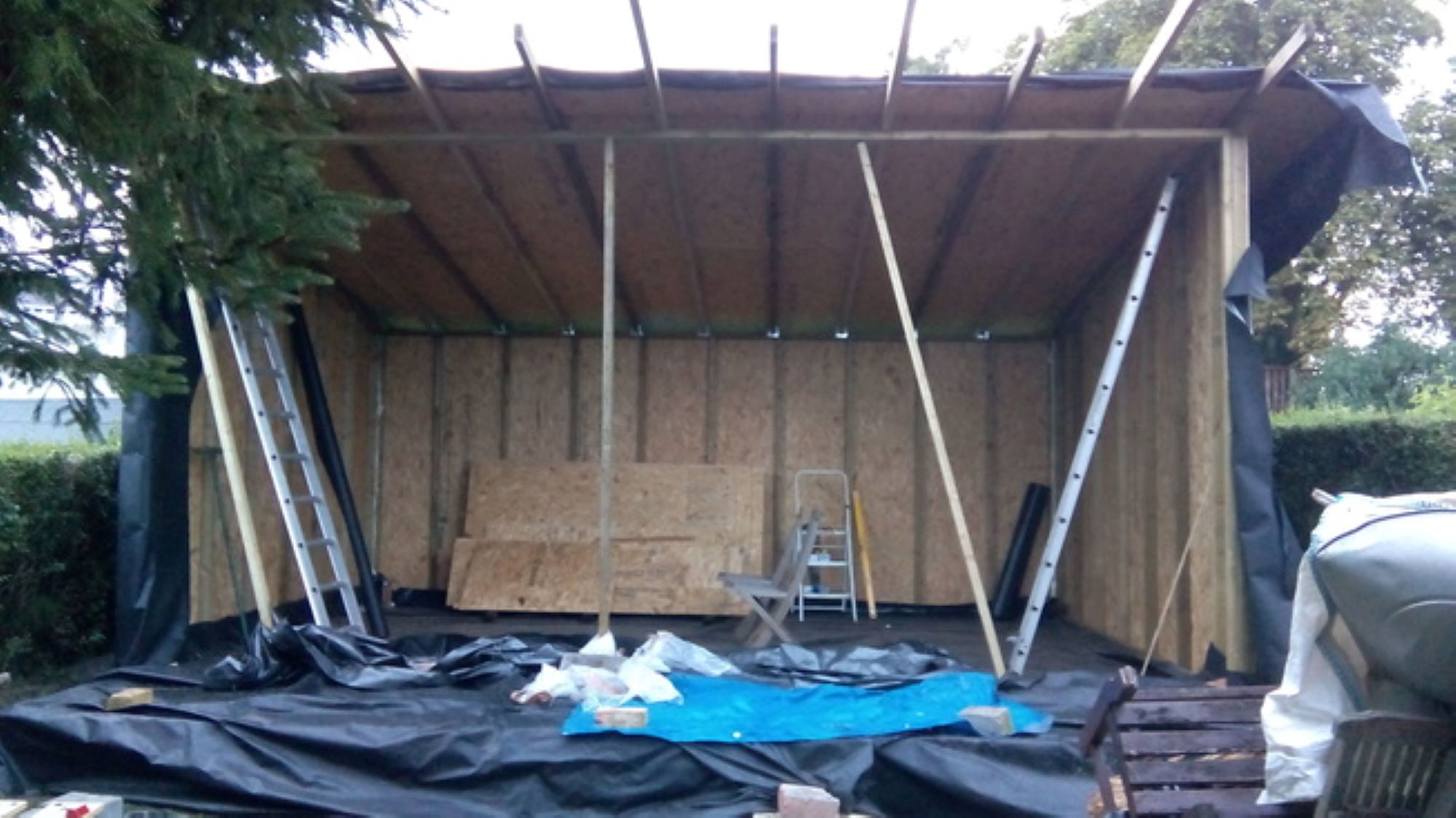 Step 5: Windows, doors and cladding
The more windows you have, the more time and money it will take to build your shed. If your budget is tight, focus on indoor lighting and keep windows to a minimum.
Step 6: Electrics and internet
Although many building tasks are achievable for DIYers, you should leave electrics to the experts. MyToolShed estimates that paying a professional to wire up a small outbuilding should cost about £500.
Step 7: Roofing/sliding
You'll need a steel grinder if you're using metal roofing. The best place to cut this type of roof is on the grass as it will prevent too much sliding. Luke advises: "Add a piece of wood to one end of the metal for it to hang over. This will prevent you from cutting into your turf."
Step 8: Insulation and vapour barrier
Fibreglass is a cost-effective option for insulating your outbuilding as it is possible to get a good deal when you're buying it in large quanitites. You may also want to consider a vapour barrier to reduce the risk of condensation and maximise heat retention.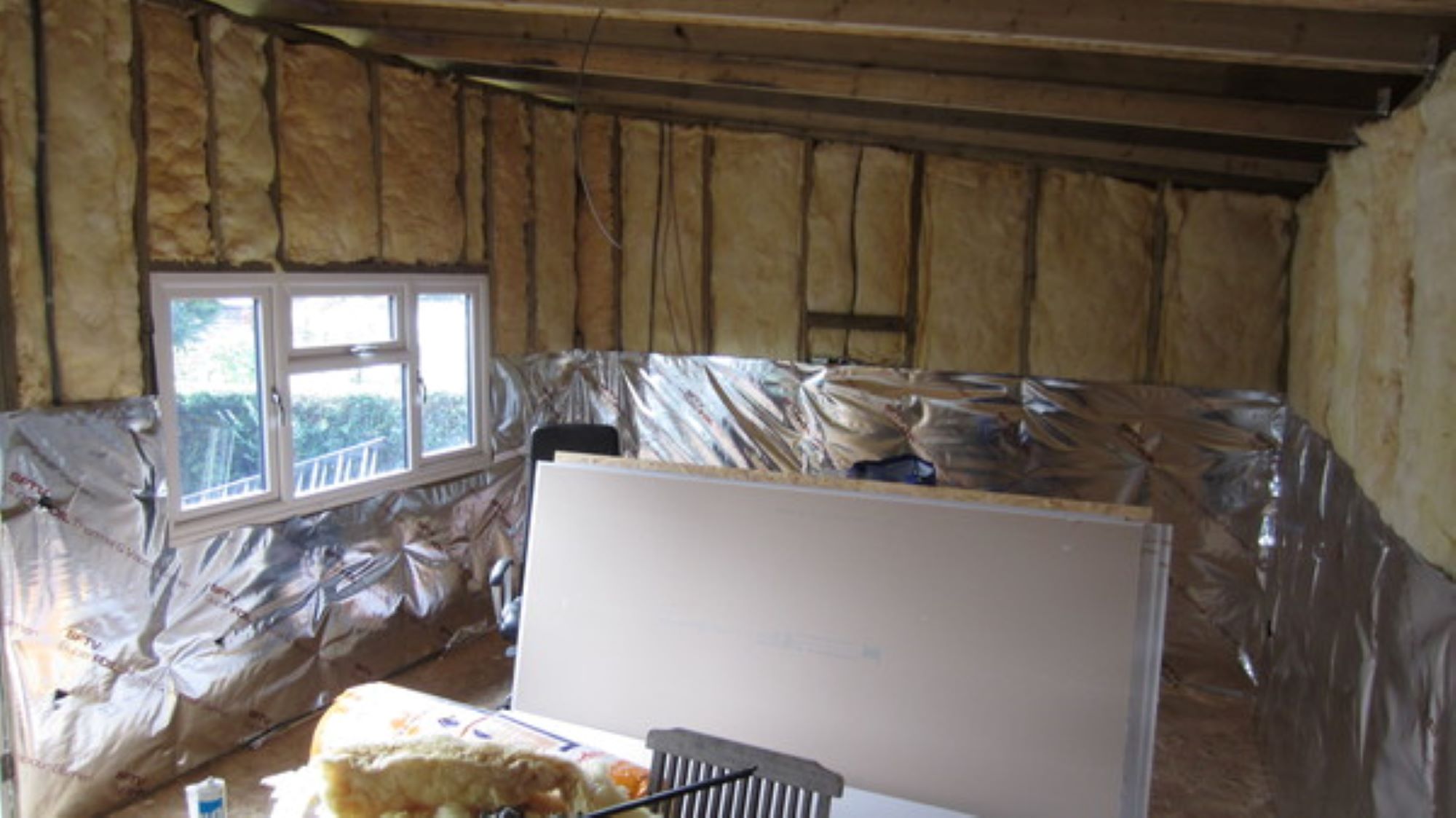 Step 9: Plasterboarding and plastering
Make sure your plasterboarding work is neat and you have minimal gaps because these take a long time to smooth over. Plasterboarding will prove easier if you either hire a plasterboard lift or get an extra pair of hands to help you.
Step 10: Flooring
Hiring a professional can often cost as much as the flooring itself, but laminate is easier to install yourself. It's also cheap – you should be able to pick some up for around £6-8 per square metre, plus skirting boards for around £1 per metre.
Need more garden room inspiration?
Images: Courtesy of Luke Spear and MyToolShed
Be the first to comment
Do you want to comment on this article? You need to be signed in for this feature