Glass and mirrors linked to house fires – plus tips on fire prevention in hot weather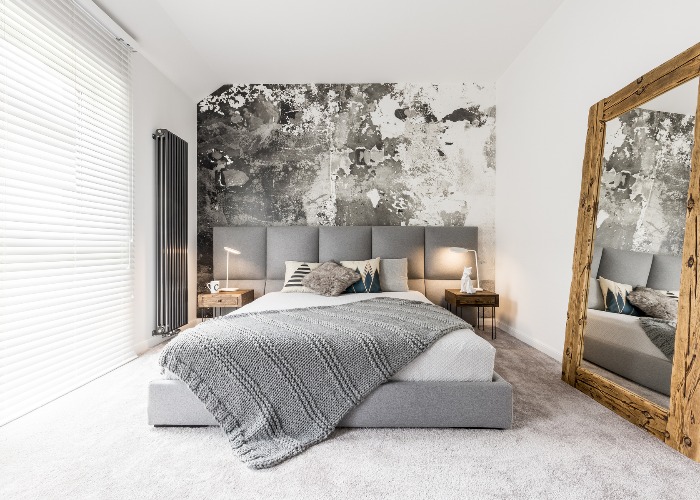 Homeowners are being urged to take steps to protect their homes as mirrors and glass left in direct sunlight pose as fire risks
As the country faces its longest heatwave since 1976, there has been an increased number of house fires caused by intense sunshine.
Firefighters were called to tackle a house blaze in Stoke-on-Trent last week, sparked by sunlight reflecting into the house from a glass table in the garden. The owners managed to get out safely.

Picture: @WestMidsFire / Twitter
A few weeks earlier in Birmingham, two houses were destroyed (pictured above) when a fire from a shed that caught alight and spread along dry grass in the garden.
Fire and rescue teams have issued warnings to keep mirrors and glass out of direct sunlight to prevent similar fires breaking out.
With the extended sunny weather up and down the country, experts are warning people to be vigilant to avoid fires starting that can result in losing their homes and all their belongings - and in worst case scenarios, loved ones.
READ MORE: Are these white goods a fire risk?
Alex Jones home insurance expert at insurer Zurich says: "We're not used to long spells of hot, sunny weather in the UK, and while not every danger can be foreseen or prevented, taking some simple steps can reduce the chances of a fire in your home.
"Avoid placing glass objects, especially glasses or ornaments, in direct sunlight as they can magnify the sun's rays and burn soft furnishings.
"It might be a pain, but if you're out for the day, draw curtains or close blinds to limit sunlight beaming in."
Mirror, mirror on the wall
Many families have been affected by fires started in this way. Robert Spaughton, 66, received a phone call from his 90-year-old mother, Molly, last spring after her bedroom had caught fire.
Mirror, mirror on the wall, don't be the cause of a fire call.
Keep mirrors away from windows and direct sunlight. https://t.co/b4job38PRH #HeatwaveSafe #Heatwave #PlayItCool pic.twitter.com/XbMUFzlHgi

— West Midlands Fire (@WestMidsFire) 29 June 2018
Robert, who lives in Whitstable, says: "Mum was watching TV when the smoke alarm went off. She thought it was faulty so gave it a bash with a broom. But shortly after, the warden - who looks out for a group of elderly residents - knocked on her door to explain smoke was pouring out of her bedroom window and they needed to call the fire brigade."
It turned out that a mirror on Molly's windowsill had reflected the sunlight onto her bed, which had caught fire.
Robert says: "The bedroom had smoke and water damage after the fire brigade had been. The insurance covered everything that needed to be replaced- but mum lost some precious family photographs.
"We had no idea that a mirror on a windowsill was a fire risk."
The biggest fire risk in hot weather
Insurance companies have paid out £345 million for domestic home claims for 'fire and explosion' in the home.
This figure isn't just for fires caused by glass. Such claims are still relatively small according to Aviva.
John Frankin of Aviva says: "A fire caused by the sun reflecting through glass is fairly unique. The main cause of fires this time of year is barbecues. It's crucial to make sure your barbecue is strong and sturdy and positioned on level ground away from flammable objects like a fence or overhanging trees. You should never light a barbecue in an enclosed space or pour petrol or other accelerants on to a barbecue.
"Remember that the metal parts of a barbecue can become hot - don't try to move it until it has cooled down
"Make sure the barbecue is fully extinguished before you leave it and take care when getting rid of a disposable barbecue, or barbecue coals - ensure they have cooled down before placing them in a bin."
Fans, mobile phones and aerosol cans
Experts highlight other items around the house that could pose a risk.
Jones says: "It's also important to keep flammable or combustible items, such as aerosol cans, out of direct sunlight or they could explode.
"Don't forget to maintain air conditioning units and fans to prevent the build-up of dust on motors, which could cause a fire."
Even mobile phones could pose a risk, according to another expert. David Rochester, head of underwriting at Halifax Home Insurance, says: "Mobile phones get hot when charging, particularly in warmer weather. Left under a pillow or sofa cushion, this heat can quickly reach dangerous levels. Always leave your device uncovered and away from soft furnishings whenever they're charging.
"Batteries also pose a risk. Keeping them in metal containers where they can easily overheat in the sun is highly dangerous and can lead to a fire. Make sure you store them out of sunlight and in cool areas of the house."
A spokesperson for Direct Line says: "As well as all these precautionary measures, don't forget to make sure you have fitted a smoke alarm and that you check it regularly."
Be the first to comment
Do you want to comment on this article? You need to be signed in for this feature