Summer into Autumn: how to get the last flourish from your garden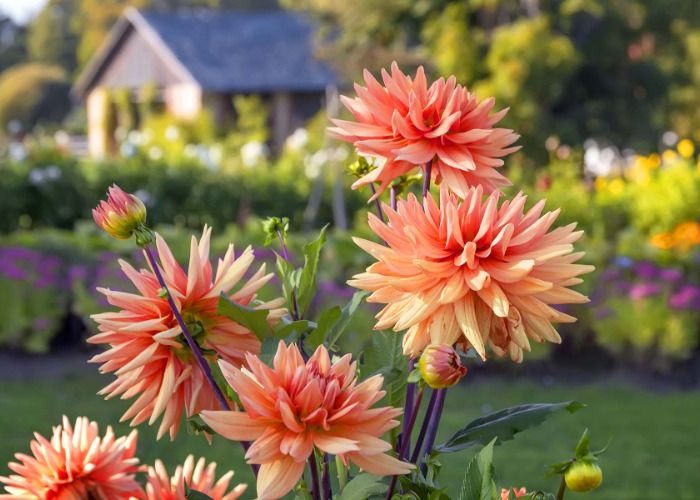 Summer is in our rear-view mirrors but it's still a glorious time of year for your garden. Here are our top tips and tricks to get one last display before the cold sets in...
Our gardens may be edging towards the colder months, but don't give up on your green space just yet. There's life out there still, with much enjoyment and productivity to be had.
READ MORE: Easy gardening hacks to take the graft out of growing
As September and October often continue to bring warm days, there's a whole host of plants coming into their prime at this time of year. The great outdoors is alive with late-blooming flowers, the burnished colours of turning leaves and that glorious autumnal sun.
Here are five ways to relish these last weeks before winter draws its frozen veil.
1. Plan your blooms
It's the big finale in our gardens right now, with a brightly coloured array of spectacular blooms on display. This vibrancy is no accident – it's nature's way of making sure that bees and other pollinators can still spot flowers as the days grow darker.
Many of these plants will keep their heads upright until the first frost, so if you plan your garden right, September can be one heck of a show.
Dahlias are still in vogue, with a huge range of varieties and colours to choose from. What's more, if you regularly deadhead them they'll keep giving until blackened by frost. Then the tubers can be lifted, dried and stored until next year when they can be brought back to bloom again.
Purple, green and yellow grasses and shrubs planted in a garden border in early fall
Cosmos is a very popular late-flowering annual that's easily grown from seed. These daisy-like flowers with tall stems come in whites, reds and pinks as well as double and single varieties to name but a few options.
Commonly called Red-Hot Pokers, Kniphofias could be a majestic addition to your borders in shades of yellow, orange and red. While exotic looking, they're tough and will keep going until November before returning again next year.
Add interest to your garden throughout the winter with an assortment of grasses. Available in different sizes, varieties and shades, they're incredibly versatile – plus they're great for wildlife too, so what's not to love?
You could also try Helenium, Rudbeckia, Buddleja, Phlox and Anemone japonica. And spare a thought for late-season pollinators by including Gaura, which can flower right into November, as well as Aster, Sedum and Persicarias. There really is so much to savour at this time of year.
2. Plant bulbs now
Never fear, it's not time to put away your gardening gloves just yet. Some bulbs are blooming now, such as the gorgeous Nerine, the pretty crocus-like Colchicum and the classy Amarcrinum.
Hyacinth bulbs can be planted in pots now to flower at Christmas time. The heady fragrance and bright colours are so cheerful in the winter months and they can also make a great gift. The same goes for Amaryllis bulbs, which should be planted in September or October for Christmas or New Year blooms.
Nerine bowdenii planted in a natural stone border
And what better way to fight off the coming winter than planning a spring display of bulbs, such as Cyclamen, Daffodils, Crocus, Muscari and Alliums?
They can be planted in pots and layered to give a continuous flow of flowers, or grouped in a border to create impact. Bulbs can also be beautiful planted in lawns or around trees for a pop of colour.
3. Get your garden in order
It's tidy-up time! To prepare your garden for winter deadhead to keep your plants flowering until the frost hits, then clear away any blooms that have finished for the year.
Certain perennials can be cut back to the ground to keep the garden looking tidy and allow those that are in their prime to take centre stage. Tender sun-loving plants, like Lavender and Rosemary can be pruned now. Lavender flowers should be cut off to the first leaves below the flower stem but be sure to never cut into the old wood as this will inhibit further growth next year.
Now is a good time to take care of your lawn. Rake over to pull out moss and dead grass, as well as removing any weeds. This may leave bald patches but it's a necessary evil.
Then, using a garden fork, or a lawn scarifier if you have a large plot, aerate the lawn and brush in sand. Your grass has taken a hammering over the summer and this will help with the compaction.
Afterwards, sprinkle over an autumn fertiliser and seed mix which should germinate and take root before the cold weather hits.
Don't forget to clip hedges and neaten up any topiary. It will keep its shape for the winter, giving your garden structure and clean lines. However, leave pruning most trees until mid- to late-winter, when they're dormant. This makes them less vulnerable to insects and diseases.
4. Let there be light
The nights are closing in slowly but surely and while the days can be warm, the evenings are getting chilly. But that doesn't mean it's sayonara to an alfresco evening in the garden.
Install garden lighting to extend the time you can stay out – festoon bulbs and fairy lights can give a festival or party vibe.
Uplighters are great at creating mood in a garden and highlighting particularly scenic corners. If you want to illuminate a pathway or steps then solar-powered stake lights are an ideal and energy-saving choice.
Alternatively, larger timer lights not only provide plenty of light but are also a good burglar deterrent. Do be considerate of neighbours though and avoid overpowering them with too much wattage! And make sure static lights are turned off at night as darkness is necessary for wildlife.
5. Add outdoor heating
Keeping warm will help you make use of your garden for longer and there are outdoor heating options out there for every budget and level of eco-consciousness.
Firepits are great to sit around and instantly provide atmosphere and warmth, for a camping vibe in your own backyard.
Patio heaters can also ward off the chilly air. There are gas options available, which tend to be less eco-friendly and more expensive to run but are cheap to buy initially.
Electric heaters provide a greener option and come in a range of different designs, from floor-standing to wall-mounted or table-top models.
LOOK AHEAD FOR WINTER COLOUR: The 30 best winter plants: from winter flowers to bedding plants
Featured image: Flower_Garden / Shutterstock
Be the first to comment
Do you want to comment on this article? You need to be signed in for this feature