Video: this robot bed can double your living space
Tired of feeling cramped in your home? New AI-controlled smart furniture sends your bed skywards and monitors your movements
A new company believes it has the answer to our tiny-living woes – furniture that simply lifts out of the way when it's not needed.
Bumblebee Spaces, a tech startup based in California, has designed a range of modular furniture that can be controlled by smart robots and an AI interface, freeing up more space in your home when it's not needed.
READ MORE: Smart home breakthroughs transforming how we live
The idea is that a room can have a dual purpose – for example, it allows a space to function as an office by day and a bedroom by night.
Bumblebee Spaces believes that by visualising our homes as 3D spaces, we can remove unnecessary clutter and leave less of an environmental footprint. All you need is a ceiling height of around nine feet for this innovative furniture to work.
Like something out of a 1980s movie, beds, wardrobes and cupboards can be lifted up and out of the way, held up at the ceiling until you need them. Furniture can be retrieved with help from an AI butler, who can be voice-activated, summoned via an app or programmed according to your lifestyle requirements.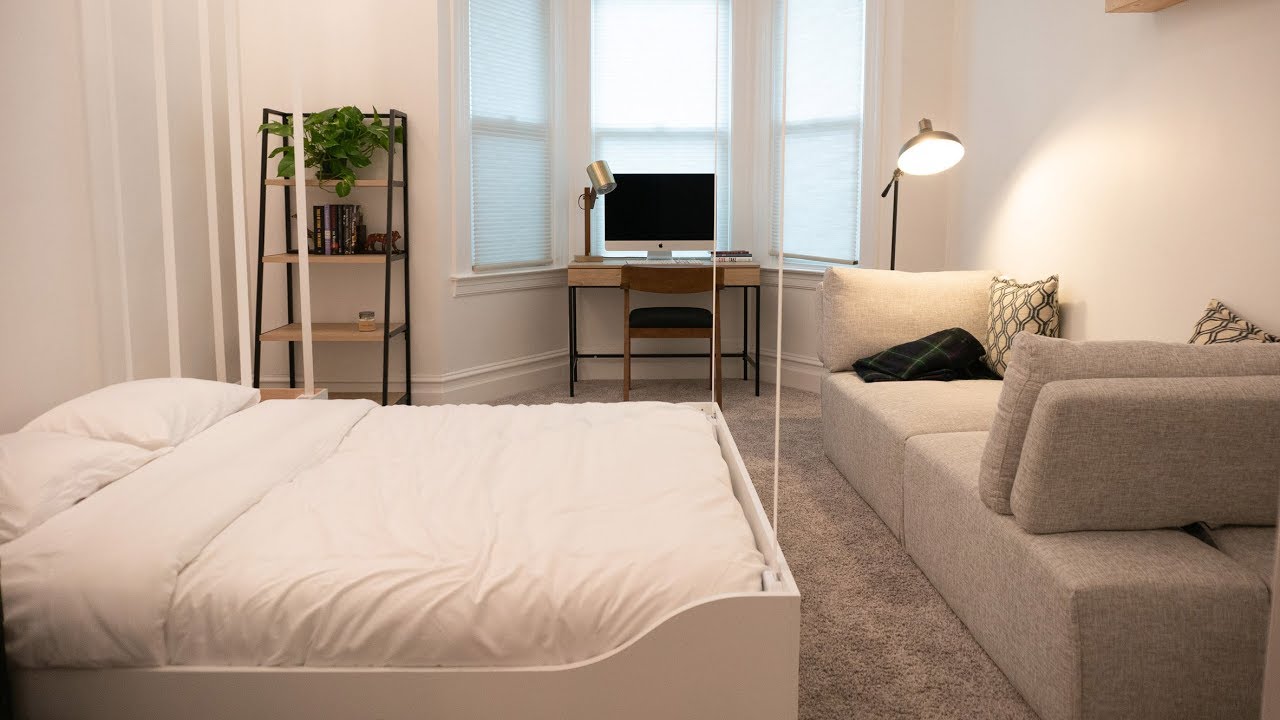 The innovative system creates extra living space by lifting furniture up to the ceiling
Learns your lifestyle
This is where the technology gets really smart (and slightly scary). The artificial intelligence system tracks where all your items go and can anticipate your needs by studying your routine.
Sankarshan Murthy, CEO at Bumblebee Spaces, says: "Upon learning your patterns, Bumblebee suggests specific transformation that makes your home ready for your life. If you are running every Tuesday and Thursday, Bumblebee brings your running shorts, shoes, etc. at the right time. Upon waking up, your bedroom completely transforms into a beautiful closet ready for you to get dressed."
In addition, the furniture pieces work ergonomically and can adjust their dimensions depending on your needs for maximum efficiency.
A helping hand
Indeed, Murthy says the system appeals to both the eco-conscious and those with physical limitations.
Murthy says: "We are seeing very strong preference from people who love urban living in great walkable neighbourhoods, people who love to tread lightly on the planet and are sustainably conscious, as well as young parents who have an explosion of stuff in the house and are in need of child-safe furniture and most importantly, space.
"We are also seeing a strong preference from people who have disabilities. Our units open up the floor radically for living, removing obstacles to getting around."
Prices range from around £5,300-£9,000 for a bedroom that retracts to the ceiling, depending on spec. There is also a monthly maintenance fee.
See the innovative AI system in action:
READ MORE: Amazon build prefab smart homes with integrated Alexa to beat Google
Be the first to comment
Do you want to comment on this article? You need to be signed in for this feature