Amazon Echo vs Google Home: which smart home device should you buy?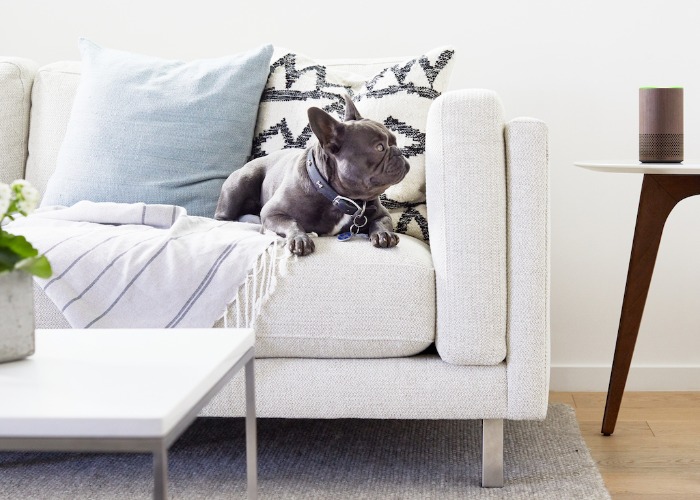 If you're planning to join the 11% of people in the UK who now own a smart speaker, should you go with Amazon's Echo or Google Home?
Amazon and Google are battling to win the lion's share of the smart speaker market.
The Amazon Echo is way ahead – 69% of UK smart speaker owners have one while just 19% own a Google Home, according to a recent YouGov report about the smart home market – but the Echo came first. Google's offering was launched seven months behind its rival's in the UK and was more than a year behind in the US. It's been playing catch-up ever since.
But it's not just time that has made the Echo more popular. Although they both do what they do well, Amazon just edges it. Here's why.
Amazon Echo vs Google Home: pros and cons
The voice assistants they incorporate – Alexa in the Echo and Google Assistant in the Google Home – let you perform a myriad of tasks using just your voice. Start your request with 'Alexa', or with 'OK Google' or 'Hey Google', to get their attention.
Ask them what the traffic's like or what the weather will be doing tomorrow, to set an alarm for the next morning, or to play your favourite song or add something to your shopping list. These simple tasks are what most people currently use them for.
As you might expect, Google Assistant is better at giving you detailed information from the internet via Google but it can't match the Echo for online shopping – Alexa lets you buy directly from Amazon with ease (although be aware that voice purchasing is switched on by default, allowing anyone in your home to buy things).
READ MORE: Amazon build prefab smart homes with integrated Alexa to beat Google
Alexa also has the advantage of 'skills'. These are third-party apps that let you endlessly expand what your Echo is capable of – use the Fitbit skill to ask Alexa how many steps you've taken today or the BBC News skill to ask Alexa for the headlines.
The Echo is cheaper – you can get the second-generation model for £70 while the Google Home costs £129 – and it sounds better too, although Google recently launched the souped-up Google Home Max (£399) designed to give powerful high-quality audio.
'OK Google, set the thermostat to 20 degrees'
If you own other smart home devices – such as smart lighting or a smart thermostat – a whole new world of control opens up. Imagine sitting down for an evening's TV viewing and saying 'Alexa, dim the living room lights' or 'OK Google, increase the living room temperature'.
You may not own any other smart gadgets yet – ownership of these products is still relatively low – but one day you might so you'll want the device that is best at controlling them all.
The Google Home and Amazon Echo both make it easy to connect other devices and control them with your voice and they're both compatible with a wide range of smart tech, including Philips Hue light bulbs, and Nest (a Google brand), Hive and Netatmo smart thermostats.
Both let you view footage from wireless security cameras, but the Echo is compatible with more models. If you have an Echo Show or Echo Spot, which both have screens, you can see the footage on the Echo itself – otherwise, you can stream the images to your TV using an Amazon Fire TV stick or box, or to an Amazon Fire tablet. With a Google Home your only option is to stream it to your TV using a Google Chromecast (or a TV with it built in).
The number of smart devices compatible with the Amazon Echo and Google Home is growing but there are more Echo-compatible products and they're growing faster since Amazon works closely with manufacturers and developers to make this happen. So, if you buy an Echo you'll have more options when you do buy extra gadgets.
Echo Dot and Google Home Mini
Both brands offer cheaper more compact versions of their smart speakers that perform just as well as voice assistants and smart home hubs. The 2018 Echo Dot costs £50, although you can still buy the original version for £35, and the Google Home Mini is £49. As they don't have a full speaker they won't do your music justice but you can easily connect them to a Bluetooth speaker.
Siri, Apple HomePod and Samsung SmartThings: the alternatives
There are rivals to the Amazon Echo and Google Home you could consider. Siri was the original voice assistant and you may have been using it in your iPhone for years for finding answers to questions or phoning people.
The free Apple HomeKit app lets you control smart tech around your home using Siri (although compatible devices are limited) and does an excellent job of it. But you need an iPhone or iPad to get the app and an iPad or Apple TV in your home to use it remotely.
In early 2018 Apple launched its own smart speaker, the HomePod, that is designed to be a high-quality speaker first and a smart home hub second. But it's relatively expensive at £299 and will only work with Apple Music – the Echo and Google Home let you choose which music app you want to use.
Smart home hubs aren't always voice controlled and the Samsung SmartThings Hub (£100) is one example – you control it with an app. It doesn't have a speaker built in but is one of the best for getting devices to work together and automatically switch on when you arrive home.
Smart home device security and privacy
Any internet-connected device is a potential doorway for hackers but none of the major smart speakers and hubs has any particular security or privacy issues. However, there are precautions you should always take when using connected tech:
Always set your own strong passwords on every device and your router
Take advantage of any extra security features a device offers
Switch off smart gadgets when you're not using them. The Amazon Echo and Google Home are always listening (although not recording) for their 'wake word' – if you don't like the idea of this, switching it off when it's not in use is your only option
Keep software up to date
If you're in the market for a smart home device you can't really go wrong with either the Amazon Echo or Google Home but for the extra functionality you can add, the range of compatible smart products and online shopping, the Amazon Echo is hard to beat.
READ MORE: How safe is your secondhand Amazon Echo?
Be the first to comment
Do you want to comment on this article? You need to be signed in for this feature