Britain's top 20 most expensive streets revealed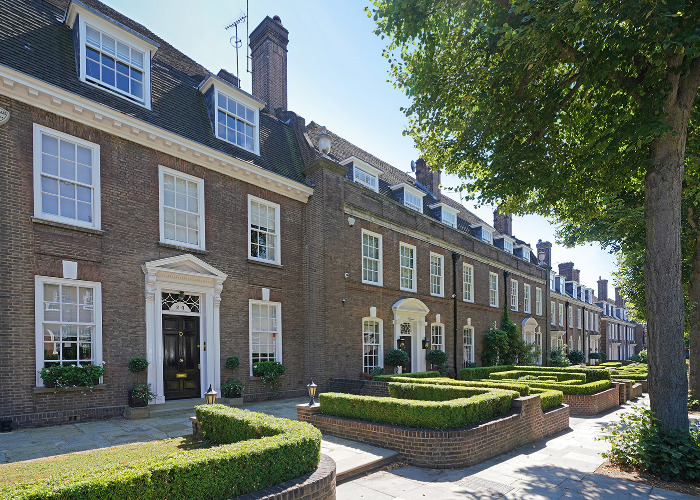 In these exclusive areas, the streets really are paved with gold. Home sweet home to the most monied homeowners in the country, here are Britain's priciest roads
It probably comes as little surprise that half of the most expensive streets in Britain are in London, with seven out of the top 20 found in the exclusive borough of Kensington and Chelsea, no less.
Top of the list, according to Land Registry data collated by Lloyds Bank, is Ilchester Place, a street just to the west of Kensington Palace and the Duke and Duchess of Sussex's stomping ground.
Located on the edge of Holland Park, this exclusive road is home to a row of stunning Georgian townhouses, which attract an average price tag of £15.6 million.
Those who can afford the eye-watering asking prices, or the lucky few who strike gold in a property raffle, will be in celebrity company as Simon Cowell lives nearby, as do the Beckhams when they're in town.
Six other London streets in the costly line-up also attract average asking prices over £11 million.
Regional breakdown
While half of Britain's top 20 most expensive streets are located in London, million-pound streets are not just the preserve of the capital. Regional data shows that there are 76 streets in total across England and Wales that boast six-figure asking prices.
In Yorkshire and the Humber, those happy to splash the cash should go house-hunting in what is known locally as the 'golden triangle' between North Leeds, Harrogate and north Wetherby. Average house prices on exclusive Fulwith Mill Lane in Harrogate amount to a dizzying £1.6 million.
Panorama Road in Sandbanks, Poole, long considered one of Britain's priciest corners, tops the list for the South-West, with properties going for an average of £2.5 million.
Elsewhere, Wales is home to just one £1 million street – Llys Helyg Drive in the northern seaside town of Llandudno. In the North East, Runnymede Road in Newcastle has properties worth in the region of £1.1 million – indeed Newcastle is home to four out of five of the North East's priciest streets.
Meanwhile, though Scotland boasts many million pound streets – with most in Edinburgh – with average asking prices of £2 million, its most expensive street, Golf Place in St Andrew's, falls way behind the sky-high prices of Britain's top 20 most expensive streets.
Take a tour of Britain's 20 most expensive streets:
20. Eriswell Road, Walton-on-Thames, South East
Average asking price: £3.3 million
Octagon
19. Oxshott Rise, Cobham, South East
Average asking price: £3.4 million
Savills
18. Gorse Hill Road, Virginia Water, South East
Average asking price: £3.5 million
Prime Residential
17. Blackhills, Esher, South East
Average asking price: £3.6 million
Knight Frank
16. Chargate Close, Walton-on-Thames, South East
Average asking price: £3.6 million
Prime Residential
15. Queens Drive, Leatherhead, South East
Average asking price: £3.9 million
Knight Frank
14. Leys Road, Leatherhead, South East
Average asking price: £4 million
Knight Frank
13. Astons Road, Northwood, London
Average asking price: £4.1 million
Nicolas Tye Architects
12. Charlbury Road, Oxford, South East
Average asking price: £4.6 million
Savills
11. East Road, Weybridge, South East
Average asking price: £4.9 million
Curchods
10. Camp End Road, Weybridge, South East
Average asking price: £5.6 million
Savills
9. Burnsall Street, Kensington and Chelsea, London
Average asking price: £9.8 million
Ron Ellis/Shutterstock
8. Kensington Square, Kensington and Chelsea, London
Average asking price: £9.9 million
John Salmon / CC BY-SA 2.0
7. Chesham Place, Kensington and Chelsea, London
Average asking price: £11.3 million
Chrispictures/Shutterstock
6. Campden Hill, Kensington and Chelsea, London
Average asking price: £11.4 million
Alexey Fedorenko/Shutterstock
5. Carlyle Square, Kensington and Chelsea, London
Average asking price: £11.9 million
Colin Smith/Wiki Commons
4. Kensington Road, Kensington and Chelsea, London
Average asking price: £12.9 million
Phaustov/Shutterstock
3. Knightsbridge, Westminster, London
Average asking price: £13.3 million
fotolupa/Shutterstock
2. Eaton Square, Westminster, London
Average asking price: £13.7 million
Chrispictures/Shutterstock
1. Ilchester Place, Kensington and Chelsea, London
Average asking price: £15.6 million
Miroslav Cik/Shutterstock
Main photo: Miroslav Cik/Shutterstock
Be the first to comment
Do you want to comment on this article? You need to be signed in for this feature