What Buckingham Palace would look like as a house share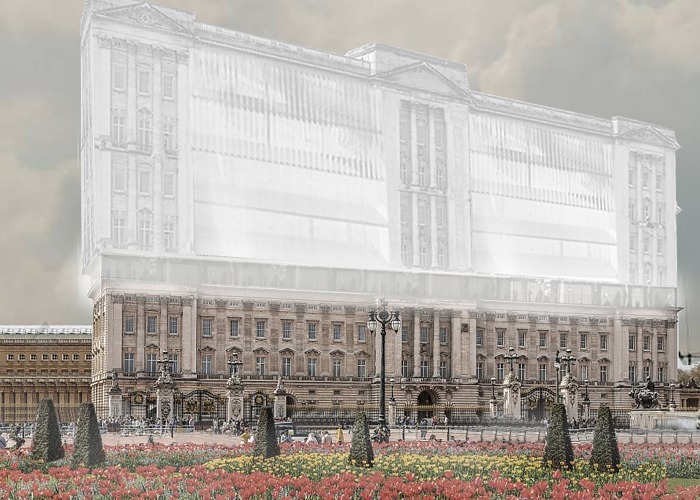 Ever imagined living in Buckingham Palace? An unusual redevelopment proposal could see the Queen gain 50,000 new housemates…
London is in the throes of a housing crisis – the city's population is surging, property demand is outweighing supply, and many city dwellers feel priced out of the market.
Amid a rather glum forecast, one architectural practice is offering a fantastical solution to the capital's accommodation woes.
READ MORE: UK housing crisis: England's shortfall of four million homes
Munich-based Opposite Office has put forward a somewhat unconventional plan to repurpose Buckingham Palace as shared housing for up to 50,000 struggling Londoners.
Co-living developments, where unrelated residents share the same communal spaces, have seen a rise in popularity in recent years thanks to their affordability. However, they don't tend to involve royal palaces.
The unusual proposal would combine the palace's opulent rooms with co-living spaces
Affordable housing solution
Laying out the project, Opposite Office penned a tongue-in-cheek letter to the Queen. They proposed a joint solution to tackle both the "largest housing shortage in history" and the cost of refurbishing Buckingham Palace.
In 2016, it was announced that an urgent £369 million refit of the royal palace was to be undertaken, a project that would take 10 years to complete.
"With its 775 rooms and 79 bathrooms the population density is not representative of the rest of London, and Buckingham Palace is waiting for repurposing," said Opposite Office co-founder Benedikt Hartl.
He continued: "The rooms are awash with sparkling candelabra, sumptuous carpets, marble columns, sculptures, and expensive artworks. So why not use this existing structure to fight the housing crisis?"
Floorplans for the proposed shared living spaces
Co-living design
Entitled the Affordable Palace, the project would see a multi-story extension added to the top of the royal dwelling.
The interior would then be divided up into private single and double bedrooms with shared dining and living spaces.
A three-storey extension would add the necessary space to the palace
Retractable screens would allow the zones to be redesigned according to residents' needs.
The plans show eight grand spiral staircases descending from the upper levels, allowing the Queen to socialise with her subjects – sorry, housemates.
The palace would be integrated with the co-living zones via staircases and lifts
So what does the Queen make of sharing her royal seat with a load of Londoners?
Unsurprisingly, there's radio silence from the palace…
READ MORE: This architect turned a wreck into a huge home for his friends
All images: Opposite Office
Be the first to comment
Do you want to comment on this article? You need to be signed in for this feature