11 décor tips we're stealing from Victoria Beckham's amazing house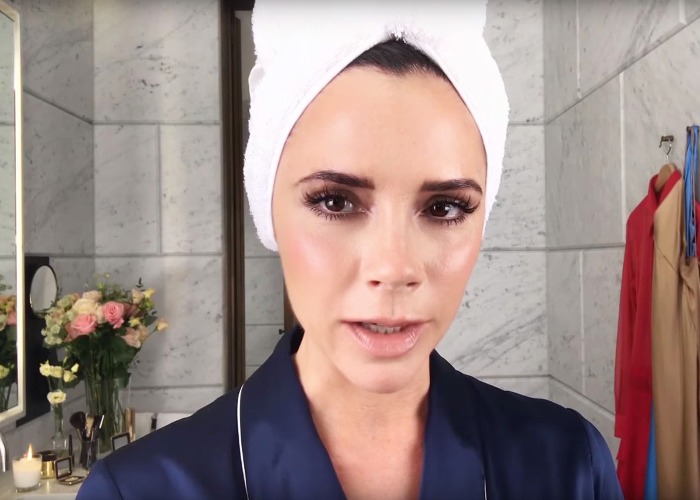 We take a look through the keyhole at The Beckham's fabulous west London pad
With her uber-chic fashion line garnering international success and a super trendy property portfolio that would make even the Kardashians blush, Victoria Beckham has undeniable style.
The fashion designer and her footballer husband, David moved into their stunning west London pad in 2016, after the Grade II listed building underwent an extensive refurbishment.
READ MORE: From Elon Musk's LA pad to Jodie Foster's estate, these star homes are for sale
We're often treated to snapshots of the family home in Holland Park through the couple's social media accounts – and from what we can see this is one sophisticated abode full of gorgeous decorating ideas that could work in almost any house. Let's take a closer look to uncover her style secrets worth stealing…
1. Real wood never goes out of style
As adorable as a sleeping Harper undoubtedly is, we're all about this chunky wooden table. When it comes to dining spaces, some things just look good in wood. The natural texture feels homely yet warm and seriously slick. Look for darker hues to complement areas with plenty of natural light and tie in lighter fabrics and textiles to keep things looking fresh and effortless.
2. Grey marble is the ultimate bathroom choice
When Victoria launched her Youtube channel we were thrilled to spot the marble tiles in her bathroom. Crucially, choosing tiles over large single pieces means that this is an affordable option and much easier to fit. Add colour with some pretty pink blooms and look for classy gold accents such as soap dishes or water taps. Finish with a pile of fluffy white towels for a luxurious ensuite.
3. First impressions always count
Make your neighbours jealous by updating your entrance and giving your home some extra curb appeal. We love the smart monochrome tiling that's set off perfectly with the wrought iron gate, canopy and glass lantern. Skeleton optional.
4. When it comes to flowers, big is better
When Victoria shared this funny picture of her football rival family, it was the flowers and Diptyque candle that caught our eye. VB has supersized her display with trailing branches of orchids tumbling out of an over-sized glass vase and it's the perfect way to draw the eye in a smaller seating area like this. As Victoria has said previously: "Flowers have a way of brightening up a grey day, or a flat mood." We couldn't agree more! IKEA sells similar apothecary styles to get your fix of flowers.
5. Dark kitchens are the coolest
I mean, come on, they just are. Especially when paired with classy copper saucepans, polished wood floors and a former pro footballer clutching a freshly baked pie. A central kitchen island is a godsend for those who spend a lot of time in their kitchen, but a word to the wise ­– wooden countertops may look tres chic but they're super high maintenance and need a lot of looking after. If you're not willing to take good care of them, get a similar look with a dark granite top. See our dark kitchens gallery for more inspo!
6. Chandeliers always improve a room
Think you need a girly interior to get away with such a showstopper? Think again. The clean lines and traditional interior in the Beckhams' home set the stage for a huge embellished chandelier to do the talking. The clever use of spotlights embedded into the floorboards also creates a warm, cosy feel to the home. Check of our pick of the coolest chandeliers to recreate this look at home.
7. White sofas CAN work in a family home
We all know buying a white sofa is somewhat of a risk –­ especially with a young family – but if the Beckham's can do it, you can too! While red wine might become a no-go, white is actually more practical than any other pale colour because if the worst happens you can always bleach it! Just remember to get a couch with zip-off covers. We think the lighter linen looks great with the copious amounts of dark wood in the home.
8. Chequerboard tiles look incredible in a hallway
VB has never struggled to make an entrance. No, we don't mean on crutches ­– we're talking about this beautiful hallway. We're coveting the black and white tile floor that runs through the corridors at Casa di Beckham. The polished wooden balustrade, creamy flight of stairs and wall-mounted metal lighting are all high on our list too. Give your hallway a spruce up with these decor ideas.
9. There's nothing wrong with a paddling pool
In the past we might have been a bit snooty about bringing an inflatable pool into our gardens but if it's good enough for the Beckhams, who are we to judge?
10. A fireplace is there to be used
Curling up with your family in front of a roaring fire on a winter's night is one of life's sweetest moments. If you're lucky enough to have a fireplace in your home, make sure the scene is set for a cosy evening with candles and a basket of chopped logs, just like the Beckhams. Plus, how gorgeous is that marble hearth and intricate fireplace surround?
11. Never forget the garden
Victoria is a self-confessed gardening enthusiast and describes her taste as 'quite classically British' striving for a 'fresh, and not too fussy' look. She says: "I really love flowers, and spending time in my beautiful gardens. I'm lucky enough to have homes with outdoor space, so I've been able to have fun with them and experiment with my gardening over the years."
Check out the cool tipi Posh and Becks have set up for Brooklyn, Romeo, Cruz and Harper to chill out in. Victoria has previously spoken about how she likes to have areas of the garden for her kids to enjoy, that won't interfere with her own.
"Invest in some nice garden furniture, so that in the summer you can sit out and enjoy a glass of wine at the end of a busy day," she says. "If you have kids that love to run around and play football, like mine, try to give them their own area of garden to do that in. That way you can enjoy your glass of wine in peace."
Well, we don't know about you, but we're about ready to move into this achingly cool yet simplistic and wonderfully traditional slice of real estate heaven. Please adopt us, Vic?
READ MORE: Step inside James Martin's amazing Hampshire home
Images: @victoriabeckham / Instagram
Be the first to comment
Do you want to comment on this article? You need to be signed in for this feature