At £1.8m is this the most expensive abandoned home?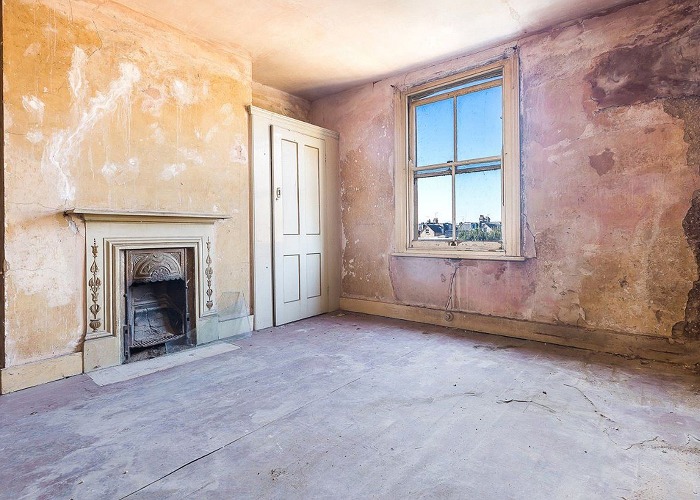 Untouched for over 50 years, this rundown piece of real estate comes with a hefty price tag
To call this semi-detached London home a fixer-upper might be a bit of an understatement.
Nestled in the affluent district of Chiswick, the grand Edwardian property is something of a dilapidated time warp.
Airedale Avenue on sale for £1.8 million
With peeling wallpaper, crumbling plasterwork and disintegrating floorboards, it's not the usual finish you'd expect from a home listed for a staggering £1.8 million.
Despite its condition, the property's sweeping Edwardian staircase is still impressive
The three-storey house has been relatively untouched for the past 50 years and was home to a retired railway engineer who recently passed away.
READ MORE: A 1700s London townhouse is for sale and the pictures are stunning
The home's lofty proportions are ideal for an airy open-plan layout
While the price tag may be eight times the average house price in England and Wales and almost four times as much as standard London house prices, this rundown residence might not be as ludicrous a deal as it seems.
A storage cabinet is one of the few remaining signs of domesticity
Spanning five bedrooms, three generous receptions, and a spacious garden, this is a prime piece of real estate in one of the most expensive corners of the country.
With dramatic signs of damp, the structure will need some serious attention
Savills, who are selling the property on Airedale Avenue, estimate that a £1 million renovation could result in a stunning property worth around £3.2 million, yielding a decent profit.
The house is packed with period features like these ornate ceiling covings
Whether the property is divided into apartments or returned to an incredible family house, we'd love to see those gorgeous ceiling cornices and ornate fireplaces restored to their former glory.
While the residence needs a complete overhaul, it could offer a healthy return in the long run
If five bedrooms feels a little snug, there's even the potential to extend the property into the generous garden to the rear, subject to planning permission.
The sizeable west-facing garden is ripe for development
One thing's for sure, the brave buyer is going to have their work cut out…
What's your verdict? Diamond in the rough or more than you can chew?
Love a challenge? Check out these abandoned buildings that you can actually buy
All images: Savills
Be the first to comment
Do you want to comment on this article? You need to be signed in for this feature