Dream home discount: you can buy this Grand Designs house for less than the build cost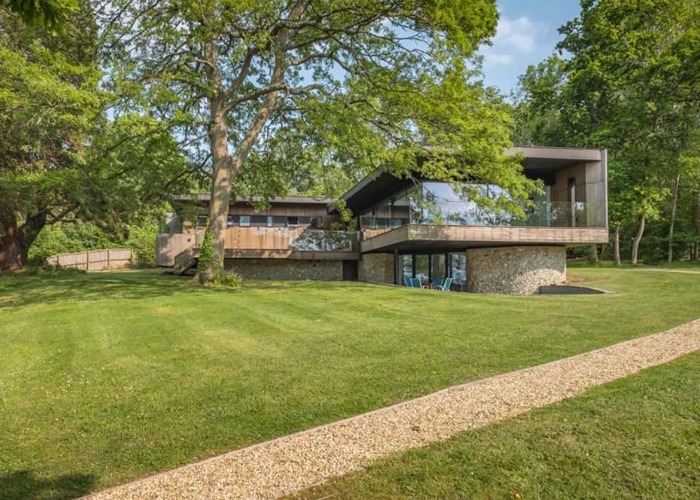 Following a drastic price drop of almost £1m, now's the time to snap up this architectural masterpiece
Grand Designs is something of an emotional rollercoaster. We witness blood, sweat, tears and more tears as the latest risk-takers wrestle their dream home from page to plot.
Along the way, there's usually the odd design mishap or budget overreach, but generally, before the credits roll, the exhausted self-builders acknowledge that their labour of love was all worth it in the end.
READ MORE: What it's REALLY like to live in a Grand Designs house
However, in the case of Bram and Lisa Vis, who appeared on the Channel Four show in 2015, we're still left wondering.
After building a contemporary six-bedroom property in the village of Quarr in the Isle of Wight, the couple have recently struggled to sell it and now face making a significant loss.
Fairways is an impressive contemporary property that even comes with its own private beach, but it's proved difficult to shift in this market, seeing the couple drop the price tag by nearly a £1 million in just six months.
On the market with Spence Willard, the asking price has now fallen from £3.95 million to £2.99 million, meaning it's now listed for considerably less than it cost to build.
Bram and Lisa were full of hope, determination and lofty ambitions when they first started building. With an initial budget of £835,000, they planned to build the glorious beach house they'd always wanted. Unfortunately, their dream home came at a price, and sadly it wasn't the one they'd hoped for.
Final construction costs came in at a whopping £2.2 million, nearly three times their budget. Add to that the £935,000 that they paid for the land and the couple estimated the project cost them as much as £3.3 million.
At the time, Kevin McCloud described Fairways as the most expensive project he had followed, adding that it had cost the owners "more than they could ever have imagined".
Despite their financial mistakes, Bram and Lisa certainly succeeded in their plan to design a modern masterpiece. The 7,200-square-foot property sits in over two acres of land and includes nearly four acres of beach frontage.
An ultra-sophisticated home, it comes complete with a games room, music room, laundry room, gym, jacuzzi and an outdoor swimming pool. Its state-of-the-art fixtures include triple-glazed windows and ground source heat pumps that warm the home by extracting heat from the ground.
Aside from its waterfront plot and dreamy views, the stand-out feature has to be the fabulous master bedroom suite with two dressing rooms, an ensuite bathroom and French doors that open out onto a tranquil roof terrace.
Elsewhere is a stunning open-plan kitchen, living and dining room that's soaked in natural sunlight thanks to two full-height glass walls. There's also a separate chef's kitchen, five further bedrooms, two studies, a playroom, sitting room and a plant room.
When questioned over their budget during the show, the couple said, "We are not really worried about that at the moment because we are more worried about getting the money to finish off the house."
While they may have gone spectacularly over budget, this incredible home will offer one lucky buyer a pretty sweet deal...
Loved this? Check out the best houses from Grand Designs so far.
All images: Spence Willard
Be the first to comment
Do you want to comment on this article? You need to be signed in for this feature