The best places in the UK to rent and raise a deposit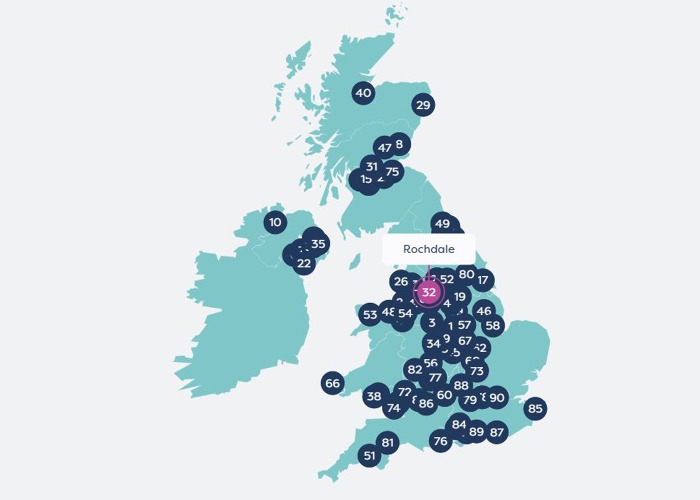 New research identifies where you can save a deposit to buy your own place quickest when renting across the UK
Like many things in property, it's very much a case of 'location, location, location' when it comes to being able to pull together a deposit to buy your first house.
The ideal conditions – places where houses are affordable and rents low but wages are high – are mostly to be found in Scotland, Northern Ireland and Wales, according to new data by MoneySupermarket.
Their new Rent and Save hotspots tool, which looks at take-home salaries after the cost of living has been taken into account and compares them with average deposits, is broken down into three main search areas: the length of time it will take to raise a deposit, the minimum deposit required and the average local rent.
Ready to buy in three months
Paisley in Scotland is the place where residents can save for a deposit the quickest, with renters able to stump up the £6,037 deposit required in as little as three months, thanks to low monthly rents of just £351.
Close on its tail is East Kilbride, also in Scotland, where you could also get the £6,467 deposit in just three months, even with the slightly higher local rents of £385 per month.
READ MORE: This is what you can rent for £1000 in cities across the UK
In total there are eight towns and cities where you could raise a deposit in as little as three months, including Stoke on Trent in the East Midlands, Neath in Wales, Armagh and Craigavon in Northern Ireland, Hartlepool in the North East and Dundee in Scotland.
The three places for lowest rents are Paisley, Blackpool and Hartlepool, while the three places with the lowest required deposit are Durham in the North East, where average deposits are just £5,173, Blackpool in the North West and Kingston-upon-Hull in Yorkshire and the Humber.
Where will it take the longest?
Conversely, the three places where it takes tenants the longest to raise a deposit to buy are Oxford and Chichester in the South East (12 years seven months and 17 years two months respectively) and London, where it will take an incredible 22 years and two months to raise a minimum deposit of £221,105 due to average monthly rents of £1595.
It's not all bad news for those based in the capital though: the same research also found huge discrepancies in terms of how long it will take you to raise a deposit, depending on where you live in the capital.
Croydon was named the best place to rent if you want to save to buy your own property – if you're smart you could raise a deposit here in six years and eight months, way below the average timespan for the city.
Rachel Wait, consumer affairs spokesperson at MoneySuperMarket, said: "While Paisley has proven to be the fastest place to raise a deposit, there are options across the country that won't take a lifetime to save up for – even in London, where Croydon couples can buy a house within seven years of saving."
The 20 places you can raise a deposit the fastest
| | | | | |
| --- | --- | --- | --- | --- |
| | Town or city | Time for a deposit | Average deposit | Average rent |
| 1 | Paisley, Scotland | 3 months | £6,037 | £351 |
| 2 | East Kilbride, Scotland | 3 months | £6,467 | £385 |
| 3 | Stoke on Trent, East Midlands | 3 months | £5,659 | £418 |
| 4 | Neath, Wales | 3 months | £5,674 | £425 |
| 5 | Hartlepool, North East | 3 months | £5,784 | £377 |
| 6 | Armagh, Northern Ireland | 3 months | £6,034 | £475 |
| 7 | Craigavon, Northern Ireland | 3 months | £6,034 | £475 |
| 8 | Dundee, Scotland | 3 months | £6,257 | £397 |
| 9 | Durham, North East | 4 months | £5,173 | £672 |
| 10 | Derry, North Ireland | 4 months | £6,263 | £475 |
| 11 | Barnsley, Yorkshire and the Humber | 4 months | £6,280 | £399 |
| 12 | Darlington, North East | 4 months | £6,499 | £380 |
| 13 | Newtownabbey, Northern Ireland | 4 months | £7,041 | £378 |
| 14 | Derby, East Midlands | 4 months | £8,082 | £451 |
| 15 | Glasgow, Scotland | 4 months | £6,493 | £500 |
| 16 | Belfast, Northern Ireland | 4 months | £6,566 | £525 |
| 17 | Kingston-upon-Hull, Yorkshire and the Humber | 4 months | £5,653 | £390 |
| 18 | Sunderland, North East | 4 months | £5,812 | £394 |
| 19 | Doncaster, Yorkshire and the Humber | 4 months | £6,169 | £433 |
| 20 | Liverpool, North West | 4 months | £6,844 | £475 |
Photo: Shutterstock
Be the first to comment
Do you want to comment on this article? You need to be signed in for this feature