Lidl launches super cheap and chic range of Scandi homewares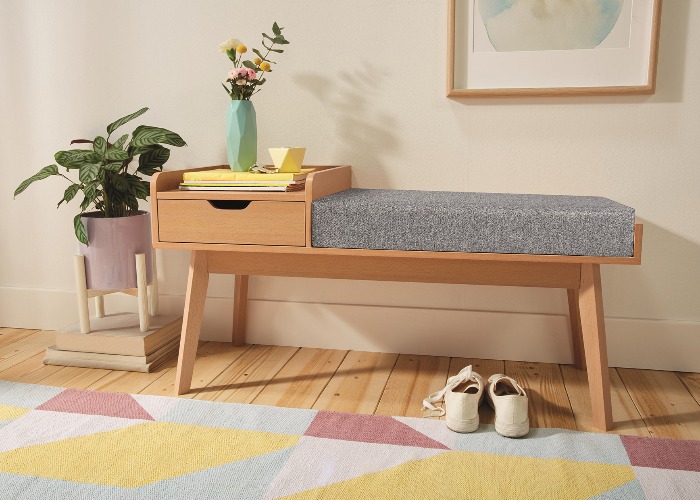 The lush new Scandi-style Lidl range is perfect for the stylish bargain hunter
With the end of summer quickly approaching and autumn just around the corner, what's a more perfect way to switch things up than with a simple home refresh?
If you're on a tight budget one of our favourite affordable supermarkets has got you covered. Lidl is launching a lovely new Scandi-style homeware range this Sunday, ideal for any home transformation.
READ MORE: Aldi Specialbuys - our pick of the best deals
These are easy-to-live-with pieces in greys and soft colours that should match beautifully with a huge range of decor. Add a statement piece or – at this price – kit yourself out with a whole new look.
Refresh the floor with a colourful cotton rug
Lidl's new chic geometric rug (£16.99). Image: Lidl
The collection features a stylish cotton rug with a bold geometric pattern that's sure to brighten up any space. Despite the hefty price tag for similar styles on the market that could set you back hundreds, Lidl is offering their striking version for only £16.99, what a bargain!
Stylish storage space
Ladder shelving unit (£49.99). Image: Lidl.
Lidl's trendy Ladder Shelving Unit (£49.99) is the perfect minimalist yet practical piece for any home. Featuring contemporary matt white shelves and draws and finished with a high-quality birch effect, it's the ideal budget-friendly solution to your storage needs.
A chic storage bench and a de-toxifying Dragon tree
Storage Bench (£69.99), and Dragon Tree (£4.99). Image: Lidl.
Other must-haves from the collection include a comfy yet cool solid beech wood Storage Bench (£69.99) with added storage space for a lovely all-in-one design.
Nature lovers can also pick up an air-purifying Dragon Tree for less than a fiver (£4.99), and plant it in a pretty pastel-hued Plant Pot Stand (£9.99), a lovely addition to any home.

Melinera Plant Pot Stands (£9.99). Image: Lidl
These raised pot holders are bang on trend and perfect for adding greenery to any corner. Thanks to their modern looks and raised position, they are great for smaller spaces.
These gorgeous items and more will land in stores nationwide from 1 September. Make sure to get yours while stocks last!
READ MORE: Why living close to a supermarket could add £21,451 to your home
Be the first to comment
Do you want to comment on this article? You need to be signed in for this feature