This three-bed house for sale could be yours for £1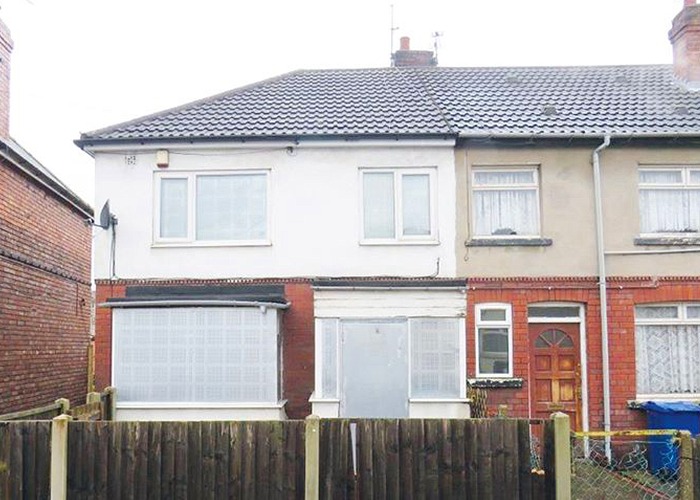 On the market for less than a cup of coffee, this end-of-terrace is in surprisingly good shape
Buying a house often involves years of saving, with little leftover once you've signed on the dotted line.
But it's a different story when it comes to this bargain property in Edlington in Doncaster, currently listed for the guide price of £1 with Bonde Wolfe Auctions.
Yours for less than a cup of coffee, it's difficult to work out the reason for the low guide price when you consider the listing pictures and the surrounding area.
READ MORE: Incredible homes for next to nothing – but there's a catch
Yes, the house has been boarded up, but the neighbouring houses haven't and a quick street view tour doesn't throw up any red flags that would indicate the location is full of abandoned properties.
Inside, there are no immediate nasty surprises. The living room, while decked out in somewhat dated floral wallpaper, looks to be in a decent condition, with a spacious bay window that could be a real focal point with a bit of a makeover.
Elsewhere on the ground floor, the magnolia kitchen looks more than adequate, fitted with neutral white cabinetry, a sink and a relatively modern cooker.
The bedrooms, while sparse and missing floor coverings, all seem to be in a reasonable condition, and what's presumably the master comes with an enormous window that should let in lots of light once uncovered.
However, the wallpaper is peeling in parts – a tell-tale sign of mould – so it would be worth getting a structural surveyor to take a look at the property.
Featuring an airy, vaulted ceiling, the small bedroom still offers ample space, though it does contain the boiler, which you may want to consider moving or concealing the boiler in a cupboard.
Clad in black marble-effect tiles, the bathroom is a little gloomy, plus some of the fixtures look poorly fitted, so a thorough revamp would be needed here.
Though pictures have been provided on the listing, the auction house does include a disclaimer stating that they haven't inspected the property, so whether the images are up-to-date is unclear. Only external viewings are taking place, so you'll have to buy without looking inside.
The property was last sold in 2006 for £60,000, which does lead us to wonder if it's really a bargain or if there's a hidden problem lurking somewhere inside...
However, this does seem to be one area where prices dropped off after the heady years of 2006 and 2007, with more recent surrounding house sales fetching lower prices than before the recession. A number have sold in the past three years, with prices ranging from £30,000 to £50,000.
It's worth bearing in mind that there are still auction fees of £1,140 (including VAT) to pay on top of the bargain price tag, though it still looks like a pretty good deal to us.
Fancy taking a chance on this fixer-upper? Check out the listing for more information before it goes under the hammer on the 27th of February.
READ MORE: Renovating a house on a budget – 12 inspiring real-life projects
All images: Bond Wolfe Auctions
Be the first to comment
Do you want to comment on this article? You need to be signed in for this feature