This £1 three-bed house comes with a business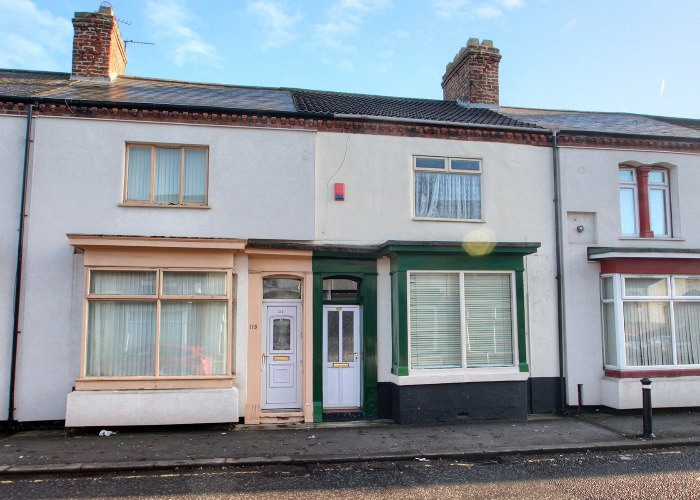 On the market for a snip, this bargain terrace could be a lucrative wage-earner
Looking at this unassuming house from the outside, it looks like a pretty standard terraced property, with little to set it apart from the other houses on this residential street in County Durham.
However, one step over the threshold and it quickly becomes clear that this three-bed home has more to offer than first appears. Rather than an entranceway or living room, a fully kitted-out hair salon awaits just the other side of the front door.
READ MORE: Incredible homes for next to nothing (but they come with a catch)
Ready-made business
Complete with mid-century chairs, overhead dryers, stylists' stations and mirrors, the space looks almost ready to take bookings.
While living accommodation is situated upstairs, the previous entrepreneurial owners transformed the ground floor reception room into a booming business that drew in customers for over 50 years.
For vintage-lovers, there looks to be a treasure trove of original pieces up for grabs too – check out that dressing table. Not your style? They could make a pretty penny if sold on to an antiques dealer.
All in all, this unlikely property seems to be an incredible bargain for the £1 guide price, although the winning bidder will have to pay auction fees of £1,140.
As an added bonus, the business prospects in this area could be set to pick up in the future; the house is located in Thornaby, just a couple of miles from the market town of Stockton-on-Tees, where plans for a large-scale revamp of the town centre have recently been unveiled.
Major makeover needed
However, there's quite a bit of work to do and the auction house does describe the property as being in need of modernisation.
But on the plus side, it already has double-glazing and the layout is perfect for a family home, with the kitchen situated downstairs and three bedrooms and a bathroom upstairs.
Located at the back of the salon area, the existing kitchen needs a complete overhaul, with a few dated cabinets framed by some pretty old-fashioned wood panelling.
Upstairs, the larger bedroom pictured seems to be in decent condition with no tell-tale signs of mould or structural issues. The floorboards look like they would come up nicely if stripped and polished.
The bright smaller bedroom does appear to feature some type of polystyrene ceiling tiles, which could pose a fire risk and should definitely be investigated.
While not unusable, the time-worn bathroom needs to be ripped out and replaced and you might want to think about stripping out the ceiling tiles in here too.
Development potential
If you're not so keen on embarking on your own business, you could renovate the property into a modern family home and transform the salon into an airy, open-plan living space.
Supposing you get the house for somewhere near the guide price, you should be left with a reasonable budget to spend on the renovations – three houses in the street have sold for more than £50,000 in the past two years.
But it's hard to estimate the potential cost of the works required as no internal viewings are taking place, so you'll have to rely on the pictures provided and an external visit if you're local.
The good news is that no offers are being considered before auction day so there's no risk that you'll turn up on the day to find it's already been snapped up.
Have designs on this promising property? Check out the full listing before the auction on the 27th of February.
READ MORE: These homes for sale come with a job thrown in
Images: Michael Poole Estate & Lettings Agents
Be the first to comment
Do you want to comment on this article? You need to be signed in for this feature