10 period features discovered in old houses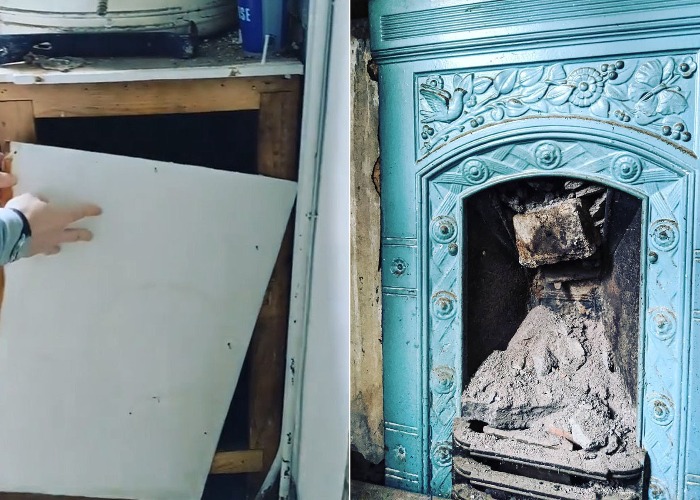 These unsuspecting homeowners discovered a wealth of period treasures hiding in plain sight...
Renovating an old house can be challenging, but there are plenty of moments that make the blood, sweat and tears worth it.
Concealed beneath floorboards and hidden behind walls and ceiling panels, these homeowners made breathtaking discoveries during their residential revamps.
READ MORE: 8 ways to turn an old house into a new home
Let's take a look at some of the most amazing features unearthed in old properties...
Original tiles uncovered in the hallway of a historic home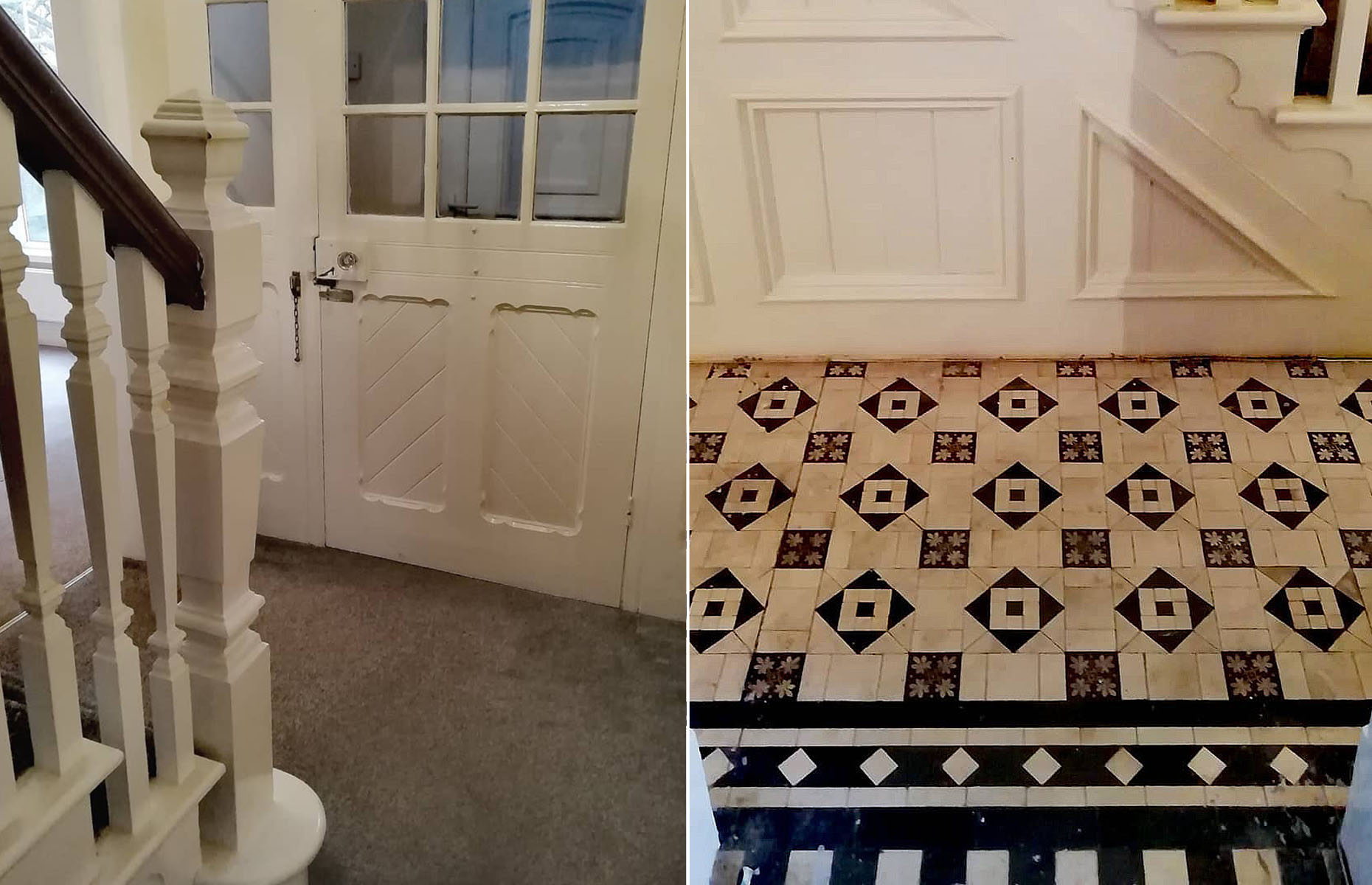 @renovating_brynteg / Instagram
One homeowner got more than they bargained for when they renovated the elegant hallway of their Edwardian home.
Hidden under this unassuming grey carpet were these spectacular black and white floor tiles. Miraculously, the carpet kept them intact over the years and these decorative beauties have now been restored to their former glory.
Fireplace hidden behind a wardrobe in a Victorian terrace
@its_a_fixer_upper / Instagram
When Amy and Ross started renovating their Victorian terrace home in Bristol, they uncovered a wealth of period features that had been covered up by the previous owners.
A small vent in the facade of a built-in wardrobe in one of the bedrooms led the pair to wonder if there was something lurking behind the wooden boards. Sure enough, buried in the wall behind the wardrobe was this amazing original fireplace.
A 100-year-old-home hiding a tin pressed ceiling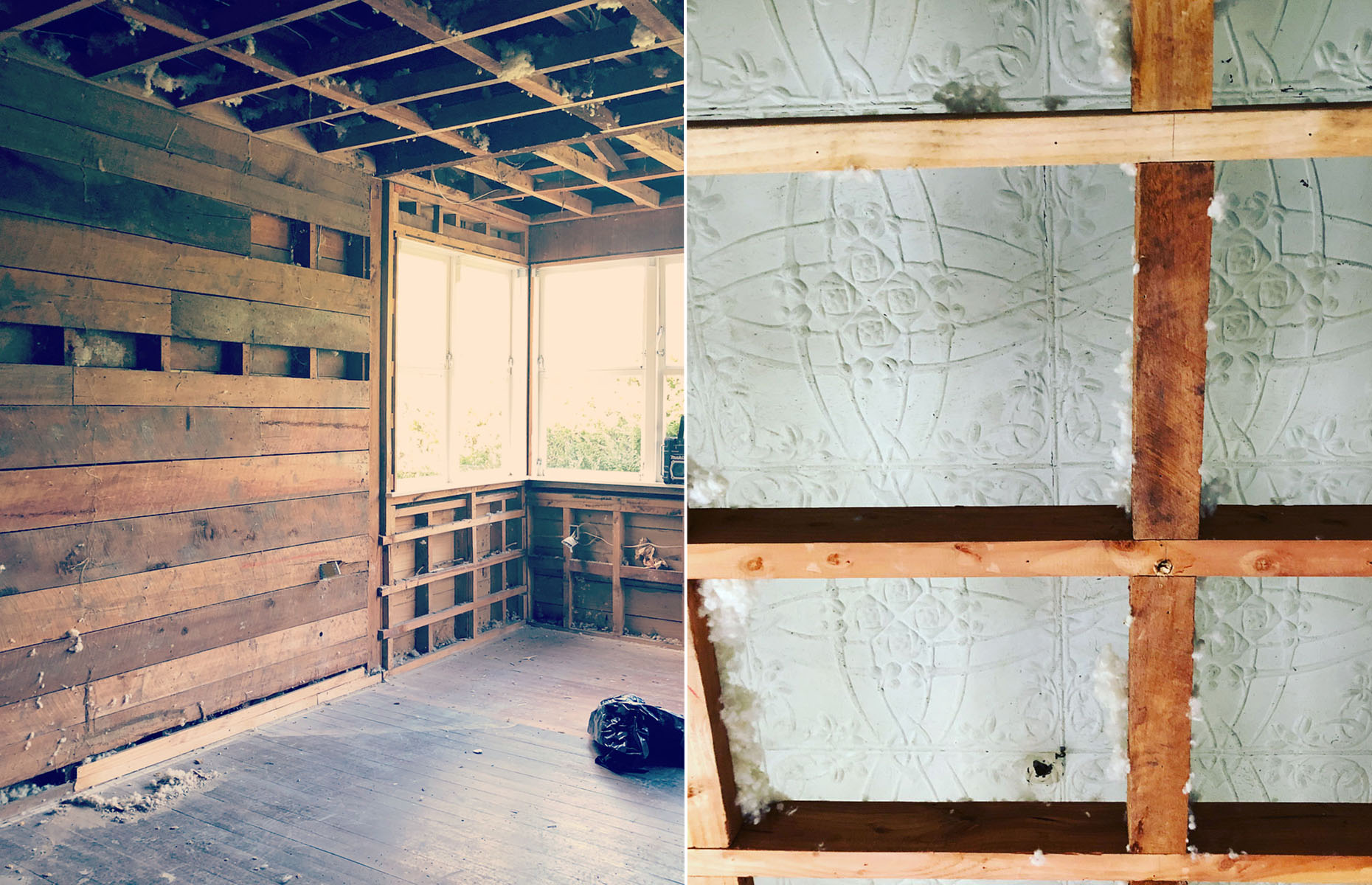 @dathconstruction / Instagram
When builders began adding new wall insulation to this 100-year-old home, they make a stunning discovery. Beneath the ceiling rafters, they uncovered this beautiful old tin pressed ceiling with exquisite detailing.
The ceiling had previously been lowered to obscure the amazing period feature, as well as some decorative coving. We can't imagine why anyone would want to hide this beauty!
Concealed fireplace in a Victorian fixer-upper
@1hansom / Instagram
Renovating a Victorian house comes with plenty of surprises – what looked like a decorative surround in this rundown room turned out to be so much more.
When the homeowner levered the painted piece of plywood away from the wall, this antique metal fireplace, complete with original grill, was revealed.
Wooden floorboards uncovered in a Masonic temple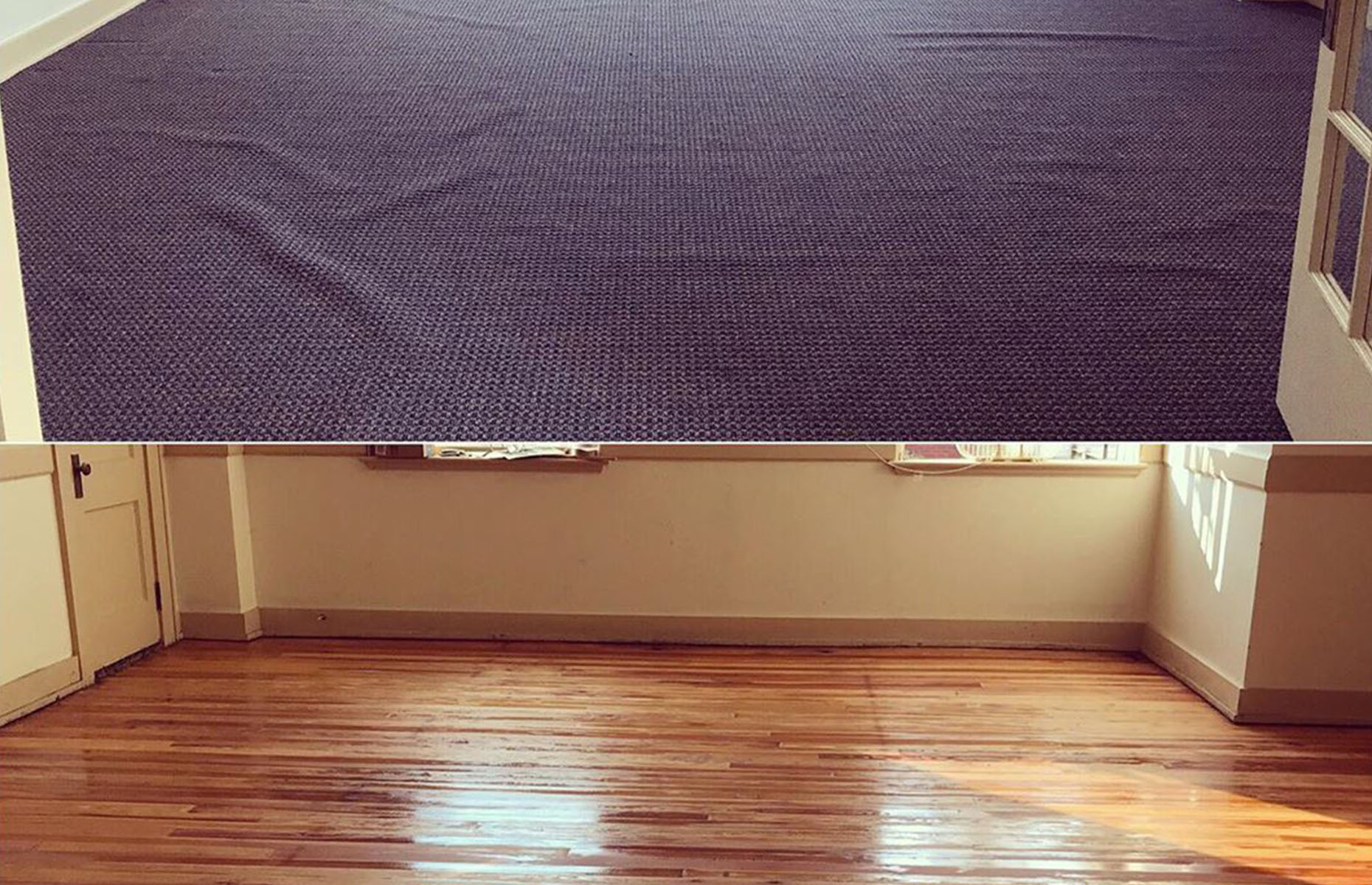 @freemason_to_mansion / Instagram
The ultimate fixer-upper, this 20,000-square-foot former Masonic temple in Indiana was full of hidden gems when its new owners started converting it into a family home.
Dating back to 1927, these amazing wooden floorboards hadn't seen the light of day for nearly 100 years, but now they're about to take centre stage in this beautiful residential conversion.
Original balustrades obscured by plywood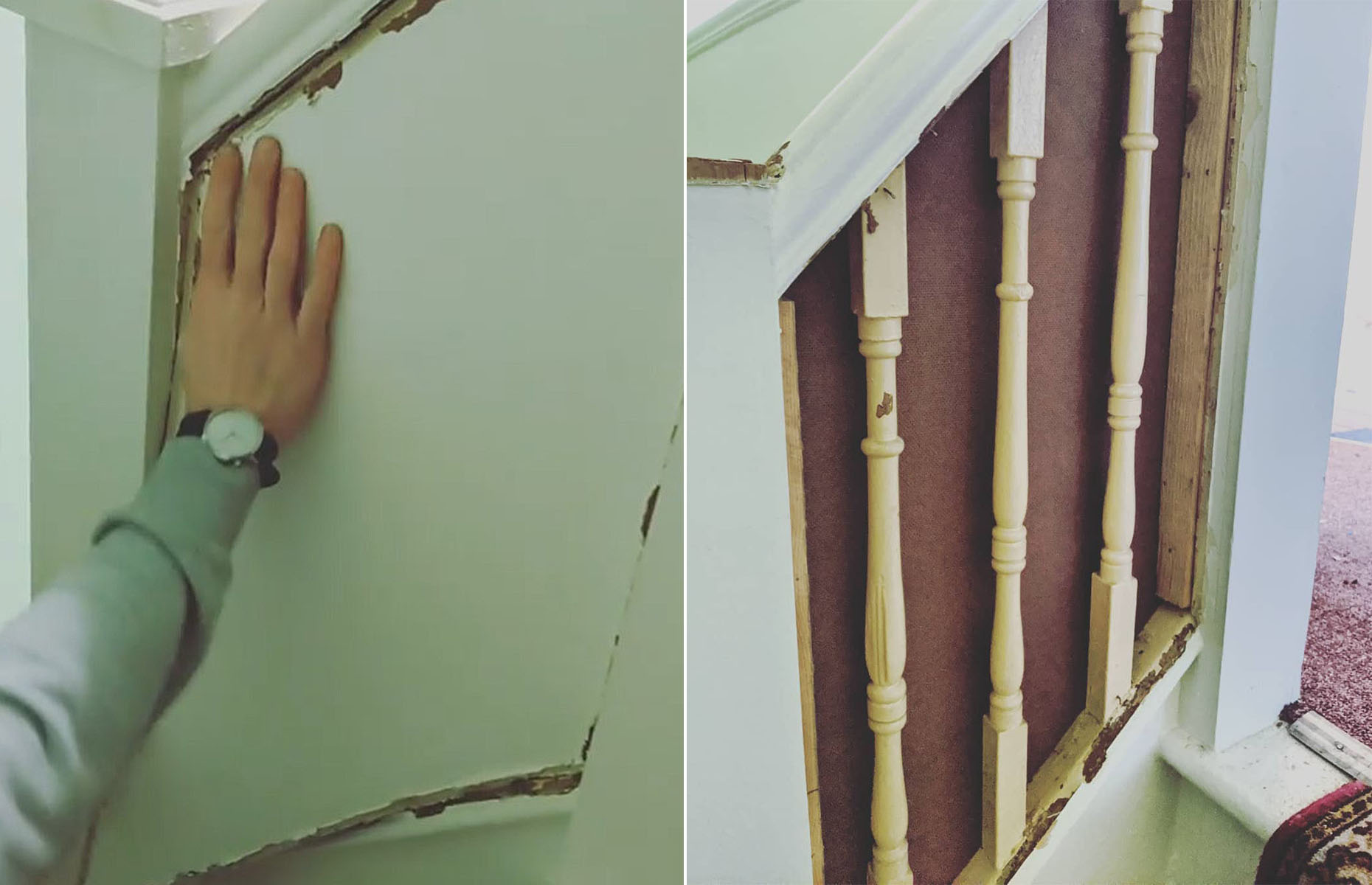 @its_a_fixer_upper / Instagram
The owners of this Victorian home in Bristol couldn't resist seeing what was lurking beneath the plywood cladding on their staircase.
The discovery didn't disappoint as they uncovered original Victorian balustrades that had been covered up for years. Who'd want to hide these ornate gems?
Wood panelling hidden behind plasterboard
@mcmakerstudio / Instagram
Faced with a faux mantlepiece and foam moulding, the owners of this home knew that these decorative pieces were concealing something more exciting.
After peeling back layers of plasterboard, they uncovered a cedarwood wall, more decorative brickwork and an attractive wooden mantlepiece. Talk about a focal point!
19th-century tiles revealed in a French townhouse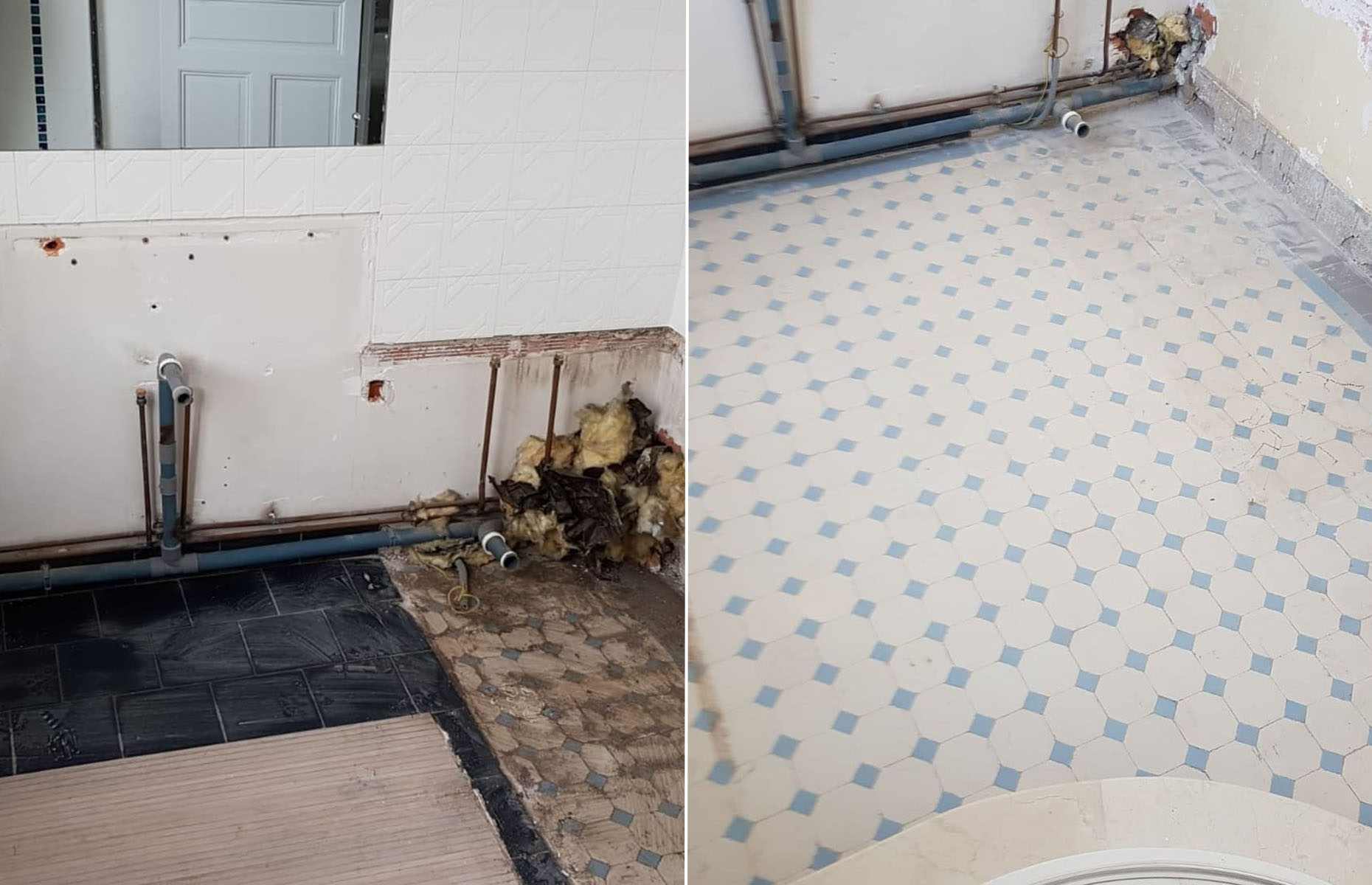 @la_maison_trumeau / Instagram
The owners of this 1850s townhouse in Samur, France were in the middle of a bathroom revamp when they made this incredible discovery.
Lifting up two layers of flooring, they found these original blue and white tiles dating all the way back to 1890. Cleaned up and completely restored, this antique feature is now the star of the washroom.
Antique fireplace hidden behind a boiler
@its_a_fixer_upper / Instagram
While revamping a fixer-upper, these homeowners stumbled upon a hidden gem concealed behind an inconspicuous box beneath an old boiler.
Under the plasterboard, a gorgeous blue fireplace was uncovered. Decorated with ornate reliefs featuring a bird and a butterfly, needless to say, the owners have had to rethink the position of their new boiler.
Original tiles uncovered in a Victorian villa
@cedarwoodterrace / Instagram
This dated room in an 1880s Victorian villa in Manchester, UK, may look like nothing special, but unbeknownst to the homeowner, a gorgeous period feature was lying beneath their feet.
Peeking under the carpet, these ornate tiles were suddenly revealed. Arranged around an uncovered fireplace, the owner intends to lift the tiles and incorporate them elsewhere in the home.
READ MORE: How to renovate an old house – a beginner's guide to fixer-uppers
Be the first to comment
Do you want to comment on this article? You need to be signed in for this feature