Greenhouses and cold frames you can get delivered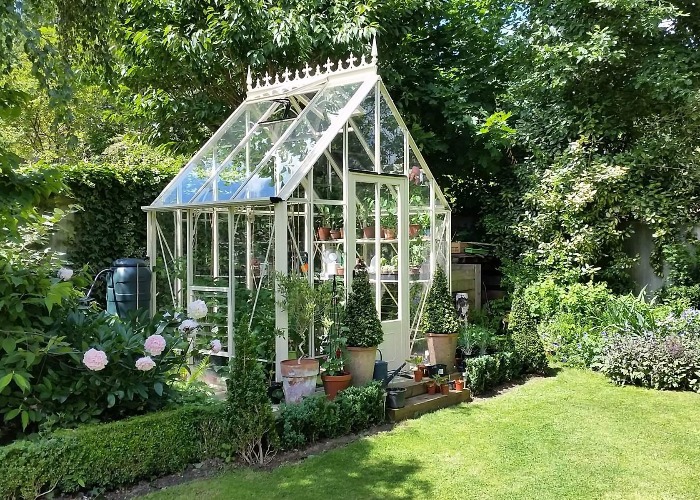 Want to cut down on supermarket trips by growing your own produce? Greenhouses come in all shapes and sizes – and you can get them delivered straight to your door
Whether you're keen to supplement your weekly shop with extra fruit and veg or simply want a new project to kill time at home, a greenhouse is a great way to give your garden a boost.
Greenhouses come in a variety of shapes and designs to suit your available space, from larger structures to compact growing boxes and cold frames.
READ MORE: Grow-your-own inventions that can feed the family
Here's a selection of the best designs you can buy right now – and best of all you can get them delivered to your doorstep!
Lean-to greenhouse
Priced at £379,99, the Ida 3300 Lean-To Greenhouse stocked by Primrose is a great growing option for smaller gardens. All you need is a spare wall or fence for the frame to stand against.
The coated aluminium frame is long-lasting and low-maintenance, while front-mounted double doors provide easy access to your plants and produce. There's also a roof vent to provide extra ventilation too.
Delivery is £4.99 per order, with delivery available within 14-21 days.
Timber grow house
At £129.99, this timber GroZone grow house from Crocus offers an affordable solution for gardeners looking to grow plants and vegetables in a small space.
As well as the two easy-access doors at the front of the cabinet, there's a hinged lid on top for ventilation. Measuring 3.9 feet by 2.3 feet, this neat design is ideal for snug outdoor areas or even a compact courtyard.
The standard delivery fee for most orders is £5.99, with a three-week lead time on this item.
Grow tunnel
This budget-friendly lightweight grow tunnel, £16.95 from Sarah Raven, provides an easy way to nurture young plants, especially during colder spells.
Ideal for a raised vegetable patch, the galvanised steel frame comes with a lightweight fleece covering to protect young seedlings and plants from pests and bad weather.
Deliveries, charged at £4.95, are currently running with slight delays with an approximate 10-day lead time on this item.
Mini greenhouse
Priced at £439.99, the Juliana City Greenhouse sold through Garden Street is a fantastic solution for compact urban gardens – or even balconies.
The black aluminium frame offers a modern finish, while inside, there are removable shelves in a range of sizes to store small or large plants.
Double doors at the front provide easy access to your green goodies, plus, a hinged opening vent on top creates ventilation in warm weather.
Best of all, this design features castor wheels so you can easily move the greenhouse around your outdoor space.
Free delivery is available and there is currently a six to eight week wait time for delivery on this model.
Wooden greenhouse
Featuring a lofty vaulted ceiling, glazed panels and a metal base, this cedar-frame greenhouse from Alton Greenhouses will make a handsome addition to any garden.
With a base area measuring 5.6 feet by 4.4 feet, it's ideal for larger outdoor areas with no shortage of space.
Currently priced at £1,540, delivery is free of charge in mainland England and Wales – parts of Scotland and Northern Ireland will incur a cost.
Deliveries are currently running as normal and this model should arrive within six to eight weeks.
Cold frame
If you're not looking to part with a hefty sum, Dobbies' Timber GroZone Cold Frame, £69.99, is a great way to protect your seedlings.
The timber and polycarbonate hinged box offers an ideal shelter to shield young plants from harsh weather conditions and pests.
Deliveries on orders over £29 are free and there's currently a lead time of up to seven days.
Victorian greenhouse
Yours for £4,357, this gorgeous greenhouse is the perfect pick for gardeners looking for an elegant addition to their garden.
The Robinsons Victorian Ratcliffe Pastel Sage Greenhouse from the Greenhouse People oozes traditional appeal, thanks to its distinctive cresting and Victorian-style guttering.
Measuring 8.6 feet by 10.1 feet, this flat-pack design is well-suited to gardens with plenty of space to accommodate a roomy greenhouse.
Delivery to mainland England and Wales is free, however, areas of Scotland may be subject to a small charge. There's currently a lead time of eight to ten weeks on orders.
READ MORE: Easy gardening hacks to take the graft out of growing
Featured image: Robinsons / The Greenhouse People
Be the first to comment
Do you want to comment on this article? You need to be signed in for this feature