How to grow your own vegetables from food scraps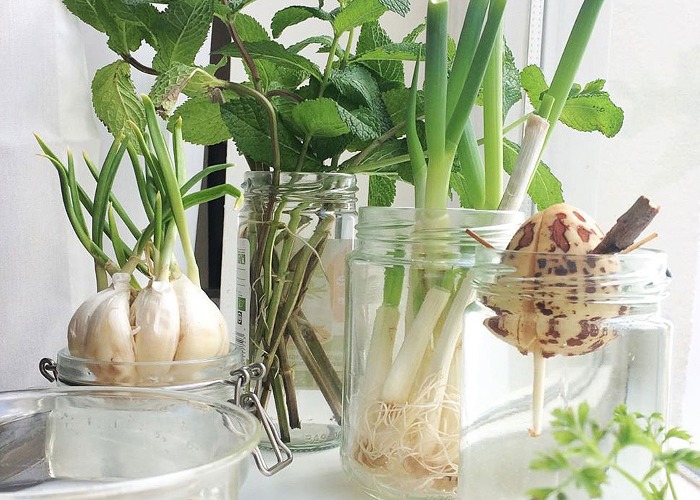 There's an ingenious way to transform leftover produce destined for the bin into fresh food to feed your family – and all you need is a windowsill
The next time you're left with a pile of vegetable cuttings after preparing a meal, don't just discard them.
While many consider food scraps as household rubbish, you can actually grow your own vegetables and fruit from these underutilized leftovers.
READ MORE: Grow-your-own inventions that can feed your family
Regrowing produce is a relatively simple process that can save you money on the weekly shop and reduce your food waste. Best of all, you don't need a garden – you can regrow veg in the smallest spaces, even the windowsill.
We meet some of the people growing fresh food from old scraps and share how you can do the same at home.
Cultivating carrot tops
Images: @relivinguk / Instagram
Green-fingered Emmi and her partner Sam from Oxfordshire in the UK came up with this easy planting project to regrow nutritious carrot tops from leftover scraps.
All you need to do is place cut carrot tops in a bowl of water, ensuring there's just enough to cover the base. Position your carrot tops on a sunny windowsill and change the water every other day to prevent stagnation, then watch your delicious leaves grow.
Carrot tops can make a great addition to salads and can even be used to make pesto, however, if you want to grow your own carrots from your tops, you can collect seeds from any flowers that emerge and then sew them in soil.
Regrowing garlic
Images: @the.farm.in.my.flat / Instagram
Veggie foodie Joyce from the Netherlands started regrowing vegetables in her flat as a way to save money and reduce food waste.
If you want to cultivate garlic, Joyce advises putting one garlic clove into a shallow bowl of water. Within a couple of days, it will sprout and start to grow tasty green shoots – perfect for sprucing up salads and side dishes.
After the clove has sprouted, plant it in soil and water regularly. A whole new bulb can take up to nine months to grow so it's important to be patient. Impressively, Joyce is also regrowing mint, spring onions and mango from the stone.
Propagating lettuce, leeks and herbs
Image: @maxlamanna / Instagram
London-based sustainable cookbook author Max La Manna is something of a home gardening expert, having propagated all manner of veggies from leftover cuttings.
To regrow leeks and herbs like basil, coriander and lemongrass, Max recommends putting the root ends in jars of water. New shoots should begin to appear in two to five days.
When your produce is ready to harvest, you can either cut off what you need or place the root in a pot for a sustained supply throughout the year.
When it comes to lettuce, Max advises placing the root in water, making sure to change it every few days. When the root starts to sprout, plant in a pot of soil so only the leaves are visible. You should be able to harvest your lettuce in around three to five months.
How to regrow fruit and vegetables
It's surprisingly easy to start regrowing your own produce at home. In most cases, all you need are your offcuts, a jar or bowl of water, soil and a sunny spot for them to sprout.
To help kick-start your own projects, garden and plant experts from Gardening Express have revealed some of the easiest fruit and veg to try your hand at.
Spring onions
You can regrow these tasty salad staples by saving the green shoot of a spring onion and placing it in water.
Be sure to change the water every two days and within a week you should have a fully grown spring onion, ready to use in your next recipe.
Chillies
Discarded chilli seeds can also be used to grow more chilies – just sew the seeds in a pot of soil, place it somewhere sunny and wait for your new chilli plant to grow.
Mushrooms
Mushrooms of any kind can be easily regrown from their stalks. Begin by getting rid of the caps, then plant the stalks in moist soil, covering everything but the very top.
Cover with a perforated lid to aid airflow and mist with water if they look dry. Within a few weeks, the mushrooms should start to regrow their caps, ready to be picked and used in the kitchen.
Pineapple
To regrow pineapples, twist the leaves at their base to remove them from the fruit, then strip away some of the lower leaves to expose the stem.
Ensuring it's dry, stick four toothpicks into the stem and suspend over a jar of water – the stem should be just submerged.
When you notice roots starting to show, plant the pineapple top in soil and within a few months you should see the fruits of your labour.
As with planting normal seeds, regrowing your fruit and veg scraps may not work right away. Chris Bonnett from Gardening Express recommends trying to grow "two or three of each variety to increase your chances of reaping the rewards".
READ MORE: Easy gardening hacks to take the graft out of growing
Lead Image: @the.farm.in.my.flat / Instagram
Be the first to comment
Do you want to comment on this article? You need to be signed in for this feature