Cheap conversion projects for sale with plenty of potential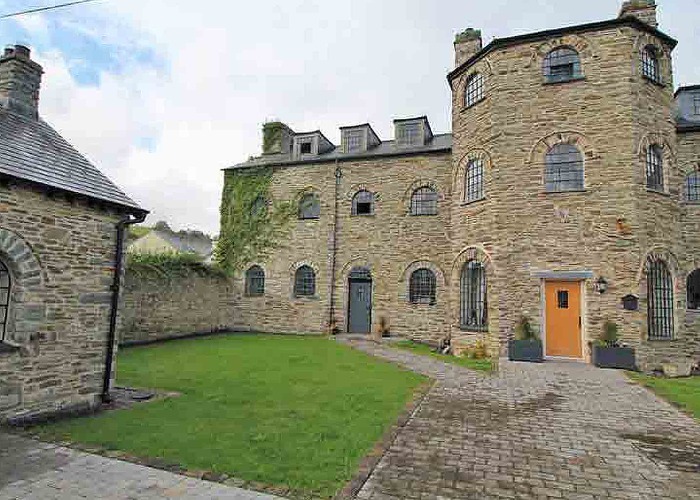 From barns and churches to sea forts and mills, we've rounded up the most unique, budget-friendly buildings on the market, all ripe for conversion
If you're looking for a home that's packed to the brim with character and charm, look no further than a one-off conversion opportunity.
READ MORE: 14 extraordinary home conversions you won't believe
Forget the cookie-cutter floor plans and uniform finishes of new-build homes – these historic properties are overflowing with period architecture, original stonework, double-height ceilings and heritage timber beams.
Whether you're in the market for a rustic barn conversion or fancy transforming a former church into a heavenly home, these promising buildings provide a golden opportunity to create a truly unique residence – and what's more, they all come with pocket-friendly price tags.
With a little creative thinking, the possibilities are endless...
Charming church, Anglesey: £50,000
Built in 1862, this traditional Welsh chapel has the bones to become a beautiful, light-filled family home.
The layout encompasses 1,620 square feet, comprising the lofty double-height congregation area, two vestry rooms, an entrance vestibule, lobby and bathroom.
The main hall is bathed in light thanks to the tall ecclesiastical windows, making it the perfect spot for an open-plan living area – though alterations would be subject to planning permission.
While the intricate plasterwork, original mouldings and wood panelling have seen better days, we've love to see them revived and incorporated into a new residential scheme.
Situated at the heart of the village of Llangoed on the Isle of Anglesey, the chapel is well-positioned for access to local amenities and the stunning coastline.
This gorgeous 19th-century chapel can be yours for £50,000, via Dafydd Hardy.
Historic workhouse, Gwynedd: £85,000
Bag yourself an impressive piece of history by purchasing a section of this unique Grade II*-listed former workhouse. The property comes with planning permission and listed building consent for conversion into a four-bed home.
From the authentic arched windows to the timber ceiling beams, this unusual three-storey project may require some serious work, but it isn't short on wow-factor.
A reminder of the property's origins, the current owner has retained the structure's original doors to be incorporated into a new residential design.
Some parts of the workhouse have already been converted into residential accommodation. Facing into a shared central courtyard, the surrounding properties are a good indicator of the building's development potential.
Located in the scenic market town of Bala in the Welsh county of Gwynedd, the property is on the doorstep of the picturesque Snowdonia National Park.
This remarkable conversion opportunity could be yours for £85,000, via Bowen Son and Watson.
Country church, Dumfries: £90,000
Planning permission and listed building consent have already been granted for the sympathetic conversion of this stunning abandoned church into a two-bed home.
Though the building that stands today was erected in 1816, it is thought that the site has been used as a place of worship since the 13th century.
Standout features include the octagonal sandstone bell tower and pitched roof topped with Cumbrian slate. Inside, the vaulted ceiling, brick archway and stained-glass windows could frame a spacious living area, brimming with character.
Situated on an elevated site in the idyllic village of Mouswald, the church benefits from far-reaching views across the Solway Firth to the south and Criffel to the west.
The building is positioned within the Galloway tourist route between Annan and Dumfries, so there's even the possibility of creating a profitable holiday home.
You can pick up this ecclesiastical project for £90,000 via The Church of Scotland.
Secluded barn, Carmarthenshire: £99,000
Brimming with potential, this humble former cowshed could be transformed into a handsome country home.
Complete with planning permission for redevelopment into a three-bedroom dwelling, the barn shares a courtyard with two other former agricultural buildings that also have consent for development.
The structure, which occupies a quarter of an acre, has all the makings of a breathtaking barn conversion, from its traditional stone walls to the ornate brickwork around the door and windows.
While you'll need to put in a reasonable amount of elbow grease to make the barn habitable, its spectacular hilltop position, overlooking sweeping views of the countryside, offers rich rewards.
As well as its picture-perfect surroundings, the property is only seven miles from the town of Llandeilo with its amenities, shops and train station.
This former cowshed is on the market for £99,000 with BJP Residential via On The Market.
Characterful former mill, Perth and Kinross: £145,000
Located to the north of Moneydie, a quaint Scottish hamlet in Perth and Kinross, this abandoned mill is the perfect project for an ambitious buyer.
The mill enjoys a secluded position at the end of a private road and comes with a quirky stone roundhouse where the property's mill wheel would have originally been positioned.
With rustic beams still intact throughout the interior, the vast main structure stretches an impressive 6,727 square feet, offering a multitude of development options – the mill could be converted into one sprawling home or divided up into multiple smaller dwellings.
While designs will be subject to planning permission and listed building consent, this C-Listed mill is brimming with possibilities.
This unusual conversion opportunity is on the market for £145,000 with Amazing Results!
Rare sea fort, Pembrokeshire: £150,000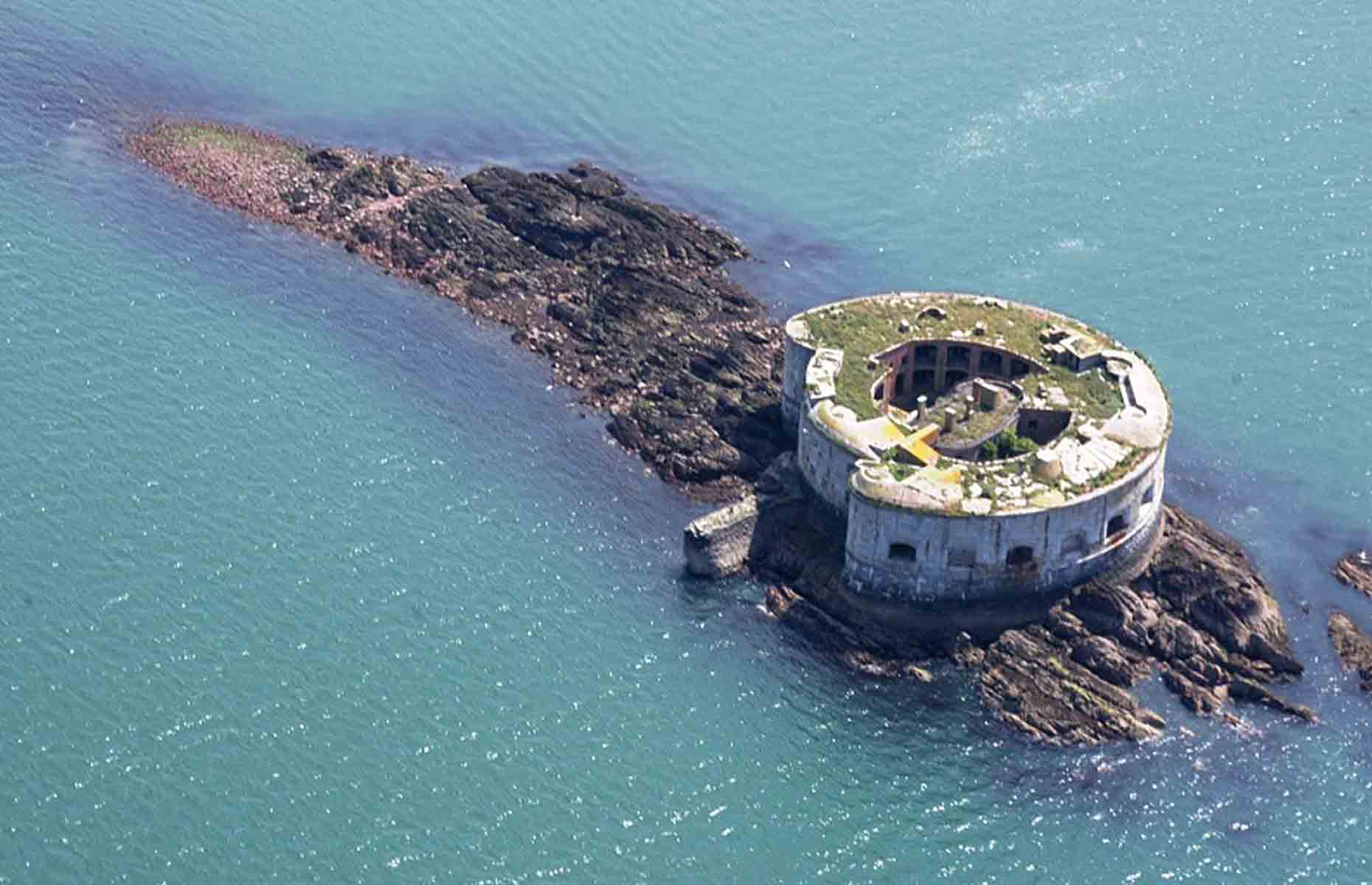 Without a doubt the most unusual conversion project in our round-up, this Grade II-listed former gun fort is located just off the coast of Milford Haven in Wales.
Dating back to the 1850s, the fascinating structure was decommissioned in 1929, however, the site's rich history is clear to see, from the fortified openings that line the perimeter wall, once used to defend the mainland from invaders, to the arched windows that flank the circular inner courtyard.
Designated as a scheduled monument, planning consent for conversion is likely to be strict, however, in recent years, a number of sea forts have been redeveloped into luxury hotels, so there is precedent for this kind of project.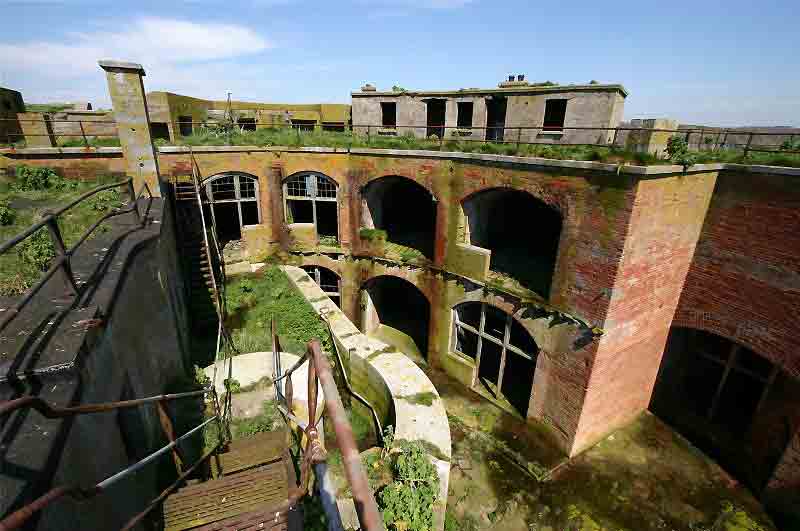 It goes without saying that any plans will have to pay careful attention to the preservation and restoration of the fort's historic architecture.
Whether you're invisaging a series of unique home conversions or a commercial development that celebrates the site's heritage, owning a fortified private island is a pretty impressive claim!
With a guide price of £150,000, you can pick up this incredible military estate at auction with FBM Estate Agents.
Be the first to comment
Do you want to comment on this article? You need to be signed in for this feature