The UK's fastest rising rental market is not where you might think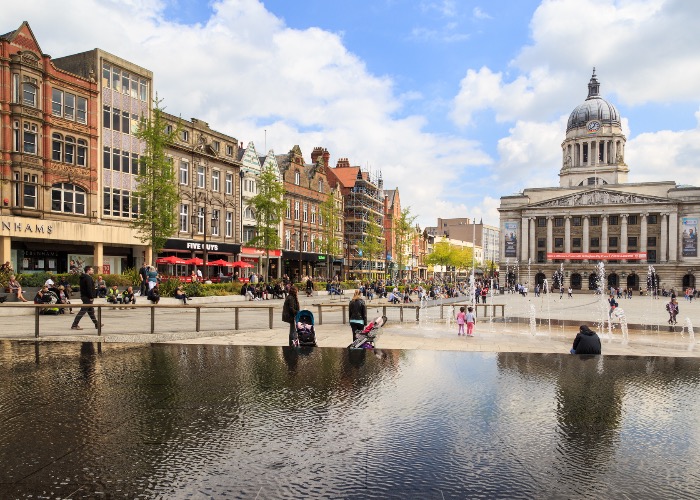 Looking to invest in buy-to-let in 2018? Then you may wish to head east where rents are increasing up to three times faster than the national average.
While tougher tax rules and stricter lending criteria have taken their toll on landlords over the past year, the good news is that there are still some places to buy that will return a good rental yield.
According to the latest Landbay Rental Index rents have risen faster in the East Midlands and East of England than in any other part of the UK, as people move to more affordable areas so they can save up to buy their own home.
READ MORE: How to choose the right buy-to-let property
The research shows that residential rents in the East Midlands grew by 2.24% last year – more than three times the UK average of 0.69% – while in the East of England rents grew by almost twice the UK average (1.58%).
The increases aren't confined to rural areas either: both Leicester and Nottingham have seen rental increases above the rate of inflation, with 3.42% and 3.30% respectively.
Indeed, according to Private Finance's buy-to-let hotspots analysis, Nottingham is one of the smartest buy-to-let investment cities, offering an average yield of 6.2 per cent compared to London where rental yields fall below 2 per cent.
And despite these bigger than normal increases, rentals in these parts of the country are still deemed affordable, falling way below the national average.
The average price of a rental property in the UK is £1,199 per month, a 0.69% increase on this time last year. However, in the East of England, average rentals are just £910 and in the East Midlands they are a snip of the price at £626.
John Goodall, CEO and founder of Landbay, said: "With its more affordable rents, the East is seemingly becoming an increasingly attractive buy-to-let region and as a result greater competition is driving up rents. As London rents remain unsustainably high this comes as little surprise, suggesting that many are moving further afield to reduce their rent burden while they save for a house of their own."
And with Prime Minister Theresa May vowing to get tough on property developers who sit on planning permissions, Goodall believes the key to controlling rental and house price growth is in building more homes.
"Areas in the East Midlands and East of England, such as Leicester and Nottingham, where rental growth is reaching particularly unsustainable levels, should be the prioritised focus for the government, developers and landlords," he said.
UK Rental Index by number of beds
FEB 18

One bed

Two bed

Three bed

YoY

%

MoM

%

Av. £

YoY

%

MoM

%

Av. £

YoY

%

MoM

%

Av. £

UK

0.65%

0.06%

1,019

0.64%

0.06%

1,160

0.85%

0.04%

1,333

UK without London

1.21%

0.08%

600

1.16%

0.09%

716

1.39%

0.08%

829

England

0.60%

0.06%

1,053

0.59%

0.05%

1,195

0.80%

0.05%

1,353

Scotland

1.15%

0.04%

551

1.22%

0.13%

696

1.28%

-0.08%

1,127

Wales

1.52%

0.15%

549

1.32%

0.11%

660

1.49%

0.11%

619

Northern Ireland

1.30%

-0.09%

444

1.39%

0.21%

548

2.22%

0.38%

586
UK Rental Index by region
| | | | |
| --- | --- | --- | --- |
| FEB 18 | YoY % | MoM % | Av. £ |
| East England | 1.58% | 0.09% | 910 |
| East Midlands | 2.24% | 0.13% | 626 |
| London | -0.39% | 0.00% | 1,878 |
| North East | 0.53% | 0.03% | 553 |
| North West | 1.09% | 0.06% | 619 |
| South East | 0.73% | 0.08% | 1,053 |
| South West | 1.57% | 0.10% | 748 |
| West Midlands | 1.54% | 0.06% | 685 |
| Yorkshire and Humberside | 1.36% | 0.09% | 577 |
Be the first to comment
Do you want to comment on this article? You need to be signed in for this feature