Dreamy chalets for sale in the French Alps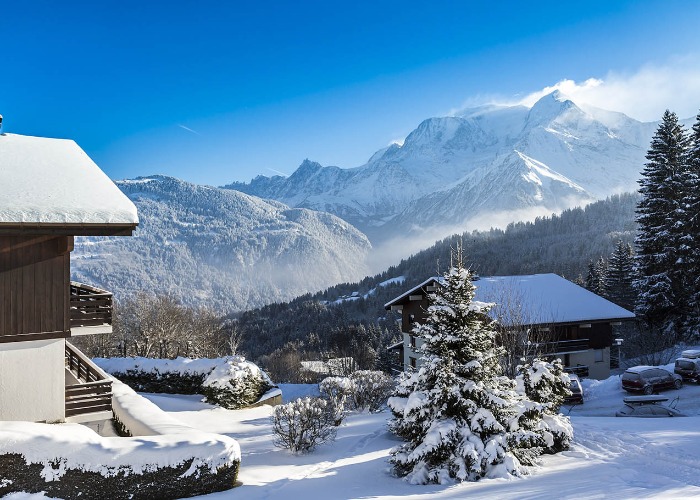 Breathe in the crisp mountain air and get ready to hit the slopes with these gorgeous holiday homes on high
Like a Chanel suit, a holiday home in the French Alps will always be in style. Set amid a frosty, white landscape, a residence here is the ultimate in sophistication.
Whether you're an avid snow bunny or just in it for the après ski, there's plenty to keep everyone thoroughly entertained – and all year round too.
READ MORE: Luxury holiday homes for sale in Lanzarote
Scenic hikes are incredible in any given month, while fishing or rafting in the lakes is fun in the summer months. The world famous social scene is always buzzing at this altitude, while gorgeous spas and wellness centres are handy to pamper to your heart's content.
Indeed, a property in this luxurious location would not only be a boon for family holidays, but it could also offer a pretty lucrative business opportunity, should you wish to rent out your alpine paradise.
Tempted by the mountain air? Check out these gorgeous chalets on the market right now.
Apartment, Morzine, Haute-Savoie, €315,000 (£275k)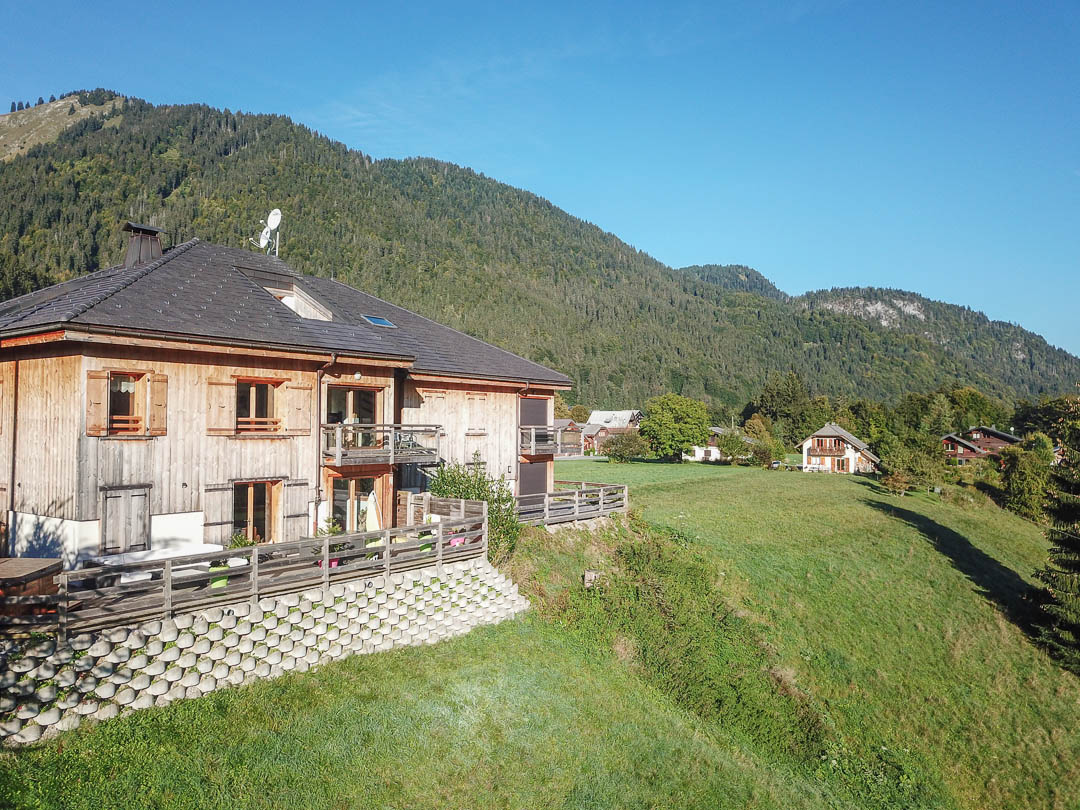 Just five minutes from the centre of Morzine, in the pretty village of Essert Romand lies this modern chalet-style building, surrounded by open pastures.
With the nearest ski lifts a mere five minutes away, it's an ideal spot for your snowy sanctuary. Two good-sized double bedrooms are on offer in the apartment, as well as a bathroom and a large living room with a kitchen.
Thanks to its location, the whole accommodation is bathed in natural light, even more so when you throw open the doors to the balcony!
There's a large cellar to store your Malbec (essential after mastering a black run) plus underfloor heating to warm up your toes after a day in ski boots.
On the market at €315,000 with White Properties Morzine.
Apartment, Chamonix, €550,000 (£480k)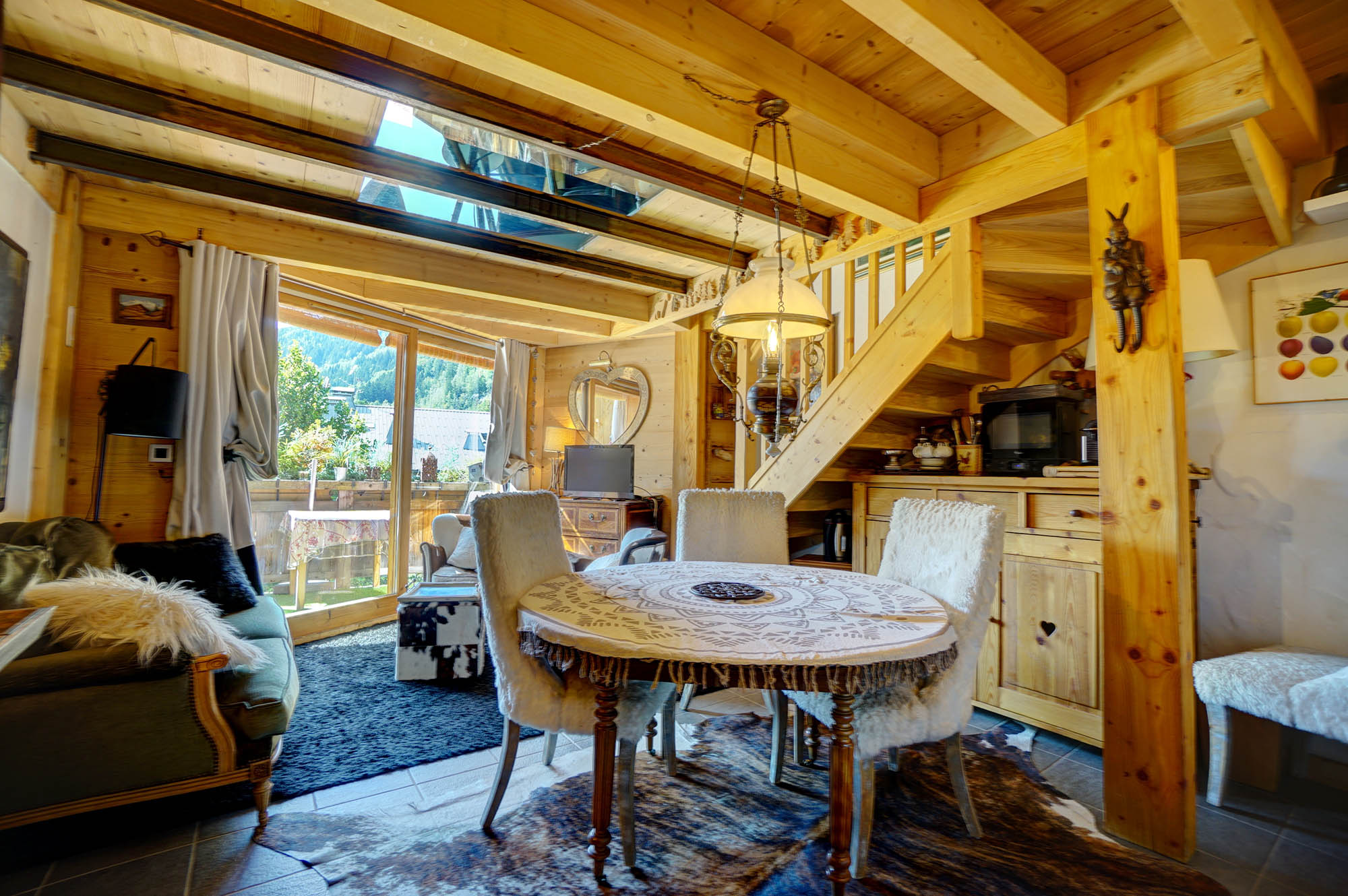 Wood is no doubt the theme in this top floor apartment in Chamonix, situated near the lake in the Les Gaillands area.
Not only is there wooden wall paneling, beams and beautifully polished floors, but there's even a rather impressive wooden bath! Just the place to soak your aching muscles.
The floors are lavishly dressed with richly patterned rugs, animal print sofas and sumptuous fur throws. All in all, this is the perfect winter hideaway in the hills. An open-plan kitchen in the living room adds to the cosy feel, while a mezzanine level rises to a second bedroom and a chill out area.
With two balconies you won't be short of places to admire your magical surroundings either!
Listed on Rightmove for €550,000.
Chalet, La Côte, Servoz, €840,000 (£734k)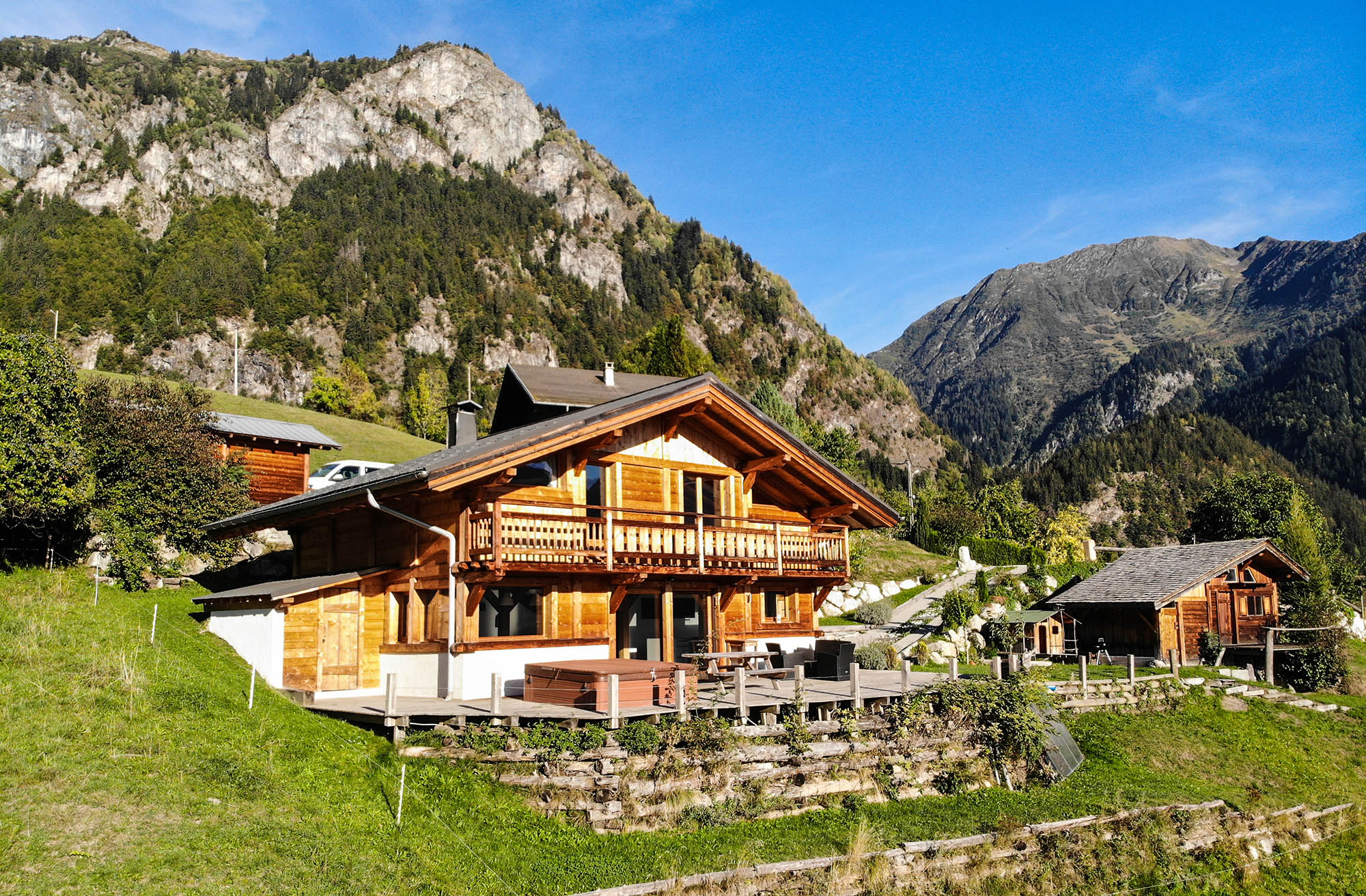 The sofa next to the wood-burning stove in the bright, open-plan living room at Chalet Côte is the dream spot to rest your weary body after a hard day on your skis.
The four-bedroom home in the particularly sweet village of Servoz offers contemporary stylish accommodation, while still being very warm and welcoming.
The chalet is ideally situated — bathed in sunshine during the day, so you can lap up the rays on the south-facing 70-meter-square terrace.
Your surroundings are akin to something out of a Christmas card and nearby you'll find shops, restaurants and some marvelous walking trails.
On the market with Knight Frank for €840,000.
Chalet, Les Houches, €1,245,000 (£1m)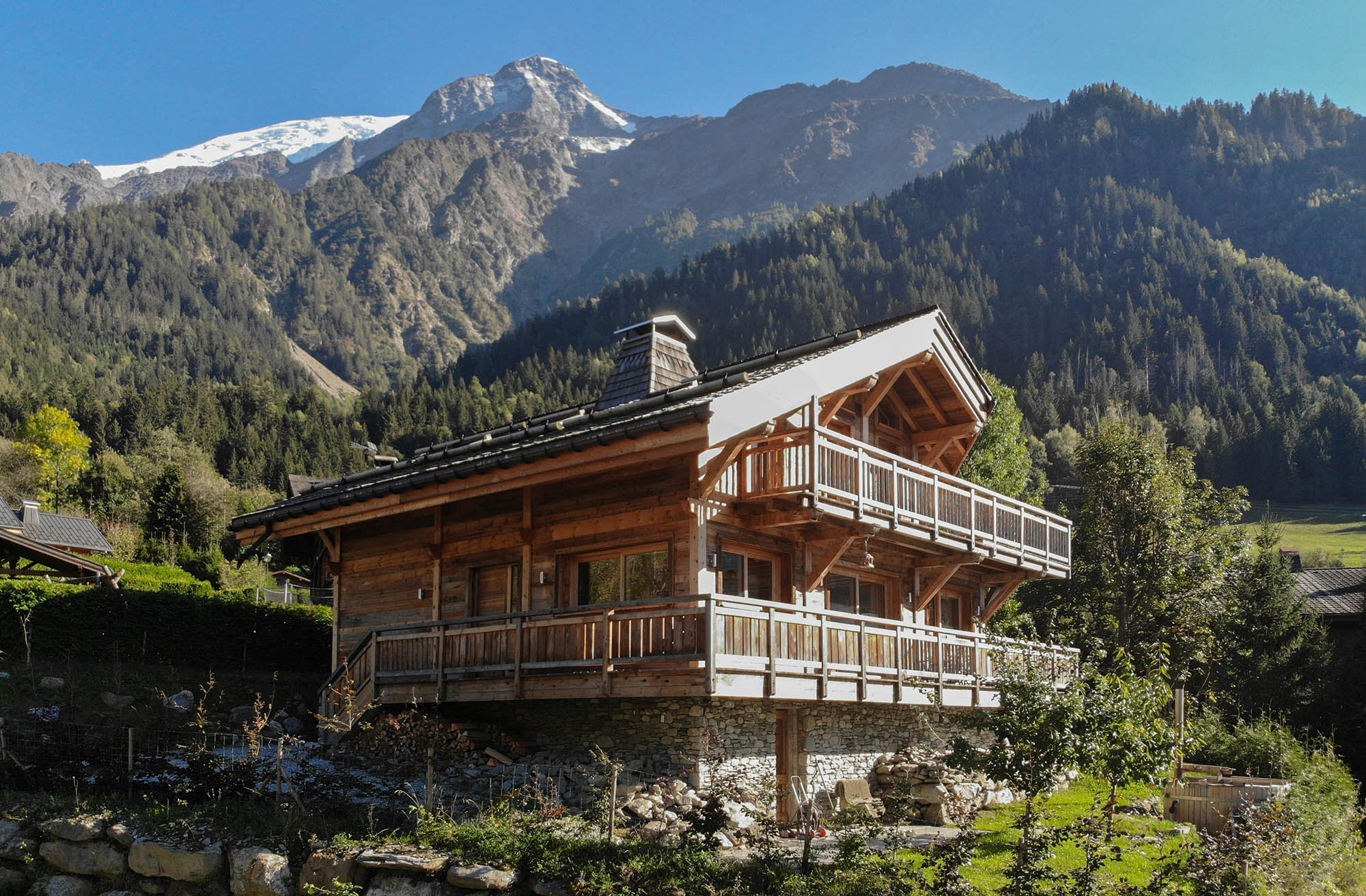 Here's a wonderfully rustic chalet with a splendid interior that makes the most of its prominent position, just minutes from the centre of Les Houches.
Chalet Lothier was built in 2012 but the use of mixed wood and large windows gives it a timeless feel. Stretching over three floors, accommodation is vast and consists of four bedrooms, three bathrooms and a large open-plan kitchen and living room, complete with a delightful open fireplace.
A pool room, cinema and boiler room are found on the lower ground floor and outside is a garden and plenty of balcony space from which to gaze out over the valley.
On the market with Chamonix Property for €1,245,000.
Duplex, Chamonix, €8,960,000 (£7.8m)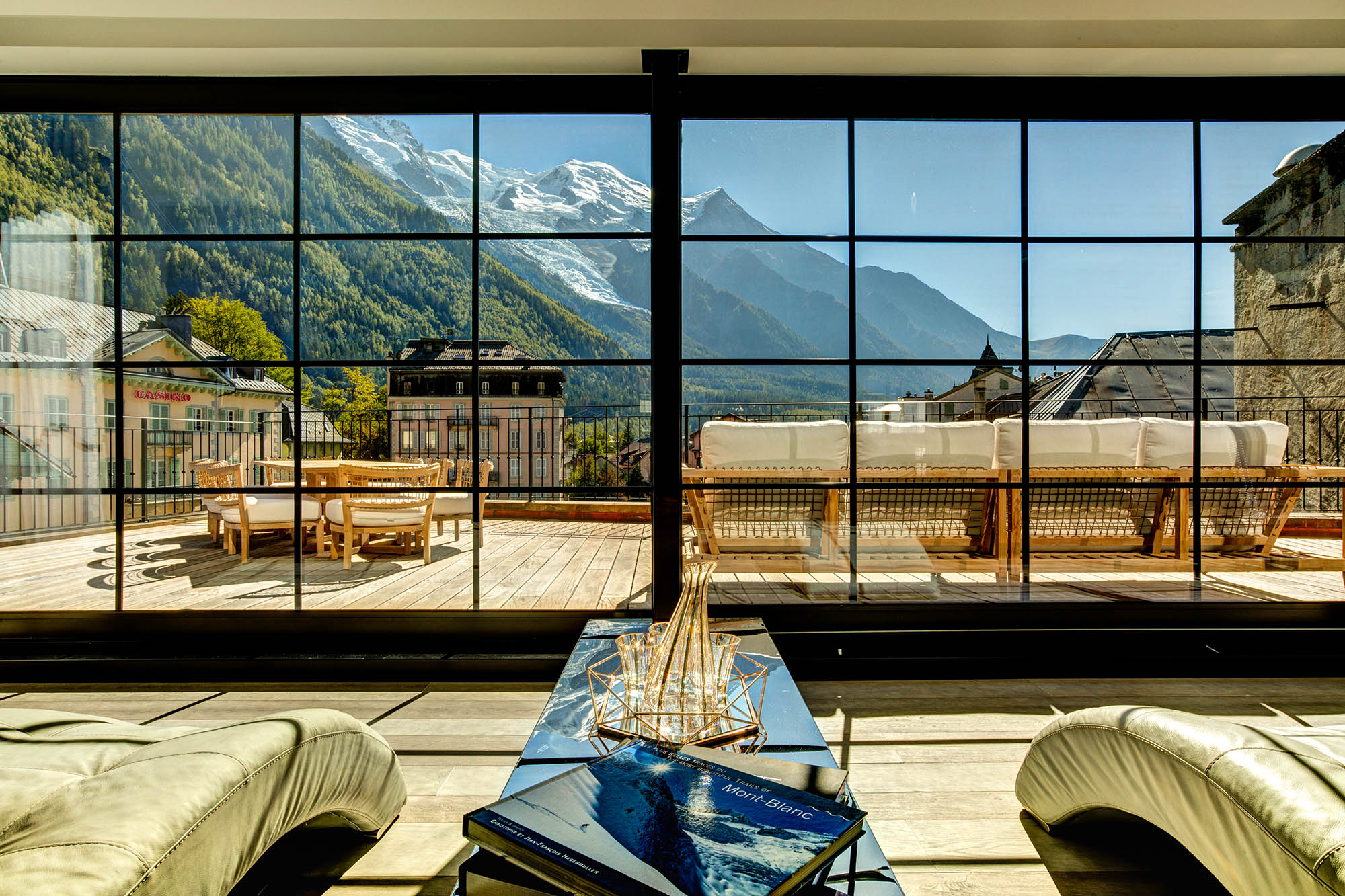 Drum roll please… introducing the oh-so-fabulous Le Lustre in Chamonix! This magnificent apartment is the crème de la crème in our roundup and occupies the top two floors of one of the most historic buildings in the region.
Found in the heart of the town's pedestrian area, the original property was built in 1928 and is even rumoured to have originally been occupied by the daughter of the Cartier family. Her initials are forged into the original entrance door with the date laid out in mosaic, both restored to their original beauty.
Inside the duplex owners can revel in the unrivalled 360° views of the mountains, before taking in the jaw-dropping details to this incredible home. On the first floor is an exquisite open living space with a kitchen area, cinema room and an intimate dining area.
Meanwhile upstairs, all four of the luxurious bedrooms are served by ensuite bathrooms. But our favourite feature has to be the full-width sliding doors that open onto the 135-metre-square roof terrace. This James Bond-worthy property truly is the stuff of dreams...
On the market for €8,960,000 with Chamonix Property.
READ MORE: The best place in the world to invest in a holiday home
Be the first to comment
Do you want to comment on this article? You need to be signed in for this feature