10 hidden problems you'll face fixing up an old house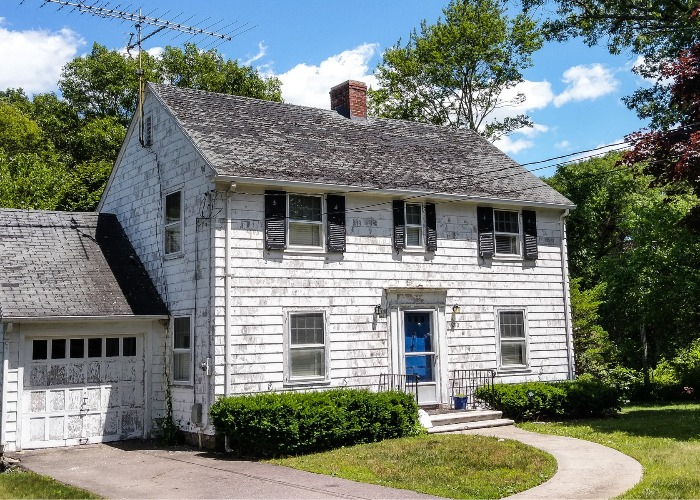 If you've fallen for a heritage home, it's important to be aware of the potential pitfalls. Here are the key problems to look out for, plus what they'll cost to put right...
Who hasn't been tempted by a fixer-upper? Even the savviest buyer can be swayed by a bargain price and bags of potential.
However, old houses are prone to problems, so it's important to know what to look out for and how any underlying issues might affect your budget. Before you sign on the dotted line, you should always arrange for a surveyor to look over your property so you know what you're letting yourself in for.
READ MORE: 10 warning signs that you're looking at a money pit
Here are the most common hurdles you're likely to face in your renovation journey...
1. Leaky roof
Surprise, surprise, old houses often have old roofs, so unless it's been replaced, you may well be facing a deteriorating roof that's no longer watertight.
From the outside, tell-tale signs that it may be leaking include missing or cracked tiles/shingles, loose flashing (this directs water away from seams or joins on the roof), crumbling cement and sagging gutters.
Inside, look for moisture in loft insulation, water stains on the floor and rotten timbers, plus inspect the underside of the roof for cracks of daylight.
While replacing a few tiles or a metre of flashing can cost about £200 – best left to a roofer – structural repairs could cost anywhere between £1,000-£2000, with an entire replacement amounting to £5,000-£12,000, according to My Builder.
2. Inefficient heating
Even if your house has a sound roof, there may be issues elsewhere resulting in a draughty, cold interior. Poor or no insulation in the attic, uninsulated gaps between the foundations and floorboards and no cavity wall insulation can all be underlying causes.
However, even once they're fixed with new or additional insulation and air leaks have been filled, an old radiator system can struggle to warm the house effectively.
You may need to replace the boiler (from £2,500 plus according to Which?) or fit pipes for underfloor heating (this distributes heat more evenly and efficiently than radiators), which Nu-Heat estimates at around £800 for a room measuring 20m².
3. Unsafe electrics
Old electrics can be vulnerable to faults and can pose a serious fire hazard in the home. Look out for dated fuse boxes, plug sockets and faded light switches to get an idea of their age.
A house survey in the UK doesn't include an electrics check, so to determine what work is required, have an Electrical Installation Condition Report (around £150-£300) by a qualified engineer or electrician carried out. A full re-wire involves taking up floorboards and installing wiring in walls, so do this at the start of a renovation.
Electrical tasks aren't a DIY job unless you're experienced, plus partial or full rewires need to be signed off by the local authority if you're not a licensed contractor, so it's best to use a registered electrician.
A full rewire of a three-bedroom house can cost between £2,500-£4,500, according to Household Quotes.
4. Plumbing issues
Water leaks can cause significant damage, so it's important to get a professional to check for any potential plumbing problems.
If your house was built pre-1970s in the UK or pre-1986 in the US, it may have lead pipework or use lead solder to join copper pipe fittings. If this is the case it will need to be replaced, ideally with plastic or copper.
Find where the water pipe enters the property (usually the internal stop tap) and check the colour – lead is dark grey or black but will turn silver when lightly scraped.
While brass and copper pipes can last more than 50 years, you may also find rusted pipework or connections that are worn or poorly repaired. Along with leaky faucets, these will need replacing.
If your property includes trees, check if any pipework has been damaged by roots, especially the sewage system. While you can do small jobs such as replacing taps, new pipework is a job for professionals.
Home Advice Guide says the average price for an entire system using copper pipes in a four-bedroom semi-detached house is around £13,954, rising to £20,117 for steel pipes.
5. Draughty windows
While it's tempting to swap out draughty single-glazed windows for modern units, in an older house, try to repair, rather than replace.
If you live in a listed building or Conservation Area, regulations as to what can be modified often apply, even down to the paint – check with your local authority if you need Listed Building Consent (LBC).
Even if your home isn't listed, replacing timber-framed windows can cause more problems than it solves. Lightweight PVCu frames, for example, may not be strong enough to support the weight of the masonry, making panels difficult to open or cracking the glass.
Instead, check frames for any soft areas that can indicate rot, apply a fungicide if necessary, and replace sections with new timber or resin. If the building has sash windows, a specialist company can replace damaged parts.
Draught sealing and reconditioning sashes costs between £200-280 per sash, with replacement double-glazing working out at around £750 per pair, according to supplier Sash Window Specialist.
6. Mould, damp and mildew
A consequence of excess moisture and poor ventilation, damp, mould and mildew can be caused by anything from leaking pipes to cracked render. If you suspect these issues are present, the first thing to do is determine the source.
Examine the exterior from the top down, checking the chimney, flashing and roof, followed by the soffit (the underside of the roof that extends beyond the building) and eaves (the roof overhang).
If they're damaged or decayed, they may not be directing rain away from the building effectively. Broken or corroded downpipes can also make walls damp.
Next, look at the window frames – damage here can let large amounts of water in. You may also find cavity walls filled with debris, allowing moisture to reach the interior, causing rising damp.
Inside, typical signs of damp include stained walls, peeling wallpaper, rotten timbers and crumbling plaster. The cost to remedy damp can range from minor repairs to a new damp-proof course, which Household Quotes estimates at £2,000 for a detached house.
7. Dry rot
Dry rot occurs when timber becomes damp and fungus that decays the wood has colonised it. In an older house, this means either the wood that was used to build it wasn't kiln-dried (and had a high moisture content) or there's been a damp problem.
Resolving the damp issue doesn't stop the dry rot, so once it's in window frames, doors and floorboards, it's important to take steps to remove it.
Affected wood can be home to greyish cotton wool-like strands or rusty/white patches, a well as suffering shrinkage, but a common symptom is a musty smell. The wood will still be hard, unlike wet rot, which makes the timber soft.
If you suspect dry rot, request a full home survey. Depending on where the rot is, it can cost around £2,000 for a professional removal and thousands more in repairs, says Axa.
8. Hazardous materials
Asbestos was only banned in 1999 in the UK and in the late 1980s in the US so the chances of finding it are high – even if it's not in insulation, it can be in Artex ceilings, flue pipes, floor tiles and eaves, gutters and garage roofs.
Left alone, there's little risk, however, problems arise if it deteriorates or is disturbed during renovation and particles are released.
If you suspect its presence, contact a licensed removal firm who will take a sample or use a DIY kit to test it. Depending on the size of the area, removal costs can range from a few hundred pounds to over £2,500, according to Household Quotes.
You may also find lead paint, which is a neurotoxin if ingested or inhaled. The age of your home is a good guide – if it was built pre-1960s or pre-1978 in the US and there are original coats of paint, there could be lead present. Thick paintwork is another clue, which suggests lead in the older layers.
The easiest solution is to cover and seal it with modern paint. If it's in a poor condition, it should be removed. To do so, wear protective clothes, gloves and face masks and use a solvent or liquid stripper.
9. Foundation and structural issues
Spotting the signs of structural issues in an older house could be the difference between a problem that's easily fixed and one that spirals into an expensive issue.
While small cracks may occur after small alterations as masonry resettles, zig-zag cracks could indicate subsidence – when the foundations (which tend to be shallower in older properties) start to give way. Sloping floors are another indicator of this.
Underpinning is the go-to solution – digging down to stabilise the foundations by filling the hollow area with concrete, however, you may be able to resolve the problem by laying new brickwork under an unsupported wall. A more modern solution is resin polymer injections into the affected ground, which can be less invasive.
Average costs for underpinning range from £10,000-£18,000 says MyJobQuote, and in most cases you'll need to consult a structural engineer, costing £50-£90 per hour.
10. Old chimney
A chimney adds character but it can come with complications, especially if you plan to get it in working order again. If your house has shifted over time the bricks may be broken, while extreme weather can slowly make a chimney crumble.
In this case, it'll need regular upkeep to prevent it from deteriorating further. However, if you plan to use the chimney you'll need to get it lined and have it swept to remove debris and blockages, preventing dangerous gases from leaking back into the room.
The flue lining is an approved fire-resistant material that improves the flow of gases and protects the masonry. Homebuilding & Renovation estimates that a flexible flue liner should cost around £400-£600 excluding installation.
READ MORE: How to renovate an old house – a beginner's guide to fixer-uppers
Featured image: K.M.Williamson/Shutterstock
Be the first to comment
Do you want to comment on this article? You need to be signed in for this feature