How much does underfloor heating cost?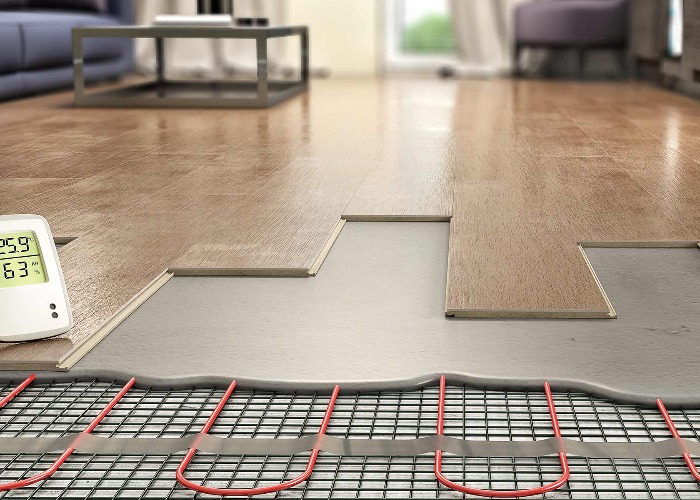 Keen for a bit more warmth underfoot? Here are your installation options, plus what you can expect to pay
When the cold weather starts to bite, there's nothing more comforting than the feeling of warm floors beneath your feet.
As well as being an energy-efficient way of heating your home, underfloor heating frees up valuable wall space in your living areas by removing the need for radiators.
READ MORE: How to insulate your home and slash energy costs
Coupled with environmental concerns and the rising cost of energy bills, it's no surprise that it's becoming an increasingly popular option in the UK.
According to a 2021 Home Improvement Trends report by tradesperson site Rated People, underfloor heating was number six in the list of jobs that had increased the most in popularity among homeowners in the previous year.
Types of underfloor heating
There are two main types of underfloor heating: water (or wet) and electric (or dry) systems.
The Rated People report said there had been a 100% rise in the popularity of water underfloor heating in 2020, and both water and electric underfloor heating made the list of the top 10 eco home improvement jobs posted to the site in 2020.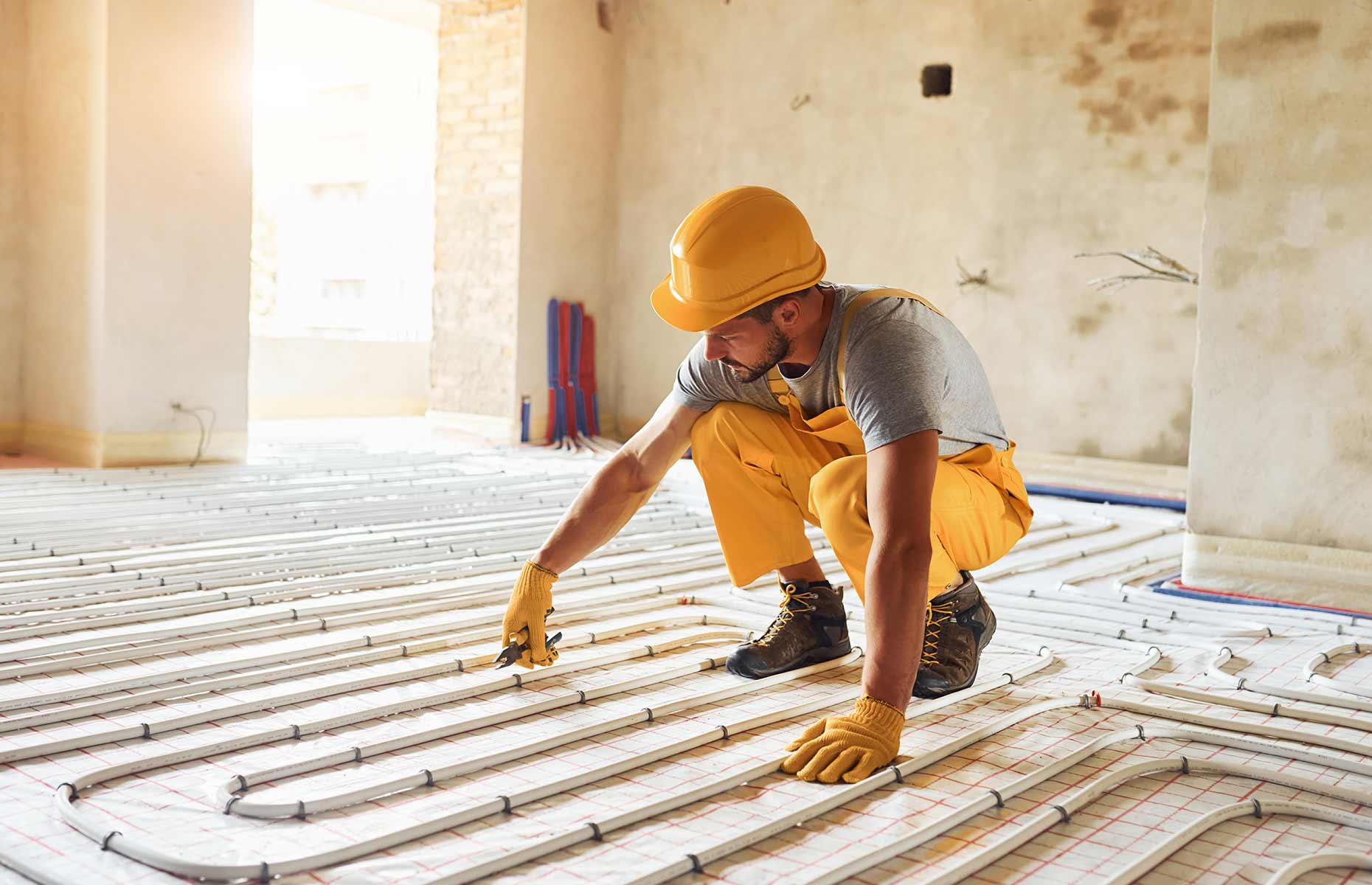 An installer fitting pipework for a water underfloor heating system. Image: Standard / Shutterstock
Water underfloor heating is more common in new builds because it is more complicated to install as it involves a series of pipes being hooked up to your boiler, therefore it's easier to fit at the build stage.
Whether fitted to a new or existing building, water systems are more expensive to install, though they are also more energy-efficient than electric heating so could save you more on your energy bills over time.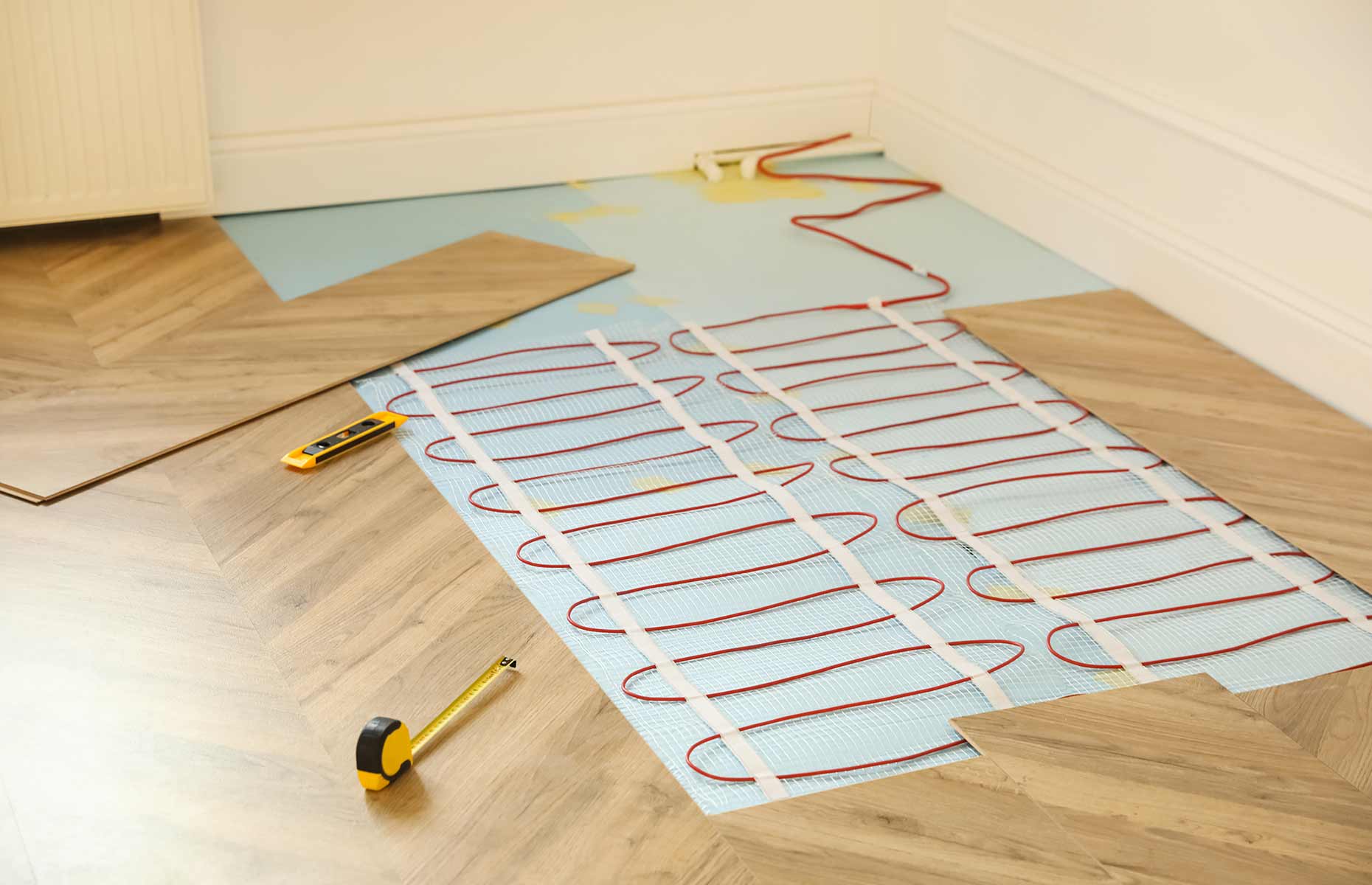 Electric underfloor heating being fitted beneath laminate flooring. Image: New Africa / Shutterstock
Electric underfloor heating is easier to fit (especially in an existing house) and therefore less expensive in terms of labour costs. It uses more energy to run than water heating though, so over the long term it might cost you more.
Underfloor heating installation costs
The cost of installing underfloor heating will depend on the size of the area you want to heat, the type of system you're using, the age of your property and your location.
Tradesperson listing site Checkatrade says the average cost of materials and installation for underfloor heating typically ranges between £500 and £8,000.
The table below, compiled by Checkatrade, has a guide to the average cost per metre square of the different systems.
Underfloor heating system
and property type
Average installation
cost per m2
Electric in renovation
£60-£85
Electric in new build
£50-£75
Water in new build
£120-£135
Water in renovation
£135-£185
Many people only opt for underfloor heating in certain rooms, often bathrooms or kitchens, and tradesperson finder site MyJobQuote has some specific guidance on these costs (see table below).
Job description
Duration
Material
cost
Labour
cost
Bathroom floor: fit electric underfloor
heating mats with thermostat and timer
1.5 days
£450
£350
Kitchen concrete floor with wood laminate
flooring: fit electric underfloor heating mats
2 days
£500
£300
Fit wet system in kitchen with insulation and
pipe up to existing central heating system
3 days
£300
£900
Typical three-bed semi-detached house: wet
underfloor heating retrofitted throughout
2 weeks
£2,100
£5,600
DIY underfloor heating
Unless you happen to be a plumber or heating engineer, it's unlikely you'll be able to install a wet underfloor heating system yourself, though there are DIY kits available for these systems.
Electric underfloor heating is much simpler to put in and you could certainly save a tidy sum if you're handy enough to install this type of underfloor heating.
Checkatrade puts the average cost of DIY underfloor heating (with electric heat mats) at just £20-£50 per metre square. They add that you should budget about £100 for extra materials such as heating controls, screed and insulation boards.
MyJobQuote points out that DIYers are likely to need an electrician to connect power to their system, but even so, by doing it yourself they estimate the total cost of a DIY bathroom installation could be less than £500.
READ MORE: 45 fabulous flooring ideas
Featured image: studiovin / Shutterstock
Be the first to comment
Do you want to comment on this article? You need to be signed in for this feature