Most dangerous DIY projects to avoid during lockdown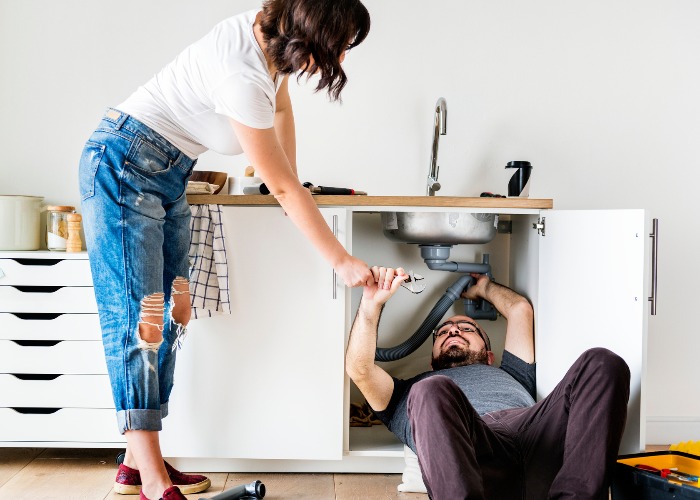 Sprucing up your home during lockdown? Steer clear of these reckless home improvement jobs
With many of us cooped up indoors once more, tackling a few DIY jobs may seem like an effective way to kill time and enhance your home.
READ MORE: The ultimate DIY hacks
However, there are a few tasks that even the handiest homeowners should avoid. Before you bite off more than you can chew, check out our list of the most dangerous DIY projects that you shouldn't take on yourself.
Demolishing walls
Knocking down walls to create a spacious new floor plan might seem like a simple task – but unless you know which walls are load-bearing, you risk causing huge structural problems in your home.
The potential for sagging beams, collapsing ceilings and personal injury all mean this is a job best left to an experienced contractor.
Replacing a gas cooker
Gas is poisonous and flammable so this type of upgrade calls for a licensed gas fitter to carry out the work.
A large proportion of all gas-related accidents are caused by faulty connections and installation issues, so be sure to hold off on this tricky task until you can get a professional in.
Electrical work
Replacing a light bulb or changing the fuse in a plug doesn't make you an electrician. Working with electrical wiring can be deadly, which is why it's essential to call in a licensed electrician with the right knowledge and qualifications.
As well as the risk of electric shock, dodgy electric jobs increase the danger of electrical fires breaking out, too. Stay safe and steer clear.
Roof repairs
Botched remedial work on your roof could lead to potential leaks and drainage issues, as well as risking voiding any manufacturer warranties you have in place too.
Not to mention the fact that it's extremely dangerous – one misplaced step on your roof or ladder could lead to a nasty fall. Always call in a professional roofer for this hazardous job.
Redoing plumbing
It's one thing to tackle small common plumbing problems like unclogging a toilet or unblocking a drain, but tackling a plumbing job any bigger than this is best left to a professional plumber.
As well as flooding your house and damaging personal possessions and décor, a sub-standard pipework job may end up costing you thousands to fix.
Fitting a dishwasher
The finished product may look sleek and simple but built-in dishwashers can be quite complex to install. The appliance will need to be anchored properly so it doesn't tip forward when you're loading and unloading dishes.
Plus, as dishwashers use both electricity and water, there are strict guidelines in place regarding how they should be installed. For best results, call on the services of a professional plumber.
Felling trees
While your local tree surgeon might make this job look like a breeze, cutting down trees or even removing branches requires working with dangerous equipment at a significant height. Without the right protective gear, this is an accident waiting to happen.
Removing asbestos
A common problem in older homes, asbestos is an extremely hazardous material and inhaling even a few stray fibres can increase your risk of numerous health problems, including cancer.
That's why it's vital to call in the experts – in this case, a licensed asbestos remover – rather than undertaking the job yourself.
Repairing lead-based paintwork
Scraping away layers of old paint from a chipped timber door or skirting board may seem like a straightforward mission. However, if any of the paintwork predates the 1970s, it's possible that a lead-based product may have been used.
There are significant health risks involved in working with lead, so avoid opening this can of worms and hold out until you can call in a paint specialist.
READ MORE: Hidden hazards lurking in your home
Featured image: Rawpixel.com / Shutterstock
Be the first to comment
Do you want to comment on this article? You need to be signed in for this feature