Renting to students: a landlord's guide to student buy-to-let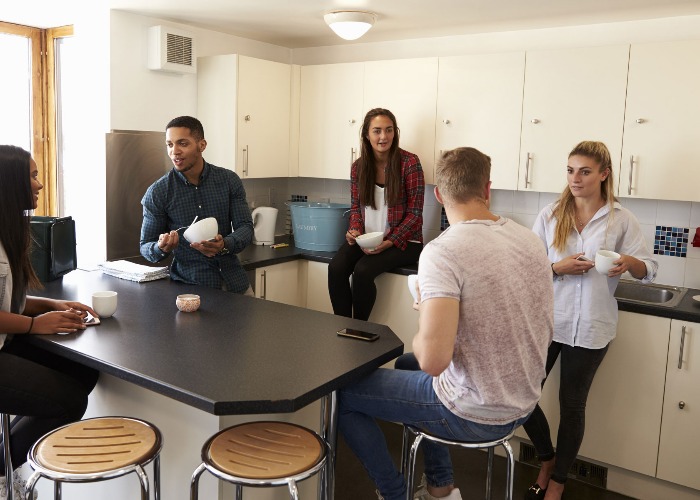 Forget the stereotypes of piles of washing up and grubby bathrooms, says property developer Deborah Durbin. Today's students are looking for decent digs, which means you could be cashing in...
At the last count there were 2.32 million students studying at higher education institutions in the UK so it's no surprise that renting to the student market is a lucrative option for many landlords.
Buying, furnishing and letting a property to students offers a consistent income and readily available clients actively seeking quality accommodation.
And while students have often been pigeonholed as messy and unreliable many of today's students are increasingly savvy about their digs.
Thanks to the larger cost of loans many students are looking to make the most of their cash, looking for good value yet top quality places to live.
Luxury accommodation is springing up near universities up and down the country as students expect more for their money than ever before.
But, being a landlord in this sector does come with some additional responsibilities compared to your standard buy-to-let. Here we take you through was you need to know…
READ MORE: Investing in a buy-to-let? What to consider before setting up as a limited company
Homes with five or more occupants will require a licence; Ewelina Wachala/Shutterstock
Do you need a licence?
A HMO (House in Multiple Occupation) is categorised as a house that occupies three or more unrelated tenants who share a kitchen, bathroom and communal living area. If your property is over three storeys and there are five or more occupants you must apply for a HMO license.
It costs around £500 to £600, depending on where in the country your property is, and usually lasts for five years. Some councils insist that you have a HMO license regardless of the amount of students you have, so always check with your local authority. You can apply online on the gov.uk website.
Duty of care
When applying to accommodate students, your local authority will issue you with a set of guidelines that you must carry out.
These include that your property has a gas safety and electrical check, that there is a means of fire escape, that you have installed mains smoke, fire and carbon monoxide detectors on every floor and that you make sure that all furnishings are safe and fire safety compliant.
It is a legal requirement to provide a fire blanket and/or a fire extinguisher if your property houses more than five students.
Make sure your gas safety certificate is up-to-date by using a registered engineer; Alexander Raths/Shutterstock
Fully furnished
When letting to students you are obliged to furnish the property throughout. This includes all kitchen appliances (cooker, microwave, fridge/freezer), communal lounge furnishings (sofas, TV, coffee table, books cases etc), a dining area big enough for all the tenants, cutlery, plates, cups, kettle, pots and pans – basically everything you would find in a home.
It is also a good idea to hang a notice board up in the hallway, not only to display your fire safety certificates but so that you can communicate with all the tenants if necessary.
Simple, mid-priced furnishings can make sure you attract quality tenants; Naphat Jorjee/Shutterstock
Home comforts
The furnishing of students' bedrooms should include – a bed, a bedside cabinet, a wardrobe, a desk and chair, lamp, carpet and curtains/blinds. The only thing you are not obliged to provide is bedding or towels. Some landlords provide safes for their tenants to store their personal belongings, but this is optional.
These are the bare minimums you must provide. Some landlords will provide more luxuries, such as a TV in each bedroom, bookshelves etc, but this is up to the individual landlord and may mean you can charge a higher rent. Each bedroom must have a Yale/key lock on the door to ensure privacy.
Provide as much sensible storage as space allows and don't forget about finishing touches such as curtains; Alexandre Rotenberg/Shutterstock
Your responsibilities
As a landlord to student accommodation you are responsible for much more than if you rented to a single household. First and foremost, there are safety regulations in place with regards to fire, gas and electricity. You must make sure that all fire safety checks are in place and checked regularly, and that escape access is not obstructed.
You are also responsible for keeping the communal areas of the property clean and tidy, which includes the living area, bathroom and kitchen. This should be cleaned at least once a fortnight. Many landlords employ a local cleaner to do this.
While you are not obliged to provide satellite TV, students do expect good broadband, while gas, electric and water rates are usually all included in their rent.
Some landlords will regulate the heating and hot water so that it comes on twice a day and, if you decide to do this it's advisable to box in the boiler and thermostat in a locked cupboard so that tenants can't tamper with it. Talk to prospective tenants about what they expect and agree upfront before the contracts are signed.
Rental payments
Most letting agents will offer a landlord a referencing and letting service for a charge of anything from 10% upwards per month.
Students will be required to set-up a direct debit or standing order and payment will go into your account once a month.
Alternatively, if you have a local college nearby, you can team up with their student accommodation team and they will find and reference tenants for you.
Speaking to college accommodation departments directly can help you find tenants faster and without agents' fees; Nejron Photo/Shutterstock
How much profit can you expect to make?
Depending on where you are in the country will depend on your potential profits.
But by way of an example; a typical four-bed house in the south-west will rent out to a single family for around £800/month. If you were to rent the same space to four students, you could expect to generate a gross income of £2,400/month.
Taking out your expenses such as utilities, broadband, cleaning and maintenance costs, you could easily be looking at generating a net profit of £1800/month for exactly the same property.
Points to remember...
You will have a high turnover of tenants – students often drop out of courses and may only stay for one academic year
Do not get lured into doing everything for your tenants – they are not your children!
Your income will fluctuate if one of your tenants decides to move out, which often happens
Expect your furniture and flooring such as carpets to get suffer a lot of wear and tear, so mid-range is best. Too cheap and you'll be replacing future annually while expensive furnishings will dent your profit needlessly.
Be the first to comment
Do you want to comment on this article? You need to be signed in for this feature