Which self build structural system should I choose?
From classic oak and timber frame to SIPs and ICF, we've rounded up the various construction methods you can choose from to bring your dream home to life
How to pick the right building materials
The structural system you choose for your self build home will depend on an array of factors, from your budget to design flexibility and the accessibility of your plot. Build speeds will be a key consideration, too, as will any minimum energy performance standards you'd like your home to meet.
READ MORE: How to build your own house – a self build beginner's guide
Some methods are better-suited to self builders who want to get hands-on, whereas others are perfect for those who want to pass the responsibility over to a package supplier for a less stressful build. Here, we give you the low-down on some of the UK's most popular structural methods, their key attractions, plus the main considerations to bear in mind.
Building a masonry home with brick and block
Offering robust, long-lasting buildings, this structural method has been around for centuries. "It provides a durable, efficient and flexible form of construction that all builders are familiar with," says Ian Watson, project coordinator at D&M Homes.
A cavity wall arrangement is the typical route, where an inner layer of blocks is built up next to an outer skin of bricks. The gap between the two layers contains insulation. Bricks and blocks are constructed in courses, with each unit laid in cement-based mortar.
One key advantage of this route is that materials tend to be readily available. Brick and block offers plenty of design flexibility, too. While many homeowners prefer the classic finish of exposed brick, render and various types of cladding can also be used to create a bespoke look.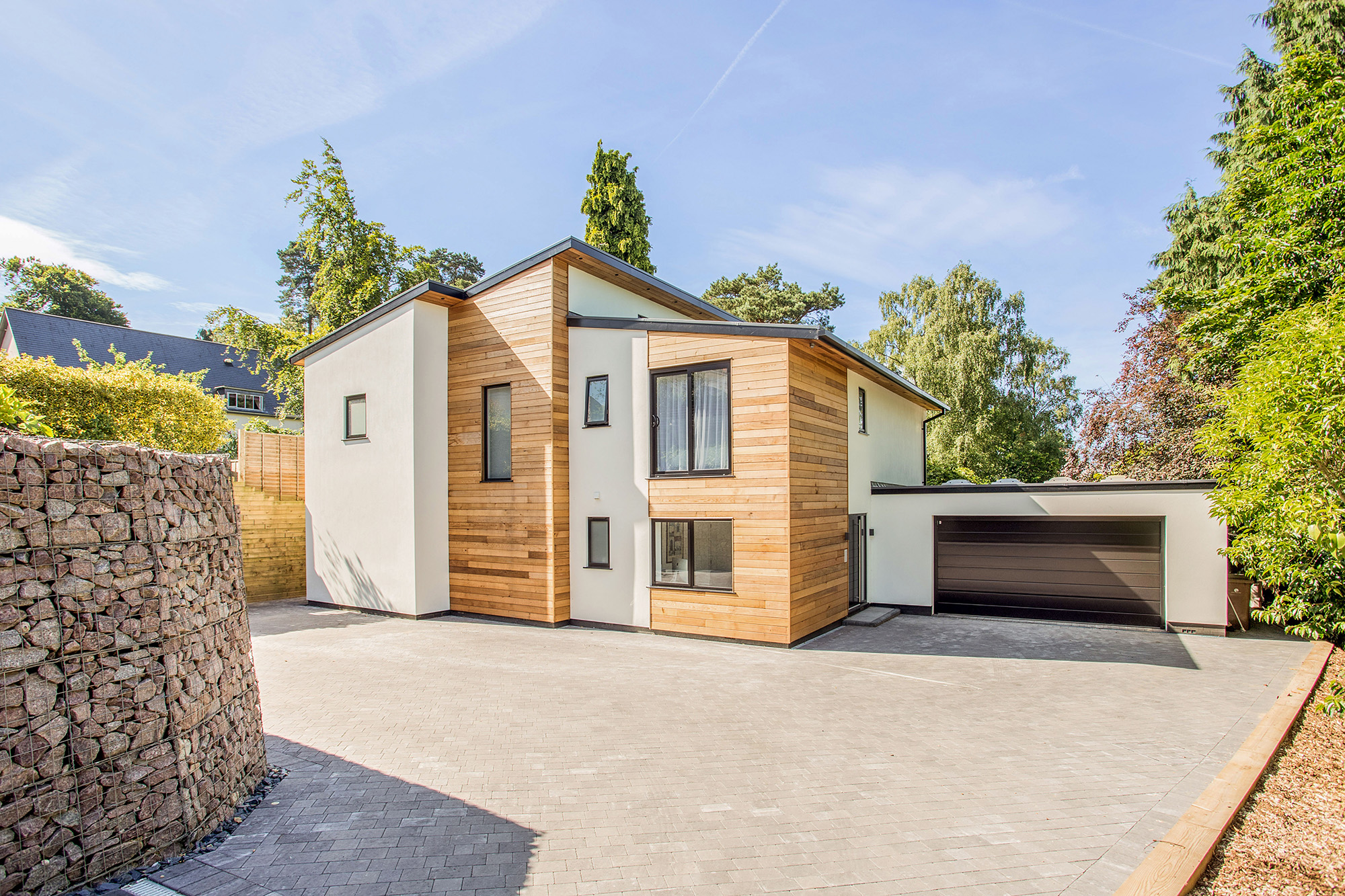 A modern masonry home with wood cladding. Credit: D&M Homes
These dense materials results in good thermal mass – this means that the building fabric absorbs and stores heat through the day and releases it back into the house when needed. "This can be used to increase the comfort level of the internal space," says Ian.
Considerations
It's worth bearing in mind that this is an on-site construction route, so the performance of the building fabric depends largely on the quality of the workmanship. It's therefore a less consistent route to achieving an energy efficent home as more care is required to form an airtight layer than in factory-built systems.
Brick and block is more labour intensive too, so it will take longer to reach a weathertight state than for quicker prefabricated systems. "A general rule of thumb would be 14 to 18 weeks for a masonry build," says Dan Mutti, construction and materials manager at D&M Homes. Bad weather can create costly delays to the progress of masonry builds, as each course of bricks and mortar needs time to dry out.
You'll also need to factor in space and resources for the storage of materials on site, as well as ensuring that access to the plot is clear and unobstructed.
You should budget between £1,300 and £1,700 per m2 for a masonry project. "However, much will depend on location (labour costs) and specification," says Dan. "By working with a package company, owners can get an earlier understanding and certainty on the actual construction outlay."
Building a home with timber frame
There are two kinds of standard timber frame – open and closed panel. Both consist of timber studwork, encased between sheets of plywood or oriented strand board (OSB). Insulation is packed into the gap between the studs. Openings for windows and doors are pre-cut in the factory, with the roof also included as part of the kit.
The quality of finish largely depends on whether you opt for open or closed panel. Open systems will be delivered to site with the internal side of the wall structure left uncovered so insulation can be applied on site. Closed panel setups, however, are insulated in the factory. Windows, doors and even wall finishes can be applied before the superstructure arrives on site.
A timber frame home under construction. Credit: Fleming Homes
"Speed of erection is a key benefit of timber frame," says Sarah Mathieson, managing director of Fleming Homes. "From delivery to site to the wind and watertight stage, the average four-bedroom timber frame kit can be erected in two weeks." Bear in mind that most timber frame kits will come with an eight to 12-week factory wait time – but this can be used to prepare the foundations on site.
A timber frame home with white render. Credit: Fleming Homes
Timber frame is a fantastic choice is you're keen to create a thermally-efficient home, as the insulating layer can be added under factory-controlled conditions, so you can guaranteed an even coverage. "Most suppliers offer a range of U-values (measure of heat loss, where lower numbers are better) depending on whether you simply want to meet Building Regulations or achieve Passivhaus standards," says Sarah.
Considerations
It's important to think about sound insulation too. Timber frame has less mass than concrete, so if you live in a built-up area you should ensure your home includes additional insulation or thicker plasterboard to block out external noise.
Like masonry structures, there's a wealth of design and finishing options for timber frame buildings. But one thing to remember is that you'll have to plan the design very early on in the project, before the frame is manufactured. "The benefits of off-site manufacture, both in terms of speed and quality, are undermined by the decision to make changes on site," says Sarah. "It's not advisable and will most likely lead to unanticipated additional costs."
Depending on how you choose to project manage your self build, the total construction cost (excluding what you pay for the plot) can be anywhere from £1,000 per m2 to £1,800 per m2 and above," says Sarah. When it comes to budgeting, remember that you'll need to put down a large deposit for the timber superstructure early in the project. If you're financing your project with a self build mortgage, ensure that this large initial cost is accounted for in each stage of the payment schedule.
Building a home with oak frame
With its unique and characterful architecture, there are many attractions to building with oak frame. "It's a very versatile building system that can be used in a number of different ways to create homes in both traditional and contemporary styles," says David Grey, sales director at Oakwrights, a specialist oak frame supplier.
While the oak frame would historically have been infilled with wattle and daub or brick, 21st century self builders can choose from a selection of energy-efficient designs. Many suppliers offer options made from SIPs (structural insulated panels), while others have developed their own high-tech solutions that can be adapted to meet your performance requirements.
Oak frame home with wood cladding. Credit: Oakwrights
"Oak frame houses are primarily built off-site in specialist workshops," says David Grey. Like with timber frame, the majority of the design decisions are made upfront before the superstructure is manufactured in the factory. The groundworks can be prepared in the interim period, so the oak structure can be assembled as soon as it arrives on site.
This build method also boasts impressive sustainability credentials. "The raw material, oak, is widely grown to be harvested for building with," says David. "It's a renewable resource. Due to the length of time it takes to grow, it has a very high carbon lock in." What's more, the robust oak structure will last for hundreds of years.
In terms of architecture, it's also a great way to transform a home's structural features into an eye-catching focal point. The warm golden hue and characterful splits that form in the exposed timber can create striking detailing, both inside out outside the house.
Oak frame home with tudor-style detailing. Credit: Oakwrights
Considerations
"Once the oak frame has been delivered to site, major changes to the design can be difficult and costly to achieve," says David. Self builders can enlist an architect to design initial plans that can then be adapted by their frame supplier. However, many specialist oak framing companies have their own in-house design team, who are skilled in creating stunning schemes.
This route is generally more expensive than softwood framing options, as you're working with a premium material (oak). However, developing a simple design with rectangular floor plans and affordable materials can help you stick to your budget.
Building a home with insulated concrete formwork (ICF)
Originally developed in Germany in the 1950s, this speedy build system is becoming a firm favourite amongst self builders – especially those in search of high levels of thermal performance.
Hollow expanded polystyrene (EPS) blocks are designed to fit together without any glue or mortar. On site, they are joined together to establish an inner and outer layer that is reinforced with steel rods, before the cavity is filled with concrete. Once the concrete has cured and the structure is built up to full height, you're left with a highly efficient walling system that can be clad in the material of your choice, whether that's a sleek coat of render or timber cladding.
One of the key benefits of this route is that the building components are extremely light, so you won't need any heavy machinery to crane them into place on site. Plus, very little waste is generated, and the whole house can come together within a matter of days. An ICF house also comes with an insulated layer built-in, so walls can end up being remarkably thin, which allows you to maximise internal space.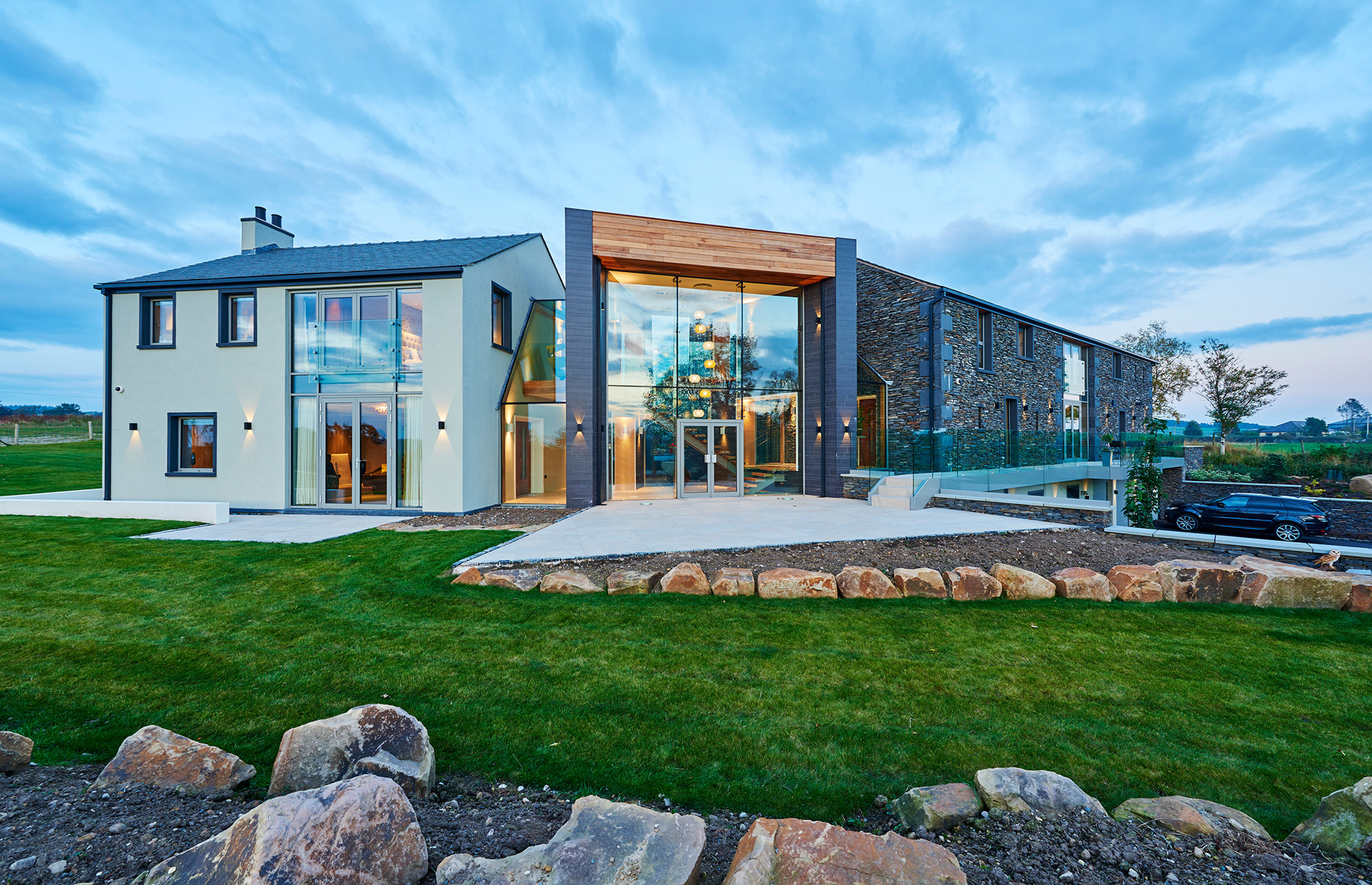 Contemporary ICF home with wood and brick cladding. Credit: Beco Wallform
When it comes to configuring the internal layout of the property, using ICF walling components throughout will deliver excellent acoustic performance, though breezeblocks can work just as well to create rooms. Utilising load-bearing walling elements will also allow you to establish spacious, open-plan layouts.
Considerations
With traditional ICF, concrete is sandwiched between two walls of polestyrene. While this type of structure is a great insulator, it's not so efficient when it comes to releasing heat back into the home.
However, there are alternative ICF systems that can address this problem. The Durisol system features woodcrete blocks – a mixture of wood, clay and concrete, filled with insulating foam. The insulation is primarily placed on the exterior of the building with a thin interior face, allowing stored heat from the concrete to pass more easily into the home.
Woodcrete is also a good option if you want to hang heavy objects on the walls – something that can be problematic with polystyrene walls.
The performance of an ICF home depends on the quality of workmanship. The polystrene blocks have to be supported and braced properly, otherwise the concrete could destabilise the structure when it's poured in, which can cause the walls to buckle and become misshappen.
Bear in mind that with traditional ICF, it might be challenging to make alterations to the property's layout later on too, as it's difficult to cut new openings into solid concrete partitions. If you are keen to create a future-proof floor plan that can be adapted later on, timber studwork partitions can be used internally as an alternative. This will also help to cut project costs down.
In terms of cost, developing an ICF home is likely to be more expensive than a standard timber frame or masonry building, but it's far quicker to construct which can bring down labour costs. Thanks its excellent thermal performance, the savings you'll make on energy bills will also help to offset intial expense.
Building a home with structural insulated panels (SIPS)
SIPs are made from two wood-based sheets (often OSB) that are glued together, sandwiching a layer of rigid insulation. First developed in the USA in the 1930s, this method offers a fast build, high thermal performance and impressive sustainability credentials. "SIPs offer a thinner wall thickness than a conventional partition while simultaneously providing improved insulation values," says John Langley, director at JML Contracts.
Like other timber frame setups, SIPs kits are precision-engineered in a factory where quality can be guaranteed. "This reduces the amount of waste produced on the building site, and allows unused materials to be recycled," says John.
The accuracy of the construction method also allows self builders to achieve high standards of thermal performance and airtightness, making this structure a strong contender for eco builds, including Passivhaus designs. "The method ranks right at the top in terms of thermal efficiency," says John. "U-values can be as low as 0.1W/m2K and below, dependent on the thickness of the panels."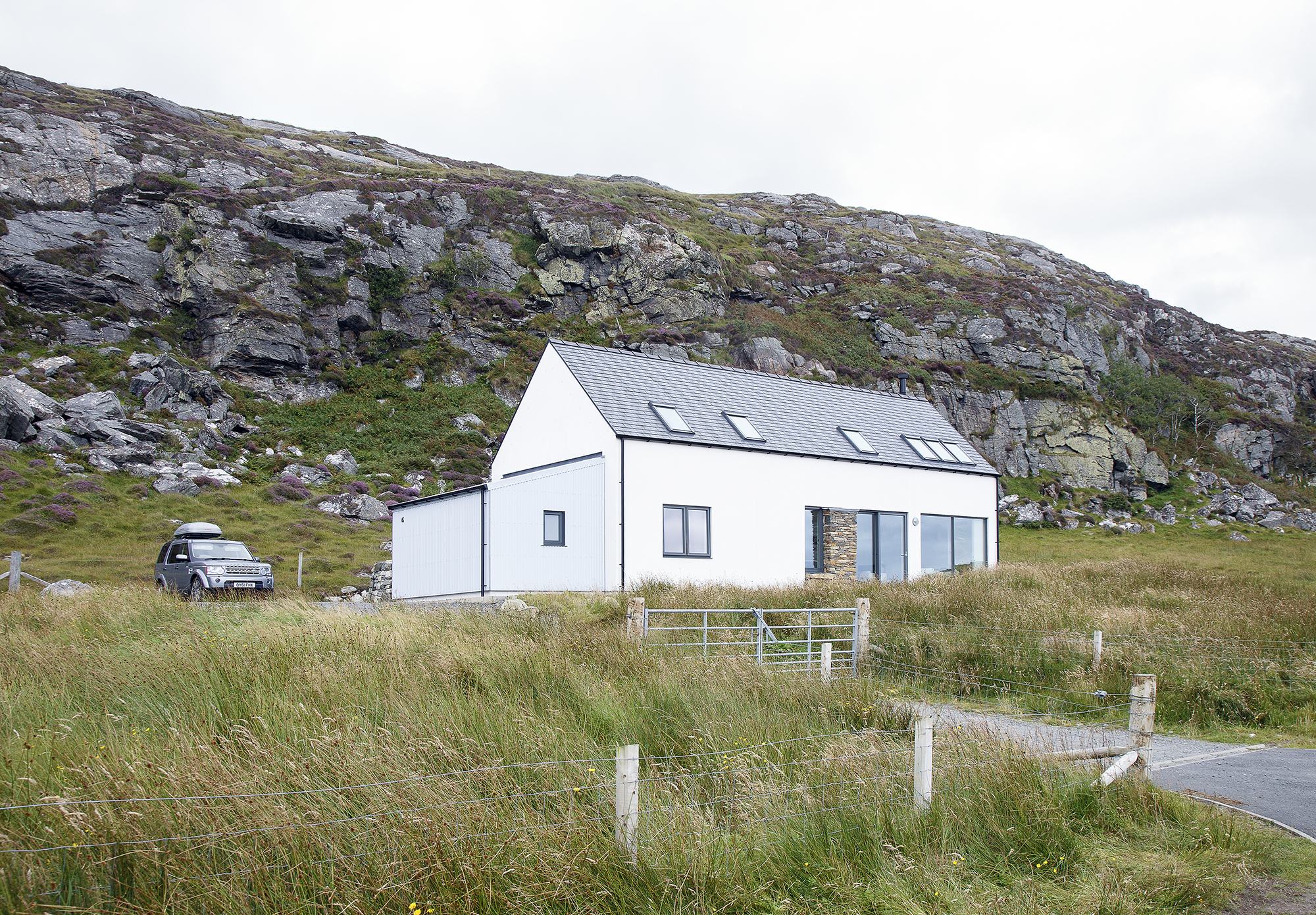 Durable SIPs home in a rural setting. Credit: JML Contracts
SIPs also offer plenty of scope when it comes to the design of your home. "The structural components have inherent structural strength, which allows architects to create large spans without the need for roof trusses, enabling features such as vaulted ceilings to be constructed easily," says John.
If you're looking for a super-speedy build system, SIPs should be one of the main contenders for your project. "If we were using a large formatting construction technique, which involves building large sections off-site before craning the components into place, a SIPs home would be wind and watertight in as little as three to five days," says John. But bear in mind that the size and complexity of your scheme will influence the assembly time.
Considerations
Like other timber frame setups, the bulk of the design decisions are made before the frame is created, so it's difficult to make any changes once the kit is delivered to site. Any changes you do make are likely to incur extra costs and delay your build schedule.
Furthermore, SIPs are susceptible to moisture damage, so it's important to choose a SIPs structure that protects against this risk. Opt for those with waterproof surfaces or fibre-cement panels to ensure your home is moisture resistant.
The price tag for a SIPs property does tend to be more than other timber systems. "For a well-finished house, built using high quality materials and fully-managed and erected by a professional, I'd estimate upwards of £1,800 to £2,000 per m2," says John.
Building a home with thin joint blockwork
This variant on traditional masonry offers a host of advantages for people looking to create their own home. Let's take a closer look at how this setup works compared to a conventional cavity walling system. The latter comprises an inner layer of blocks and an outer layer of bricks, with a cavity in between that can be filled with insulation. Instead of using standard blocks, thin joint masonry uses larger, aerated concrete units. These are lightweight and easier to handle, resulting in a swifter construction.
Thanks to the precision of the building units, the traditional 10mm layer of cement-based mortar is not needed to bond each course of blocks to the one below it. Instead, a special adhesive is applied to a thickness of 2mm-3mm. This layer cures so quickly that the wall is typically stable within one hour of the adhesive being applied.
Traditional gabled home built with thin joint blockwork. Credit: D&M Homes
The thin joint system allows for greater accuracy, quality and a saving in labour time and cost," says Ian Watson, project coordinator at D&M Homes. "Using an adhesive rather than mortar provides greater wall strength and faster weatherproofing of the structure.
There is also a reduction in waste and mess on site and less storage space is required, as the joint adhesive can be mixed close to the working area," says Ian.
Considerations
The manufacturing process involved in this system leaves thousands of tiny air bubbles within each building block, which adds thermal insulation. However, as the units are not as dense as standard blocks, homes built using the thin-joint method do not come with the same high thermal mass that a conventional cavity walling system would offer.
Building with thin joint blockwork requires high levels of precision too, and if the blocks are not laid perfectly level, it's easy to get gaps in the higher sections of the structure. As there's little room for error, it's important to find a contractor who's experienced in building in this way. This arrangement is likely to cost around 10% more than a standard masonry setup.
Building a home with sustainable materials
If you're a seriously eco-conscious self builder, constructing a home made from healthy, natural materials is likely to be somewhere near the top of your priority list and there are plenty of structural options to consider. Rammed earth, which involves compacting layers of sub-soil to form walls, can create a highly energy-efficient structure, while cork and bamboo can offer a wealth of design flexibility.
Straw bale homes offer impressive levels of insulation and airtightness, using a waste product that would otherwise be destroyed. This type of dwelling also benefits from high thermal mass which means the property will be cool in the summer and warm in the winter.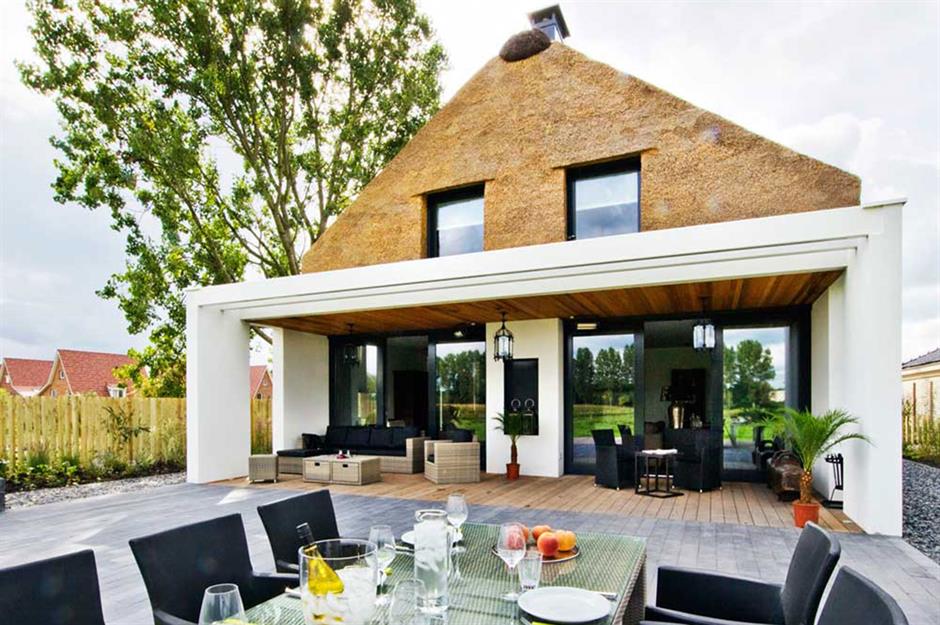 Contemporary home built with strawbale. Credit: Arjen Reas Architecten
There are two main construction options – load-bearing and infill. With the former, the bales are stacked like blocks to take the load of the roof and floors. Openings are left for windows and doors as the units are built up. The infill method features a steel or concrete framework that is packed with straw bales. Both setups are finished with breathable lime or clay plaster.
While it might seem counterintuitive, walls built with straw bales are more flame-retardant than conventional wood frame construction. As straw bale walls are so compacted, there's little oxygen left in the structure which reduces the likelihood of combustion.
Considerations
Bear in mind that if you go down this route, you'll need to leave enough space for thick wall partitions. You'll also need to ensure that the bales are protected from any moisture that could enter from the roof above, as this could be detrimental to the structure's stability.
If you can't source straw bales locally, then you'll need to take into account the costs of transportation and shipping. Additionally, as it's an unconventional build method, it can be tricky to find a contractor with the right expertise and knowledge to carry out this kind of project.
Earthships – dwellings built entirely from natural, recycled or salvaged materials – are another option if building green is important to you. These properties are entirely self-sufficient, producing the energy to power their own electricity and heating systems to avoid relying on public utilities.
Want to discover more about green home building methods? These stunning dwellings are super sustainable too.
READ MORE: How to build your own house: a self build beginner's guide
Featured image: sculpies / Shutterstock
Browse the self build A-Z:
Be the first to comment
Do you want to comment on this article? You need to be signed in for this feature