Self build mortgages: what do you need to know?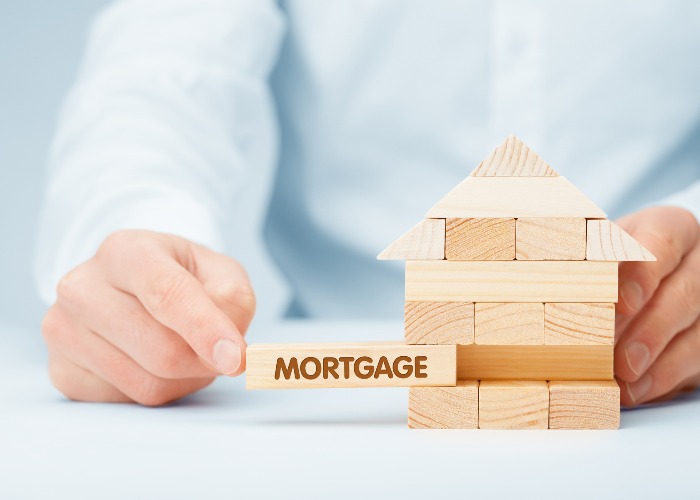 If you're taking out a mortgage to fund your self build project, there are some key differences you need to be aware of before you apply
Self build used to be considered the preserve of the wealthy, but the availability of self build mortgages in the UK means you don't need to have a substantial amount of cash at your disposal to be able to build your own home.
READ MORE: How to build your own house – a self build beginner's guide
If you've bought a house before, chances are that you took out a mortgage to buy it. When you buy an existing property, the lender uses it as security for the loan, should you default on your payments and you get all the money on completion.
But if you're building your own home, the property doesn't exist yet, and for this reason a self build mortgage releases the money to you in stages.
Arrears stage payment mortgages
There are two main types of self build mortgage: valuation-based (also known as 'arrears') stage payment mortgages and cost-based stage payment mortgages.
Valuation-based stage payment mortgages are the traditional version. Initial funds are released to you by the lender to buy land, then subsequent payments are paid when specified stages of the build have been completed and a valuer has visited the site to confirm its increase in value.
This means you don't have to pay interest on the whole amount from the start.
These stages are usually:
Buying the land (with at least outline planning permission)
Building the foundations
Building the walls (or erecting the timber frame if that's your chosen build method)
Making the building wind and watertight (the roof is on and windows and external doors have been fitted)
Completing the first fix (everything that needs to be done before plastering, like installing electrical wiring and water pipes) and plastering
Second fix (everything that needs to be done after plastering, like fitting switches and sockets and installing bathroom suites) to completion of the house.
Sean Locke Photography / Shutterstock
You need to have enough money for a deposit to buy the land and to fund each stage of the build before you get the payment from the lender to cover it.
With an arrears stage payment mortgage, you get a percentage of the increase in the value of the site rather than a return on the money you've spent up to that point, so there's a risk that you could end up with a shortfall at each stage.
However you fund your project though, it's essential to have a contingency fund of 10-20% of the build costs available for such eventualities.
Most of the lenders offering these mortgages are regional building societies, such as the Ecology, Furness and Bath Building Societies.
The Ecology Building Society promote the construction of energy-efficient homes, so they'll give you a discount on your mortgage payments once you can prove that your completed property meets certain standards. The more sustainable your project, the bigger the discount, ranging from 0.75% to 1.25% for ultra eco-friendly new builds.
Advance stage payment mortgages
These mortgages were created by BuildStore – a provider of self build products and services – in the late 1990s. Its Accelerator Mortgage Scheme is available through a range of lenders, including Bath and Furness Building Societies.
It provides guaranteed stage payments based on your costs before and after each build stage so you have the funds to pay for trades and materials before work begins.
This gives you more certainty in your budget and the peace of mind of knowing you can plan for and pay your bills on time. A valuer also doesn't need to reinspect the site before each payment.
You may need to pay a higher interest rate for a cost-based mortgage but you can usually borrow a higher percentage of the land and build costs. It's important to remember too that during your project, you'll only pay interest on the amount you've already borrowed, not the total amount you intend to borrow by the end of your self build.
To give the lender the extra security they need to be able to release the money in advance of each stage, you pay an additional security fee for what is essentially an insurance policy for the lender.
How much this is depends on a range of factors but it costs an average of £1,500 for valuation-based mortgages and £2,300 for cost-based ones. You won't have to pay for multiple reinspections as with a valuation-based mortgage though.
An additional security fee may also be charged on an arrears mortgage if you are borrowing a higher percentage of your costs than the lender normally lends.
Mortgage advice
You can go direct to lenders but it's a good idea to speak to a mortgage adviser experienced in self build lending, for advice on which is the best mortgage for you. You can find an independent mortgage adviser in your area through Unbiased.
There's a range of non-independent companies, such as BuildStore, that can also offer guidance in this area too, as well as ongoing support through your project.
Buildstore's national relationship manager Tom McSherry says: "As well as helping to arrange the funding we also help you make sure you have allowed for the right costs and tailor the cash flow to the project's needs."
You can use the handy build costs calculator on their website to estimate what your costs will be.
Ian Dyball / Shutterstock
Mortgage interest rates
As they are specialist products, self build mortgages cost more than regular ones – interest rates are above 4%, while you can get fixed and discounted mortgages under 2% if you're buying an existing property.
However, self build mortgages are only designed to be in place for the duration of the build – usually expected to be up to two years – and you can pay interest only for this period.
Once your home is complete, you can switch to a regular mortgage on a repayment basis with the same lender or a different one (but check whether early repayment charges would apply to switch lenders first).
Fixed-rate deals on arrears mortgages currently offered through BuildStore (on 6th December 2018) start at 4.89% until March 2021 from Nottingham Building Society, borrowing up to 80% of the land and build costs (based on the value of the site at each stage). Advance mortgage deals start at 4.69% for two years from Bath Building Society, borrowing up to 95% of the costs.
Variable deals (where your interest rate can go up or down over the course of the deal) start at a two-year discounted rate of 4.29% for an arrears mortgage from West Bromwich Building Society, borrowing up to 85% of the cost of the land and 80% of the build costs, while an advance mortgage starts at 4.44% for two years from Bath Building Society, borrowing up to 95% of the costs.
So with an arrears mortgage you will need to have the cash to pay at least 15% of the land and build costs yourself, while with an advance mortgage you may only need to pay 5%, depending on the lender.
Mortgage fees
You also need to factor in mortgage fees as these will increase the overall cost. For example, on the variable arrears mortgage above, there could be fees of around £5,300 to pay, including the lender's arrangement fee, funds transfer fee and lender's conveyancing fee.
This also includes an initial valuation fee to establish the value of the land itself, what the final value of your property is likely to be (which determines the level of the fee) and how much the project should be insured for.
You will also have to pay a reinspection fee of around £125 at the end of each stage of the build.
How much you can borrow
Income is crucial for determining how much money you can borrow. A traditional way of calculating this is to apply a multiple to your income.
Although lenders may state the income multiples they are prepared to lend – Ecology Building Society says it will lend up to four times a joint or sole income, for example – how much you can borrow will depend on affordability.
The lender will look at your income as well as your current and future outgoings to decide how much you can afford to pay back.
Planning permission and documentation
To borrow the money to buy a plot of land, it will need to have at least outline planning permission. This type of planning consent concerns the broader scale and nature of the proposed structure.
You will then need to have had the full plans for your house drawn up and obtained detailed planning permission and building regulations approval before the lender will release any more money to you.
The lender will want to see proof that you have taken out site insurance to cover you for any injuries on the site or property damage, and the cost of rebuilding the house if it's destroyed.
It will also want to see detailed costings of your build, including the construction method and materials you are using.
Tom McSherry adds: "You will need to take out a 10-year structural warranty on the property from the start too.
"Although this only becomes live once the building is complete, the warranty provider will send inspectors to the site throughout the project to make sure your property is being built to a specific standard."
The application process should take about two to three months, depending on how quickly you can provide the documents needed.
Seek the right advice and support to make applying for your mortgage as pain-free as possible and you should have the funds to build your dream home in no time.
Browse the self build A-Z:
Be the first to comment
Do you want to comment on this article? You need to be signed in for this feature