How to design your own home
Check out our top tips on how to plan a unique dwelling that oozes style and character
Designing a house to fit your plot
Finding a suitable patch of land for your project can be one of the greatest self build challenges. There are numerous resources you can use to track the right site down, from local estate agents to specialist online sources such as BuildStore's PlotSearch database.
If your search for a building site is proving difficult then look out for demolish and rebuild opportunities, too. Your local council may look favourably upon a scheme that knocks down a rundown, dilapidated building to make way for a striking, energy-efficient new build.
READ MORE: How to build your own house – a self build beginner's guide
Once you've got your building site in the bag, bear in mind that the unique quirks of the site are likely to affect various aspects of your final design. "Sunlight, for example, will shape the orientation of the property to ensure it receives enough natural light," says Melanie Clear, founder and director of Clear Architects. "The locality and height of any neighbouring properties will also need to be taken into account, as will the street scene, to ensure the property is sympathetic to the local area."
Designed by Arco2 Architects, this house was planned specifically to minimise its impact on the landscape, and has been built into the sloping site.
David Flower, a director at Flower Kittle Architects, emphasises the importance of considering your plot's unique aspects within your design. "It's important to provide a rational approach to the site within the plans – particularly if you're working with any constraints in terms of the layout and topography," he says. "In many cases, working with a clear design principle and trying not to over complicate things can be an effective strategy."
While features such as awkward dimensions or a sloping gradient might initially put you off a site, they can be used as a means to add extra panache to the design of the house. "Be creative – if the terrain is sloping you may be able to incorporate an additional floor so the property appears to be single height from one aspect and double from another," says Melanie.
For tight spaces, Melanie advises aspiring self builders to consider how they're going to introduce natural light. "Courtyard pockets are very effective and will provide an outlook, which is so important. Also look at the local council's policy on what amenity level is required, as this will dictate how much outside space is needed in order to comply."
Finding ideas for your home
When it comes to seeking out ideas for your project, there's an array of sources you can turn to for aspirational design ideas. A good starting point might be to put together mood boards – either printed or digital – showing properties that you love (and hate!). Try to set aside some time to think about the design aspects you like and dislike about your current home too. It could provide a good springboard when it comes to researching your ideas in more depth.
There are numerous inspirational magazines and websites filled with advice and eye-catching projects to inspire readers. "Absorb as much information as you can," says Ian Armstrong, director of Arco2 Architects. "We often ask clients to create Pinterest boards with the aim of 10 key images that best describe the essence of what they'd like to create."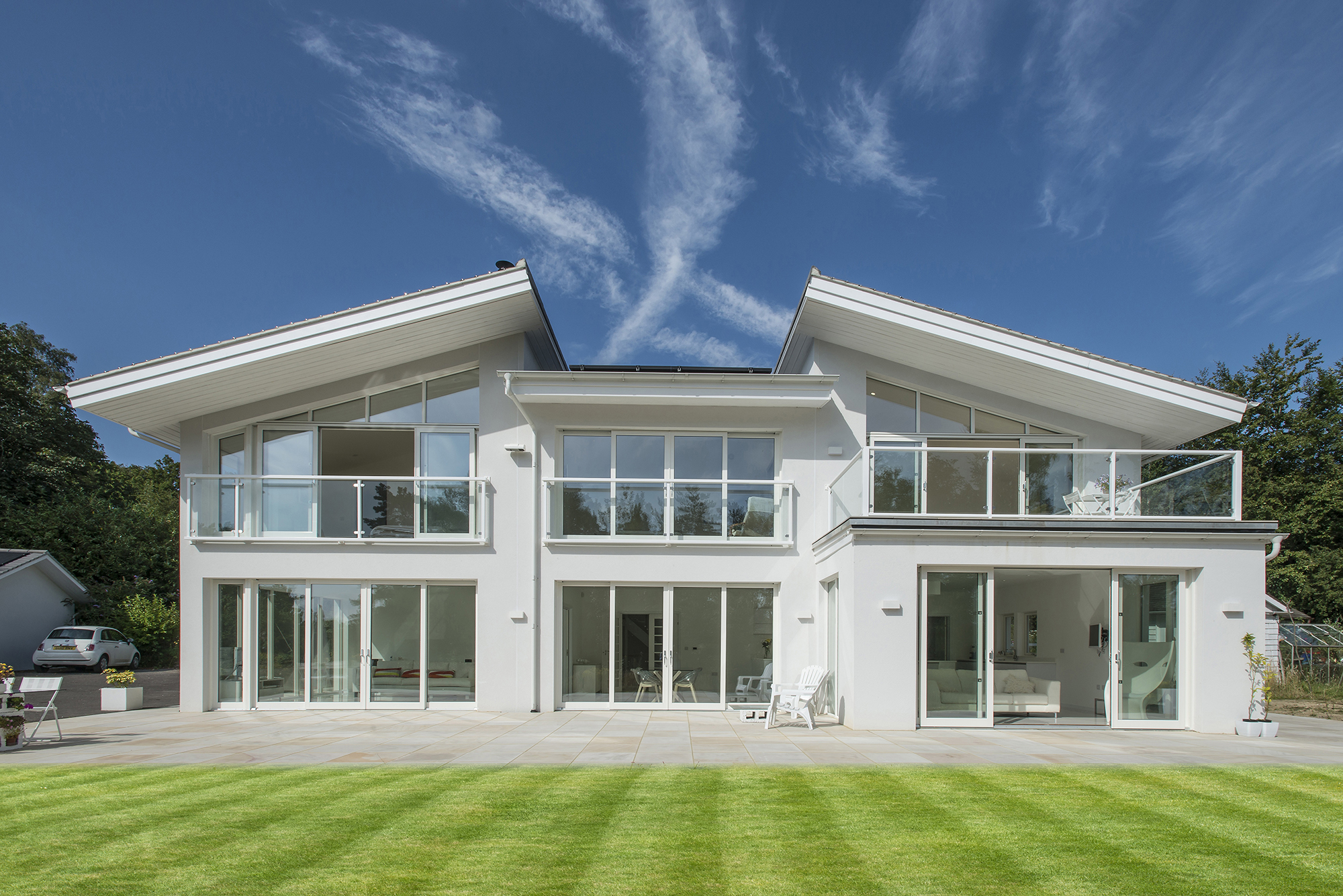 Featuring a crisp white render finish, this timber frame new build was developed by Scandia Hus.
Mapping out the design for your new dwelling can be one of the most exciting parts of the project – but try not to get too carried away at this stage, especially in terms of budget. "A lot of the projects you'll find online are striking, and there's a lot of detailing and coordination involved in order to achieve an effortless-looking finish," says Ruta Benetyte from Vita Architecture.
Architectural design
In terms of style, there's a plethora of options and architectural solutions out there to inspire your project. "In my experience, the majority of self builders are influenced by the residential environment of traditional buildings," says Ruta. "As architects, we understand the safe approach, but we love to freshen up both the look and experience of the home by introducing contemporary materials and internal layouts to suit the client's needs."
In the UK, traditional homes can range from twee thatched cottages and oak frame abodes to Georgian, Edwardian or Victorian-style dwellings. The country is blessed with a rich architectural heritage that today's self builders can draw upon, taking design cues from the eras that particularly appeal to them. Of course, at the other end of the spectrum, there's sleek modern structures featuring unconventional angles, crisp material finishes and maybe even cantilevered elements, too.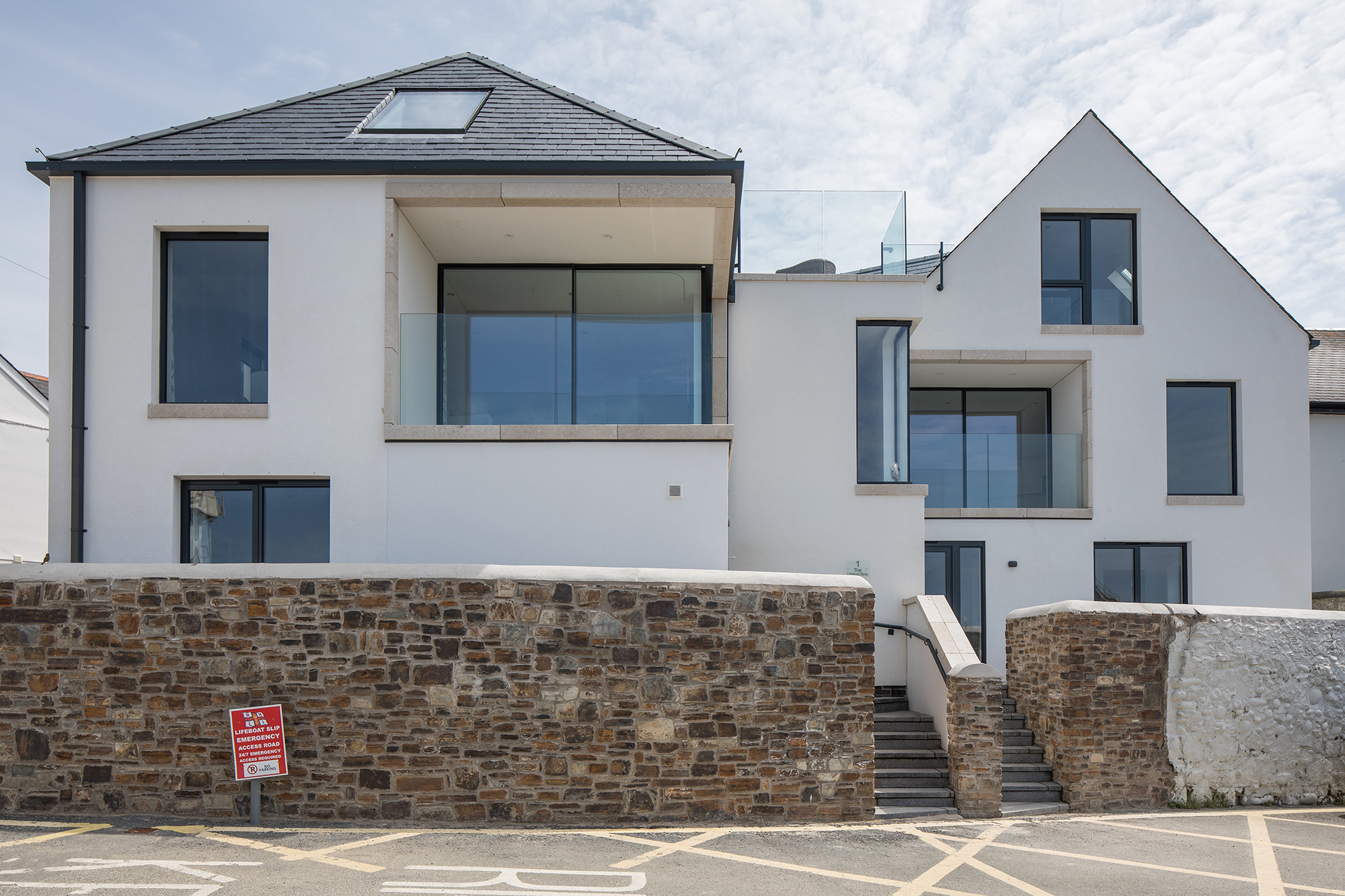 Architect David Flower designed this ocean-view home for his parents. The second floor cantilevers out over the first-floor terrace so occupants can enjoy uninterrupted sea vistas. Photography credit: Alex Campbell.
Your choice of materials will play a big part in establishing your home's character. Brick is considered to be fairly traditional – but that doesn't mean it can't be used to achieve a daring, contemporary design either. Other coverings, such as crisp white render and streamlined metal cladding, might be used to create a more modern effect. Timber cladding can be used on both traditional or contemporary schemes, however, for a more modern look it's worth going for a superior wood grade that doesn't feature a knotty finish.
Of course, when it comes to creating your own home, what's on the outside doesn't necessarily need to reflect what's on the inside. Homes that ooze traditional kerb appeal from the exterior can boast modern, open-plan interiors filled with cutting edge home technology and gadgets inside.
Many of today's self builders opt for spacious zoned layouts where the kitchen, dining and living areas merge seamlessly into one another, allowing for a sociable space that can be used for a variety of functions. Upside-down layouts, where bedrooms are positioned downstairs and living accommodation is located on the upper storeys, are another modern solution that can be used to maximise natural light and prized views.
Architects and designers: Hire a professional
Creating your own home from scratch is likely to be one of the biggest – if not the biggest – financial investment you'll ever make. Therefore, it's essential to bring the right professionals on board to create a design you're happy with. "The initial professional fees are more likely to pay off during the construction phase, and nothing can replace the joy of a space that's perfect for occupants over many years to come," says Ruta.
Bringing an ARB-registered architect on board is the obvious choice, however, you might also be able to employ the services of an architectural technologist or a professional designer. In addition, there's a large selection of package companies out there, who will provide everything from in-house design services to the structural shell and assembly team.
Frame Technologies provided the highly-efficient timber frame system for this contemporary new build in Yorkshire. Photography credit: Dug Wilders Photography.
No matter which route you go down, designing your house should be a collaborative process, so employ someone you get on well with in person – not just the individual who has the biggest portfolio with the most striking properties in it.
Employing a local architect can also be a boon from a planning perspective, too, as they're more likely to have a strong, established relationship with the local authority, which can only be an advantage when it comes to submitting your plans. An understanding of local planning policy is also key here, so make sure you do your homework when it comes to hiring the right person.
"Ensure you have the best professional team around you and remember that you normally get the level of service that you pay for," says Ian from Arco2. "Your professional team will think of things you wouldn't have considered and will add value to the whole process. With the right people, the experience of self building should be exciting, enjoyable and relatively stress-free," advises Ruta.
Drawing up floor plans for your house
When it comes to developing the interior layout for your new home, play close attention to your current lifestyle and how you use each of the zones in your home. From there, you'll be able to put together a wish list of all the key elements your new abode shouldn't be without, and a configuration of rooms that complements the quirks of your lifestyle.
"Think carefully about the rooms and space you want to create," says Melanie from Clear Architects. "Don't get too hung up on the actual flow, as the architect will do that for you. However, it is useful to be able to visualise what you imagine the house and each room to look like."
These floorplans show the layout for Clear Architects' stunning Hill Road self build home.
One option is to go down the old-fashioned route and grab a pencil and some graph paper to sketch out your initial ideas for the floorplan. Ian advises: "This is the best design tool to quickly explore ideas and convey design intent to the architect".
However, if you prefer to work on the computer, digital design suites such as Sketchup can provide a creative canvas that allows you to experiment with ideas. "It's a 3D program that allows concepts to be drawn up in three dimensions. It's also free to use," says Ian.
Getting planning permission for your house design
Obtaining the green light to go ahead with your favoured design is often acknowledged to be one of the most challenging aspects of self building. So much depends on your local authority's attitude towards new development, and the design you submit obviously plays a big part, too. However, it's important to approach the planning process with a fresh, open mind. You may be able to work closely with the planners to create an even better design that adds to the character and visual appeal of the local area.
This awe-inspiring home, designed by Base Architects, was built in the countryside thanks to Paragraph 55 exemptions from rural planning restrictions. Photography credit: Carl Blank.
"The design of the project does not have to be a copy of the neighbouring house in order to achieve consent," says Ruta. "It's important to develop a dialogue with planners, which would include having pre-application meetings to discuss the proposal and receive feedback on what kind of proposal would be favourably received."
Working closely with the council in the pre-application process can pave the way for a successful, collaborative process where all parties are happy with the end result. "This kind of relationship also follows through into the formal application process, setting things up for faster responses and the possibility for adjustments to the initial submission," says Ruta.
How much will it cost to build a house?
Try not to get too carried away when it comes to planning the design of your home – it's important to maintain a realistic grip on which design features you'll be able to afford. Separating your wish list into 'must haves' and 'would like to haves' can be a good way to start if you're working with limited cash.
It's important to consider your key project goals right from the outset of the design process. "For example, do you want a low energy building with super insulation, triple glazing and renewable technologies? Or do you simply want to meet the current Building Regulations minimum standards, with a very simple building form?" asks Ian.
The project route you choose will have an impact on the overall cost of the scheme just as much as the quality of materials you select. You can try to keep costs to a minimum by handling the project management yourself and even doing some of the labouring on site. However, bear in mind that self building can be an unpredictable process – do you have enough time to take on this kind of responsibility and the potential stress that can come with it?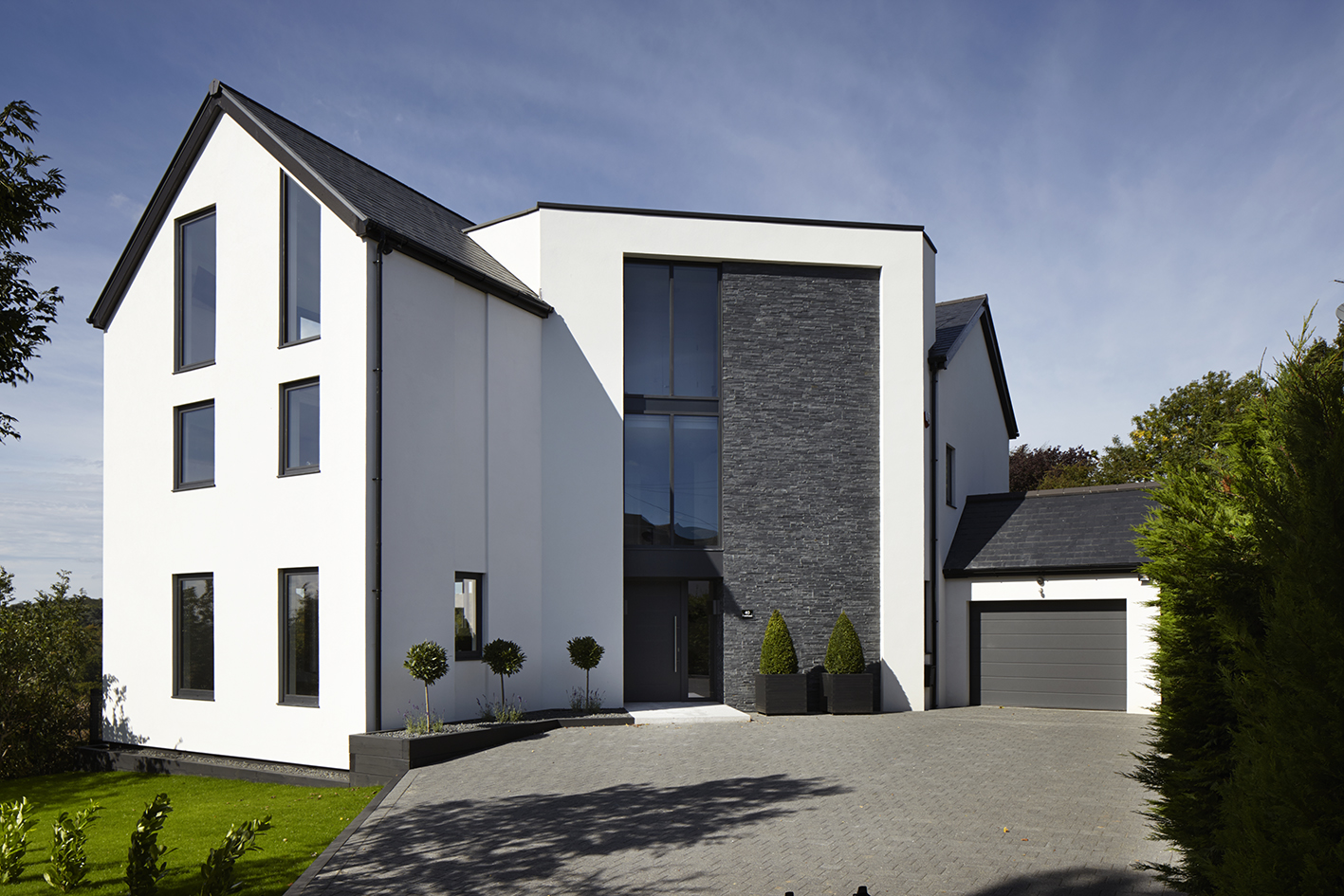 Featuring a palette of contemporary exterior materials, this eye-catching SIPs homes was designed by Clear Architects.
"When it comes to laying out your budget you can use estimation tools, but it really depends on how sophisticated the design is and the choice of materials," says Melanie. "As a very rough guide, I'd work to around £1,850 per m2. The important thing is to be realistic about the scale of your project versus your budget."
A good piece of advice is to invest more in the structural fabric of the building, as interior details such as kitchen and bathroom suites can easily be replaced five years down the line, once your finances have recovered.
"I would always spend more money on the architectural items, such as a really good staircase and beautiful robust floors," says Melanie. "The structure itself is what needs to stand the test of time."
READ MORE: How to build your own house: a self build beginner's guide
Featured image: gwycech / Shutterstock
Browse the self build A-Z:
Be the first to comment
Do you want to comment on this article? You need to be signed in for this feature