5 ways to finance your self build home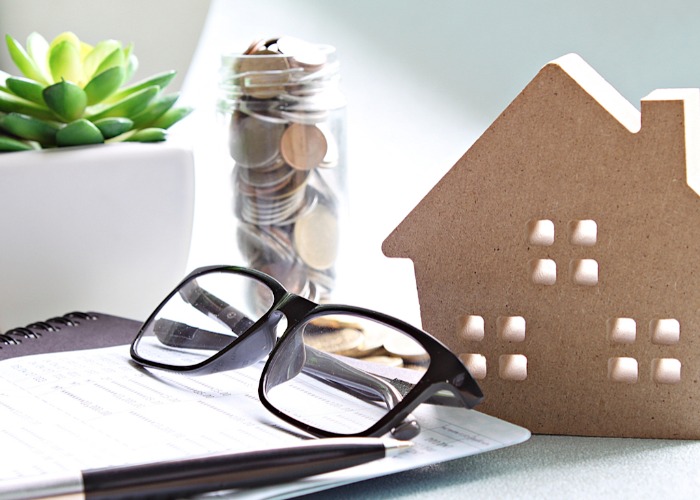 Always dreamed of building your own house? Here are the best ways to pay for it, from cash to self build mortgages
You don't have to be a millionaire to build your own home. You may be lucky enough to have a big pot of cash at your disposal but, if not, there are a range of other finance options available to you. A combination of two or more of these could be the best route to make your dream home a reality. Read our full guide to building your own home to see what it takes, and the huge benefits of self build plus amazing real homes to inspire you.
In the meantime, here are some options for financing your project:
1. Cash
The median average cost of a self build, including the land and build costs, is £460,000 (according to a survey by Homebuilding & Renovating magazine in 2017), so you'll need a substantial sum if you're paying for it all in cash.
Perhaps you've managed to save up a sizeable sum over the years, or maybe you've come into some money through an inheritance. A self build would certainly be a good investment as it's likely that your finished home will be worth more than you spent on it – around £500,000 for the average project.
If it took you two years to complete the build, from finding the land to moving in, you would have to earn 5.3% interest each year in a savings account to make your money grow by the same amount (after paying basic-rate tax on the interest).
The best rate you can currently get (in December 2018) on a two-year fixed-rate savings account is 2.35%.
Make sure you never have more than £85,000 (per person) with one banking institution as anything above that won't be protected by the Financial Services Compensation Scheme. A temporary high balance of up to £1million will be protected for up to six months following an inheritance or property sale though.
Whatever funding method you choose, you'll need some cash. You can borrow up to 95% of the costs using a self build mortgage, which means you would need £23,000 for the average self build, plus a recommended contingency fund of 10-20% of the build costs (up to £54,000 on average).
This money needs to be accessible, placed in an access savings account for example, as costs will keep cropping up.
2. Sell your existing home
If you're happy to live in temporary accommodation during your build, you can sell your existing home to free up cash.
This might mean bunking with a relative, living in a rental property or in a caravan on site for example. Just make sure you factor temporary accommodation costs into your budget.
Depending on how long you've owned your home for and where you live, you could have built up a substantial amount of equity in it.
For example, if owned a house in London worth £500,000 today, it may have cost you £292,000 10 years ago, according to Nationwide house price data. This means that if you bought it with an 80% interest-only mortgage of £233,600 you would be left with equity of £266,400 (before selling costs).
In the North West however, you might only have made £47,400 in equity if your house is worth £165,000 now and cost you £147,000 10 years ago.
If you do sell your home, it might not provide enough money to pay for the whole of your self build so you may still need to take out a self build mortgage to supplement it.
Jaruwan Jaiyangyuen / Shutterstock
3. Self build mortgage
The main difference between self build mortgages and regular ones is that after you borrow money to buy land, the rest is released to you in stages because there isn't an existing property for the lender to use as security for the loan.
There are two main types – an arrears stage payment mortgage is based on the value of the property at various stages of the build.
A percentage of this value is released to you at the end of each stage, so you need to be able to pay any upfront costs yourself before you get this money.
You can usually borrow up to 85% of the land and build costs so you'll still need a substantial amount of cash for the deposit and to pay for the initial build costs.
On the other hand, advance stage payment mortgages are cost-based and release money to you in advance of each stage of the build.
This means you don't need as much cash at the outset and – unlike with valuation-based mortgages – there is little risk that the money you get from your lender won't cover the cost of that stage.
You can borrow up to 95% of the land and build costs. Fewer lenders offer these though and the cost may be higher.
How much you can borrow will depend on your overall finances – the lender will look at your income and outgoings (including any mortgage payments on your current home) to decide what you can afford.
But as you can pay your self build mortgage on an interest-only basis during the build, the payments should be relatively affordable. Additionally, during your project, you'll only pay interest on the amount you've borrowed so far, not the total amount you intend to borrow by the end of the build.
For both types of mortgage, it can take some time for funding to be agreed prior to each stage.
Speak to a self build mortgage adviser, such as BuildStore, for guidance on which is the best option for you.
Once your new home is finished, you can switch to a conventional mortgage, which will charge a much lower interest rate.
Read our in-depth guide to self build mortgages for more on these options.
4. Remortgage your existing home
As the interest rates charged on self build mortgages are much higher than on regular ones – above 4% versus under 2% – it may be more cost-effective to remortgage your existing home, as long as there are no early repayment charges (ERCs) to pay.
You'll need significant equity in your home for this to be a workable option though (see the examples in point 2 above) and not all lenders are happy to offer a remortgage for this purpose.
Once your new home is finished, you'll probably want to sell your old home and pay off the mortgage on it.
For this reason, it's a good idea to go for a remortgage deal that lasts no longer than two years, as your build will probably be completed within this time.
Ensure the deal you choose has no ERCs beyond this period, so you can pay it off without charge.
ANDROMACHI / Shutterstock
5. Custom build mortgage
In 2016, the government passed new Right to Build legislation to make it easier for people to build their own home as a way of tackling the UK's housing shortage.
Local planning authorities must now make sure they provide enough sites with planning permission for everyone who registers an interest in building their own home in that area, either through self build or custom build.
READ MORE: How to find a plot of land for your self build
The specific differences between self build and custom build are widely debated. According to the Self Build Portal, a Government-endorsed website for aspiring home builders, self build is defined as projects where the homeowner takes an active role.
This could mean undertaking parts of the work themselves, or organising tradespeople or package home companies to do so.
Custom build tends to be a more hands-off approach, where the homeowner works with a specialist developer who provides everything from the plot to project management and building materials.
Buildstore now offers exclusive mortgages specifically designed for custom build projects on certain types of sites called serviced plots.
This means a piece of land comes ready to build on – with utilities connections and access in place, as well as planning permission.
Buildstore offers different types of custom build mortgage, tailored to how much input you'll have in the project.
They work in a similar way to self build mortgages but, as custom build is less risky for the lender because you start with a serviced plot, you can get cost-based payments at the end of each build stage.
The company's national relationship manager Tom McSherry says: "This also removes the risk to you of conventional arrears mortgages, as the payment amounts don't depend on the valuation of the site at the time.'"
There could be three to six payment stages or just an initial payment when you buy the land and a final payment at the end.
You can visit Unbiased to find a mortgage adviser in your area if you'd like guidance on choosing the best self build loan or remortgage deal for your project.
Browse the self build A-Z:
Be the first to comment
Do you want to comment on this article? You need to be signed in for this feature